Halo: The Master Chief Collection to be bundled with Xbox One for free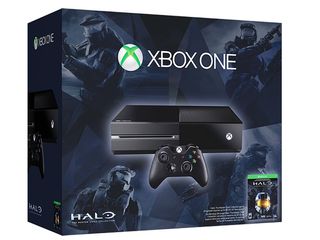 People who have yet to buy the Xbox One have yet another option to consider. Microsoft will launch a version of the console later this month that will include a digital download code for the recent Halo: The Master Chief Collection. The console will be sold for its regular price of $349.
Technically, that means buyers of this bundle will get four free games plus some additional content. Halo: The Master Chief Collection contains graphically revamped versions of Halo 1, 2, 3 and 4. It also contains access to the live-action digital feature film Halo: Nightfall. Microsoft first released Halo: The Master Chief Collection in November, but the game was plagued with online matchmaking issues that prevented many players from participating in multiplayer matches. Microsoft and developer 343 Industries have released a series of patches for the game that have improved the matchmaking process, including one that was made available just last week.
As you can see, the Xbox One Halo: The Master Chief Collection Bundle comes in its own special packaging so it shouldn't be hard to find when it goes on sale in your local retail store later in March.
Source: Xbox Wire (opens in new tab)
Windows Central Newsletter
Get the best of Windows Central in in your inbox, every day!
some problems here and there but im sure micrsoft and the other guys will take their time too make the perfect game :)

How about just making a game that doesn't reset your progress when it updates?

Sounds like bad luck on your part, didn't happen to me.

Coop is still borderline unplayable. It's very disappointing.

I've played through the campaigns co-op both spilt-screen and online and have never had an issue.

Each multiplayer update has made it a bit better. The most recent one really fixed ask the connection problems I was having, but I know that still have trouble.

They actually just fixed a huge portion of matchmaking. It's pretty stable now.

As long as its still the same console and not slimmed down, no butt hurt here.

Smart move. I'm glad they waited until the game was properly patched before doing this bundle.

NOPE!! I'll wait for the halo 5 bundle. By then, everything SHOULD be smooth sailing.

Should've done this when xbox one was originally released........ Weight the bugs ppl complain about

And lose out on millions of dollars? This is a good move, business wise.

That was supposed to say without

Xbox one day one, I saw one in Jeddah, it looks darker

The box itself looks cool enough to buy one. :)

Getting an external hard drive and plugging it in will probably get you to 1TB cheaper than if MS released an official 1TB version.

Not useful if your using preview updates as sometimes it wouldn't load

You need to buy the Advanced Warfare Xb1 for that!

How does this differ from the Halo: Masterchief Collection edition sold at Wal Mart?

This comes for free with the console. Same version of the game WalMart sells.

It's got the halo artwork on the box lol. I actually bought the halo bundle myself, so yeah, this isn't new to me, but it was a WalMart exclusive bundle so I think relaunching this to the masses is a great idea, especially considering the matchmaking fixes are all but complete.

I played it yesterday for the first time in a long time. I had fun. No matchmaking issues noticed for me.

You're 5 months far from the launch of the game. Things about the multiplayer are fixed now

They didn't really have it fixed until the last update which was 4 days ago. Any mode that wasn't swat, or anniversary mode would usually time out on the first attempt or two to connect. By the way when is swat coming back

Say goodnight to your hard drive Gracie.

The box itself looks cool. Hope some show up on e-bay!

Seriously. I'm more than fed up with Microsoft about a lot of things, but them seemingly going out of their way to not promote Kinect is taking the cake. Only one of their bundles since the unbundling has had Kinect in it, and most of the time that Kinect bundle has not had the $50 discount applied to it that all the other bundles had. The Kinect bundles have been sold out more than they havent at many retailers, including Amazon, as has the standalone Kinect (which I've never seen in a store, mind you). I do not understand what the hell they are doing. They already invested all the R&D and manufacturing costs into making Kinect 2: how about actually making it available for sale now, especially since it is pretty much the only thing that distinguishes your console from your main competitor's? Mind boggling.

I love the concept of Kinect, but there's not much point pushing it when nobodys been developing games that really use it.

I never use Kinect games, but use my Kinect to control my TV, swap between apps, etc., on a daily basis. Wouldn't want to own an Xbox One without it.

The new quick snap control (double press the Xbox button) has made a lot of those voice commands useless to me. I still use some other commands though.

The double-tap to snap and select an app is way slower than simply using a voice command.

There are a lot of Kinect games on Xbox One. Thirteen that make full use of Kinect controls (Blue Estate, Shape Up, Rabbids Invasion, Just Dance 2015, Boom Ball Kinect, Fantasia, D4, Dance Central Spotlight, Kinect Sports Rivals, Xbox Fitness, Fighter Within, Just Dance 2014, Zumba Fitness World Party), with more coming soon (Fruit Ninja Kinect 2, Slice Zombies, Fru, etc.). And then there are dozens more that use it in a complementary fashion (Forza Horizon 2, FIFA, Tomb Raider, Ryse, Dead Rising 3, Zoo Tycoon, etc.). The problem is that Microsoft didn't promote Kinect at all, which is especially vexing since many of the more recent Kinect games were superb (Fantasia, D4, Dance Central Spotlight, etc.) and worthy of promotion.

Yep. I would release all the special bundles as Kinect-only, and offer the base model without for just a little less. That's what they did last-gen for the HDD-less variants, they rarely had anything special included.

Kinect was DOA. It was not worth the cost of putting it in and was dragging the Xbox One down. It's not a good gaming device, and the voice commands (all that anyone ever praises it for) are not that accurate and definitely not worth $100.

There is nothing wrong with selling a Kinect bundle alongside the non-Kinect bundle. It is a good gaming device. In fact, for motion-controlled gaming, it is the best gaming device. The voice commands and gesture commands are very accurate. I know because I use them every day and have no problems.

Good. Shoving Kinect down buyers throats wasn't helping.

How is having a Kinect version of a bundle "shoving" it down buyers' throats? There is no reason why they can't have two SKUs for each of these bundles, one with Kinect and one without.

I got this game and the Assassin's Creed games for free with the Xbox bundle that the Microsoft Store had back in December. Not to mention Destiny for $20 a couple days later too!

They only graphically revampped 2. 1 was already revamped and 3 and 4 still have their last gen graphics

Yeah, but it's 4 games in one. I'm happy with my purchase, as my Xbox 360 will eventually be put away. I can still play the wonderful games from yesteryear for another 10 years to come.

To be fair, there are improvements to 3 and 4. Mostly that they all run at 1080p and 60fps now.

The game itself is amazing. Multiplayer was terrible at first. Now its been improved drastically.

Hahaha :D since it isn't selling well they are getting desperate :D

Wake me up when they announce it for Windows 10.

Make sure you stock up on Ambien CR then ;)

Thank goodness it's not one of those pesky analogue downloads! ;-) #digitaldistribution

It's only tangentially related, but Microsoft said they didn't want to bundle the keyboard with the Surface/Pro because of color choices and the multitude of SKUs--but... this is, what, the 5th or 6th Xbox One SKU? Frustrating. Not super important, but definitely inconsistent as usual.

When will we get such prices and bundles in India? The XB1 fifa bundle costs ₹40k or $650 here. I'm jealous of you Americans.

I really hope the Halo 5 bundle includes a white slim Xbox One.

I'll get one of these stat.. Xbox One bundles are a huge value.

£329.99 in the UK... $349.99 in the US seems a low-price, which'd be really good for when i come to buy my Xbox One, shame the UK price works out as being higher. Oh well, still good value for money - especially when you consider an Xbox One on it's own will now cost exactly the same.

I thought they wanted to sell Xboxs. This surely isn't the way. How about you stop with the game combos coz they're overrated or overplayed and release the Xbox for $250. Let me choose fuckers. Instead of squeezing our balls. Literally these shitty biased combos are why I haven't gotten one.
Windows Central Newsletter
Thank you for signing up to Windows Central. You will receive a verification email shortly.
There was a problem. Please refresh the page and try again.