Halo: Spartan Assault updated on Windows Phone 8 and Windows 8: brings new missions, support for devices with 512 MB of RAM and more (updated)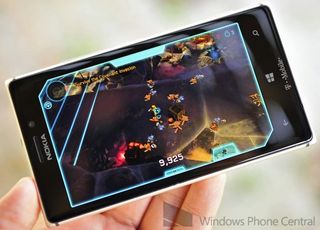 Yes! It was just yesterday we told you folks about Halo: Spartan Assault picking up an update sometime this week. Looks like that time is now, both the Windows Phone 8 and Windows 8 versions have updates waiting for you in their respective Stores. Let's see what's new for Halo: Spartan Assault.
Head to either the Windows Phone Store or Windows Store and you'll see an update available for both versions of Spartan Assault. Here's what is new in each of them.
Windows 8
Operation Hydra - including 5 new missions
New Achievements (50 points) including Archeology, Silvertip, Tour of duty, A for Effort and Vidmaster Challenge 2.0
Support for Xbox 360 wired controllers – We knew this was coming from our earlier coverage, but now it's confirmed that users will be able to plug in their Xbox 360 controller to their Surface Pro or desktop to get a new way to interact with the game
Windows Phone 8
Operation Hydra – including 5 new missions
New Achievements (50 points) including Archeology, Silvertip, Tour of duty, A for Effort and Vidmaster Challenge 2.0
Support for 512MB devices
All in all it looks like a great update for folks playing it on either device. Windows 8 users can look forward to using their Xbox 360 controllers with the game. And folks on Windows Phone 8 with 512MB devices, who have previously been left out, can now join the fight. And everyone gets to look forward to new missions and achievements.
All in all, it's a solid update for a solid game. Easily one of the best on both Windows Phone and Windows 8. We're just now downloading the game to our Lumia 620, so we can't comment yet on gameplay, if you get download it be sure to let us know how it runs.
Halo: Spartan Assault costs $6.99 on both platforms, if you had to pick one we'd recommended the Windows 8 version because the larger displays make touch controls a little easier. Although you really can't go wrong with either. Both the Windows Phone and Windows 8 version will sync your play state across devices. Ninja Edit: The update went fine on my Lumia 925 and I see the new levels, however the Windows 8 version has me starting over from the beginning after updating. Just a heads up. Ninja Edit 2: I'm not alone, others are missing their in-game progress after updating the Windows 8 version. Be careful, we've reached out to 343 Industrires and Vanguard Games to see what the deal is.
Update: Vanguard Games has let us know that 343 Industries is aware of the issue on Windows 8 and working to resolve it. Progress is not lost and should be restored soon.
Grab Spartan Assault in the Windows Phone Store or in the Windows Store (opens in new tab).
Thanks for the tips everyone!
i downloaded it for my laptop, im trying to connect my xbox wire controller, but it wont show. when i turn it on, it sync with the xbox, not the pc!

does anybody have a solution fix for this? please advice, i cant wait to play this :-)

Is it the regular Xbox 360 controller or the one for Windows? Like this one. I'm sure someone will correct us below, but I think you need the 360 controller built for Windows. Boom. The people have spoken below. Listen to them noshiro21

You don't need any specific controller for Windows. Any wired controller will work. However, for the wireless controllers, you do need a dongle to connect them to the PC, and if you buy the dongle separately (aka not from Microsoft) you then have to select the drivers for it manually in Device Manager.

It should also be noted that the Xbox 360 Play & Charge cable does not turn a wireless controller into a wired controller. For the 360, the data is still sent wirelessly, even if you're charging it through the Play & Charge cable (which only supplies power). It sounds like this is maybe noshiro's issue.

(That'll change in the Xbox One, which will send data over the cord when it's plugged in, for what it's worth).

thanks...that answer all my questions, i guess i need to get a wire controller then,

thank all for ur replys :-)

Don't forget that the wireless receiver/dongle will not work in a USB 3.0 port, to my knowledge anyway.

It can be a regular wired Xbox 360 controller or a Xbox 360 controller for Windows. I have a mixture of both for a total of 3 360 controllers. Only one of mine is the 360 Windows controller but all 3 work.

Xbox 360 wireless controllers will not work with Windows as there isn't a synching mechanism, hence why he said it syncs with his Xbox.


I am assuming when he said "wire" he meant to type wireless because the wired 360 controllers are plug n play just like the Windows Xbox 360 controller. When you plug them in, it downloads the drivers to your computer and then you play. No syncing since they are not wireless.

Make sure its a true wired controller and not a wireless one with the play and charge cable. Also, any Xbox controller will work on PC you do not need the windows specific version. I have 4 Xbox controllers they all work with my PC.

it the wireless controller with the charger cable :-/

so iguess i will have to buy a wire controller, huh. i dont feel like spending money, just to play one game, unless i can play all my windows 8 games with it....

You can play a lot of PC games with a 360 controller.

Waiting for the Xbox One controller, hope it will work with windows.


It will in 2014 according to Microsoft. Xbox One is their top priority at the moment.

Since it is WiFi Direct they should have driver support for the controllers with a simple software update (only some accessories Keyboard / Mouse have standard drivers). I would assume this is the reason why they went with WiFi direct (and the higher bandwidth for accessories).

Microsoft Store is having a sale on controllers. You can get a decent one for $15 with free shipping

Go to eBay and buy the Xbox 360 wireless receiver. Then you can resync your wireless 360 controller to your PC. Costs between 10-20 dollars.

Avoid this update for wp8. Halfway through told me I am low on space and now I have 5gb stuck in other storage. Before update other storage was 1gb. Shrink storage won't fix it.

Did you cancel the download before trying again or just try again?

same crap here ...

ridiculous that this isnt fixed ages ago ... really getting pissed off with wp8 slowly ...

So the RT doesn't support the controller? If so I am very shocked.

That's my question. Article calls out Pro specifically...

Works just fine on the RT too.

Why is the graphics still not in 720p?!

Do you have any insider info if they're planning to add online multiplayer/coop? I think it would really boost online gaming for windows phone when they do it in this game.

During Build in SF they hinted at something like that. Basically they plan on "supporting" this game for a long time. This won't be a wham-bam, thank you ma'am app.

Agreed can't wait for multiplayer. To add to your point I think bringing halo wars to WP would be amazing especially with multiplayer!

I agree, Halo Wars would be great on Windows Phone.

Does this sync progress from windows phone 8 to surface rt, as i have yet to see this happen

Yes it syncs between both. You can't play unless you have a data connection from my experience, so it pulls your game data from the server

working perfect in Lumia 520 !!!

No problems with slowdowns or anything of that kind? I'm considering buying it and would like to know how it runs :)

Could you post some screen shots please?? I have a 720 and gonna buy it now!

What's the installed size of the game?

716MB download... and 1.2GB installed. So yea, little bit of storage required. Same size as FIFA 13.

Cheers, I was afraid it was bigger, as I'd heard elsewhere. Thanks for clearing it up!

Wait, so downloading it on Windows 8 /RT erases your save data?

I lost all my progress on my Windows 8 Surface Pro. All my progress is there on the Lumia 920. That kind of sucks having to start over.

Storage Check says I have 2GB left, game is 716MB, but store says I have reached maximum capacity. Nokia Lumia 521. Any suggestions?

Need 4 times the amount of download to install on windows phone I.e. 750x4 so around 3gigs to install

Also had this come up. Damn this 8gb nonsense.

Go to the app's page on the Windows Phone Marketplace website. Scroll down to find the link on the left side that says "Download and install manually". When the .xap file downloads, copy it over to your phone's SD card. Then open the Store app on the phone and tap SD Card (you may have to reboot the phone before this appears), and the game should show up there.
I could only get 2GB free on my 810, and that was enough to install the game using this method.

I am running Windows 8.1 Preview on my Surface Pro, but the update is not showing up. Does anyone know how to force a update check in 8.1?

When in the Store, go to the settings, app updates, check for updates.

Thanks Sam! I was going crazy not being able to find the update on my Surface RT 8.1 Preview.

Are you sure it didn't update automatically already?

Ahh.. Finally! It's available for phones with 512 MB RAM. But I need to update my phone to Amber first, and do a hard reset to fix the Other Storage problem.

I bought this game on Windows 8 Store, can I download it on my Lumia for free?

Sadly, no. You'll have to buy it on each.

Finally... Wp the best, LAGndroid fuck

Awesome. Just purchased the game. :)

I am a L520 user. Any other 520/521 users installed it? How is it?
Also How much storage space is needed to download it?

I passed on the phone version, instead getting the Windows 8 version. I have a Surface RT, and a Sony Vaio Tap 20. Playing it on the Tap 20 was crazy, BTW! I passed on the WP8 version, but the rumoured Nokia 1520 has me thinking its screen would offer much more precise controls!

If you already beat the game you'll have to beat Mission E stage 5 again before you can play Mission F. I just did it.

Thanks for clearing that up!, was wondering why I couldn't use the new mission

Mission F show up but are grayed out. All my silver and gold stars show all missions completed as I played through twice. Not sure what I need to do. Att 920

Uhm... Is it normal that this deleted all my progress??

Not normal, we've reached out to 343 Industries / Vanguard Games and will see what the deal is.

You called them 342 Industries in the article, 341 in this comment, but their actual name is 343 Industries. Just FYI ;)

Fuuuuuuuuuuuu.. I'm going to bed now. Thanks. Fixed. And good night! :)

Wtf lost all my progress...have to start over again ❔❔
Update: restarting phone and connecting to wifi and opening game brought back my progress...only problem now is that new mission F is grayed out..what to do ❔❔

Yeah I'm pissed, all progress lost.

Man, I haven't played it in a while... It put me back about 5 mission from where I was. That sucks.

Yeah it's starting to sound like a fairly common problem...

Works great with my wireless Xbox 360 controller with the X360 wireless gaming receiver for Windows. Lost my progress too. :(

wondering why I havent got this update yet...

Saves all of achievements and high scores but loose all progress. Nice

Cool. Downloading update now.

Yay, downloading on my L620

I'll wait until they ever bring online multiplayer to this game.

have 2.98 gigs free on my L520, but not able to install...storage issues :(

You need at least 3-4 GB.

I have not been able to sync between my tablet and cell versions at all. Kind if frustrating.

WP8 version still running awesome on my 920!

You can get around loss of progress if you have it on both windows8 and wp8 by just updating one, loading it up, quitting out. Then loading up original non updated game on other machine, completing E5, to unlock F missions. Then feel free to upload your other system.. Ta da!

You little ripper! Opening it on my 920 fixed the save game on my surface. Thanks for the tip

Stoked to finally see Microsoft support a windows phone product well, can't wait for Forza to arrive. Now the haters and inpatient can play on 512 Mb as well, huge news.

Where is the trial Microsoft???

Update on my last comment, it only worked one way so first system (my 920) has all progress and mission f, but my second system (rt) has new update and wiped progress :(

Got hit with the 'loss of progress' bug on my 920. Completely backed out of the app, waited about 30 minutes and when I went back in I had my missions complete up to the last mission in C (i'd only done 1 or 2 in D so far).

It's slowly getting back... I'll try again soon and see if I get the rest back...

What's really sweet is that the upgrades use credits or XP points and after completing Mission E you unlock a Halo 4 achievement and the Spartan Laser or Rocket Launcher are free for the first use. HELLO Spartan Laser.

So they're still only for a one time use uh.
Also the boosts and armor abilities are free.

You can use the Spartan Laser and the Rocket Launcher for free the first time use of each. The armor abilities and boosts are not. If you use the Spartan Laser or Rocket Launcher and you fail a mission retry it and you'll keep them with no extra cost but if you exit you'll have to purchase. I just wish you could pick up the Energy Sword or Gravity Hammer after you take the Elites and Brutes out. My only complaint.

In-app purchases on such an expensive game are pretty cynical, and for two of the coolest weapons as well.

Can't install, not enough free space. 3.1GB other storage. Ok then...

So I had to uninstall Halo Spartan Assault to install it (go figure). But now I can't reinstall it says I need to buy it again. Doesn't even show up in my purchase history.

Seems to use less juice now and doesn't melt my fingers. :)

I really got to upgrade my phone. I'm missing out on some good games.

Wow.. That was seriously intense.. The missions are short, but capture the halo universe perfectly... I have a feeling they will add yet more missions too, the ending seemed a bit open ended :)

Apart from the missing games thing, I hope they remove the annoying cursor that's showing on Windows 8 (presumably you use the controller to move it?). Fine if you're using a mouse I guess, but annoying if touch because it stays there after you lift your finger.

Erm just select touch screen controls in settings to remove it, simples..

Ah-ha! Perfect, many thanks. Maybe they could automatically enable touch for devices that have it, at least until the user switches it off?

No trial option shows up, still.

Windows Central Newsletter
Get the best of Windows Central in in your inbox, every day!
Thank you for signing up to Windows Central. You will receive a verification email shortly.
There was a problem. Please refresh the page and try again.