Halo Wars 2's second multiplayer beta test will let you dive into Blitz mode on January 20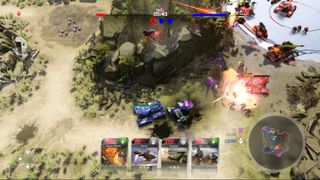 If you're chomping at the bit to jump into Halo Wars 2, you'll have a chance to dive in early soon with the game's second multiplayer beta test. Set to kick off on January 20 on both Xbox One and Windows 10, this beta test will focus specifically on a certain new game mode coming along with the sequel: Blitz.
So what is Blitz mode? Essentially, it's a card-based take on the traditional RTS formula. Here's how Dan Ayoub, Studio Head of Strategy Games at 343 Industries, describes it on Xbox Wire (opens in new tab):
Throughout the beta, you'll get to try out Blitz against other players on the Proving Grounds map in either 1v1, 2v2, or 3v3 modes. As a bonus, you'll be able to snag some rewards in the full game by participating. Simply logging into the beta will reward you with 1 free Blitz card pack, and completing your first match will reward you with another. Both will be redeemable once the full game launches on February 21.
Again, the beta is set to kick off on January 20 and will run through January 30. And if you want to get ready for Halo Wars 2's impending launch, you can go ahead and pre-order the game now.
See at the Microsoft Store (opens in new tab)
Get the Windows Central Newsletter
All the latest news, reviews, and guides for Windows and Xbox diehards.
Dan Thorp-Lancaster is the former Editor-in-Chief of Windows Central. He began working with Windows Central, Android Central, and iMore as a news writer in 2014 and is obsessed with tech of all sorts. You can follow Dan on Twitter @DthorpL and Instagram @heyitsdtl.
After Microsoft screwed me out of $80+ for AOEO only to shut it all down two years later with no compensation or refunds they can keep this. Should have been free for all who invested heavily in Microsoft's last RTS only to see them take customers cash and run off.

What a stupid comment. Your comparing a pathetic phone game to a full console/PC title??? To be honest anyone who invests in the stupid mobile phone microtransaction games deserves what you got. All mobile phone games are a complete waste of money. Investing money in something that WILL NOT last for long is why Mobile game developers don't earn much money.

You are the one with a stupid comment here, commenting on something you don't have a clue about. Age of Empires Online was not a mobile game, it was a full PC Age of Empires title; and the developer of it was Microsoft, so there was more then enough reason to believe it won't be shut down within two years of launch, so educate yourself before commenting or STFU.

Actually. I apologise. I stand corrected. I thought you we're refering to Age Of Empires Castle Siege. However. The free to play AOEO is also not comparable in anyway to a finished product you pay up front for. AOEO followed the same premier as AOE Castle Siege. Grind and Microtransactions to progress. The service was shut down as it was to costly to keep updated. It's completely different to a game that is finished and released for £49.99. A game built for Xbox Live on dedicated servers will be around on Xbox Live for over 10 years. The same as any other Xbox Live game such as Halo 2 or Gears 2. So my point still stands. You cant even remotely compare the 2 titles.

Actually you are wrong once again. Age of Empires Online was not Free to Play when it first released. You had to buy civilisations to be able to play the game, at launch each civ cost $20 or you could buy all for $100. The original model was a normal PC game, you buy civs and you can play the game. There was no way to unlock the civs simply by playing when the game first came out. About one year into the development of further civilisations the game model got switched by the devs to free-to-play, the same time it was also launched on Steam in addition to GFWL. By that time most people invested in at least two civs at $40 or $100 for the pass to all civs. The FTP model was however severely screwed up by the devs because at the start of the transition it was very easy for players to get newly released civs for free, and thus it no longer made Microsoft the money as before $20 per civ. By the time the two year mark was reached the FTP model has destroyed the devs revenue stream and instead of trying to solve the issues they simply shut it down and did not offer any refund or compensation. The loyal fans were not even respected enought to tell them about the shut down in advance; it was all well and good with the Roman civ expected after Christmas break, only for everyone to learn about the shutdown in early January instead. Nice Christmas present from Microsoft. So your point does not stand, AOEO was released as a full normal PC game you had to buy to play. The best comparison would be to a game like Hitman where you buy each mission separately; in AOEO you bought each civ separately. The change to FTP only came way down the road and by that time it was too late for many who bought the civs at $20 each or the season pass at $100.

Sorry not true. The game was free to play from its release.

No it was not, LOL, who trusts wikipedia for accurate info. /facepalm Do some better reasearch from actual sources. You know like real news sites: http://www.pcgamer.com/age-of-empires-online-interview-becoming-really-free-to-play-instead-of-free-to-try/ "PCG: Was the old system too restrictive? EW: Yea, in the sense that the game really wasn't free to play; it was more of a free to try. We probably turned off a lot of players who would've kept playing had they been given the option to earn a Premium Civilization. At some point you realize, "I'm going to have to pay if I want to get the maximum benefit of my civilization." " In other words, on release you HAD TO buy the DLC civilisation to fully play the game, without buying the $20 DLC you could not use most of the game features, like anything other then basic gear, inventory slots, etc.... you could only try the game more akin to a Demo, not a free-to-play game as is made clear from many articles and interviews done at the time of the swich to free-to-play. Please just stop embarassing yourself; you clearly never played the game and have no idea what you are talking about and support you baseless claim from sources like wikipedia. I played the game from the early Beta, I invested heavily in the game, I know what I am talking about, so please stop trying to prove something you simply can't.

You can coat it how you like. It was free to play. With microtransactions. Bringing me back to my original point. You cant compare a game where you buy bits and pieces of it. To a game where you only but the whole thing.

I don't need to coat anything, facts are facts. A game where you can only try it out with very limited features is not free-to-play, when you have to actually spend real money on DLC to play it. Secondly at launch there were no "microtransactions" there were two DLCs - one for the Celts Civilisation (which also had a retail box), the other for Egypt Civilisation; nothing else. Having two 'DLCs' at launch does not qualify as a microtransaction. As I stated before, at the time this was a new model of selling a full AAA game, that most recently was used by SE on the Hitman game where you also have the option of buying DLCs for each of the missions. You should look up the definitions of "free-to-play" and "microtransaction", maybe then it would make more sense to you then.

The same model used by Killer Instinct. And the developers and MS call it free to play. You can call it what you want. The industry call it free to play. Again, your subsidising the actual point. Of which you cant compare the 2. Halo Wars 2 is not a free to play game. And its a one cost buy. You get the full game with 1 purchase. The same as Gears 4, Halo 5 and Forza Horizon 3. And now you can actually buy Killer Instinct as a full 1 time purchase game as well.

No matter how you want to contort it to make it fit, it never will. AOEO was not free-to-play at launch because you could not play it for free and unlock and use all the freatures throught free play; Even the developers clearly said it was not free-to-play, because you could only try it akin to a Demo and had to buy to play the game fully; not sure what more you need than a clear statement from the games developers, and the facts of the situation that you still seem to be too lazy to find for yourself. The only difference between AOEO (AT LAUNCH) and Halo Wars 2, is that for the former you had an option to pay the full AAA price in $20 chunks, or in a one price for the whole game of $100; for the latter there is just one option to pay the full price of $60 to $80. AOEO - full one time purchase price - $100 (no microtransations) HW2 - full one time purchase price - $60/$80

https://en.m.wikipedia.org/wiki/Age_of_Empires_Online

I want to be good at this, but the controls were a lot to fathom in the last beta. Not a day one purchase for me.

just for this game I'll buy a new GPU. I like my XboxOne but this game will be better on PC for me.

I like the halo wars campaign but there were times in multiplayer where I got killed in the first 5 minutes

This is going to be epic. This game mode is like mixing Hearthstone/magic with real time combat. I love how diverse the Xbox lineup is. RTS, Shooters, RPG, Sim Racers, Arcade Racers, Beat em ups etc etc. They have really done awesome this gen.