Halo Wars: Definitive Edition early access kicks off today for some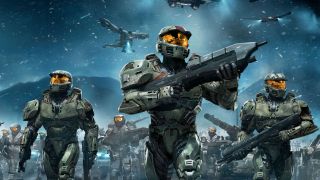 Halo Wars: Definitive Edition is now live for anyone who pre-ordered the Halo Wars 2: Ultimate Edition. Early access lets fans of the original 2009 RTS to get a jumpstart on Halo Wars: Definitive Edition ahead of Halo Wars 2's February 2017 launch date.
So what does the Definitive Edition include? Other than being optimized to run on Xbox One and Windows 10, the game now packs improved visual, support for 4K and all of the DLC from the original release. There are also new bonus achievements and content to check out, if you're a fan of the original.
The game itself is included alongside the $80 Halo Wars 2: Ultimate Edition bundle (which also includes the season pass). As Halo Wars developer 343 Industries points out, those who pre-ordered the game digitally should start receiving redemption codes for Halo Wars: Definitive Edition today. Once received, you can redeem the code on your Xbox console or in the Xbox App relatively easily. Do note that the codes can take between 7 and 10 days to reach you after you've pre-ordered.
If you're interested, you can go ahead and pre-order Halo Wars 2 ahead of its February 17 launch date. Are you planning to catch up on some Halo Wars: Definitive Edition action over the holidays? Let us know in the comments!
See at the Xbox Store (opens in new tab)
Dan Thorp-Lancaster is the former Editor-in-Chief of Windows Central. He began working with Windows Central, Android Central, and iMore as a news writer in 2014 and is obsessed with tech of all sorts. You can follow Dan on Twitter @DthorpL and Instagram @heyitsdtl.
download code hasn't showed up for me yet.

Woke up excited for my code, no code, so back to bed.

No code for me yet either...... 😓

They stated if you pre-ordered before the 14th you should get your code today. I pre-ordered before the 14th. Still no code. Was hoping to download early so I could play it on my day off today. Microsoft's bullcrap "wave of codes" system screws me over again.

Yes, I would like to hear some explanation from them for why they always use this "wave of codes" system. I mean, shouldn't one of the largest, most profitable technology companies in the history of the world be able to instantly send out codes in near real time? What's the deal? If they could say, "Buy Halo Wars 2 Ultimate Edition and start playing Halo Wars 1 DE immediately", I'd probably be more likely to impulse by it. As it is, "Buy it now and wait a week, probably" isn't enticing.

Is it working? Mine actually just arrived a few minutes ago as well. When I try to redeem it, it says "Sorry, an unexpected error has occurred." with some more text and at the bottom it says "ResourceNotFound". o_0 Thanks Microsoft.

Mine arrived as well, but I too am getting the unexpected error. Not a big deal for me as I can't play any time soon, but I wanted to have it downloaded for when I had the time. Can't really complain too much, but I'll keep an eye on the comments for any updates. =D

Just wondering: how long did you have to wait from when you pre-ordered game until you got it? I ordered mine on Jan 2, 2017 (about a week ago) and still no code. Really want to play this game (along with my other Halo games I have on backlog) in chronological order with Halo Reach, this game, then Halo Master Chief Collection.

Still at work, going home in 30 min. I'm gonna let you know as soon as possible...

Same unexpected error here 😒

My code didn't work. Says resource not found when I go to redeem. Dang it Microsoft. Get it together please.

Right? You'd think someone would double check to make sure this crap works beforehand...

It's was not working for me before, but now is. It's downloading as I type this! :D

i ordered mine on the 14th do i still get it today and where do i get it

It's pretty sad when Microsoft can't even get something as simple as a game code working right, but here's a fix. https://www.reddit.com/r/HaloWars/comments/5jfjyr/theres_a_fix/ It would be nice if they simply auto flagged accounts in the future rather than making people wait for bullcrap "waves" of codes that leave many waiting for days for a code. There is no legitimate reason to do it that way. Especially when the codes don't even work. I like my Xbox better in general than my PS4 and I often find myself defending it against rabid PS4 fanboys, but days like today make me wonder why I bother. This is so unprofessional.

I like how people applaud the bundling of Halo Wars remastered exclusively with the Ultimate Edition of Halo Wars 2, but then the Internet goes up in flames when Activision bundled COD 4 remastered with the Legacy Edition of Infinite Warfare.

I think this is great and all but I don't want to go back and earn the General achievement again. It took a very long time to earn. I am looking forward to the new sequel though.

day 2... they have yet to discover I'm in the comments. shhh.

I preorderd on the 3rd and have to get the code

update: if you havnt got your code try contacting xbox support via live chat I was connected with sarah she sent the to my email and put it in the chat

What error code and Related Service Request did you use
Windows Central Newsletter
Thank you for signing up to Windows Central. You will receive a verification email shortly.
There was a problem. Please refresh the page and try again.