Hands-on with the HTC HD2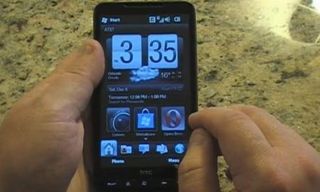 Here it is, folks: The HTC HD2 in all of its 4.3-inch, glass capacitive screen glory, running Windows Mobile 6.5 Professional and HTC's custom Sense user interface, which takes the place of the venerable TouchFLO 3D.
After the break: Four and a half minute of the largest Windows phone ever to walk this Earth.
Phil is the father of two beautiful girls and is the Dad behind Modern Dad. Before that he spent seven years at the helm of Android Central. Before that he spent a decade in a newsroom of a two-time Pulitzer Prize-finalist newspaper. Before that — well, we don't talk much about those days. Subscribe to the Modern Dad newsletter!
Nice job, Phil. I have never seen or touched an HTC HD2 so I am envious. Congrats! I would love to have this phone. Have you heard anything about its US arrival and on which carriers?

Unfortunately...PHIL (is it) had to mention the Iphone!...YES, I said it! The Iphone was the VERY FIRST one to ever come up with the touch screens and every one else had to follow!!...HMMM...why do you ask??? Because no one else has the imagination like Steve Jobs and Apple!!

Careful you don't get any drool on that lovely device.

I've been playing around with an HD2 for a few weeks now and really love the device. I'm looking forward to the US carrier announcement so we can pick up an HD2 which works on US 3G.

Hey folks, Man, that HD2 looks unbe-LIEVABLE. I've been out of the loop on WinMo and HTC fora while. Is this really coming to AT&T? Tilt 2 looks decent too!

That is an awesome phone!

Thats what I'm looking forward to....hey Phil or anybody else know if you can change the clock widget like on the hero to where it has to analog clocks with 2 time zones on it thru the settings...???? thx in advance. RON JEREMY

If it's anything like Sense on Android, that clock is interchangeable with roughly 15 clocks or so.

id love to just get rid of that Touch - FLO 3d thing and put SPB mobile shell, or just leave plain WM interface. i hate how everyone just talks about hiding the WM standard interface, but... it really works great. Ive never had any problems with it... the millions of tiny menus and config bars?... really? there are a few... but i only have to go into them about ... once every time i reload a rom. and if i never reload a rom, i dont need to got o settings EVER Currently: Owner of Xperia X1 with Touch-IT 10.1 Rom

You are kidding yourself, please join the 21st century we have all been waiting for you

The 21st century is peopled by idiots who want cartoon interfaces and dumbed down phones? Interesting

Thanks Phil. Great video.
I thought. Oh no another HD2 video. But you made it exciting, and provocative. Something to show to the people in the other "team" so they die of envy.

Sense 2.5 is a nice evolution of TF3D. The people Tab is easier to use, as is the Mail Tab view (no more envelope to block the email view) The weather animation on the front page is functional and slick, and the landscape "touchflo like" animations on the Music and Pictures tabs are great eye candy to show off all that horsepower under the hood.

Depending on how the browser compares to mobile safari I would consider switching from the iPhone due to the amazing screen real-estate for business purposes however I would still keep the iPhone around for apps :-)

Thx for the video guys. Could you try browsing, using Peeps and getting a call while doing that? My Fuze hangs when I receive a call (with the KB out) and when browsing.
Screen freeezes or the Answer button does not work..weird things happen. Apart from these, STILL facing the dropped call isses sometimes. It's not the phone - it's the network I know. Giving it ONE more chance by trying to add a "Antenna booster". I hope it works.

Sameer... the dropped calls maybe because of AT&T over burdened network. Just Learned that the HD 2 has positively been confirmed for Tmobile USA. So, you might want to consider switching. Their pricing is unbeatable right now!!!

great vids we cannot wait till january for this one.

Absolutely amazing device running Windows Mobile 6.5
The Windows Marketplace that recently opened up makes this device all that an iPhone is and much more.
I love that the device is packed full of stuff that I cannot call "bloat-ware". They are all absolutely useful and intuitively designed into the HTC Sense.

OUR PRICE
===============
Blackberry Bold $ 250 USD GD910 LG3G $ 300usd htc HD t8585 $ 300usd Htc Hd 2$ 300usd Samsung Pro Omnia B7610 $ 300usd Samsung omnia i900 $ 250usd Sony Xperia x10 $ 310usd I mate Imate Ultimate 9502 $ 250usd Nokia N97 $ 280 USD Nokia n900 $ 300usd Nokia X6 $ 250usd Apple Iphone 3G 16GB $ 250usd 3GS Apple Iphone 32GB $ 300usd Mobile Phone : +447024033828 (Store Sales promotional offer - Buy 2 GET 1 FREE unit and units) NOTE: These phones are 100% unlocked and can be used with any SIM card. No activation required (see carrier frequency requirements) Insert the SIM card and start using the phone. In the box
================
* iPhone 3G S
* Apple Earphones with Remote and Mic
* Dock Connector to USB Cable
* USB Power Adapter
* Documentation
* SIM eject too So if you are interested in buying any of our mobile phone you can kindly send us your full shipping details such as : Full Order : Full Name : Address : State : City : Country : Zip code : Telephone Number# If you are interested in purchasing one of our mobile contact us: MSN:
=======
Applestores_inc@hotmail.com
Windows Central Newsletter
Get the best of Windows Central in in your inbox, every day!
Thank you for signing up to Windows Central. You will receive a verification email shortly.
There was a problem. Please refresh the page and try again.