Hands-on with the jaw-dropping and revamped HP Spectre x360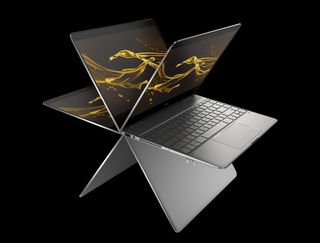 Earlier this week, HP unveiled its holiday lineup for laptops and PCs. While the Envy Notebook 13 is fantastic, our eyes are on the more versatile (and more expensive) Spectre x360. We spent some time with the new version, which you can soon order from HP.com or grab at Best Buy, and came away impressed.
The original HP Spectre x360 from early 2015 was an impressive and surprisingly well-crafted machine. HP has carried that into the 2016 model with nothing but improvements all around. The new iteration is lighter, thinner, smaller footprint, thinner bezel, and it even adds features like an IR camera for Windows Hello.
Swipe to scroll horizontally
Category
Specs
Operating system
Windows 10 Home
Processor
7th Gen Intel Core i5 or Core i7
Display
13.3-inch diagonal
Full HD IPS UWVA WLED-backlit multitouch-enabled
edge-to-edge glass
1920x 1080
Memory
8 or 16 GB LPDDR3 SDRAM
Solid-state drive
512 GB PCIe NVMe M.2 Solid State Drive
Graphics
Intel HD Graphics 620 with up to 8258 MB total graphics memory
Audio
Bang & Olufsen with quad speakers
Battery life
Up to 14 hours and 15 minutes
Webcam
Front-facing HP TrueVision FHD IR Webcam
Windows Hello capable
Weight
2.85 lb (1.3kg)
Wireless
2x2 802.11ac WLAN and Bluetooth
Keyboard
Full-size island-style backlit keyboard
HP Fast Charge
0 to 90% charge in approximately 90 mins
Ports
2 USB 3.1 Type-C Thunderbolt
1 USB 3.1 Type-A Gen 1 (HP Sleep and Charge)
1 Headphone/microphone combo
Toss in a brand new 7th Generation Intel Kaby Lake processor, quad-speakers that are super loud, attention to detail and new HP Spectre x360 could be the Ultrabook to beat (looking at you, Dell XPS 13).
Prices start at $1049 for the Core i5 version with 8GB of RAM and 256GB of storage, and it jumps to $1299 for a Core i7 with 16GB of RAM and 512GB of storage. Also, US retailer Best Buy will be stocking the Core i7 version at the end of October in stores.
We should be getting our hands on a proper review unit shortly to test it out, but so far, we have found nothing that makes us cringe or worry. The x360 is an exciting laptop and one you should keep an eye on in the coming weeks.
Windows Central Newsletter
Get the best of Windows Central in in your inbox, every day!
Daniel Rubino is the Editor-in-chief of Windows Central, head reviewer, podcast co-host, and analyst. He has been covering Microsoft since 2007 when this site was called WMExperts (and later Windows Phone Central). His interests include Windows, laptops, next-gen computing, and for some reason, watches. Before all this tech stuff, he worked on a Ph.D. in linguistics, watched people sleep (for medical purposes!), and ran the projectors at movie theaters because it was fun.
Any date for european availability?

Not yet, but IIRC HP is good on global stuff so I would expect it by December.

Did they mention release date of OLED version?

Since they did not announce an OLED version, no.

When are we going to start seeing some external gpu's for USB3.1 Thunderbolt enabled Ultrabook's and tablets (SP5 perhaps).......

Razor Core and Asus ROG and literally everyone and his dog have announced them. But it's Thunderbolt 3 not USB 3.1 Gen 2. If you have a Thunderbolt connection then you have a USB3.1 Gen 2 but is not necessarily the reverse. Did Daniel check the port functionality? Last year the USB C ports on HP computers were not Thunderbolt 3

It's too bad HP isn't good at supporting their products and they also like to screw people over (aka that printer update).

Hm, not sure I can agree with that. What I do know is that every company has issues and some amount of unsatisfied customers. Whether or not those complaints reflect everyone's experience is another matter. I know a lot of devs who like the Spectre x360 (HP and MS gave them out at Build in '15) for consistency and reliability. I hear the same complaints about Dell and Lenovo too, meaning if you want a PC evidently there are no companies who are perfect. ¯\_(ツ)_/¯

I've only owned Asus laptops so far and the support for those has been good.

My friend used to work in PC repost, and said HP was the worst OEM to deal with. Personally, I had them flat-out lie to me about a problem with my laptop, then say the repair cost on the $800, year-old laptop would be $750. Maybe they're better more, but the way they handled the whole thing was abysmal, and I'm not giving them another present to get burned again (perhaps literally, since the laptop ran so hot it discolored the metal).

Nope, I can definitely say HP support is very poor in most countries I have travelled to. It was one of the main reasons I went with a Dell Ultrabook this time around. Its comparitively better.

Dude, that emoji is frickin awesome.

My build 15 spectre just died, likely motherboard. 400$ repair is two weeks late due to shortage of parts ... too many mobo's failing? Coworker's died ... luckly in warranty ... new mobo as well. I wouldnt be so sure about the quality: http://h30434.www3.hp.com/t5/Notebook-Hardware-and-Upgrade-Questions/spe...

Sorry to hear of your loss, lucky they were under warrenty :P

Hp has improved greatly in both customer experience and quality of hardware. They were in trouble there for a while and turned themselves around.

http://infocommworld.com/firmware-update-for-hp-printers-bans-third-part... Do note they have released new firmware to allow non-HP ink due to all the negative press they rightly got.

I'm sure they got tired of people ******** their printer spilled ink all over after using ****** third party cartridges.
I know I get tired of hearing it.

No, they're just being greedy.

greedy is the consumer who selfishly DEMANDS HP replace their printer after ruining it with 3rd party cartridges.

That may be greedy, but not allowing your users to use cheaper ink when all the competitors do also is.

>all warranties void the moment you install a third party cartridge
They hardly do.
Especially Cannon.

That's fine, I honestly don't care about the warranty. I just want the ability to use whatever ink I want.

..I can recommend their ink tank system - but I am not sure if it is available in US. I am currently using GT5810 - the OEM 90ml bottles are somewhat steep (15 USD per color) compared to 3rd party but prints more, and good thing is the heads are user-replaceable.

its not, nobody in the US has an ink tank system other than Epson and it uses dye ink so its selling like crap

Why are the graphics specs listed twice?

No 4K version? After being so used to my Dell XPS 13; it's going to be tough, almost unlikely, for me to go back to a HD display.

A guess would be that the human eye cant tell the difference and the battery drain is so much higher on 4k.

There is a huge and very visible difference between HD and at least 2560x1440 (the next common resolution higher) at 13.3". I'm not sure if the eye can distinguish between that and 4K on a 13.3" screen, but I suspect it can. Now on a phone... that's another matter. For me personally, that low a resolution is a deal breaker, but I still think for the price, this is a good system for someone less concerned with screen resolution.

At proper viewing distances, I think it's difficult to differentiate between 1080p and 4K on a 13.3" display. You have to be sitting about 8" away from the display in order for the benefits of 4K to be visible on such a small display. Sit 12" or more and you're just overpaying. Then again, I've known people who prop their convertibles up on their chest and view them even closer than 8" but I'm not sure it would be worth the added battery drain or cost for those niche use scenarios.

@P_Devil, I disagree with that assessment. Part of this has nothing to do with pixel visibility. It's simply a question of how much information will fit on the screen at a given scale setting. Keep in mind that even in programs where you can zoom in and out, the size of the Taskbar and menu bar for the app are a fixed number of pixels (depending on scale setting), so if you only have 1080 vertically, then they consume a larger percentage of the screen, leaving less space for the information. Secondly, think about something with fairly small text, say, warranty information. You can read the text pretty small even at arms length (or at least someone with decent vision or proper glasses can). You can't read letters anywhere near that small on a 1080 screen, because they don't have enough pixels to be discernable even if you look at them through a magnifying glass, simply because they don't have enough pixels to be legible at that size. But if you go to a higher resolution, that same size font is now readable. Third, is the option to run at a scale higher than 100%. With Windows 10, Microsoft finally has nailed almost universally (a few apps with custom UI's don't pay attention to the Scale property) the ability to render apps properly at any scale. Works flawlessly for included apps, all UWP apps, MS Office, and more. So turning the scale up to 125% or higher just yields more beautifully formed characters, icons, etc. Even for someone whose eyesight isn't good enough to read the smaller fonts, this enhanced resolution of everything on the screen does yield a sharper more beautiful screen.

Looking forward to the full review!

Ohhh, maybe we should look at this for our next laptop. We've been considering a Surface Book but this looks just about as good for cheaper.

I bought the 2015 version two weeks ago and than they make newer version. ;-)Somehow I like the newer lighter one with his 2 usb-c port and one real usb port. But what i like on the older version it has just the old fashion hdmi and display port with 3 usb ports. Incl. A sd card slot and a big battery. i love the ash silver with kopper color. The only rear thing is the F5 key who stays on when you turn of the back light of the keyboard.

If I we're to buy a laptop of any kind right now this would be it. HP doing great things lately.

Based on what you have seen so far, if you had the option of getting this or a surface Pro which would you choose? I know they aren't exactly comparable, but I am interested in hearing your thoughts about it.

The HP all the way. Initially, I wasn't a fan of the two-in-one laptops. However, improvements on design in the last couple of years have changed my mind. Besides, for the price, I think you get a bit more for your money, when compared to the Surface Pro 4.

The HP all the way. Initially, I wasn't a fan of the two-in-one laptops. However, improvements on design in the last couple of years have changed my mind. Besides, for the price, I think you get a bit more for your money, when compared to the Surface Pro 4.

I'd go elsewhere. HP support has never done well, in my experience, and the Type Cover isn't great for me. I'd take something from Dell or ASUS, I think. Lenovo has some nice hardware, but hard to get past their spyware debacle.

I was thinking about the surface pro 4 to. However I choose the HP that because it is more like a laptop. The surface has a back standard function well on your table but not on your lap, i think the standard is pushing on your legs. Although I am not sur.. The screen and his function are great on the surface and maybe better than the HP has.
But basically I do not need that.

Very close to meeting all of my criteria... The lack of a pen, from what I can see... Is a deal breaker for my use case. Posted via the Windows Central App for Android

It works with HP's active pen, it will also work with Dell's pens too. I believe they're using Synaptic's stylus setup. It isn't quite as good as N-Trig or Wacom but it will get the job done.

You know the spectre x360 uses ntrig technology, right? Surface stylus will work just fine.

Any word on the exact CPU models? I know Intel has had weird versions of CPUs in the past, not sure if that is still the case.

I see Hewlett Packard Bell has moved on from copying the Yoga, to copying the Surface Book. Still a pretty thick ultrabook.

I hope these are better then the Elitebooks. Our Schools distrcit just moved from Dell Latitudes to the HP Elitebook 840 and 850's. It has been a HORRIBLE expereince. The touchpads Suck and Driver issues daily, and the VGA ports and resolution is terrible with our projectors. WHile I want to scream, give me my Dells back... I know it is not happening. So I am hoping these do not suck.

Hp phone must have different design team.

Seems really nice. And yeah, I would replace the no-bezel on my XPS 13 for a slim bezel with webcam *and* Windows Hello on HP Spectre.

Does this version still suffer from overheating when used in tablet mode or if actually used in your lap? I own the HP Spectre x360 - 13-4195x (the matte black and copper version) and mine is always hot at the bottom, especially near the fan. HP has repeatedly told me that this ultrabook is NOT meant or designed to be used in your lap because of this reason. as it will burn the skin. How can they sell a high end notebook/laptop/ultrabook and it not be usable in your lap? jskardzius - the Spectre x360 can be used with HP Active Stylus, which I have as well. http://store.hp.com/us/en/pdp/hp-active-pen

Try using a MacBook Pro on your lap. It's physics

Doesn't burn but mine definitely leaves a mark on my skin if I use it as a laptop. I also find the battery life to be terrible, lucky if I get 4 hours from it. As for the new one I'd be interested to know if HP are making them with the proper UK keyboard layout - mine has a US style enter key rather than the double height UK version that I prefer and really puts me off.

You do not talking about the 2015 version, this the special edition (if i am not mistaken) one with the 3 usb- c ports and mitch thinner an lighter.

Stunning laptop. 13" with 1080p screen is perfect 8GB of graphcs memory! now thats pretty cool. sitting here with my poultry 512mb :D

What's the difference between a regular touch pad and a precision one?

Precision is engineered by Microsoft to work with Windows 10. It has specific gestures and performance.

Very! When you pinch zoom on a precision touchpad it is super smooth as if you were using a touchscreen. If it's not a precision one then it will zoom like when you use ctrl+mousewheel. Clunky slow and jumpy. Having become used to having a precision touchpad on my SP4, not having it is a total deal breaker now.

If it's something you've gotten used to, I can see it being a problem, but for me, with a touchscreen, it would never occur to me to pinch-zoom with the touchpad rather than doing it on-screen.

Anyone know how projecting to external displays works with laptops like this? Can you just use a USB type C to HDMI cable/adapter? Or is there another port I'm not seeing...

Ah, forgot about that feature. Thanks!

Sounds good except for the 1080p display. 1080 would be fine for 11", but 13+ should up the ante a little.

My Yoga Pro 2 has a hi-res display, but it frequently caused me problems, like when I remote desktop into work and everything is t i n y. I run the Yoga at 1920x1080 and 125% DPI. I guess if you watch a lot of video, maybe you would like the hi-res. I personally would rather have the $300-$400 less that I will have to pay for the Spectre x360 vs. this.

Are the edges sharp? Concerned about comfort in tablet mode.

So close to perfect. Is there a digitizer for pen support? My one nitpick is why, why on these 2-in-1's do they keep using 16:9 screens?!? That bottom bezel is HUGE! Should be 16:10 if not 3:2.

This is gorgeous! OEMs finally seem to have the sense to rectify some of the issues that were such a nuisance for laptop market for decades: thick heavy trunks. This thinner and under three pounds weight is a win. The design looks gorgeous. My other base level configuration preferences are 8GB RAM, 256GB NVMe SSD and 1080p OLED screen with good contrast ratios, brightness range and colour accuracy. Oh and an out of the box dedicated stylus for tablet mode. And lastly throw in the precision touch pad. But still I'm alright with what they are offering with this 2017 models. Fingers crossed for future models.
Oh, and now that PC OEMs seem to be finally getting their heads together, Intel needs to come to senses too and price Core M series as low as pentium and celeron series (and maybe finally get rid of pentium/celeron series and atom cores, they are woeful). Oh and Intel needs to improve their integrated GPUs as well. I just hope (or rather wish) that AMD comes out gun blazing with their new Zen architecture which they should then optimize for power efficient laptop/tablet use while still retaining reasonably good performance and come with new polaris dedicated GPUs and it will be game on. Competition is good for consumers. Intel's monopoly is really hurting consumers in terms of innovation and competitiveness and pricing. Microsoft (and their OEMs) should also start giving more attention to PowerVR GPUs particularly for tablets and mobiles. If, IPad pro is to be believed they are doing a stellar job considering a mobile form factor and setup. Looking forward to better windows 10 devices in future.

Choosing new device for weeks now and this doesnt make my life easier.MS will anounce SP5 on their conference. I am sure

HP is doing pretty great stuff lately...

Wow, definitely looks marvelous. Still using my SP3 and looking for a SP5 anytime now~

When you say it has Full-size island-style backlit keyboard, isn't that misleading? It does not have the separate numeric section so it can't be a full size, can it?

It doesn't say anywhwere, does this model also support active pen? Don't know why manufacturers don't put that info in the specs. The previous model did.

Even HP doesn't seem to know if this model comes with a digitizer for pen support. Anyone been able to confirm one way or another?

I had a chat with a sales rep through their website and she confirmed that it works with the HP Active Stylus, the one made for last generation's Spectre x360 (not the Active Stylus x2). Some websites say otherwise, I guess the only way to know is to actually test it. I hoping that there is support for an active stylus as that would pretty much seal the deal for me.

Full HD!? Are you frigging kidding me!? Is this some sort of 2009?

I'm enjoying my new Spectre x360 13t. Replaced my first gen Spectre x360 (insurance replacement). Nice size, great for tablet use (magazine reading, in my case). Windows Hello is super fast, not just a gimmick. HP has updated some drivers to work with W10 Anniversary Edition, but my unit (shipped from China on 10-26) had the prior W10 edition. I force-updated to Anniversary and no problems so far (in particular, none of the problems associated with the launch drivers--my unit had the updated drivers). I am sad at the departure of pen support.
Windows Central Newsletter
Thank you for signing up to Windows Central. You will receive a verification email shortly.
There was a problem. Please refresh the page and try again.