The HP Spectre x360 gets a remake for late 2016, and it's stunning
HP's Spectre x360 gets a makeover for the holidays and it looks fantastic!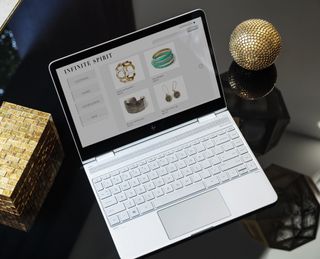 If I can pinpoint the moment that HP's computers began to have a renaissance, I would look to the early-2015 HP Spectre x360. The all-metal laptop had all around excellent build quality with a giant trackpad, great keyboard, and a great design. It also has very high customer satisfaction ratings.
Fast forward to late 2016 and HP is redoing the Spectre x360 (13-w023dx) with a revamped designed and improvements all around. Besides the new 7th-generation Intel 'Kaby Lake' processors, HP has improved nearly every aspect of the Spectre — including support for Windows Hello (yes!). Let's see what's new.
In a nutshell this is what is new and improved with the Spectre x360 (late-2016):
Thinner: 13.8mm versus 15.9mm
Lighter: 2.85lbs (1.3kg) versus 3.2lbs (1.45kg)
Thinner Bezel: 3.4mm versus 15.1mm (!)
Also, the Spectre gets the new 7th-generation Intel Core i5 or i7 processor, PCIe NVMe M.2 SSD, four Bang & Olufsen speakers, and an FHD front-facing HP TrueVision IR web camera that also works with Windows Hello for easy logins.
Perhaps the biggest innovation, though, is HP taking on Dell for thin bezels. While there is still a top and bottom bezel on the new Spectre, the sides have been reduced by 77% from last year's model making the FHD IPS touch display "edge to edge."
Swipe to scroll horizontally
Category
Specs
Operating system
Windows 10 Home
Processor
7th Gen Intel Core i5 or Core i7
Display
13.3-inch diagonal
Full HD IPS UWVA WLED-backlit multitouch-enabled
edge-to-edge glass
1920x 1080
Memory
8 or 16 GB LPDDR3 SDRAM
Solid-state drive
512 GB PCIe NVMe M.2 Solid State Drive
Graphics
Intel HD Graphics 620 with up to 8258 MB total graphics memory
Audio
Bang & Olufsen with quad speakers
Battery life
Up to 14 hours and 15 minutes
Webcam
Front-facing HP TrueVision FHD IR Webcam
Windows Hello capable
Weight
2.85 lb (1.3kg)
Wireless
2x2 802.11ac WLAN and Bluetooth
Keyboard
Full-size island-style backlit keyboard
HP Fast Charge
0 to 90% charge in approximately 90 mins
Ports
2 USB 3.1 Type-C Thunderbolt
1 USB 3.1 Type-A Gen 1 (HP Sleep and Charge)
1 Headphone/microphone combo
Battery life is projected at 14+ hours with its 57.8 Whr battery, and it features HP Fast Charging, which lets you hit 90% capacity in just 90 minutes. The device is also configurable up with up to 16GB of RAM up from the previous 8GB limit.
Image 1 of 8
Availability for the new HP Spectre x360 begins today on HP.com.
Prices start at $1049 for the Core i5 version with 8GB of RAM and 256GB of storage, and it jumps to $1299 for a Core i7 with 16GB of RAM and 512GB of storage. Also, US retailer Best Buy will be stocking the Core i7 version at the end of October in stores.
Dare I say the new HP Spectre x360 looks like the laptop to beat this year! Stay tuned; we'll be getting a hands-on demo later tonight in New York City!
Windows Central Newsletter
Get the best of Windows Central in in your inbox, every day!
Daniel Rubino is the Editor-in-chief of Windows Central, head reviewer, podcast co-host, and analyst. He has been covering Microsoft since 2007 when this site was called WMExperts (and later Windows Phone Central). His interests include Windows, laptops, next-gen computing, and for some reason, watches. Before all this tech stuff, he worked on a Ph.D. in linguistics, watched people sleep (for medical purposes!), and ran the projectors at movie theaters because it was fun.
Wow, it's indeed stunning. Now I'm torn between this and the new XPS 13

Well, x360 flips to be a (big) tablet. I'm not sure how useful it is, but it's certainly a difference. I'm kind of partial to the metal, but I need to try to the keyboard too. Dell uses Precision (win) and HP tends to lean towards Synaptics, but i'll check later today as to what this has.

Does it support a digitizer pen (active)? It's rather important if you have a 2in1 with touchscreen. For example the Lenovo Yoga 900 doesnt support active stylus but the Yoga 900S does.

The Spectre supports a digitizer pen. It is not as good as say the Surface but it works well enough.
https://www.windowscentral.com/e?link=https2F2Flink...

Neither sport any inking capabilities do they? I know dell has a capacitive pen but it isn't on par with the surface or even the lenovo/wacom combo.

The previous model does. Not sure why this one wouldn't.

The previous model had a real pen? Did not know that, Ntrig or Wacom?

As an existing x360 owner, I was expecting HP to change the keyboard to black with white letters. The silver one looks too monotonus and major problem is that it is very difficult to read the letters, especially with backlight on in dark, absolutely no contrast. Plus the light bleeds and kind of blends in the all silver keys. Big oversignt on HP's part - maybe HP chickened out thinking the x360 will be called a "mac clone"! Not at all, as it has way too may differentiation and is better than Mac in most areas.

Better than Dell for sure. Better camera, better materials, better trackpad.

Better trackpad?! I seriously doubt that. I own the XPS13 and we have the latest Spectre at work... The XPS (with 4k screen) has the best trackpad I have ever used, the precision is scary, its like what the Macs used to be, the Spectre is not that good. I will also add that the XPS feels very well built, very sturdy and the carbon feels great. The Spectre har very sharp edges and is cold. I much preffer the XPS.

It comes to personal preference.. I think colors on XPS screen are over saturated.

I'm wondering if you actually have any intention of buying either.

Intelligent Design indeed !!!

I find it odd that I know what that means because of a German metal band.

Looks really good but I dont trust HP branded anything due to low reliability. Dell seems like a much safer choice.

That's curious. If you peruse the Dell subreddit, lots of complaints about QA checking there too. Can't say I heard a lot about HP, but I wonder what the feeling is there for consumers.

I am with him on HP QA issues. I had two HPs - on a "tablet laptop" brought in 2006/7, had nothing but issues there. It was not just me, a friend who brought it on my recoomendation also had lots of issues - overheating, failed parts, fried motherboard. My MB died a week after warranty expired, they would not replace it. There was a class action lawsuit filed against HP which forced replacement. Still, couldn't resist original x360 and I have had no issues with it so far - touch wood!

Its not just issue with HP. Even Dell and other brand Laptops have same issue untill 2010. I bought Dell Laptopt in 2007 and it didn't lasted for more than 15 months.

Tbh I've had the opposite experience, Dell has been a bit hit and miss on reliability.

Always bought HP and never had a problem. Great quality and awesome support (if you even need it). Posted via the Windows Central App for Android

Dell = garbage at all they do.

I have the previous version. Too bad this one lost the SD card slot. Makes photo transfers from my camera a bit more tedious.

Did you mean "Metal or not?"

It's Idiotspeek for "does it have a pretend metal grill like the Elite X3?"

It seems to me that these oems are using 'thin' to increase the price. This is basically a $499 laptop, or less, in a thin package.

A Core i5 or i7 costs $260 by itself...

512GB SSD, Windows Hello, USB Type C with Thunderbolt, Kaby Lake Core I7, 2-in-1, 14+ hours battery life for $499? Hahahahahahahahahahaha.

That's awesome, two weeks ago I bought the "old? version :-/ I'm happy with this, but I should have waited.

HP should launch a 15 inch version. Dell has no competition for the tiny bezel xps 15.

There's a 15 inch Spectre not sure if they will be refreshing it or not

They will, but like Dell they have to wait for new Kaby Lake early next year.

I am waiting for 15inch version. The only reason I didn't buy older version is thick bezels. Now with thin bezels 15 inch is perfect size.

Looks like we're only 1-2 years away from <13mm and <2.5 lbs. Once that happens I would seriously have to look at one of these (360 or Yoga) over detachable 2 in 1s.

It looks beautiful, well designed and really desirable

Looks to have USB-C charger. Cool.

I have an x360. These are the two things that irritate me:
1) It does not show an estimate of battery time left
2) Even worse, spray on keyboard keys is getting scratched badly. This only after less than one year of use. And it looks UGLY.

battery life: Hmm, the Windows 10 power indicator in the task bar will estimate this for you. Or get BatteryBar.

I've the Spectre x360 too. HP disabled this feature at bios/firmware level. There's no estimation.
BatteryBar looks not so precise. (you have to force estimation with its own algorithm).

I hope the rounded the edges slightly. I have the original, and the edges are so sharp they can be uncomfortable.

I had the first version and I too thought the edges were a little too sharp. I returned it though because all that crappy bugs we had with skylake and win10. Bought SP4 instead. Well that didn't help the skylake crashes anyway. I love my SP4 but this is a very nice laptop. Maybe I'll look into this. Still waiting for some news about SP5 or SB2.

Skylake bugs? Never knew about these. Are there any links to read about that?

I don't think I'll ever buy another HP product after what they did with that printer update.

Graphics are in spec sheet twice.

Hi Daniel... Can you please check when they are going release OLED version... Once you see OLED version its difficult to buy LCD version...

Never buying from them again after their horrid customer support and lying about hardware faults to me years ago.

Here is my checklist for my next computer and how the Spectre fills the bill: 16GB RAM capable Check
256GB or more PCIe SSD Check
2-in-1 Check
USB Type C w/Thunderbolt Check
Windows Hello Check This is the first computer that meets all my desires! Notice I did not have quad HD on the list. I've had ultra high res on my Yoga 2 Pro for the last three years and frankly is was more of a pain than being valuable. I really wanted to wait for the Surface Book rev to pull the trigger, but if that doesn't come til Spring, I don't see how I can wait.

hmmm, tempting to upgrade my version (i7 Skylake, 1080P w/touch, 8GB/256GB HD) to this guy. But I'll wait to see what Microsoft has to say in a couple weeks first. :) as far as quality goes, I've never had any problems with mine and taken it on a lot of overseas trips for RAW photo editing. Kinda wish they offered a 12" version of it to make handheld tablet use a little more palatable (yeah, there is the Elite X2 but it's a different device). oh and BTW, HP is clearing out their current inventory of x360's. Might be worth a look.

Oh man, this looks like it could be the perfect small laptop/2in1. Now if only it could have built-in LTE and a digitizer pen support... Oh and really wish they'd go with a 16:10 display ratio and get rid of some of that bottom bezel :)

the Spectre x360 does have an active digitzer; has since it first came out I believe. I think it's a Synaptic. I use a Dell active pen with mine.

Daniel, can you please ask why they keep going with 16:9 displays? They're just not as good for productivity. The Surface team has figured this out. Why can't HP and Lenovo realize this as well? Posted from my Nexus 5X

This convertible is absolutely phenomenal. HP knows what they've been doing lately.

I have the past generation with maxed out specs and I can assure you it will last a while. It's an amazing computer. Highly recommended! Posted via the Windows Central App for Android

Damn i hate it when they are putting buttons to the right of the Enter/Backspace etc. That's unfortunately a deal breaker for me :(

I have one on order. Since it's not preconfigured my estimated shipping date is November 2nd, delivery November 10th. Replacing a first generation x360 that was no problems other than the widely reported motherboard replacement. Was under extended (thank God) warranty.

I have a 2015 13" MBPr and am seriously thinking about replacing it with this. I looked at the second generation x360 but the trackpad was horrible, the side bezels were way too big, and the unit felt like it was too big for its screen size. This looks to perfect that and then some especially if the battery life is accurate (or at least within a couple hours of the estimate). That's one of the reasons why I returned my SP3 after the Windows 10 update: it went from getting 8-9 hours to 4 hours on a single charge whereas my MBPr easily gets 8 hours of work, 13 hours of video playback. HP may get my money if the reviews for this are positive.

can i change the m.2 ssd easily?

Would like to know this as well...

The simple answer is yes... I have updated mine to a Samsung 950 Pro 512GB M2 SSD and it really does speed everything up. The write and read speed is up by 4 times over that of the original drive. The update was very straight forward as you only need to remove the base plate on the laptop and then the SSD is clearly visible for the swap out.

I can't find this model on the HP store. The models available online don't have the improved sound system and the bezel seems larger, it's also 1.39kg rather than 1.30kg. Can you confirm where I can find this computer. I live in the UK if this changes anything.

Best Buy has them...oh...UK
Windows Central Newsletter
Thank you for signing up to Windows Central. You will receive a verification email shortly.
There was a problem. Please refresh the page and try again.