Hands-on with the Twitter 5.0 update for Windows 10 Mobile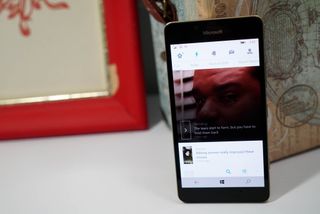 Last year, the official Twitter app got a revamped design for Windows 10 PCs and tablets. This morning, the app for Windows 10 Mobile finally gets the same treatment. All the new features such as multiple photo uploads, GIF playback, Quote Retweets, hearts, and more are included in the latest update. If you haven't installed it, make sure to check out our hands-on video.
The first thing we noticed was the dark theme, but after a second glance, we found it was connected to the system settings. You can change the look in your phone's Settings > Personalization > Colors. We wish this option was within the Twitter app itself and not connected to our phone's theme. Perhaps that option will be added in the future.
Users coming from iOS or Android will have a more familiar experience with this update compared to the previous versions. On the top of the app are tabs for Moments, Notifications, Direct Messages, and your profile. The Moments section is where you can see trending stories while the Notifications include your mentions and tweets that have been liked or retweeted.
Quote Retweets are displayed correctly, and the app makes it easy for you to create Quotes. Just tap the Retweet button below a tweet and select "Quote Tweet" in the pop-up menu. If you want to add some media to your tweet, you can add multiple photos and even video. You can capture a new one from the camera, or select from your existing gallery.
Overall, we're very satisfied with the latest Twitter update. There is room for improvement, of course, but like all '1.0' apps features will likely come in future updates once early bugs are worked out. The core features are there and for casual "normy" users this is a solid day one release. Here are some things we would like to see added in future updates:
In-app option for light or dark theme independent of system settings
Actionable notifications
Swipe navigation between sections
GIF support when posting
Integration with the People app ('History')
Twitter poll support (although the Straw app is a better option anyway)
Tweet marker support or, at least, resume the timeline where you left off
Download it for free from the Windows Store and let us know what you think in the comments!
Download Twitter for Windows 10 (opens in new tab)
Windows Central Newsletter
Get the best of Windows Central in in your inbox, every day!
Seems faster?! No. Incredibly fast!?! Yes!!

So fast, it shows what can be done. Msoft need to learn a lot from the twitter programs. It just shows that windows 10 mobile is fine it's the apps programmers that need the development! How long did it take this text box to open on Microsoft edge! Lol, a joke.

Honestly, I think the Windows Central site is just crap in general. It's not just slow on Edge but also IE and all the ads make it even worse. So yeah, the programmers need some education, but in this case the guys who build and maintain the WC site code.

It is freaking fast!!!! I open app and see latest tweets, before I had to always load new tweets...

Finally app wont crash when uploading photo! :P it was pain to upload photos with old twitter app...

Very nice implementation.
And with text size at 300 the controls move to the side of the screen, it looks awesome.

Can you change size in the app or are you talking about a system setting?

I am talking about the system settings

Where is the people hub integration?

Not yet, am sure update will come again in a week time Posted from windows central for windows 10 mobile

I really wish this was a separate app in form of BETA, and we could have been still using the old app. Sent from W10M on 640XL

Yeah, they seem forgot about that and mentioning it on hands-on. That's a big omission sadly. :( I rather have that soon than the in-app theme settings (though this is easier).

So while it doesn't show up as a continuum app, if you launch it from continuum it does open full screen on your display (the error that says 'the app will open on your phone' still pops up). Very cool experience in full screen.

It is working in Redstone 950xl in continuum

bloody love this new update; a few missing features, though, but, like he said, it's only the initial release so here's to hoping they enable some of the better features from the previous version :3

I like the desktop-ish UI on phablets Posted from Windows Central for Windows 10

How do you mean? On say the lumia 1520, the app resembles the desktop version? EDIT: I get it now lol

As Paul Thurrott noted today on TWIW...the last time Twitter released an update like this, was on Win10 launch day...maybe the 3/17 release date is true!!!

Seriously, I'm really loving the app. BioResearch & Games.

Desktop version has had an update today too, wondered why the live tile had disappeared. Posted via the Windows Central App for Android

Is the font size tied to the system font size? I can't find a way to increase the size or to make it smaller.

Most likely, maybe on the display in system settings? Posted from Windows Central for Windows 10 on my Lumia 950! Step off, haters! U-U

That's a real pity. I much prefer to set font size in specific apps and not just one size fits all UIs.

Right, because things never change and software never gets updated... -___-

Thanks for the review Mark! :)

I run my 950xl on 250% (display setting). The icons on top are actually on the side, like the desktop version. App is great.

Same for me on my 950XL. Love it!

Yup, much better that way. I did play with the scaling but didn't like them at the top. Maybe related but the WC app articles are now all tiny text. Posted on a L950XL with Fingers 10

Sorry, but without people hub integration this "update" is horrible and a downgrade. If I wished for an iPhone experience I would've bought one. Hopefully it will return soon with an app update.

Wow, I hadn't opened the people hub so didn't realize it was gone. You're right, major downgrade.

I stopped using the people hub with W10M, doesn't really do much. Posted on a L950XL with Fingers 10

Well the People hub itself on W10M have a worst downgrade (not to mention the totally horrible Windows 10 version).

Agree this effectivly stopped me from using Twitter

Did anybody notice that you don't have to sign in if have already signed on other windows device. I downloaded the app on pc and had signed in. Now, when I downloaded on my phone I was auto signed in.

Ya kinda freaked me out at first wondered what happened...and then I felt powerful and awesome for some reason lol. +640/Win 10

Prism also updated their app to W10M style.

Couple more things for the wishlist: Notification settings per-account. I manage 3, and I want them all to have different notification settings (old version had this) Ability to hide Moments (I know, fat chance) All in all, not too bad. Had a couple crashes composing right after the update, but hasn't happened since rebooting the phone.

+950 for the pointless Moments hiding. Posted on a L950XL with Fingers 10

I want people hub syncing back.....

I think the app does has light/dark theme controls in it. I imagine it defaults to your system at start. If you click onthe profile head, there is a settings button on the right hand side of your profile. There's a menu. Look for Personalization. There you can set light or dark. https://36.media.tumblr.com/711efcb889511f41278e786897e1ff57/tumblr_o45d...

As the title states, this is v5.0 of the app, not v1.0 like the article mentions. I'm quite disappointed by the update and don't understand why more people don't agree. I'm glad to have some of the new features that other platforms have had for many months, but nearly half of the suggested improvements at the end of the article already worked in the old version. To me, this app feels more "beta" than the new Instagram app from last week, and I think it should be labeled as such.

At least the keyboard works properly... Point 0 is point 0 Posted from Windows Central for Windows 10 on my Lumia 950! Step off, haters! U-U

And carriage returns tweet properly. Posted on a L950XL with Fingers 10

it's "v1" as in v1 for a uwp app

I love the new UI......!!!
Suddenly twitter is one of my favourites.....!!
;)

Does Twitter's Windows team have a "contact us" support center where we can submit feedback (e.g. support for People hub integration, actionable notifications, app theme settings, video playback within timeline, GIF support when posting, etc.)?

And another one: Transparent live tile

I think we need gestures to swipe-from-the-edge to switch between Timeline, Mentions, etc. Now we really have to reach those tabs at the top which isn't that comfortable using on large smartphones, especially phablets.

And one more thing: ability to choose Twitter as a "quick status" app for your lock screen in Settings.

Hi, i am keshav from India, i am not getting the quick status app icon, i am using Nokia 1520 windows 10 phone update 10.0.10586.164 twitter 5.0.0.0 , I've turned background apps 'on' for twitter, so also are notifications and actions 'on'. Thanks in advance!! :)

Video playback in timeline is already present.

Nope, as far as I tested it always open Edge to the mobile YouTube site. It would be great to have inline video playback and you open, it should open with your default YouTube or any other video app that corresponds to it. Only if no other app exist will open Edge.

Maybe try Windows Feedback under apps... ;) Posted from Windows Central for Windows 10 on my Lumia 950! Step off, haters! U-U

I always wondered that if it really works for the 3rd-party app? I haven't got any information regarding it if Microsoft send any of the feedback to the respective developers too, I guess not since you cannot assume a developers/company will just accept unsolicited feedbacks. I'm thinking it's really for the Windows team to just fix some issues related to those apps, not to fix the apps itself.

In the Windows blog article about this Twitter release, they say you can tweet with #twitterforwindows hashtag to report bug or suggestions; according to them, "they are listening".

We should ask to see who liked and retweeted a tweet. Can't believe we don't have that option

Interesting, gotta try that. Thanks for info and also can you post a link here?

Yep I am LOVING this new version! Much much better I would of liked to see People Hub integration but I can live with that.

If you have a bigger device it adjust the menu to the left a welcome UI change!

Just installed it on my 2nd phone to test. It does support lists. Fyi, just go to your user tab and tap the list icon, which is represented by three horizontal lines.

It doesn't support adding a person to a list though. (So its list support really isn't better than the 8.x version.)

That was weird to see twitter using system-wide color scheme, but its okay. I hope photo-hub and all older features work as expected. I can live with the dark scheme, I guess.

I am so excited to finally have an official Twitter app that works! The old app would sometimes not load current timelines or pictures and lately it crashed quite a bit. I am very excited indeed!

Damn those On screen buttons are ugly as F****... Is there an option to hide them while in app?

Do...do you mean the actual OS software keys Back, Home, and Search? Um...just swipe up from the bottom of the screen.

Absolutely crap that you still have to click to load more

You can pull down to refresh... Are you talking about older posts.? =s Posted from Windows Central for Windows 10 on my Lumia 950! Step off, haters! U-U

I'll stick with Tweetium, thanks.

I hope they change it to the ability to have the light theme only for the app itself. I prefer a dark theme for my phone, but for Twitter app I prefer the light theme.

Mark, you're a genius. Changing from Dark to Light. LOL.

Notification aren't working now after the update. And I don't see a way to turn them on.

Have you received any notifications yet? You don't get an option to alter them in the settings unless you've had one. They're on by default. Posted on a L950XL with Fingers 10

Still nothing. There's a bug for sure preventing it from working. Posted via the Windows Central App for Android

What's missing is notifications for specific users that you follow. The "old" app had that. It is totally ridiculous and frustrating that this "new" version doesn't do that. If I try to customize notifications settings it takes me to a stupid mobile.twitter.com web page! And if I enable notifications on my phone from the mobile page, it just sends them as text messages. What the heck is this crap? Does anyone know whether any 3rd party twitter apps support individual user tweet notifications?? That's the biggest feature I used

Only in the 40 replies? This app is amazing. Twitter has shown major effort in making the best windows 10 app to date. Only tried it on mobiel so far but im really impressed.

Sorry, but I can't excuse the lack of features. This is v5.0, not 1.0. I do not expect a new release, especially a major new release, to remove features and functionality, then to be told that we'll need to wait for them to be added. They should have either released a complete version, or forked the release and he kept old one in the store until this one was complete

Looks really great. I'm really glad Twitter released this update. It's a sign of good things to come. Now Netflix has to update their Mobile application to be Universal as well.

I run Aeries. Is it worth switching back?

Unforgivable that user tweet notifications are not available any longer. At least I can't find them, and that is ridiculous

except I have no idea now how to switch between the accounts I have on there, I can't find that option.. which if that is the case, the app needs to go. Also boo on automatic updates when they remove features people use

Is it only me where i dont get any notifications in the OS from twitter? Otherwise i like the app :)!


Not only you...that feature appears to not working fully for many. I had my son mention me in a tweet. Got a notification on PC in this new Win10 "universal" app (blah blah), but my phone never showed anything

The theme thing really annoys me, but despite that, I really like this app.

I'm sorry, but I had to stop watching the hands on as soon as you said *jif

also needs to bring back individual notification posts. I miss an need it. so when my Vip tweet I never miss a beat.. currently it's no where in this build but I guess I'll wait it out.

I second that. Totally frustrated that this feature is missing...

I appreciate the fully updated interface and bug-free interactivity with the APIs... but no integration with the People Hub or Lock Screen? Boo! :(

People seem to not notice the apo won't notify you if you're being quoted unless the person mentions you in the comment about the quote. They need to fix that. Since last year!

I REALLY liked the hubs in WP7and WP8.0. Now the last "people hub" fortress is fallen. Assimilation complete, welcome to androiOS -.-
Why I should buy my next W10 mobile again this year? Help me guys!

You should buy your next for all the other reasons you bought your last Windows Phone. Unless people hub integration was the only reason ;P There, I helped!

am I like the only one with some tweets getting duplicated?. beside that all is working really well

I don't know if Twitter or some other application update is at fault (also got updates to Office applications and Email/Calendar today), but my Lumia 950 has been rebooting like crazy today. I'm running the latest fast ring OS (Redstone). Anyone else having this problem after these updates?

Its fast. First time tweeter user . And im satisfied with this app.

Quote Retweets were strange in the old version (only possible to post them from a tweet's details view didn't display well, etc.) and too much of my timeline was quoted tweets...

Doesn't it save battery by not integrating in the people hub?

I notice that you can't create new tweet on landscape mode.

Without people hub integration, I can no longer pin tweets I follow regularly to start page. Wow very upset.

I'm going to assume you mean pinning the profile of someone you follow to the start page. You can do this by going into their profile and tap the gear and select Pin profile. This wil pin it to the start page.

The app also only shows search result for most relevant tweets. I want to be able to search for all recent tweets as well. What bothers me is that the functions this app is missing a very VERY basic and should've been in it since day one.

I couldn't login to twitter.. It keeps on throwing an error "we couldn't process the request. Please check ur connection and try again" despite of very good internet connection. I tried in two different networks assuming network problem in my home. But in vain.. It says the same.. Can someone help me in this issue.. Am i the only one who is facing this issue..? I use Lumia 730 and i waited fr this update Fr so long from official twitter app..

I have "Flame" icon where you have "Thunder" icon.

Its great! If it could have transparency for app pinning, it would be even better.

How do you turn off auto-play for videos and gifs ?

I think layout is different on L950 XL as shown in the picture above ...

Exactly how windows 10 apps should be rather than being ios or android copies!!! Especially the black theme on!!

The buttons on mine is located on the left side

App is missing in the .."choose app to show quick action" on lock screen settings

Where are the settings for this app, I can't find the settings since the new update

Very nice implementation.
And with text size at 300 the controls move to the side of the screen, it looks awesome.

I like the new twitter,just one thing,I don't see any of my twitter contacts in my people app anymore,and no twitter feeds in my "What's new" in the people app

all twitter contacts disappeared from the people app

Can not put twitter icon under "Choose app to show quick action" on lock screen setting

I don't think we can swipe right or left in the app, which was basic and has been left out.

First LinkedIn, now Twitter can't connect to the People app. We are losing functionality day by day.

Add the "tweet activity" access showing impressions and engagements that is available on the "desktop" web, Android and iOS versions and they're almost at feature parity for once. Otherwise, GREAT effort by the developer and a rare UWP success story.

I often use twitter on my Lumia 950XL, and this new update is really awesome, finally they did it right, the design is way way better, and also the new features

I noticed when I keep scrolling to older tweets, my Timeline stops at around "one hour ago", before the Twitter logo shows up and no more tweets are loaded. Am I the only one with this issue?

how to stop videos and gifs from playing automatically?

Not connected with people app. Posted from Windows Central for Windows 10

They are ruining Twitter--I just want a timeline that is a timeline with the Tweets in order by when they were tweeted! Retweets and Likes floating to the top are ruining my timeline and I do have "Show the best tweets first" turned off. Why can't we see tweets in order?

Great app but..... How do you stop video/gif autoplaying. Turned them off in web site version but can't find the same setting in the app...

Yes, I prefer a dark theme for my phone but light for Twitter. I hope that's an option in the future.

I am loving the app, it is a big part of my windows phone and even bettter on windows 10 does anyone kmow if there is a way to set the app to just choose from my contact list when composing a tweet, when i type 'julie' now for instance i get every julie in twitter instead of the actual julie i follow?? any help appreciated Dave

Unable to tweet.Could see the tweet icon once i compose or reply to tweet.Twitter 5.3.5.0 for windows 10 on my lumia 532 phone. Does its recent bug or it has been fixed??
Windows Central Newsletter
Thank you for signing up to Windows Central. You will receive a verification email shortly.
There was a problem. Please refresh the page and try again.