Hands on with the official Audible app for Windows Phone [video]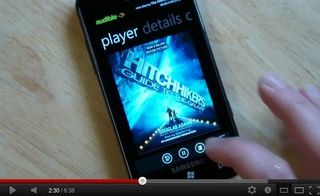 We've been waiting for a long time for an Audible client for Windows Phone and that day is finally almost upon us. Currently the popular audio-book app is in limited beta testing but we managed to get our hands on a copy and to be honest, we're impressed. The folks at Audible have given time and consideration when making this app as opposed to rushing some basic player to the market and it shows.
The Audible app is fast, nimble and to the point allowing you to purchase your favorite audio books on the go and with ease of listening. Some of the highlights of the app include:
Primary Live Tile that flips with recent history on the back
Secondary Live Tiles based on book title; enables 1-touch playing of audio; flips to show bookmark history
Configurable "jump back" feature to re-hear a section (default is 30 seconds)
Button-less playback which uses gestures instead of buttons to control the audio
Badges and statistics viewer
Sharing of book info and general news via the Windows Phone built in social networks
Gorgeous UI
One small downside is that it uses the built in browser/embedded IE9 for book purchasing as opposed to a dedicated native marketplace. The embedded option works well enough but it feels a little jarring to be ejected momentarily from the app-experience.
The design of the app is really striking and in our mind, Audible has done a knock out job here. In addition, there are enough options to keep most users happy but not too much as to overwhelm. While purchasing audio books may not be everyone's cup of tea (gosh, they're expensive!) we know many of you really insist on this service and for you , we have just a few words: you won't be disappointed.
Look for the official Auidble app to hit the Marketplace in the next few weeks. We'll of course keep you abreast of when it finally is released here at WPCentral. Thanks to Jack K., for the assitance!
Daniel Rubino is the Executive Editor of Windows Central, head reviewer, podcast co-host, and analyst. He has been covering Microsoft here since 2007, back when this site was called WMExperts (and later Windows Phone Central). His interests include Windows, Microsoft Surface, laptops, next-gen computing, and arguing with people on the internet.
Looks great! Can't wait to get my hands on it :)

Now my kindle fire can finally go in the trash can where it belongs. This was the only I purchased the fire: it had the audible app and my WP7 didn't.

Nice review! Hopefully a good app too! But, I personally like reding books to hear them read to me and ofcourse as Daniel mentioned, they are expensive!! . Btw Dan, did you get a chance to visit the Dosa place? :-)

Love that all kinds of top apps are making their way to WP! They always look so much better with the beautiful metro UI. This app might get me to try out audio books for the first time!

Very nice. Any info on joining the beta? Any idea on the price of the app?

Let's goo! Bring it on already!

The app should be free since you are already paying to use the service.

Wow! And here I was looking forward to using the Kindle app after I shelve my N8!

Great demo, Daniel :) Love your descriptions - "bold", "striking" - and love that you cover the aesthetic details (i.e. button free option) - many reviewers overlook these far too often!

Glad to see this coming to WP!



Thank you for finally showcasing the Focus S as the display model, haven't been feeling the love from you guys and seeing that lumia 800 most of the time is making me jealous! Lol Love my Focus S and Im sure many more do as well..

Been waiting for this, looks really good. Daniel I like how you skipped over the Steve Jobs book (subconsciously I'm sure)

Audible is more affordable if you subscribe for credits. A $28 book is often 1 credit which, depending on your plan, is $10-15. Similar to paper/ebook prices.
Have a lot of backlog on my audiobooks waiting for this app.


Been waiting a long time. Time to renew my audible subscription.

Please, Amazon if you are going to release this to the Swedish marketplace, could you then also rerelease the kindle app for Sweden? As we don't have the kindle app here, there is no legal way for us to get your e-books from amazon on our WP7 phones...

You should send an eMail to amazon instead :D

Your camera sound like a coffee maker lol

But thanks for the preview! I have a couple friends that have been waiting for this.

Now I can stop carrying my HD2 Android.

Daniel, you do the best reviews.

What happened to this? Thought it was supposed to be this month. :-(

Any further word on this? March has come and gone.

April 19th and STILL no word...WTH.

Yes - any word on when the app is being released
Help on the Audible.com site offers no new news. In fact, it shows the official answer that was first published 11/15/2010 has been updated as recently as 4/20/2012.
Answer ID 4029 | Published 11/15/2010 05:48 PM | Updated 04/20/2012 08:48 AM After receiving numerous requests from Windows Phone users, we are excited to say that an application is actively being developed. While we cannot comment on its release date yet, we are confident you'll love being able to use Audible with Windows Phone.

And now April is almost over, and still no word.

Just audibles standard answer... It will come... No date. This is really pissing me off. Anyone that knows when their developers start working with the WP app?

Into may and still no app

Yep. I'm guessing we'll see this at Christmas. /s This must be a licensing thing. I can't imagine that Audible would just sit on a revenue generating deployment.



I can't believe they have yet to publish anything. If it was licensing then I shouldn't be able to run it on my dreadful wildfire s... Got my Titan back now with a new motherboard:)

For the love of Pete, there is still no word. *anyone* have any more info on this? I'm considering cancelling my Audible subscription if this isn't resolved soon. Wish our discontent could actually fiter up to someone who gave a shit.

Where is it? It's June in a couple of days.

Apparently nothing ever happens fast on WP. This is crazy and irritating. I'm giving it to July 4 and cancelling my Audible if not released by then

Perhaps this article was just a cruel hoax with fancy screenshots to make us all THINK there will be an Audible app. /s

Wow. This is finally out. It doesn't show up from the parketplace on my phone, but I got it through the website.
Windows Central Newsletter
Get the best of Windows Central in in your inbox, every day!
Thank you for signing up to Windows Central. You will receive a verification email shortly.
There was a problem. Please refresh the page and try again.