Hands on with EyeLock myris, log in with your eyes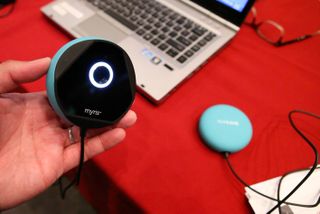 Tonight, we got a chance to see a demo of EyeLock myris, a USB-enabled iris identity authenticator. Iris authentication has been available to corporations and enterprises for years, but this product promises to be user-friendly or cost-effective enough for individuals to use in everyday situations. Instead of typing in usernames and passwords, place the EyeLock myris in front of your face to log in.
Head past the break to watch the demo.
The EyeLock myris is compatible with Windows 7 and 8, Mac OS and Chrome OS and can be used to grant access to digital networks such as online bank accounts, social media, Internet VPNs, email and more. It supports up to five different users.
Key features:
Simple set-up and user-friendly application software allow users to securely and easily manage all passwords and accounts
Authentication happens on the device - no personal information is transmitted
1 in 2.25 trillion False Accept Rate ensures only the authorized user can access accounts
Video-based system for advanced identification
No batteries needed - fully powered through the USB connection
myris offers consumers multiple user capacity for individually protected accounts – up to five per device
Secure communication and military grade encryption with AES 256
Compatible with Windows 7 & 8, Mac OS and Chrome OS
The myris is about the size of a computer mouse. You'll need to plug it into one of your USB ports. When you need to authenticate, pick up the myris, and then look into its mirror. There's a light ring around the camera. It lights blue at the start and then green when it's finished.
The Eyelock myris will be available in the next two months and it will be priced under $300. More details to come very soon. Are you interested in logging in with the myris? Let us know in the comments!
Windows Central Newsletter
Get the best of Windows Central in your inbox, every day!
If I get kidnapped I would end up fearing that my eyes would be forcefully removed from me. I prefer being asked for a password.

But then you can get an eye patch like a pirate!

NO! He can wear wear an eye patch like NAKED SNAKE! :D

Haven't watched it yet! Easy with the spoilers people! :) Nexus 5...enough said

Better yet Snake Plissken.

Haven't heard that name in a long time.

The Central Ohio VMware User Group had their April meeting at AMC Easton 30 this week. We all got to watch the movie for free!! Plus free drink and popcorn!!

A detached eye wouldn't work, also a dead eye wouldn't work either.

...but movies say otherwise. You must be wrong...

yes please, i need it to work as webcam too, attached to my monitor would be ideal

Sounds like you want a mini Kinect. I wonder when that will happen.

I'm all for a 2x41 megapixel cameras from microsoft to put into the next Kinect so it can varify using eyes. HECK, Nokia, put main sensor of 920 in the Goldfinger's FFC xD

It can also be placed besides our phone's front camera..Just an idea..

I rather have a authenticator that I put my junk in for authentication. Or a but scanner. Just things no one will think of.

Not no one... You did my friend ;-)

Let me know when you launch this Kickstarter project, I'm in.

So the NSA will have a 360 degree panorama of your junk. Yay!

Make this happen for WP9...

Interesting. Ill wait until this gets priced without the development costs.

My hp dv6 has biometric device. But this is new.

I have dv6, very efficient. Works perfect.

300$ price is too much we can get AsusVivo tab....and use picture password...LOL...

Picture password is not secure enough specially if you have a twin brother. I still agree that $300 is too much

They stole Cortanas face.

i wish my Msft fingerprint reader would workmon win 8.1 the last o/s it worked on was vista thats too bad.

It's nice, but can I use it as a webcam also?

Demonstrated on W7? I don't understand tech companies, should they be on the latest and the greatest?

In the eyes of many, Windows 7 is the latest a greatest, whereas Windows 8 is another Vista.

Companies usually go to the one with the largest market share... Therefore W7.

How long does it take to scan and authenticate?

What was the job title for the person looking into a device 2.25 trillion times and just 1 mistake. :)

Will it help me pet my car?

Loki could have used this in the Avengers movie.

Wonder if it uses OpenSSL to encrypt your data.

Eyelock Myris, Mylock Iris, Miley Cyrus?

Heck yes, I'll buy it as soon as I get enough money!

good but I think it's useless _______________________________ samsung galaxy s5 nouvel ipad