Lenovo's Ideapad Y900 is a beastly 10-pound gaming laptop you must see to believe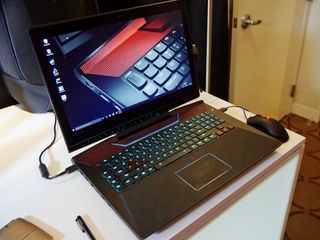 When it comes to laptops the gaming category is always one of the most fun to cover. While Ultrabooks focus on balancing thinness with power gaming rigs are just putting it all out there damn the physics (and your weak arms for carrying it).
Lenovo is a relative newcomer to the gaming scene, which has been dominated by Razer and Alienware for a few years now. Perhaps that is why Lenovo is wisely teaming up with Razer to merge their flair for design with their own. The result is the top-of-the-line Ideapad Y900, a beast of a portable gaming machine. Well... 'portable' is a relative term, as this monster weighs in at a nice round 10 pounds.
We got some time with the powerful laptop here at CES 2016 so check out our hands-on video to see why this is one impressive machine.
Lenovo Ideapad Y900
17.3-inch IPS display has anti-glare at 1920x1080 Full HD resolution
Intel 6th-generation quad-core Skylake Core i7-K series
Nvidia GTX 980M with 4GB of memory
Backlit mechanical keyboard with Chroma colors from Razer
Dedicated physical Turbo button to overclock the CPU and GPU
Up to 64GB DDR4 memory
512GB PCIe SSD and/or 1TB HDD storage
A massive 90Wh battery (for a fun 5 hours of uptime)
3 x USB 3.0 ports
1 x USB 2.0 with always-on charging
1 x USB –C Thunderbolt 3
Audio and Mic jack
HDMI 2.0
4-in-1 card reader
Display Port
Ethernet port
10.1 lb (4.6 kg) weight
Kitchen Sink 1.0 (that's a joke)
Lenovo is happy also to sell you a dedicated hard-shell backpack to lug this monster around. That said, once you pass over a laptop that weighs more than a few pounds it just stops mattering how much it actually weights — it's not truly 'portable', or even really a 'laptop'. In other words, while 10 pounds is hilariously heavy, it did not feel that much different from Lenovo's Ideapad Y700 (at 7.7 pounds, which we're in the process of reviewing).
Putting aside the raw specs of the Y900, which are crazy ridiculous, the attention to detail that Lenovo has given the device is evident. The keyboard palm area is a sturdy leather for a premium feel when resting your hands. The brushed metal on the outside feels like a top quality design and the machine overall says, "this is it." Even the bottom of the Y900, which is peppered with triangle-styled vents and the subwoofer, looks fresh.
Razer has lent their expertise to the chroma colored keyboard, which although unnecessary, adds that flair that so many gamers enjoy on their high-end machines. The ability to customize the color patterns, presets and the overclocking ability are also nice touches. In fact, you could have the Y900 auto-overclock particular games making the process much more automated.
Also, don't ask about the fans. There is no doubt this system can pump out some heat. It has fans, they will run.
None of this comes cheap, however, and we are looking at a $1,999 starting price. While non-gamers will balk at that price, even I have to admit that it is great to manufacturers push the extremes. If that is your thing than the Ideapad Y900 is your choice.
Availability for the Lenovo Ideapad Y9000 starts in June 2016, so you have plenty of time to start saving.
Windows Central Newsletter
Get the best of Windows Central in in your inbox, every day!
Daniel Rubino is the Editor-in-chief of Windows Central, head reviewer, podcast co-host, and analyst. He has been covering Microsoft since 2007 when this site was called WMExperts (and later Windows Phone Central). His interests include Windows, laptops, next-gen computing, and for some reason, watches. Before all this tech stuff, he worked on a Ph.D. in linguistics, watched people sleep (for medical purposes!), and ran the projectors at movie theaters because it was fun.
1080p.... I'd like to see a higher starting resolution for the base configuration.

Why? Most gamers still play in 1080p. For the target audience it's likely plenty good enough.

Well, this is a pseudo-enthusiast machine. I mean, they put in a multi-colored, mechanical keyboard. Expecting extreme display tech to go with the other high-end stuff isn't unreasonable.

1080p is fine though Posted via the Windows Central App for Android

That's your opinion. Heck, many $500 laptops are "fine," but not everyone wants "fine."

Not to me. I simply cannot go back to screens with low pixel density. The text, most images, everything looks infinitely better with some 250+ PPI. You could always run games at 1080p, for performance.

If it was 4k, you might not get the optimal performance. Plus, you can buy a 1080 27" monitor off amazon for some awesome gaming. Never going back now, it's like looking through a window.

If you want to talk about hardcore gamers, most of them worry about speed and performance, not quality. There are plenty of people with high end rigs that can run on 4k with ease but they chose not to because 1080 is still smoother.

I really just want a 17.3 inch panel in 1440p. With 1080p you still have to use things like anti-aliasing. I do wonder though if pushing 1440p with non is less intensive than 1080p with it maxed. Posted via the Windows Central App for Android

agreed....now that 1080P has been here for quite enough time. next should be 1440P, instead of 4k !! BESIDES not all laptops are capable of 4k gaming !!

Is this what they say about phones as well ? :)

1080p is fine to me, especially with the screen size. It also means better performance and battery life. If I wanted a higher resolution I'd plug it into a higher resolution monitor.


4k will that battery from 5 hrs to 2.5hrs. Add gaming with that "turbo" button pressed and you can cut that 2.5hrs down to 1 hr if you're lucky at 4k. My Alienware m17x got me about 1 hr 45m on high performance unplugged and that was at 1080p.

Why does it need to be FHD or 4K? There is also 2K.

Only about a 3rd of PC gamers actually play their games at 1080p.

So naive... Most gamers still play on 1080p.

Yeah, higher max resolution with option to downsize to 1080p would be much better instead of just being limited to 1080p...

Still comes with the mobile gpu

Up to 64GB of RAM, did I get that right?

Correct. That's what they're saying.

I have a love affair with Lenovo

I'll let your boyfriend know, and Lenovo will be paddedly thought a lesson of his live with a big Yoga kick into his balls.

I heard mention that the Y9000 is going to be available soon, but what about the Y900?
​And while we're at it, what's this Y9000 I've heard so much about? A 100 pound laptop? Anyways, it seems pretty cool. Really expensive, but then again most things are really expensive to me at the moment (sigh). I'd still prefer a full desktop for gaming. It's just the feel.

I would like to see that beast running WordStar on MS-DOS 6.20

It might even be able to run Crysis.

Star Citizens should be used now as a reference

If u buy this to run crisis, I have a feeling you're not good at handling money.

Run Crysis? The Surface Book easily handles that at a constant 60FPS: http://bit. ly/1NJN5un This better handle way beyond Crysis with the higher perfoming 980M GPU...

This is also a quad core processor which would give it advantages over the surface book for certain intense business/design applications. Posted via the Windows Central App for Android because I am unfortunately with Sprint

They're not in the same league lol wut???

For that price I would rather get an Alienware 17. Plus not a fan of the design at all.

You are not the only one. Lenovo is one of the brands with the most weird or fancy, but not looking good designs.

Mechanical keyboard tho. Posted via the Windows Central App for Android

Daaaaammnn. Look at them specs. Dream Laptop. For 2K though. I'd have to save up for at least 4 months :( also MECHANICAL ******* keyboard!

Kitchen Sink 1.0.. I laughed so so hard at that! :D

Wait, is the laptop using the same model name as the desktop?

What?! They may be smoking some REAL good s**t at Lenovo. I just bought an Acer Aspire V Nitro VN7-792G-79LX with mostly the same specs, including a 17.3" 1920x1080 IPS screen (with the exception it has a 960M w/4GB video memory, and only supports 32GB RAM) from Newegg for $949 - more than ONE THOUSAND DOLLARS less than the retail price of this Lenovo! Plus, the hinges where the screen attaches to the case aren't nearly as hideous looking as that "mono-hinge" on the Lenovo. It's also significantly thinner & lighter than the Lenovo, too. Posted via the Windows Central App for Android

Mechanical keyboard, likely better cooling, and USB-C Also your graphics card is several tiers lower than the 980m. Lenovo priced it well for what it is. Posted via the Windows Central App for Android

Gaming and Ultrabook's, the high margin products every company wants in on.

Where are all the Lenovo haters lol.. I almost pulled trigger on y700, june comes then the y2000 hits.. Decisions decisions.

Their enterprise models are great.

Nothing wrong with the x1 carbon and a fresh pciessd.

Kitchen sink for water cooling :P

Kitchen sink wth! hahaha! xD

Sounds like great thing for someone who goes to LAN-parties, etc. I wonder if Lenovo still has the habit of stuffing their computers full of garbage though.

Did you guys buy lenovocentral.com?

Oh, so the fun happens here too? (runs away) Posted via the Windows Central App for Android

Only one GPU? Meh........ Posted via the Windows Central App for Android

Acer predator 15 is better than this with less price at its higher end + it has an optional frostcore fan , sorry Lenovo , acer did a better job than you did , and it's laptop starts at 1499$ and end up at 2499$

Lenovo should have removed touchpad. No gamer uses it. Should put a nubbin that can be disabled. More space for keyboard...

Looks like a pretty decent Rig

This isn't anything special by any standard. Msi, alienware, heck many clevo rigs, Asus etc are at this level and have been for ages. And only one gpu? If they'd put in the full gtx980 fair enough but this isn't anything special over any of the other offerings...

That is a beast! Just look at the number of ports!

I want to know more about that keyboard.

Surely it's powerful but for me they make the ugliest gaming laptops of all. Bad clone of Alienware.

With a 10 minute battery life to boot!

I really personally don't like that hinge...

Gaming or not. Lack of touch screen totally kills this for me.

So true. Can't swipe thru reddit from ur toilet with this one.

This is the quote of the month: "It has fans, they will run.​" I love it! :D

I would prefer a laptop with Kitchen Sink 2.0 rather than 1.0
Windows Central Newsletter
Thank you for signing up to Windows Central. You will receive a verification email shortly.
There was a problem. Please refresh the page and try again.