Hands-on with Microsoft Snip Beta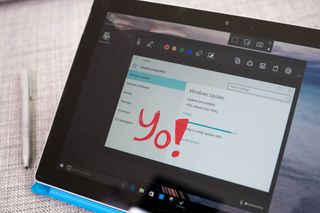 Microsoft has released a screen capture application earlier today called Snip beta. Think of it as an upgraded version of the built-in Snipping Tool in Windows 10. It lets you take screenshots and add drawings or annotations. You can also add your voice. Check out our hands-on video to see it in action on the Surface 3.
The Microsoft Snip Beta app hides on top of the screen when you don't need to use it. You can use your mouse or trackpad to drag it to another place. You can place it to other edges where it can auto-hide, or drag it to the middle of the screen.
There are three options available: Capture, Whiteboard, and Camera.
The Capture option grabs a screenshot of open windows by simply tapping or clicking on them. If you want to capture a specific area, create a rectangle shape by dragging the crosshair. After grabbing the shot, the Snip Editor appears. From here, you can use the pen to draw on the image.
The Whiteboard option opens the Snip editor right away with a blank canvas while the camera option lets you start with an image captured from your front or rear camera.
Perhaps the most exciting feature of Snip beta is that you can record your voice while editing the capture. Just tap or click the Record button on the top left corner and then hit the Stop button when you're done. A timer appears on top of the app window while recording. When you're finished, you can tap the play button to look at the clip, or share your creation using the link or embed code. The email button doesn't seem to work properly in this beta.
All your saved screenshots and clips are stored in the library. Tap or click the book icon on the top right corner to view the files.
Overall, we think this is a very handy tool to have on Windows 10. We'll be using it grab screenshots for our articles. Give it a try if haven't yet and let us know what you think!
Download Microsoft Snip Beta for Windows (opens in new tab)
Would be great if they added the free form option. But overall,its a good addtion for windows 10

This snip tool is great. i have been waiting for something like this since the sharing option that was in windows 8 got removed. talking about when one Swype from the right and press share in win 8, for those who might be wondering what am i talking about.

Sharing is still there. For apps that support sharing, it's still available from the app hamburger menu (top left of the window).

That's just for an app not the entire PC.

Snipping Tool has been in Windows since Vista, this is just them finally trying to update it with expanded features.

I'll wait till I get internet!

Can you change where these are saved?

OneNote should be a option

Did you watch the video ?

I read the article. Says it saved to one of the libraries. I asked a question. I shouldn't have to watch a video, this isn't YouTube, it's a nice little blog. It's a legitimate question as you still can't change where files are saved in edge.

Hey Microsoft, 1996 wants its Technology back...

I'm sure you want 1996 back ;)

? This is a pretty great app that many of us around here will use. Not sure what you were expecting.

@Daniel Rubino:
What I'm expecting?
How about a little shut up and ship, instead of trying to distract people from the fact that Microsoft is on a lazy schedule to publish Windows 10 Mobile by obfuscating the passing of time with the release of unspectular apps like that.
To be clear: I would be fine with them releasing apps like that, if the basics were already in place. But right NOW Nadella should allocate all forces on Windows 10 Mobile.

Why cant a company work on other products that will benefit customers while doing something else. No company just works on one thing while not having other projects going on so get over it. Anyways win mobile needs to get all the time it can get because it needs to be more polish than the desktop version on release

This pagraph tells me everything I need to know about the level of your knowledge of how the software development process works.

You're such a simpleton. Maybe they should just hire a million coders so they could do year's worth of work in just a day? They'd be so much ahead of competition! Cause obviously that's how it works, right?

You're not forced to use Windows Mobile. You don't need to be rude to people who have no say on what Microsoft does. And I hope Microsoft considers a more strict participation criteria for the insider programme because of ingrates and disrespectful people like you.

May the Force be with you!

Too bad it can't screencap video. It be real useful for how to videos.

It's a beta. You never know.

The xbox app can do that part, it works great, win+alt+r

Try this Screen Record Utility built by a Microsoft Support Engineer. Works a treat. https://technet.microsoft.com/en-us/magazine/2009.03.utilityspotlight2.a...

I can still remember how happy I was when I realized that the Win8.1 snipping tool had a drawing feature...

I like the timer function on the snipping tool in 10 for capturing mouse sensitive menus. Not sure I'll have much use for this new Snip tool - I don't make that many grabs and when I do the snipping tool is always there anyway.

Besides audio recording, how is this any different than the OneNote Snipping Tool? I use that like everyday.

They really need to improve Windows Apps to make Universal apps like this possible.. Seriously. Win32 programs should be in the past.

Nice! It works on Windows 7! This means I can use it at work, and as a developer that uses the built-in snip tool a lot, this is more convenient (always docked, easier/quicker to use) AND has more features. I could definitely use the video feature for easy tutorials to help coworkers out. Having the "library" of saved snips is pretty fantastic, and I love that they still have the option to copy the snip to clipboard from the built-in snip client (that and it still saves all snips to library even if I don't save them) I'm hoping they add the ability to send the taskbar icon to the tray or something in the future though.. but minor quibble :) This is great!

I just don't get it MS. Why! Edge does this really well and OneNote does this well. What's the point? One Note is a better, more comprehensive solution.

You're right, so many snipping/annotation tools: Edge, OneNote, the built-in Snipping tool, and now this app.

My assumption? This is a handy tool that if linked with Surface Pen could give Samsung's S Pen a run for its money. It can be used system wide instead of special apps. And that sound recording feature is a plus. If they add animated video recording of your drawings in addition to voice notes over it, could be used as a tutorial/presentation/teaching tool. It may be presumptuous of me, but maybe we're gonna have a first Lumia Flagship 'Cityman' to take on Samsung's Note series.

Like on a surface phone? ;)

I've never heard of Edge and I don't use OneNote. There's two points. Edit: oh, you mean the Edge browser. Well that that won't do new much good of I'm capturing a screen that isn't a browser.

Good now unplug all other windows apps and turn them into windows modern apps starting with windows media player to replace the featureless music and video players. Wordpad honestly doesn't need to be there with OneNote and I'm sure one system management app could replace all the other system management features like disk cleanup, partition, etc

Snip in Gold! Thanks Microsoft :)

Works very well. My only immediate criticism is that there isn't any highlighter feature. And you can't make the annotations translucent. If they could merge this app with the built in snipping tool, they'll be onto something great!

Cool. They need to make it a store app. Also, it wasn't shown in the video so I don't know if it only records the voice or records a video of your canvas too as you draw. There are a few apps in WP store that animate your drawings as you draw them but lack sound recording feature. Combining them would make for a pretty powerful tool. One that can be used for tutorials or wishes while you draw something. Also, it needs to be integrated somehow with pen clicks in Surface tablets and should also have a support for pen in upcoming XL Lumia Flagship cityman phone. That's the kind of alternative that we need to match Samsung's S Pen in Samsung Note series.

It needs a global keyboard shortcut to be truly useful (and one that is enabled by default). Otherwise it's handy but never as convenient as a simple PrtScrn / Paste.

It replaces Win key + PrtScr (For better or worse). :)

Though only when the Snip Beta app still active. When it is not, Win key + PrtScr falls back to the old behavior :(.

This is great! Thought I was going to have to download Greenshot. I will give this a try.

It's pretty nice, but I really miss a marker tool

Tried it. It is a mutt like the sniping tool. So much better on my Mac machines. Come on ms..... Up your game and beat Apple!

It actually works very well on Windows 8.1.

Just loaded it onto my Surface, and for what it is, works beautifully. Now I don't have to load snagit just for simple captures and markups. To the poster who said MS should put all programmers on perfecting Win 10, that's like saying we should task all the police in the country to terrorists. Really glad you''re not in a power position at MS.

why can't I find it in the store now? Microsoft Snip Beta, right?

Use the link at the bottom of the article... it's still Beta.

Winner, winner. Chicken Dinner!!! Already putting this to good use and sharing this article around my team.

So far i have used screenpresso to make my screenshots, but this looks promising too.
Windows Central Newsletter
Thank you for signing up to Windows Central. You will receive a verification email shortly.
There was a problem. Please refresh the page and try again.