How to take screenshots like a pro with Windows 10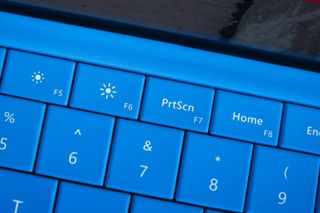 Now that many millions of users around the world are using Windows 10, we figured it was time to cover some beginner basics. After all, some people are getting new PCs and laptops while others are installing Windows 10 on their Mac and need some help.
The ways to take a screenshot is our focus here today. Sure, you may know about Print Screen, but do you know all the other combos? What about if you are on a Surface? Moreover, what if you need something more powerful than the built-in apps?
We have you covered, so read on. You may be surprised at a few of these tricks.
Windows 10 Native Screenshots
1. Whole Desktop (copy to clipboard)
Probably the easiest and most popular method for screen capturing is by pressing the [PrtScn] key on your keyboard, assuming you have one. Print Screen copies everything visible in the UI to the clipboard and lets you paste it the image to Paint, another image editing app, Office, or any app that allows you to paste images. Even if you are running a multi-monitor setup, Print Screen grabs all the displays at once.
2. Whole desktop + Auto-save
Key combo: [Win] + [PrtScn]
Building off of Print Screen, you can simultaneously press the Windows Key on your keyboard and [PrtScrn] at the same time. This method differs above in that it saves the image automatically to your Pictures > Screenshots directory. When using this style the screen briefly dims to let you know it captured and saved automatically.
3. Just an app
Key Combo: [Alt] + [PrtScn]
This handy key combo also builds off of Print Screen. However, instead of capturing the whole desktop and all opened apps, it captures the full window of an active app. Using this trick you can just screenshot an app for sharing and leave your desktop out of it.
4. Screencap + Share to Windows Apps
Key Combo: [Win] + [H]
Here is one that many people may not know (including ourselves). If you hit [Win] + [H] the OS will grab a screenshot and push it to the Share feature immediately. This trick lets you quickly snap a screen grab and push it to Outlook, Tweetium, or other Windows Apps from the Store.
5. Snipping Tool to be precise
Search for Snipping Tool using Cortana/Search. This tool has been around for ages, but it is very handy for capturing specific areas of your screen. Under the New menu, you can choose from:
Free-form snip
Rectangular snip
Window Snip
Full-screen snip
The image is copied to your Clipboard, so you need something like Paint to paste to to view it. New in the Windows 10 version, you can add a delay to the capture, which is very useful for something that disappears when you hover over it with the mouse.
Surface specific ways
1. Just an app
Key Combo: [ALT] + [FN] and [SPACE]
Press and hold the right-hand [ALT] + [FN] and then hit [SPACE] takes a screenshot within an app (but not the desktop)
2. Hardware keys
Key Combo: Win + Volume Down
This is the go-to method for screenshotting the whole display. Press and hold the Windows button and then press the volume down button. The screen dims for a second, and the image saves to the Screenshots folder in the Pictures library.
3. Surface Pen + OneNote
Using the Surface Pen, double-click the top button. Select what you want to capture in the screenshot by dragging the tip of the pen from one corner to the opposite corner. When you lift the pen tip, your selection appears in a new page in OneNote. You can then add more notes or drawing to the image.
Third-party Apps
Besides all of these native solutions, you can venture out into the world of third-party apps. Why? Simple, like all third-party apps they tend to add many more features, customizations and are sometimes easier and more convenient. Here are a few that the community around here like:
Screenmask is a neat Windows Store app that works with the Share option in other Windows Store apps. It is not ideal for desktop use but for those using tablets it can offer some handy editing options.
Do you have a screenshot solution that we missed? Do you know of a third-party app and want to recommend? Sound off in comments and let us know!
More Resources
Need more information or need some help? Here are some great links to get you started:
Windows 10 Help, Tips, Tricks at Windows Central
Windows Central Newsletter
Get the best of Windows Central in in your inbox, every day!
Daniel Rubino is the Editor-in-chief of Windows Central, head reviewer, podcast co-host, and analyst. He has been covering Microsoft since 2007 when this site was called WMExperts (and later Windows Phone Central). His interests include Windows, laptops, next-gen computing, and for some reason, watches. Before all this tech stuff, he worked on a Ph.D. in linguistics, watched people sleep (for medical purposes!), and ran the projectors at movie theaters because it was fun.
I'll be honest, even I didn't know about some of these. Things you learn, lol.

I didn't know about the surface coz I don't have one. :P
But the pc stuff .... I did some digging when I first had windows 7. And the, after windows 8.1 update I tried various combination to take screenshot and found the option of windows+prntscrn.

Today only I wanted to capture a SS....didn'tknow how to do it on Win10. Thought to use the same Win8.1 method .. Win + Prt Sc .. N Now here is the article ... :)

Haha, even I wanted to take a screenshot today n show it to someone as to how windows 10 looks. Had to do the old printscrn method and now this article :p surely learnt small yet usefull things.

Alt + prntscrn has been around for a while

You didn't even get the best way. OneNote win+shift+s

Yes!!! My daily key combo lots of times per day. OneNote is the BEST way. :)

Yeah #hotkeys! This is helpful. I have always used sniping tool to capture an app screen XD

Lightshot. Is amazing! I always use it!

GadWin Printscreen is the best for me..!!

I stopped using it because It doesn't want to capture any windows in Windows 10. Glad I disovered the Snipping Tool.

How the hell did I miss win+prnt scrn, all this whille I used to paste it in paint and then save. duh!!

Same! It's the little things. Windows is a massive beast, hard to tame :P

More shortcut keys article for win 10

I was thinking the same when I read it.

Daniel, you're underselling the snipping tool a little here. It doesn't just save to the clipboard. Sure that's one of the options, but it can directly save to a file, and can even directly attach the capture to an email. Though that doesn't seem to work in 10 if all you use is the Outlook app from the store. Opportunity for filing a bug report right there ;)

Yeah, I was thinking the same thing. You can save it as a JPEG, GIF or PNG.

Don't have 10 currently, but on Win7, if after opening a fly out menu, you hit esc. This will dim the whole display and allow you to "snip" the fly out menu. It's actually in the help file.

I use Snipping Tool a ton at work, using the copy function and the save function.

The new OneNote is terrible compared to the old one. At least that's my opinion

Which "new" OneNote? 2013 or 2016?

The one included with the system. It's been tragically neutered and is a downgrade. The desktop version is fine.

The desktop version of OneNote is free, so use that instead.

LOL, I was JUST trying to figure out how to ss on my SP3 to send an email to MS. Hilariously timed post.

I hope the SP4 Type Cover has a better layout with screen brightness and volume controls, plus a print screen, rather than whatever Home, End, PgUp and PgDn are.

Hp Stream 7? Windows button and volume down doesn't work

There are many articles about this problem. The windows key, unlike other tablets, on the HP Stream series (stream 8 as well as stream 7) are not physical buttons recognized by the OS but are soft buttons so the screenshot method does not work. If running Windows 8.x, you can use the share feature with the metroshot app.

Ok cool, just for taking screenshots when playing xbox streaming was my goal

I think for tablets it pwr + volume up just like the phone I have a couple hp stream 7s so I'll verify

Ouch! for that far a lot have been missing, lol

1. and 2. for the Surface don't work on my Pro 3?

Try [Win] + [Fn] + [Space]

Thank you so much! I have a Surface Pro 3 and upgraded to WIN 10. It's great, but double clicking the Surface Pen no longer allow you to capture part of the screen. Contrary to what this article says. Lots of people on the MS Support forum unhappy. It seems there's no way to get the pen to launch the desktop version of OneNote either, even if it's set as the default application in both the OneNote and Win 10 settings. Bummed. I used that function of the pen all the time.

FastStone Capture has been around since XP. Captures and edits all permutations; sends to file, email, or printer. Also does video and audio. So comprehensive, I keep an icon on my taskbar. Freeware. What's not to love?

Method 3, just an app, doesn't work for me. I didn't even know it was possible.

Method 5 : Windows+H, which shares a screenshot to one of modern apps. Add a dropbox or other recipient which accepts any files, and you can save the screenshot there.

Whoa, neat. Definitely missed that and will add.

Can vouch for greenshot. Best software for screenshots. Also has built in imgur integration for those who like posting on reddit.

Let's not forget about Win+Shift+S with OneNote. It allows you to do a screen clipping with your mouse and will put it into a new note, or copy to clipboard for whatever your heart desires. :)

Wow, thanks! I didn't know this, obviously. Double-clicking the pen to capture the screen no longer works on my Surface Pro 3 since I upgraded to Win 10. The Win+Shift+S allows me to use the mouse to accomplish the same task. This is better than Win+Fn+Space which captures everything on both my monitors.

Have to mention puush http://puush.me a great little screenshot app that automatically uploads the shots to the web for easy sharing on forums and such. Customizable shortcut keys, too.

yup. i prefer sharex. u can print screen fullscreen.. current window.. or draw a rectangle like snipping tool.. personally i always draw a rectangle.. then it auto uploads to imgur.com.. and adds link to clipboard. all for under 3 seconds Posted via the Windows Central App for Android

I use Snipping Tool normally, no complaints, but lovely to get to know <Win>+prtScn! Only if <Alt+prtScn> also saved directly to a folder... :-/

I have a problem when i press the purple button on my surface pen, it always asks me to put in my password . It doesn't open OneNote automatically like it used to in 8.1. I haven't changed the sign in options since 8.1 i don't think
Anyone know this issue?

I use the OneNote key command a lot for quick screen snips: [Win] + [Shift] + [S] I think the first time it asks you what you want either copy to a new note or copy to clipboard. I copy to the clipboard.

Lightscreen. Very lightweight, several options (custom screenshot name, save location, format and more). Can auto start with the system and the best part is that you can set custom hotkeys for taking a screenshot of the whole screen, active window, selected region. You can choose a key combo or, what I do, simply pick a function key for each. It's my favourite. There's also DuckCapture. Both free :)

Don't forget another hidden gem that Microsoft never talks about, Problems Steps Recorder. WIN + type PSR or type in Search Steps Recorder

Just download "Lightshot". Best software for this purpose.

I have been using this tool for a couple years now: https://screencloud.net Supports saving to local folder, or upload to https://screencloud.net, Dropbox, Imgur or FTP. :)

And what if I only use touchscreen?

Win + VolDown works on my 8" Toshiba Encore 2.

You can use game bar too xD

if you have dropbox installed then it will save your screenshot and back it up automatically after you press the PrtSc button.

I didn't know about this! Coolness!

Print screen like a pro lol

FastStone Capture. Excellent!

Can we change the default hotkeys? I thought I was smart and replaced my standard keyboard with a Logitech wireless on for the livingroom. So it's more condensed and missing a printscreen key. Any suggestions? EDIT: Used the on-screen keyboard and it lets me perform screencaps with the virtual printscreen button.

Don't know why but none of these are working for me?!? My hot keys aren't working =(

I use: http://www.screenpresso.com/. It has been a very good tool.

I'd like to see a built-in equivalent of OSX's screen area grab with auto-save. I think it's CMD+SHIFT+3 (or 4) which turns the mouse into a window selector for taking a screen grab of the window you select. Press SPACE and the mouse turns into a box drawing pointer which grabs the area you draw a box around, it then auto-saves to the desktop.

These apps are all crap, compared to my Mac experience. Why are Windows apps so crappy, esp. those on the app store...

which tool do you use on Mac? I'm looking for one that does a good job

I am using Snipping Tool... I wish there are different keyboard shortcut for different kind of screenshots (full screen, selected area, etc.) using the Snipping Tool. After capture, the pen tool is fine but I wish it has annotate options (circle, rect, arrow/line, etc.) I'm hoping one day MS will update the Snipping Tool with these features.

Another good tool is ShareX, it does much more.
Windows Central Newsletter
Thank you for signing up to Windows Central. You will receive a verification email shortly.
There was a problem. Please refresh the page and try again.