Quickly capture and edit screenshots in Windows 10 with Microsoft Snip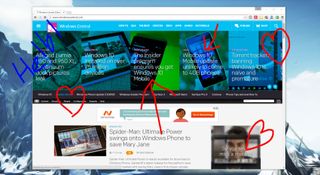 Microsoft has a new tool currently in beta that should prove useful for those who enjoy taking a screenshot or two and subsequently editing them with some drawings or audio. Microsoft Snip lets you capture screenshots and then draw some lines over them before sharing with friends and whatnot. If you'd rather use your voice, you can even animate things and turn the screenshot into a tutorial or walkthrough video.
Once installed, Microsoft Snip sits at the top of your desktop environment, and will appear should you hover over it with a mouse. You have the option to capture individual windows or the entire screen, depending on your setup. Should you have a webcam attached to your PC, Snip can even capture photos for editing. Perfect for sharing stuff from Windows 10.
Everything is stored locally (unless otherwise instructed). Animated edits with audio will be converted to MP4 files, but everything can be hosted online and embedded on other websites, should you wish to use said functionality. Give it a go and see how you get on.
Download Microsoft Snip for Windows (opens in new tab)
Via: The Verge
Rich Edmonds is Senior Editor of PC hardware at Windows Central, covering everything related to PC components and NAS. He's been involved in technology for more than a decade and knows a thing or two about the magic inside a PC chassis. You can follow him over on Twitter at @RichEdmonds.
I've been using Greenshot. It's freeware and has many more featuers. I always wished that snip included addtional fields to add arrows, etc.

The ability to print directly from snipping tool would have been very nice.....

Greenshot allows this. After you use whatever method you want to select your screen, it opens up with a sub-menu will all sorts of actions: Print to printer, Email, open in Microsoft Pain (LOL), copy to clipboard (my personal favorite), etc.

Yeah, I setup Greenshot when I know the user will be wanting to print - but I'm still amazed Microsoft didn't build this in.

Right, I miss this feature too. I started a suggestion on "uservoice". The more votes we get, the bigger the chance that they'll include printing! https://snip.uservoice.com/forums/315486-general/suggestions/9512898-print-a-snip

Is this feature available for Windows 10 Mobile?

Screenspresso is a nice alternative as well

Apowersoft Free Screen Capture is also a great alternative. It has various screenshots modes which are more than Snip do. And its screen recording function is better (record any region on the screen).

This needs to be a universal app.

I'm sure there must be some app restriction that wouldn't allow this to be universal

Looks horrible but, doesn't look/behave like a native app, personally I don't care about "heaps more features". For me, so long as "Snip" has the basic things I need, & is steadily improving, that's all that matters. BUT, I do see Greenshot's appeal to those who need tonnes of features in this app/program genre.

Like a light version of Snaggit

Does it work for movies app for dan??

I wonder how it compares to FastStone Capture. I survive in it at work.

Good tool, enough for basic stuff, I can't see download link in app.

Seriously I was playing my MacBook a few days ago with their print screen way, and wondering if windows10 has an app like old snipping tool. So I guess this is it!

Windows 10 still has the snipping tool. If you do a search, it'll appear on top of the results.

Sniping Tool is built in into Windows 10 and it has been updated with Delay Options. Microsoft Snip is a separate and new product. I use Snipping Tool a lot at work due to it's simplicity and ability to paste snips without saving them.

I like the snipping tool cause it has a free form option while snip app has only rectangular option.

Snipping tool is great. If this works the same with the additional features it would be very cool.

I don't get it, then. So they'll have two separate snipping apps? Why not just update Snipping Tool?

I assume this new version will replace the other version in due time.

This, Why not just make the Snipping tool better?

It would be great if MS provide an app for taking screenshots in the phone. Will be of great use to those who have their phones with broken Volume or power buttons. Windows Feedback app had a way to capture the screen by tapping on the Transparent Camera button on the left side top of the screen, to make the Insiders, report their feedbacks and bugs visually.

Why not just double tap your pen and mark it up in OneNote?

Because not every w10 device has a surface pro pen

We need this feature on Windows 10 mobile. =0

It also works on Windows 8.1 not just Windows 10

Shhh, that name is taboo around here!

Yea, don't talk to ne about Windows 10...

The app is not working well for me. I have 4 monitors and when I go to do a screenshot, it acts very strange and I can't really capture what I want.

Kids will be turning screenshots into tutorials and walkthroughs with a bunch of dick drawings all over the place and hosting them online and embedding them on other sites. You just wait and see. Nice heart drawings bro.

Need this kind of plugins for Windowsphones too

How is this any different from the already built-in Snipping Tool app? The only thing it seems to differ with is that it has fewer options for freeform, time delay, etc. (as someone else already mentioned).

It fits with the current MS strategy of rereleasing stuff with reduced functionality. You need to consider that functionality confuses users and so cutting stuff down to bare bones is good for the end user. I think the company line goes something like that. Or security.

Doesn't work for me at all on Asus VivoTab Note 8, either in tablet mode or the desktop, and I have tried downloading it twice and repairing it twice.

Great tool!!! They should've publish this on Windows Store too, its a waste that they don't utilize their very own app store.

Since it is beta, I assume they don't want it to be in their store yet.

Really? They released W10 and Edge, and whilst W10 may be at beta levels Edge is still clearly still in early development.

I tried using it and used "Share" functionality. Instead of opening up my mail app it opens Windows Live mail. so it becomes useless to me.

Want to have printing included? Vote here for this suggestion:
https://snip.uservoice.com/forums/315486-general/suggestions/9512898-print-a-snip
This is the official feedback page. I hope they listen to us...

Or, Alt-PrtScrn , then Ctl-V to paste into Paint.

Don't we have this already call sniping tool ??

Ya, but Snipping Tool is VERY limited. This sounds a lot more flexible and full featured.

Or, in reality, less flexible with less features...

Liking this app very much. While perhaps not as robust as some others, it is quite convenient the way it sits at the top of the screen without actually being in th way.

Awesome, was using their Snipping Tool for a while but it was limited. So switched to Skitch from Evernote. This might take me back to an MS tool.

This app is inspired by Mark Russinovich's tool ZoomIt. He also created the predecessor to virtual desktops.

Seems like a simple version of TechSmith Snagit. Is ok for light work but still prefer Snagit on the job.

Sharing by email shares just a link, no authentication required, though deleting snipping from gallery also disables the link. Still not safe for businesses due this. MS should make it clearer that sharing by email uploads the snipping to who knows where.

It's a great app, though I'm getting stuttering when dragging the initial snip, but it's beta so I'll let that slide. I've used the snipping tool so frequently the past few years and was disappointed to see it updated so little with Windows 10 so it's great to see this appear. I see it becoming invaluable very quickly. Still, I wonder why it's an old school exe file and not a universal app? Seems really odd that they can make Office and OneNote using WinRT but not a pretty simple snipping tool? Or could it be that WinRT can't currently match the window docking behaviour yet? Enquiring minds want to know! ;)

Be nice if you could just add text via keyboard. Not everyone wants to communicate via crayon. Please make this app productive rather a play with once and move on.

"Paste your snip, send it as a URL, or save it as an MP4 video." Has anyone figured out how to send as a URL from within the application? Under share, all I see is e-mail.

Is Microsoft planning to make this a replacement for Snipping Tool? I believe that would be greatly beneficial, as Snipping Tool needs either a complete overhaul or just a replacement.

Of course it wouldn't be a suitable replacement until it had all the features and improvements along with it.

Microsoft need to Add this apps to the market.... the market have to become the main way to install apps(Universal apps and old .exe apps) on windows 10 or it will never work.. I have windows 10 but I dont have many apps from the market on my desktop...

So this is Snagit but free, thats cool but i upgraded my Snagit license yesterday - FAIL
Windows Central Newsletter
Thank you for signing up to Windows Central. You will receive a verification email shortly.
There was a problem. Please refresh the page and try again.