Hands on with the Samsung ATIV Tab 3 with Windows 8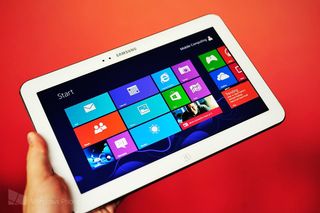 Today, Samsung unveiled two new tablet/hybrid devices, including the ATIV Tab 3, a follow up to the ATIV Tab, which we've covered before.
The device features a 10.1" 1366x768 display with an Atom Z2760 process, full Windows 8 with S-Pen and it comes in at a very sprightly 8.2 millimeters thin and weighs just 550 grams (1.2lbs). Much like the previous ATIV Tab, it's an elegant looking device and a nice follow up if only because they made the display smaller (the old one was 13.3").
In our opinion, 10.1" tablets are ideal for portability and ease of use, with it fitting more naturally in your hands. Toss in the optional keyboard and you have a nice little productive machine for on the go or when at home.
The ATIV Tab 3 also had 2GB of RAM and 64GB of storage with microSD, microHDMI and one USB 2.0 port, making it quite flexible for most users.
We're hearing an August release window for this full Windows 8 tablet at a $699 price point, which does include the keyboard (we imagine you can get it for $450ish without a keyboard).
Watch our hands on video and glance at the photos. Let us know what you think below.
Get the Windows Central Newsletter
All the latest news, reviews, and guides for Windows and Xbox diehards.
Daniel Rubino is the Editor-in-chief of Windows Central, head reviewer, podcast co-host, and analyst. He has been covering Microsoft since 2007 when this site was called WMExperts (and later Windows Phone Central). His interests include Windows, laptops, next-gen computing, and for some reason, watches. Before all this tech stuff, he worked on a Ph.D. in linguistics, watched people sleep (for medical purposes!), and ran the projectors at movie theaters because it was fun.
I have to admit, as an SP owner, this one looks good! However I have reservations about the 2 gigs of ram and only 64gigs of space.

Especially a year later then every other tablet...all pretty much have same specs.

The Atom processor only support 2 GB of RAM. It does not support a real SSDs, only eMMC which is a SD Card. And there are not really much SD cards with more than 64 GB.

Yeah, highest they go to is 256 GB, but really expencive. ($608 USD on Amazon for an SDXC).
So that price alone would make the device's price double instantly.


Very nice... but desktop mode will be not usable at this screen size, this is what i think...

I think it will still be usable. I mean this is an Atom processor, so you won't be doing anything mind-boggling with the desktop to begin with. But it's nice to have anyways for connecting to a larger display. Looks like a nice device overall.

I've been using my Ativ with Photoshop CS5, and Bridge - so usable.

There are already devices using the same specs and screen size (see the Acer W510 review on this very site, along with w bunch of other devices) and it's no problem whatsoever. Yeah everything's a little smaller but a) why would you be in desktop mode when you're just using touch? and b) this has a digitiser which means you've essentially got a mouse replacement when you're not using the keyboard. Oh, and c) just plug in the keyboard if you need to! :)

There's seriously no problem, even with this gen Atom processor. I'm able to do so much of my work in Office and even in Adobe Photoshop, Dreamweaver, and InDesign and only large files in those programs really make it struggle.

Assuming the price is competitive in the UK (aka no more than £500 including the keyboard but ideally closer to £400/450) then it'll be a contender for people wanting a more portable device. Shame it doesn't have the Android switch like the AtivQ though.

The S Pen is a winner though, it kills me on a regular basis that my Acer W510 doesn't have a pen, it makes the experience so much better.

That's what the s-pen stylus is for. They work very well on desktop mode.

Test the SideSync Please! Is Office 2013 really included?

so is the S pen equivalent to a regular Wacom digitizer pen? In other words, does this tablet have a built in digitizer? I'm so confused (and irritated) at Samsung's branding of a regular digitizer pen, since im not sure if it only works with "s" apps or it works like a regular digitizer pen

They mentioned it works with Office. Also, if my memory serves me, the S-Pen is just a white-label version of Wacom's technology. So the answer is: Yes, this is a general purpose pressure-sensitive pen. And yes, that makes it pretty bad-ass.

How long until Bay Trail? I feel like this thing's just there as a mediocre stopgap.

This is one problem holding back Windows 8 adoption. The 11.6" version came with hardware keyboard and that cost $749 and according to Samsung themselves didnt do very well. 8 months later they want to charge $699 for a slightly smaller version, shouldnt it be much cheaper now? Office cant be adding that much to the cost. This isnt going to sell well at all, full laptops with much better performance are cheaper than this.

They are also heavier, thicker, and have worse battery life.

They will also sell them without the keyboard... for less.

Eh, I'm still wary about paying $700 for an atom machine :-\

550 lbs? Woa, that's heavy.
/s

Whoops. Forget the units. It's 550 grams which is about 1.2 lbs. Doesn't matter if you lift or not bro, you can lift this!

Given the rate of tech change something lightly used makes more sense. Need Office and stream media? An RT makes sense. .I am typing this on a 2 year old 32GB HP Touchpad closeout. It serves the purpose for now but may not survive Black Friday and RT blow outs.

Too expensive. I might consider spending that much ($699) if it were based on Haswell, but this is just too much. Samsung have priced themselves out of the tablet market here.

I think 1366x768 is inadequate for a 10" tablet (surface rt owner). I'm really surprised that higher resolutions aren't making their way into these lower powered devices, especially at a price of $699. Samsung are probably just trying to avoid competing directly with galaxy tab with that price though. Hopefully high res screens come attached to the next wave of RT devices at a reasonable price, the latest Qualcomm and nvidia chips are certainly capable enough.

I think what's tripping people up on the price is that it includes the keyboard cover.

Maybe Samsung is bundling the keyboard cover to mask the cost of the Windows and Office licences. Barring any blowout sale, I kinda doubt they could chop off $150 bucks from the price by offering the tablet sans keyboard cover. But i'd love to be proven wrong.

Smaller keyboard, probably about $99.- less.

1366x768 should be dead by now

The atom chip doesn't support higher resolution.

looks like a big SGS4.
also, resolution is terrible. no buy.

Weak specs.

Weak resolution, weak storage, weak RAM, USB 2.0.

What is Samsung thinking here?

Much cheaper than Pro with same specs....hmmmnnn

There's a Surface Pro running on an Atom processor?

This is justification for Microsoft branded hardware. Samsung is in bed with Android as a competitor to Apple and in devices. Its doing nothing to help cannibalize or undermine its own PC sales and margins. That was always a non starter. Sammy has their own Smart TV OS and media stores. That's Samny's end game. Microsoft and Nokia and Lenovo's Atom phones will be the competitors and leaders in the MS device space with other bit players in all in one PCs. The XBone could be shipped with Win 8 and Office tomorrow if MS wanted to truly anger the channel and eat at their margins. Add a 24" touchscreen monitor, a Surface Atom 7.5" tablet, and 5.5" Lenovo phone? Watch next year.

How is this any different from the Samsung ATIV Smart PC? They are practically the same. They both have an Intel Atom Z2760 "Clover Trail" processor, 2GB RAM, 64GB storage + microSD support, one USB 2.0, microHDMI, 1366x768 screen resolution, both have support for "digital ink" and they both run Windows 8. The only difference I can see is the screen size (10.1" vs. 11.6"), design and weight/thickness. And the naming of this device makes no sense at all... The ATIV Tab was an Windows RT device, not Windows 8! And what happened to ATIV Tab 2? Did they just decide to skip a revision? I just don't get Samsung.

A tons of cheapo Windows 8 hardware with substandard technology again! " 10.1" 1366x768 display with an Atom Z2760 process"

It is too big for me and has to wide of a screen dimensions for my needs - I not going use it to watch movies but for work and reading and surfing the internet! Plus, it only 720p not 1080p+ and has a super slow processor to boot!
Make it for reading in portrait mode(4:3) and use a Haswell CPU in it; make it 8" and I will jump at it! As it stands if garbage for my needs. I would use it even if it is free! Just has not use for this type of tablet! Too big and too old technology in it!

Iconia W3 has your screen size preference, but of course.. It doesn't have Haswell just yet. I guess you just gotta wait. :/

If Samsung wants more of the tablet business they need to get more state of the art technology in the tablet. Think Galaxy S4 concept! Give buyers what they been waiting for!
Apple set the new standand in the iPad Mini but goof up on the technology with poor screen resolution and a old A5 processor on the new Mini. Still the sale of the Mini have been outstanding even more the the iPad4! Apple open the road for anyone that can top them in the Mini and it seems to be ignored by every tablet manufacturer. They just try to meet the same technology as the leader - Apple in the tablet world. Just plain bad marketing! Why not go and update it with HD+ screen resolution; state of the art processor, 802.11ac, 3.0 USB, 4.0 Bluetooth, flash memory, etc...

If anyone can answer, how did the second tablet get a different picture in the back of the start screen? Or is that Windows 8.1? (?.?)

I think it a comparison of the 13" model - top vs. the new 10" model - bottom!

I say the same thing I bet its running 8.1, that would be the only way.

There's an app that allows you to do that I think. Dan wrote about it once.

Not interested in samdung...
Waiting for nokia to reveal a tablet wp8

dont see anything special in this tablet(s). just another windows 8 tablet if you ask me and that's it

Is it me or does it kind of have a little iPhone 4 look to it, just a bit bigger?

I think you are right on that. White, with faux chrome on the edges. Very iPhone 4-ish.

1) The old version wws not 13.3 - it was 11.6. A little proof reading can go a lomg way.
2) Saying any of the Ativ tabs are elegant is the equivalent of claiming Detroit is a world leader in automotive sophistication. They look and feel like someone ripped off the screen half of a netbook clamshell.

What's up with your start screen background??? How'd you?