Hands-on with Samsung's Galaxy TabPro S, the 12-inch Windows 10 2-in-1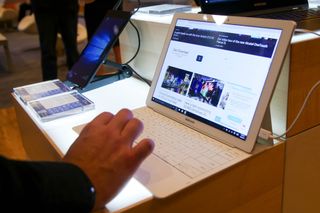 Samsung announced the Galaxy TabPro S at CES 2016, and it is the first Windows machine to carry the Galaxy branding. This tablet is a 2-in-1 offering from Samsung that packs some great specs, coming in at just 6.3mm thin and weighing only 693 grams it is ultra-portable.
The 12-inch Super AMOLED display carries a resolution of 2160x1400, which looks great. Inside, you've got Intel's 6th-gen Core M processor paired with 4GB of RAM and up to 256GB SSD of storage. The Galaxy TabPro S is designed to easily be carried around all day, and packs a 5200mAh battery inside. Samsung claims 10.5 hours of battery life per charge, with the ability to fully charge the tablet in just 2.5 hours.
When used with the optional keyboard, you'll be able to knock out emails, get those documents prepped, and more with ease. If not being used, you can remove the keyboard and take the tablet with you to your meeting or presentation.
Are you interested in the Samsung Galaxy TabPro S? Sound off in the comments!
Windows Central Newsletter
Get the best of Windows Central in your inbox, every day!
Jared started off writing about mobile phones back when BlackBerry ruled the market, and Windows Mobile was kinda cool. Now, with a family, mortgage and other responsibilities he has no choice but to look for the best deals, and he's here to share them with you.
Nice. Love all these choices!

Yes nice. By the way.... Did I just see an ad in the windows central app? I paid for the app.?!?

NIAA = Not Interested At All

Why not? Looks great to me.

Let's demolish the iPad Pro & be Productive like a Boss!!! I'm looking forward to see more reviews on this product.

Rise of Windows.. It's Microsoft year. Android devices are gradually getting relegated to sub$500 devices.

Yeah cause you don't need a tablet for more that $400 to play app games.

Actually Bluestacks 2 runs great on Intel Core M or better CPU with 4GB of RAM or more, you get performance like the fastest Android device (Nvidia Shield K1 ) So actually you're not missing any apps from Android app store if you are on the Galaxy Tab Pro S 12 with Windows 10. Sometimes is better to pay more than $500 to get the best of both worlds.

So it's basically a Surface pro but with a weaker processor and a lower res screen?

And don't forget that we don't even know if it will have a decent stylus. On the plus side: AMOLED, for those pitch blacks when watching TV.

And no pen, I think it's pretty awesome that Samsung is going with Windows 10, I was really interest in the TabS, They just need pen support. I'm liking all of the options that are arriving. This has a trackpad unlike the IPAD PRO.

They stated it has a pen, just not included (keyboard is included.)

And yet the article mentions "When used with the optional keyboard". I wonder why?

And probably much cheaper, which actually is VERY pro!

Knowing Samsung this isn't going to be cheaper.

Don't forget about better availbilty in other region

Well considering its the same exact processor for the $899 SP4 i'd say "no". And this is basically the product Apple wishes they built with the ipad pro. If you need a Core i7 (very few people do!) get a SP4. If you are looking for a productivity tablet... one device that can do everything really well then this is probably the device with the best balance. I love my SP3 i7/8/512.. but it's serious overkill for just about everything i use it for and I hate the damn fan.

Then why didn't you get the Core M sp4?

This will surely convince developers.. Google and Apple will be having a tough time. Can't wait for galaxy s7 pro with continuum and galaxy note 6 pro(x86). Hololens-x86phones-hybrids will springboard Microsoft to its glory.

I'd hardly say Apple has been having a tough time with the Apple Store having the most profitable year of all time

Apple and Google have nothing to worry about right now, this is full Windows 10 not the mobile version which is a joke and the Lumia 950 phones got humiliated by the the 2 new iPhones. Posted via the Windows Central App for Android

How did it get humiliated? The 2 new I-PHones certainly sell more, but the 950 is just as good spec wise or better than the 2 I Phones.

You must be kidding. The Tab Pro S won't convince developers to support Windows.


Thing is, all these devices just mimic lower spec Surfaces, Surface Pro's, or Surface Books, and then charge you the same amount. At that point, I have more faith in the Microsoft support than the other guys.

You need to see the display in person. It's astonishing.

it always will be stunning except you really can't be confident considering Sammy's track record.

Exactly...Samsung initial quality seems high, but their stuff breaks down quickly. I'm speaking from experience with their smart phones, monitors and printers (I will never buy a Samsung tv)

That seems pretty backward for me. I only purchase Samsung TV's and Samsung SSD's which always perform exceptionally for me. Never had any issues. I have never purchased a smart phone from them though, perhaps their quality in those area's isnt as good... And printers are almost always terrible regardless who makes them.

I cant speak for smartphones, but every other Samsung electronic device i owned has been nothing but awesome. Among them are SSDs, a 8 year old Samsung pc monitor and a few years old TV. All work perfectly no problem.

Samsung make cracking screens. Their customer service however isn't always the best.

As if MS have anything called customer support department.

My chat support with Microsoft excellent My phone support with Microsoft, excellent. My 2 returns for the XBox 360 RROD, both dealt with professionally. MS certainly do have decent support. (I'm sure there are exceptions but...)

Never had a problem with customer support as a customer of many products and as a developer (hobby and work).

Their phone support is excellent.

Wow totally disagree with yah. Microsoft has an amazing setup, compared to both Lenovo,dell and hp. Ive had to deal with all three. Dell has to go through two levels of support for repairs but they handle things. HP is OK. My experience with Lenovo ideapad support has always been a nightmare. Microsoft without question provides ts for pens with a simple request no shipping charges and sent me a new pen the moment i broke my old. I then took the pen to the microsoft store still in its wrapper and the let me upgrade to the new surface pen... For the cost of difference. the funny part is i bought my pen through amazon and they didnt care. They kist cared that i bought the extended warranty theough them.

You haven't contacted them then, have you? Don't go by hearsay.

As from my experience, the customer support from Microsoft is the BEST I've ever had. I contacted the support via chat, because my Surface Pro 3 broke. they sent a courier to get my device and I got a replacement device in four days! And the guy from the support called me three times to make sure that everything is okay. That I've had the new device and the device is working properly.

What does Microsoft customer service have to do with Samsung? If Samsung service is not good, it is not good whether MS provides good service or not. Are you saying since Microsoft service is not good (hypothetically), then it is OK for Samsung to have bad service. I just understand why some people give this kind of stupid argument.

Thought the Surface display is pretty nice.

Yep.. the display is quite amazing on this thing. You might think SP4 and ipad look good till you put them side by side with the same content.

If this thing had a good stylus, a nice smart cover (without keyboard), and sold for under $700, I would buy it as reading and annotation device. I guess it's wait and see for this one.

Agreed. Looks nice, but the details (including price) will make or break it compared to the Surface.

At the Samsung booth they showed it with a TUMI case (no keyboard.) Looked pretty sweet.

Sounds interesting, any links or pictures of a similar model?

Samsung should make windows 10 mobile

Why, because of Android apps? The Galaxy TabPro 2 12" with Windows 10 has Intel Core M and 4GB of RAM so you just need to install Bluestacks 2 to run the missing apps from Android. Believe me, Bluestacks 2 is far away much better, more stable and faster than version 1, it feels like running native Android on a Windows device.

Maybe because he likes their phones and would want one running w10m? :)

A galaxy tablet with atom processor will send Android to its early grave, and a galaxy note pro 12.2 with core i-series will be surface pro 4/5 competitor.

That's the plan. They wanted a tablet that fall in between iPad pro and surface pro 4

"We're not making any more Windows PC's." Makes a Windows 10 tablet. (Was that Samsung that said they weren't going to make any more computers?)

They stopped selling them in Europe

Oh. I live in the US, so that would explain why I forgot.

The success of this will attract Android OEMs to Windows ecosystem

Dual boot (window 10 & android masmallow) :D

No point doing that. This is Windows. If you really need an Android app you can emulate it.

I don't see the use case of android on 12 inch tablet..most of the android apps are not optimized for tablets of 12 inch.if you are only going to use it for consuming media then may be yes...but thn what's need for a core m processor

I hate that name, 2-in-1. Microsoft needs to stop trying to make it happen, it's NOT going to happen!

I think it's an accepted industry term by now.

You hate that name, 2-in-1 - Your right and perogative Microsoft needs to stop trying to make it happen - Too late, it laready happened and will keep happening. it's NOT going to happen! - Once again, You are VERY TOO LATE and WRONG... ITS DONE In case you are an Apple Fan, iPad Pro already joined.... So, you are realy realy wrong

I think that was more of Intels term not Microsofts.

Sammy is probably going all therma nuclear on Apple as opposed to Surface Pro line. It's always the obsession with Sammy. Surface line has been on the market for some time now, Apple followed like others and here we have brother Sammy few months later.

Seems like a half hearted attempt.

That tablet next to the Samsung, what is it, i don't recall Samsung having any other win10 devices

I'm excited! I think this is what the Surface line is all about. Providing a solid and successful example of how good it can actually get, so other companies can follow their footsteps creating even more options, more possibilities. I'm loving that new 'Microsoft thing' that's going on recently And I would definitely give this tablet a try, it looks great.

Does this Samsung product come with stylus pen?

This is getting too much hype. Selling points so far are restricted to good screen and that its thin and light. Negatives are, only Core M3 option, max 4GB RAM, stylus tech as yet unconfirmed, one solitary USB C port and first reports on the non backlit keyboard aren't too positive. For the Euro 999 price I've seen quoted it seems all you're paying for is looks and sacrificing everything else. Not sure that'll be enough to shift units at the price they are asking, closer to the S3 price makes more sense.

Your description sounds like an iPad Pro.......which has nothing on these Windows 2 in 1's lol

Samsung name and looks will fill the tech specs gap. It is the Apple lesson, we need a lot of cool devices to sheepify the masses so that Windows adoption increases :D

What's that on the left hand side of the Samsung tablet..??

I was wondering that myself. Maybe an Alcatel phone?

It looks like a full win 10 tablet to me, so not Alcatels doing

It looks like my Lumia 2520 with the keyboard :)

I saw it on a large screen and it was something with Dell.

Anyone know if it's a refresh of the Venue 8 Pro, or something entirely new?

Curious: How does it charge? Micro-USB, Type-C, or proprietary? And while I'm not big on it, one cannot deny that the Galaxy brand is a pretty strong one, so while I'll stick to Surface, this can only be good news for the platform.

USB Type-C is shown in the video.

Changes via use C (they claim very fast charging) plus they showed a little square USBc dongle with HDMI, USB, etc.

looks okay. at least samsung is now thinking big and thinking how Windows 10 is a future on tablets

This makes me excited for Windows 10 mobile app ecosystem.... i cant see a world where people will ignore these new Surfacy devices and not want to write mobile apps for them.... I can see a lot of people using the Samsung, Toshiba, HP, Dell, and Microsoft Surfacey computers as opposed to android tablets and ipad's/macbook airs. This is really exciting. This is a great go-to product for people that already own a galaxy and want a good partner computer that can be productive and mobile

It actually seems to follow Samsung's recent design changes, meaning an aluminum frame. Daniel, can you tell me what the materials are, since you've held it? Metal frame, glass back, polycarbonate?

I would die for an 8" version of it. I need new replacement for Dell Venue 8 Pro

GOOD MOVE leave hangroid and stick to the BEST!

What's with the name? Samsung, always with the confusing names. There is a galaxy tab, a galaxy tab pro ,a galaxy tab 2, which are all android. Now a galaxy tab pro S(no relation, or is it?) which is Windows. What happened to Ativ?

Ativ was a horrible brand name to begin with. Ativ is Vita reversed, Vita in Latin means life, the reverse of Life is Death soooo yeah horrible name. Plus they couldn't use Vita because Playstation Vita (so due to trade marks).

This tablet has the best of both worlds, Microsoft and Android ecosystem (using Bluestacks) so there is no app you can't run on this tablet. Great decision that Samsung is putting Windows 10 on their large hardware since Android is too limited for productivity apps and their keyboard support on apps is not great. This tablet beats iPad Pro on features with very similar performance (A9X vs Intel Core M should have pretty close benchmarks), only Skylake Intel Core i5 or Intel Core i7 are faster than A9X by about 33%

I would prefer a much more conventional and powerful laptop from Samsung with more ports, a lot more RAM and a Core i5 or i7. This seems to be aimed at travelling users who need a super light, compact tablet+keyboard Windows 10 alternative to a Mac book Air. I already have a Samsung Tab S2 8.0 which works for me. BTW I like the red accents for the curser etc in this App.

Awesome lets hope the price is reasonable as well

No active pen support = ripoff

I was excited to see a Samsung device, but was instantly dissappointed when I didn't see anything about Pen support. I love the Note series and was hoping that Samsung would bring that technology to their latest round of devices to truly compete with Surface devices. Other than that the device looks pretty awesome. If that battery life is accurate, that along with quick charge will win over a ton of people looking for a device similar to A surface but heeds much better battery life.

They said it has a pen (I don't think it was included) but they didn't seem to show it anywhere.

I am thinking that if instead of windows 10, it would be Android and then it would like make many Samsung tabs behind but right now windows 10 is still cool in a Galaxy tab Posted via the HTC Desire 816 Dual Sim

It seems like a good device but I'm sticking with Surface as seeing how much support Samsung have for Windows Phone having used an ATIV S, great phone let down by lack of support, I don't have a lot of hope for the support of this device.

I'm kind of curious about all the "Surface clone" commments and stating this is "just a Surface copy"... I agree that some of the new devices are "just clones" (Lenovo for example).. but this is a premium tablet... there's no kick stand like Surface (which is what i think makes Surface "Surfacey" :). This looks more like a Galaxy or ipad, not a Surface, yet everyone keeps saying it's a "Surface clone".... in what way is this a Surface clone? Is that just because it is a tablet running full Windows with a removable keyboard?.. if that's the case then isn't Surface just a clone of the HP TC1000 tablet??? And even to Samsung's credit they did have the Samsung 700t and 700tPro before Surface even existed. Is EVERYTIHNG that runs Windows and looks something like a tablet going to be called a Surface clone or copycat? I'll be curious to see the direct comparisions (more than what the press did last week) of the Tabpro and ipad pro and SP4. I think there is a significant enough differance between this device and SP4 (they feel very different in your hands.) IPP ont he other hand just feels goofy when you pick it up.

The device's edges looks like iPhone.

In Android land, I have very mixed feelings about Samsung. On the one hand, I think when you weigh everything out they probably do make the best all around hardware in that ecosystem. They certainly have the most dazzling screens! They also have rock solid build quality, and probably the most signature, most hallmark, most trademark aesthetics of any brand not named after fruit. On the other hand, I don't think I will ever own an Android device by Samsung ever again after my experience with the Note 3. The hardware was great! I STILL miss that screen and the size of it even though the iPhone6+ is not that much smaller. And I really liked the look and feel of the phone. -BUT- I didnt like most of their unique software, wasn't crazy about the aesthetics or performance of Touchwiz, what unique software I did like I hardly used, I had to wait 5ever for the Lollipop update, it was super duper "Wiz'd" when I did get it, my battery was constantly tanking, I had to use Google Now Launcher just to like using the phone, and I got OLED burn-in real bad (which I know is not Samsung-specific). So, while Samsung Androids may be one damn fine cup of tea, they are also the epitome of "not my cup of tea" and the whole experience has turned me into an ardent Nexus fan. Now, with the Windows ecosystem, it's a whole different ballgame. Yes, there is still some difference between a 1st party and 3rd party Wibdows device because of added software and features, price, aesthetics and all that. But at the OS/UI level for the most part a Windows machine is a Windows machine is a Windows machine. For better, for worse, for both, for neither, for all of the above, the Windows experience is nowhere near as customizable as the Android experience, and much less open. However, in the case of Samsung, this should result in a Windows device that benefits from all the stuff that makes Samaung special in a good way, and yet escapes all the stuff that makes Samsung special in a bad way. In other words, fantastic hardware with stellar displays, gorgeous aesthetics, rich materials, and all that, without [as they put it over on Android Central] all the "software wonk" and unfortunate particularities. And on top of all of that, it's a huge industry name getting in bed with the platform. Less significant than it'd be if it were a phone, for sure, but still, 3rd party OEMs are good news for Windows and by that standard, this is a big deal! Therefore, I cannot see this as anything but all positives all around! Now, for reasons much less justifiable in the Windows ecosystem than they are in the Android ecosystem, just as I have a STRONG preference and bias for Nexus/Pixel devices over all the third party offerings, so do I have a strong bias towards Lumia/Surface products over 3rd party Windows devices. And just as with Android, I celebrate and heartily applaud the existence of the third party that I am very unlikely to actually spend any money on. So unless this thing just kicks the crap out of the Surface Pro and does it at an appreciably lower price, it is EXCEEDINGLY unlikely I'd ever walk away with something that says Galaxy over something that says Surface. ....but Woohoo that this thing exists! Seriously! :-)

Windows 10 is right where it should be as an OS. When i`m at my PC i don`t feel the need to use Apps like myTube etc ... when i`m on my Asus Transformer i find it very usefull to use myTube, mail apps and such, also the Tablet Mode is working very fine. I find myself touching the screen even when i have the keyboard attached to it. With Windows 7 you cannot use a 2 in 1 tablet pc with the same ease.