Hands on with the Verizon Samsung ATIV Odyssey at CES 2013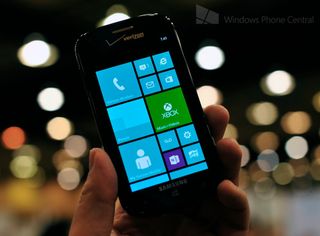 It looks like Samsung was okay with bringing out their recently announced ATIV Odyssey for Verizon Wireless, which was announced today at CES 2013. The phone features a 4" Super AMOLED display, 1.5 GHz dual core CPU, 5MP rear camera and in short feels like a hybrid Focus 2 with a touch of the ATIV S aesthetics on board.
Look, we loved the Focus 2 and we dig some of the chrome of the ATIV S so the ATIV Odyssey, while not for everyone here, is a sharp little device that feels "just right" in the hand. Sure, the specs won't blow anyone away but they're not meant too and while it's not as visually stunning at HTC or Nokia are doing these days, we wouldn't call it ugly.
Look for the Samsung ATIV Odyssey in the coming weeks on Verizon. Check out our hands on video and a few more pics after the break...
Daniel Rubino is the Editor-in-chief of Windows Central, head reviewer, podcast co-host, and analyst. He has been here covering Microsoft since 2007 when this site was called WMExperts (and later Windows Phone Central). His interests include Windows, Microsoft Surface, laptops, next-gen computing, and for some reason, watches. Before all this tech stuff, he worked on a Ph.D. in linguistics and ran the projectors at movie theaters, which has done absolutely nothing for his career.
Wow...looks like a Droid Charge.

Samsung phones continue to bore me they need a new design team.

lol i personally think the gs design does wp more justice than android lol

well its looks much better than the leaked pictures what about the aliens who lives out side US is this phone going to available to them too ?


The original focus lives!!!

Agreed, i would have loved to have a mid/entry level device like the focus with wp8

They release this in the US, but not the Ativ S??!!

Maybe it'll come out with its competitor, Lumia 920?

Samsung does not give a shit about windows phone because its making tons of money on android. They are just having these phones to not leave the entire platform to Nokia.
Examples:
1. They are not releasing ativ S till now in US, China or India.
2. They released only samsung omnia w(focus flash) in India till now. But they are releasing android phones like one every month here.
3. No chat on app for windows phone but they have it even on blackberry.
Nokia also pricing their phones at very high prices in countries where carrier contracts are not available. In US they are selling at less prices but people are not buying because it wont be a big difference when you consider 2 year plan.
Microsoft need to nexus like google. Release the phones in countries like China, Russia, India, Brazil at competetive prices

Same can be said about Microsoft.
1. Microsoft makes more cash off Android than W8 phones.
2. Microsoft shows more support with their app support to IOS and Android.
3. Microsoft even has smart glass and Xbox games are coming to IOS and Android.
So quit crying about Samsung putting profit first. Their not gonna shut down a high profit / high demand line (GS3) to make a ATIV S. Especially when most people on the most popular Windows Phone forum (WPCentral) dog Samsung. Get it straight Samsung is in business to make money.

I am not saying that samsung should not make profit. I am just stating the facts.
I just want microsoft to do a nexus thing to make windows phone grow. Read my last two lines.

Back looks like iPhone 3GS...

Nice, better than the 820

Disgusting logo from big v as usual.

Yeah, just that big nasty logo alone would stop me from getting that phone.

nokia 620 will be better!!!!!

wp won't gain new customers with devices like these. nokia brings a lot of value with design,software enhancements, new tech even in the low end phones. htc started to pay more attention to the design side of things too. but what does samsung do? this phone is joke compared to the 8s and 620. better processor and ram but that's not really a head turner. if the oems treat wp like this i'm afraid that wp in 2013 will depend on nokia again. those adduplex stories seem to confirm it too.

As long as HTC keeps up the good work I reckon it'll be a WP Nokia HTC duopoly this year. Although I am getting Nokia next.

This phone is the Focus Flash/Omnia W of Windows Phone 8.

haha was thinking the same

Not as attractive looking as the Nokia Lumia 620 but has specs equal to or better than the Nokia, the most notable being that it has 1GB RAM to the 512MB of the 620. Also the FFC is 1.2MP to the VGA of the 620. If priced along the lines of the 620, a GSM version would probably be a big success worldwide.

Edit: It has a better processor too compared to the 620.

One of the reasons I left Verizon is that their logos are completely out of control. UGLY. Main reason was the L920 though, but I sure am glad I don't have one of those huge ass logos... the phone service should be free for that kind of advertising.

Announced late Sept 2012, till now not yet shipping...

Ain't a damn thing wrong with this or any "budget" phone-the OS should run exactly the same as on the Lumia 920. Correct me if I'm wrong...

Terrible design... looks like some kind of budget featurephone from 2009... I know the looks are not that important, but come on Samsung, you can do much better than this.

Another entry level WP8 device,I'm starting to think that WP8 is going to end up the entry level platform Wouls have rather seen them say that the ATIVs going to hit ALL US carriers.....

Still doesn't make me want one. I'll stay with wanting a Nokia. I have a trophy now, Nokia has been good to WP. Good to have choices though.

would rather they announced an ativ-s for VZ.


Its a dark grey Focus 2 with a memory card slot.

I agree its not the best design but it has 8GB of internal storage which those iditos at HTC thought " hey guys we have a great looking phone with the 8S lets f**k it up and only but 4gb of storage in it. Yeah thats a great idea, it wont make the phone utterly useless!". This phone has better specs and if priced right will sell more than the 8S.

I am just not a fan of Samsung's Windows Phone 8 designs. I feel like they're not even trying, just regurgitating older phones with newer hardware packed inside. Glad I didn't wait for any ATIV phones from them and went ahead with the L920.

Wake me up when someone does something interesting. It must be painful reporting on these devices!

its not that compelling a device.

Now THAT's an understatement.

Lol im not as harsh as other people i guess.

Maybe I missed, it....HD screen ? Removeable battery ? MicroSDXC slot ?

So far not impressed but, if it has the features that the ATIV S was coming with, it might save it... othewise...I'll stick with my 8X (no contract)

The lines will be around the block for this ground shaking launch. If Big Red did not have the 822 already, this would make sense. But they do. I am surely not against as many budget devices as possible- that is how you build an audience. Free on contract will get some converts. It's just so disappointing to not get an ATIV S on the shelf....

I agree, Everyone is loading up on the low end devices. WP has two nice high end devices one is stuck on one carrier US. the other isn't sold in the US. Pretty sad.

M2 Mr. Uniq,
The atv odyssey looks like somthing that was poopee the out by the atv 4s.
Why the *#&$! does Big read always get the "window's phone" turds! Is the only reason we got the HTC 8x is be cause the Chinese Children that build them only charge a dollar a week?
What the heck happend to this idea?
"Well, word around the campfire is that the Samsung Ativ S will hit the US market via Verizon sometime in November. The latest rumors come from Phone Arena's sources and don't include details about an exact launch date, but November seems about right considering the fact that Windows Phone 8 has not yet been revealed by the Redmond Giant."

My only guess is Verizon got cold feet and didn't want to subsidize the ATIV and asked for cheaper hardware. They really did their customers a disservice either way. I have an 8x but may have even gotten an ATIV down the line.
Windows Central Newsletter
Thank you for signing up to Windows Central. You will receive a verification email shortly.
There was a problem. Please refresh the page and try again.