Hands with the White Nokia Lumia 900 [Video]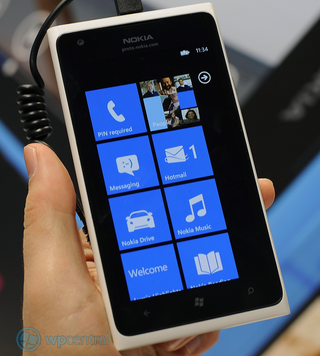 Of all the big news that came out today, one little nugget that slipped by was the announcement of the all-white Lumia 900. "Leaked" accidentally a few weeks ago by Nokia themselves on their Facebook page, the glossy white beast had been expected to launch here at Mobile World Congress and sure enough it has shown up here on the floor.
The phone is what you expect it to be: a big ol' white whale of a phone, similar to the Lumia 800 but obviously more grand. Now the White Lumia 900 will launch internationally in a few weeks to join its Cyan, Black and Magenta siblings. AT&T is currently only offering the Cyan and Black versions but we're told Nokia has given AT&T the choice for the white version, but it is up to them to offer another SKU for the device.
In practical terms that means don't expect a white AT&T Lumia 900 but should the glossy version sell well and gain momentum the option is certainly there for them. Likewise with Magenta which could see a roll out on AT&T with a "refresh" of the phone later in the year.
Daniel Rubino is the Executive Editor of Windows Central, head reviewer, podcast co-host, and analyst. He has been covering Microsoft here since 2007, back when this site was called WMExperts (and later Windows Phone Central). His interests include Windows, Microsoft Surface, laptops, next-gen computing, and arguing with people on the internet.
Really nice.

For now I'll be looking for the blu.. ehrmm Cyan version. Want a phone that shows of it's identity.

So is there any word regarding the release date of Lumia 900 on AT&T in the States? I've pre-ordered it and haven't heard a word ever since.

Has that been officially confirmed? I was under the assumption that the date was an "educated guess" that started over at BGR.

March 18 is just a RUMOR. No official word from NOK/MSFT or AT&T as of yet and we're less than 3 weeks out from the rumored date.
The March 18 expectation has been set among the "reviewer class" and if this date moves back at this point NOK will be seen as royally screwing this up by *not even attmepting* to control the expectations of its most important customers.

Hi Daniel, quick question... Now that you've seen and felt both the TITAN (1 and 2) and Lumia 900, what are you impressions- pros and cons? It would be great if you could write an article on it. Also, is there any particular AT&T store in New York, say a flagship store (akin to the Apple store for iPhones), where WP enthusiasts can gather on March 18th to get the Lumia 900? Just wondering!!

At&t please bring the white version of the 900!

This device is pretty nice!

Thanks for the info Daniel. Does anyone know if the global Lumia 900 will work on TMo's network? Looking to dump AT&T fast and go with Simple Mobile.

It'll work but you won't get 3G+ speeds as those use AWS 1700 which are special TMo frequencies...so probably not worth it :-/ OTOH I did get a wry smile when I impored them to put this on Tmo :-P

Thanks Daniel. Looks like some of will have to play the waiting game. Desperately wanting to get away from the "locked" phone and the "wrath" of AT&T (locked phones, blocking updates, outragous international charges, etc). 900 looks great. C'mon Nokia.

WCDMA 850/900/1900/2100. It won't.

Great looking device. I'm going with cyan when they hit Rogers in April.

Any idea ,Daniel,when it will release in India since 800 is already available here for some time now? Thank you!

According to one mobile shop guy I know extremely well in Bangalore, he's been told to expect the 900 in April or May.

Wold love to see an Orange phone (the color not the carrier).

That phone just beautiful no matter what color ... I don't care if t-mobile picks up any hi end lumia am getting a Nokia rain r shine lock or unlock especially since am going to Jamaica this yr a unlock phone would be perfect

Yeah, it is scary... I thought for sure we would hear more about some Nokia devices with T-Mobil. But, to no avail...

WOW! that phone is sooo sexy ,,, gona kamasutra that thing!!!
NOM nom nom nom nom nom!!

Out of curiosity, Daniel...that shiny backing on the 900... How scratch resistant does it feel?

The body won't scratch much and if it did, you'd not notice. But the chrome around the camera can easily scratch.

The black and white colours are sooo 2000's ;) I can't wait for the cyan/magenta/yellow variants to come out in Australia :)

Agreed. The yellow sounds enticing ;)

Hmm the white one is glossy? I guess it will scratch easily and perhaps the color will get rubbed off eventually? Can't be the same quality as the other ones.

Yes, its glossy because matte white would get dirty too fast. However, it is the same design, meaning its one color through the entire body. Scratch it, and it will still be white. It's not painted, it's colored through.

Matte is more prone to scratches because the surface is softer, while glossy has a harder surface area. Also the device uses polycarbonate plastic so there is no paint to rub off because the actual 'base-layer' is the colour you're seeing.

This unicorn is worth getting unlocked. No way i'm going to get tied down to ATT's not so limited internet. i need that shit and tmobile can provide it.

The magenta is the best...

What a sexy phone, come on Verizon....Get this phone !!!!

I really hoping Att will have white version. Absolutely love it

Beacuse of the polycarbonate plastic the color is solid. I must say it's really one nice looking device!

Im stuck because I don't know If I should wait until it comes to Rogers Canada in April or drive down to Buffallo and buy it there on March 18. I wish I could know when its launching exactly. If it's the end of April then screw it, I can't wait.

Daniel, please invest in a unidirectional microphone. It's very hard to hear the subject with all that bg noise
Windows Central Newsletter
Get the best of Windows Central in in your inbox, every day!
Thank you for signing up to Windows Central. You will receive a verification email shortly.
There was a problem. Please refresh the page and try again.