Advertisement Feature
The 5 best laptops for 3D animation and modeling
The best NVIDIA Studio laptops for powering a demanding creative workflow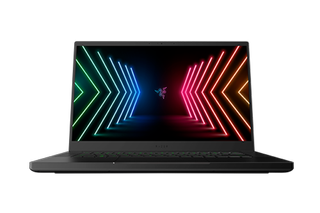 (Image credit: Razer)
Much like picking the right major, choosing a the right laptop is a decision you don't want to get wrong. Today's resource-hungry workflows require a powerful GPU to run smoothly—without it you'll be held back by frustrating wait-times.
NVIDIA Studio laptops are specially engineered for demanding 3D workloads and are also ideal for video editing, photography, graphic design and other creative applications. They have ultrafast memory and storage, and the most popular creative apps have been optimized to run on RTX GPUs for even better performance. And as you'd expect from a creative tool, they have high resolution, color-accurate displays suitable for making professional-level work.
It's no secret that AI-based features in creative applications are exploding right now, with new features being developed and released at an astonishing rate. RTX GPUs have Tensor cores that are specially engineered to run AI features, as well as dedicated cores for real-time ray tracing—so NVIDIA Studio laptops are perfect for getting the best out of these technologies and delivering the faster workflows they bring.
Students undertaking courses in 3D animation will need to model 3D environments and render complex cinematics involving textures, character animation, fluid simulation and much more—perhaps in 4K. These computationally intensive tasks require a powerful system, so choosing the right GPU is essential—otherwise you could be stuck with a miserably slow workflow.
NVIDIA Studio laptops have the power to take on these challenges, and these are the ones we recommend.
ASUS ProArt Studiobook 16
ASUS describes this machine as the best creator laptop they've ever made, and it's not hard to see why. The Studiobook 16 has won multiple design awards because your every need as a creator has been carefully considered and catered for in this build.
Sporting a vibrant 16-inch 4K (3840x2400) OLED HDR 16:10 display, the Studiobook 16 is ideal for creating professional-grade visuals. The screen is certified color-accurate, has a best-in-class color gamut, and, as an OLED display, is even gentle on your eyes—making it perfect for working those long hours.
The exact specifications depend on the particular model, but the Studiobook 16 is ready for a mighty 8-core AMD Ryzen 9 5900HX processor and an NVIDIA GeForce RTX 3070 GPU, an immensely powerful combination that can handle any kind of resource-hungry task you care to throw at it.
Beyond that there is ultra fast SSD storage, huge amounts of memory and fantastic connectivity. There's a three-button touchpad, two customizable keys, touchpad stylus support and the ASUS Dial for quick control of your apps. It even meets military grade durability standards, so it's ideal for taking to a film set or photo studio.
HP ZBook Studio 16-inch G9 Mobile Workstation PC
Starting at just 3.81 lbs, the HP Zbook Studio range of laptops offers a powerful machine in a slim form factor—this is a thin, light computer that has a great screen and can handle resource-hungry creative work.
The ZBook Studio G9 is ready for an Intel vPro with Intel Core i9 processor and an NVIDIA RTX A5500 or GeForce RTX 3080 GPU—a hefty pairing ideal for multitasking and processor-intensive work.
A machine this powerful needs a lot of cooling, and the ZBook Studio has HP Vaporforce Thermals technology which uses a chamber that vaporizes liquid for extra-efficient cooling of both the graphics card and CPU.
It has an HP DreamColor Display with 100% DCI-P3 color gamut for professional color work, with a 120Hz refresh rate which is great for video editing. The screen's 16:10 aspect ratio makes room for menus and toolbars so you can see your 16:9 work without having to scroll.
MSI Creator Z16P - B12U
Another slimline yet powerful laptop, the MSI Creator Z16P is designed for portability, durability, and style. It has won a Red Dot Design award for its sleek form factor rendered in shimmering lunar gray with a thickness of just 19mm, weighing 5.3lbs. Like the ASUS computer in this list, it also complies with military-grade durability standards so it's great if you know you'll be using it on location a lot.
Based around a 12th Gen. Intel Core i9 processor with NVIDIA GeForce RTX 3080 graphics, the MSI Creator Z16P also has the processing power you need to run resource-intensive creative applications and make the most of everything the NVIDIA Studio platform has to offer.
The screen is a 16-inch QHD+ (2560x1600) display with the useful 16:10 aspect ratio that's ideal for working with 16:9 content, and it's also a touchscreen with support for the MSI Pen for highly detailed work. It has the 100% DCI-P3 color gamut like the other screens on this list, and a super fast 165Hz refresh rate. It's factory calibrated so you get accurate colors as soon as it's out of its box.
Like the HP machine, the Z16P also has a vapor chamber cooler for ultra efficient, low-noise cooling when you're really putting it through its paces with some highly demanding software. There's also a 90Whr long-lasting battery and fast-charge technology that adapts to the way you work for even greater efficiency.
GIGABYTE AERO 15 OLED Creator laptop
A great deal of special engineering has gone into this laptop to squeeze every morsel of performance out its powerful components. Aimed at gamers as well as creators, this computer is based around a 10th Gen Intel Core i9 processor with GeForce RTX 3080 GPU, working with the AERO's Max-Q technologies—a system-wide optimization approach for high performance laptops. The third generation Max-Q technologies include Dynamic Boost 2.0, an AI-based power delivery system that optimizes GPU, CPU and memory power according to the current workload for maximum efficiency, giving a substantial performance boost.
Further AI technology has been used in the system's Smart Power Manager which uses the Microsoft Azure Machine Learning platform to monitor how the user works and automatically and adjust CPU and GPU wattage settings for different apps to optimize system performance.
The cooling system in this machine is GIGABYTE's WINDFORCE Infinity setup which uses two 71-blade fans, five heat pipes and copper heat fins to keep the temperature down when the system is under heavy load.
The screen is a 15.6-inch 4K Samsung AMOLED panel, factory calibrated and certified with X-Rite Pantone calibration technology for excellent color accuracy. The display sits within ultra-thin 3mm size bezels which are protected by special bumpers for durability.
Razer Blade 15
Designed for both gamers and creators, the Razer Blade 15 combines portability, power and style. The chic black chassis is just 17mm thick and the unit weighs 4.40 lbs, so it's a good pick for those who need to carry their kit around.
The 1.8GHz 14-core Intel i7 processor and NVIDIA GeForce RTX 3080 GPU make a formidable duo, so this laptop can handle multitasking and resource-intensive work such as 3D rendering and video editing.
It's 15.6-inch display and you can choose between Full HD (1920x1080) 360Hz, QHD (2560x1440 ) 240Hz, or UHD (3840x2160) 144Hz. If you go for the 4K creator version, it's a 100% DCI-P3 color gamut and 4ms response time—perfect for bringing your creations to life.
A distinctive user experience boost comes in the form of a large, clickable glass touchpad with Microsoft Precision Touchpad support for comfortable and precise control. Like some of the others on this list, the Razer Blade 15 also has vapor chamber cooling for quieter, more efficient temperature regulation and an ultra-thin form factor.
The NVIDIA Studio software suite
Studio laptops give you access to the NVIDIA Studio suite of apps which are exclusively available to RTX GPU owners and contain powerful technology to speed up content creation. There's NVIDIA Omniverse for collaborative 3D editing, Broadcast for elevating your livestreams via amazing AI tools, and Canvas for painting beautiful photorealistic landscapes with AI.
NVIDIA Studio laptops and popular creative apps are supported by NVIDIA Studio Drivers which come preinstalled and are extensively tested to deliver maximum reliability. Even better, every driver update adds functionality to your system and improves efficiency.
To find out more about what NVIDIA Studio can do for you, check out the weekly In the NVIDIA Studio series, which celebrates featured artists, offers creative tips and tricks, and demonstrates how NVIDIA Studio technology accelerates creative workflows.
Windows Central Newsletter
Get the best of Windows Central in your inbox, every day!