Exclusive: Microsoft is working on an ARM-powered Surface Go 4 and new 11-inch Surface Pro
Microsoft plans wave of smaller 2-in-1 Windows tablets.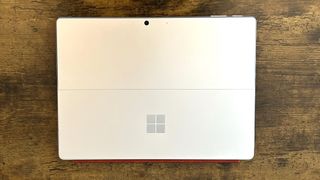 (Image credit: Windows Central)
What you need to know
Microsoft is planning to ship the Surface Go 4 with ARM for the first time.
The Surface Go 4 with ARM will be powered by a Snapdragon 7c-based SoC.
Microsoft is also working on a smaller Surface Pro with an 11-inch display.
---
Microsoft is readying a new Surface Go for release this year that will feature an ARM processor for the first time. According to my sources, the Surface Go 4 is codenamed Tanta and will ship with a Snapdragon 7c-based SoC in the entry-level model and offer similar performance to the current Surface Go but with better power efficiency for longer-lasting battery life.
I hear there may be some minor design changes on the cards for Surface Go 4 along with the new SoC, but it will still maintain a similar-sized footprint to previous models. The new SoC may also allow Microsoft to ship a Surface Go with 5G for the first time, though that SKU isn't yet confirmed to ship. An Intel variant is also expected to stick around for customers who want or prefer it.
In addition to a Surface Go 4 with ARM, I'm starting to hear whispers that Microsoft is also planning to ship a new Surface Pro in two sizes, similar to what Apple is doing with the iPad Pro. Alongside the typical 13-inch Surface Pro that we're all familiar with, Microsoft is building a new 11-inch Surface Pro as well.
The 11-inch Surface Pro is codenamed Luxor and will be similar in shape and size to that of the Surface Go, albeit with slimmer bezels like its larger sibling. Of course, the 11-inch Surface Pro will also be more powerful, with a better 120Hz display compared to the budget-conscious Surface Go line, which will still maintain a low-entry price point.
Windows 11 was recently updated with a new tablet mode that works better on devices with smaller screens. The taskbar now minimizes out-of-view when an app is open. On devices with 11-inch screens or less, apps automatically open full screen to mimic better the tablet experience found on an iPad or Android tablet.
I'm told that this trend will continue throughout this year and into the next version of Windows, which is currently expected to ship at the end of 2024. More tablet optimizations are coming, including a more touch-friendly File Explorer, lock/login screen, and desktop environment. This might explain Microsoft's sudden interest in shipping a new entry-level and flagship 11-inch tablet.
Regarding timing for the new Surface Go and Surface Pro, things are still in flux, but my sources say it's unlikely you'll see them ship before this fall (and even then, things might get pushed back further). Microsoft had initially planned to ship the new Surface Go this spring, but I hear that plan has now changed. Microsoft will also need to wait for Qualcomm to begin shipping its new Nuvia chips before it can ship the next Surface Pro too.
Get the Windows Central Newsletter
All the latest news, reviews, and guides for Windows and Xbox diehards.