HARMAN and Microsoft partner up to offer Office 365 features in cars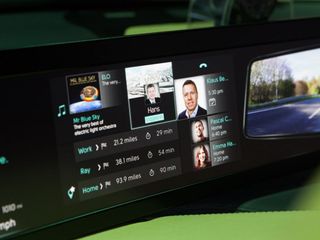 Microsoft is betting that office workers will want to continue working with their Office 365 applications while they are driving their car. The company announced a partnership with HARMAN as part of CES 2016 that will hopefully result in cars that support Microsoft's productivity software features in HARMAN's infotainment systems.
HARMAN said:
There's no word yet on when these new Office 365 features will be include in HARMAN's car systems.
Source: HARMON
Windows Central Newsletter
Get the best of Windows Central in in your inbox, every day!
"There's no word yet".... Ha! I see what you did there...

Both of you seem to excel at these office jokes

Self driving cars can not come soon enough!

Yup. All this stuff should be illegal till then. Always cringe when my boss arranges conference calls for when he's driving then starts querying the content of specific cells in a spreadsheet.

The first thing I'll do is install a beer fridge.

Self driving cars can stay far away from me.... That sounds terrible.

Continuum with touchscreen and\or Cortana will do a far more seemless "Office 365" experience in the car. And be a completley agnostic (no need for Harmon or Sony or Bose) You just get in the car and extend your mobile device to the amps and speakers and touchscreen. Windows 10 Mobile with Continuum would be an amazing "head unit".

I did the same. Next is a bigger then 6.1" display..

Another news site was reporting this morning that Continuum will be powering this feature. Could this be the "killer app" that makes Continuum and W10M the "next big thing"? And it would sure validate the whole "write once, run anywhere" promise of the Universal app platform even further if your existing Spotify/Pandora/Groove app "just works" in the car as well.

That is absolutely possible with Windows 10, and that's the point of the whole convergence thing. One core, various APIs sitting on top if it for specific hardware. In this case the hardware is a car. Very cool.

Google = Why should you drive..? When we are making self driving cars
Microsoft = Do your work when Google is making you jobless in your journey

It would be fun to dash all the self driving cars and play dashing cars.

People can't drive in the rain and you want them doing spreadsheet's?

Yeah, I'm thinking that allowing a driver to open and work on Office documents while they're driving is ALL KINDS of a bad idea.

Sticks and stones will break my bones, but Word (documents) never hurt me.

Ha Posted via the Windows Central App for Nexus 5x

It probably requires the vehicle to be stopped or parked.

No worse then this http://ipv6.google.com/url?q=https://news.microsoft.com/2005/12/27/xbox-...

No doubt running on some other OS since Microsoft blew it with Ford Sync by not using the Winmo 7/8 core when they could have owned that space with cheap high performing hardware.

"Bob, check out this PowerPoint! You're gonna die when you see it!"

Adding Office 365 is excellent news. I look forward to further updates.

This is poaaible when you are the passenger and not the one driving the car, right?

Oh no, now dad would never stop making calls even on vacation :(
Windows Central Newsletter
Thank you for signing up to Windows Central. You will receive a verification email shortly.
There was a problem. Please refresh the page and try again.