Hashtastic refreshed with new UX and features in latest update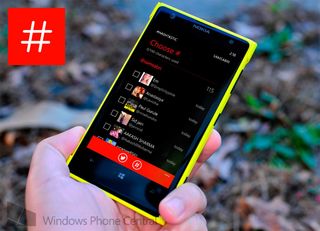 We first looked at Hashtastic in early November. The app is a much for any power Twitter user who really gets into things like Follow Friday or any other Twitter trend. Hashtastic has been updated to version 1.8 and brings a few new features to the mix. Plus the app went through a really nice UX refresh. Let's check out Hashtastic for Windows Phone.
Head to the Windows Phone Store and you'll see version 1.8 sitting there. What's new in the latest and greatest version of Hashtastic? The following:
A fantastic UX refresh, thanks to DVLUP & Toledo2, including a new app tile icon
Show off your phone with 54 new Avatar Gallery templates, including HTC and Samsung models
Manage your Twitter Lists (create/delete, add/remove members)
Create your own hashtag+phrases
Go wide with Windows Phone 8/7.8 wide tile support
Catch up easily with pull-to-refresh support for the people list
Quickly access account options (Avatar Gallery, Twitter Lists) just by tapping the account name in the upper-right corner of the app
Manage hashtag+phrase in app settings
Experience better German Language support and application stability
The biggest and most obvious change to Hashtastic is the refreshed UX. You'll also notice an improved app tile icon. There have also been 54 new Avatar Gallery templates added. These are those pictures of certain Windows Phone models attached to tweet that goes out.
Windows Phone 7.x and 8 users will also appreciate the new double wide Live tile support for the app. You can use Hashtastic for free in the trial and get 6 uses with all the features. After that, you can still use the app, but you won't be able to access custom hashtags+phrases, Twitter list management, Avatar Gallery, or manage multiple accounts. Other than those features, the core functions of the app remain after that trial feature.
Pick up Hashtastic in the Windows Phone Store. The Store description might list the name as "Hashtastic Beta", but it's the legit version of Hashtastic and there's a quick update coming that fixes the name to just "Hashtastic". The app includes a trial, but can be yours for just $0.99. QR code below will also take you to the Windows Phone Store.
Get the Windows Central Newsletter
All the latest news, reviews, and guides for Windows and Xbox diehards.