Tackle the labyrinth with Haunted - Dungeons of Herwood for Windows and Windows Phone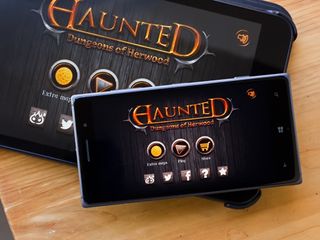 Haunted - Dungeons of Herwood is a Windows Phone game where you have to tackle forty five dungeon levels. The game does not tackle dungeon hunting in the traditional action/adventure approach but rather presents the dungeon levels more of a maze filled with trap doors, puzzles and plenty of treasure. While you do have a few monsters to contend with, you do so with stealth and timing.
Haunted - Dungeons of Herwood has a casual pace, simple interface and the dungeons can be challenging to navigate through. If you prefer your gaming from a larger screen, there is a version of Haunted available for Windows 8 devices, which plays out nicely from tablets.
Running down the main menu for Haunted - Dungeons of Herwood, you will find options to visit a host of websites such as the developer's site, the game's Twitter and Facebook pages and view the about screen. You will also find three main options that include Extra Maps, Play and Store links.
The Extra Maps is a collection of bonus levels to tackle with leaderboards to show who navigated the dungeon the fastest. Play, as you would guess, takes you into game play and the Store has opportunities to buy diamonds via in-app purchase.
The main forty-five levels of play are spread out across seven difficulty levels that range from easy to very hard. There is even a kids difficulty level just in case you have a younger gamer around.
Gaming controls are rather simple with a virtual joystick that appears in the lower left corner of the screen to guide your adventurer through the labyrinth. You will also have action buttons appear on the right side of the screen to allow your hero to grab objects, anchor chains to the floor, light torches and other various actions.
The object of Haunted - Dungeons of Herwood is to navigate through each dungeon level without haste and collect any treasures scattered throughout the level. You will have to use torches to displace green fog that blocks your path, use friendly monsters who are attracted to light to trigger trap doors to open gates and time your movements to avoid monsters who roam the halls of the dungeon. Some levels will require you to guide hostile monsters where they trigger trap doors.
Each of the levels within each difficulty group are progressively unlocked. The diamonds that are earned during game play or purchased in the game's store can be used to skip levels that you just cannot find a solution for.
Overall Impression
We were tipped to take a look at Haunted - Dungeons of Herwood and found it to be an entertaining Windows Phone game. While it lacks a lot of action, the game has plenty of mazes to navigate through and obstacles to contend with. Some you can tackle in a straightforward manner while others require a little thought.
Graphics are decent with the Windows Phone version and improve with the Windows 8 version (larger screen = larger graphic details). Game controls are designed with simplicity and I can see the game having appeal to a wide range of ages.
The only downside I can find with the game is that when you first launch the game you can give it permission to sign into your Microsoft Account to share achievements and progress between versions. However, try as I may I could not get the Windows and Windows Phone versions to sync. This is a nice feature and hopefully any bugs can be ironed out so you can swap devices without missing a beat.
All in all, Haunted - Dungeons of Herwood is a fun title to have in your Windows Phone or Windows 8 gaming library. The game pulls down a 4.7 and 4 star rating in the Windows and Windows Phone Store respectively and we can see the attraction. Please note that it appears the Windows Phone version's title has changed to simply Haunted while the Windows version is still Haunted - Dungeons of Herwood. The game is still the same, just the name change.
George is the Reviews Editor at Windows Central, concentrating on Windows 10 PC and Mobile apps. He's been a supporter of the platform since the days of Windows CE and uses his current Windows 10 Mobile phone daily to keep up with life and enjoy a game during down time.
Played it last month.. Interesting but not much of a popular type.

I played earlier version long ago Amazing game, but yah not so popular. But game is Very good.

Off topic... Anyone had an idea when will they fix store inhalation errors

Why would they fix the inhalation errors? You should see a doctor bro......

Any idea why the game wants access to my music library? Maybe I'm paranoid, but I have serious trust issues with unknown devs and free games requiring access to personal content.

The game music plays MP3 through the multimedia library, which you allows the app to use. Not much use for us to know content of you music library but I understand your concern and I've myself found always strange how those authorizations are worded and divided. -The team

Like the idea of puzzles but I really need a game where I kill sh!t to help release stress. Add death and destruction to the puzzels and I'm all over it.

Are there ads or microtransactions with this "free" game?

The review convers that pretty well. No ads, microtransaction only to skip a level if you are stuck but you get enough diamonds for few skips anyway. So it's pretty much the closest thing to free you are going to get. -The team

Thanks. I'm not sure how I missed that part about the diamonds.
Windows Central Newsletter
Thank you for signing up to Windows Central. You will receive a verification email shortly.
There was a problem. Please refresh the page and try again.