HBO Now app comes to Xbox One in time for Game of Thrones' season 6 premiere [Update: Xbox 360 too]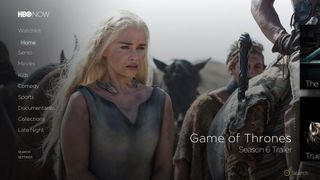 The HBO Now app for Microsoft's Xbox One has launched, just in time for the season 6 premiere of the cable channel's hit TV show Game of Thrones.
The HBO Now app (opens in new tab) allows people without a cable TV subscription to access nearly all of HBO's TV shows and movies. It also supports the Xbox One's optional Kinect sensor, which can be used to move through its user interface with a wave of a hand or via voice commands.
Pricing for HBO Now is $14.99 a month, but there is a 30 day trial, which should allow users to catch the first few episodes of the latest Game of Thrones season for free. The channel previously released the HBO Go app for the Xbox One, which allows current cable TV subscribers to access on-demand video from the network.
Update: The Xbox 360 also has its own HBO Now app.
Get the Windows Central Newsletter
All the latest news, reviews, and guides for Windows and Xbox diehards.
This needs to be a Unverversal App.

Needs to be outside of America too. Like I want to give them my money but they're shaking their heads.

Yeah I'd appreciate it over here in the UK too, companies wonder why piracy is so common, it's just not easy and in some cases not possible to get the content you want. I'll end up buying a season pass anyway but would love to subscribe to the service like Nertflix instead. Posted from my Lumia 950

There are a lot of governing laws in each country that control the distribution of content. You of all should know how difficult it can be in a country like the UK where EVERYTHING is recorded by the govt. No, that was not an exaggeration.

Many of HBO's shows air in the UK already, so I highly doubt it's the government keeping them from being offered as an online service.

Permits differ by medium of delivery and the fact that one show is allowed has no bearing on another show. At-least that's the way it is in many developed countries.

Yeah, it does, like stat, because as it is right now: it's impossible for any Xbox, Windows PC, Windows tablet, or Windows Phone owners to use HBO Now on Xbox One as it's not possible to sign up for the service on any of those devices. Yes, you read that right: you can't sign up for HBO Now using the HBO Now app on Xbox One, nor can you sign up for the service on the web, over the telephone, or on any of the HBO Now apps that don't exist on Windows 8, Windows 10, or Windows Phone. This article should be updated with this information. HBO just slapped us all in the face with this stupidity, requiring an iOS or Android device to use their Xbox One app. SMH.

I know, what a bunch of idiots at HBO...worst part is non of the idiots spotted that problem, but they made the app which you can't you!

About damn time. Sent from Windows .5

Game of Thrones central. But I don't mind.

Wonder if it's better than the Go app (which is slow/buggy as hell).

I don't understand why they support 2 apps. It should just be the type of subscription you have that controls what content you see. Also why is it not a UWP

Nobody said the old media corpses was smart lol ;p

Not all CTOs are created alike ;) Posted from Windows Central app, Built for Windows 10.

You do know that the Xbox doesn't support UWP yet, right?


I do know that, xbox has supported for univesal development for select developers for quite some time though. Lots of code reuse is possible even with the old way. Also, at this point, they should have just waited until uwp was official

Well that's just not true, also if they had waited it would have missed the GoT premiere, seriously think about it

Unless you're saying that universal development was possible on the WinJS stack that has been barely used in UWP, in which case true, but a ridiculous investment given the direction the platforms are moving

I'm not sure if it was winjs or not, but there definately was a program in place for select devs which I thought was based around the windows 8 universal app

Ok so it wasn't a select dev program situation. It was possible to build an app which shared a good amount of code cross platform if it was written on the WinJS framework. This worked ok for Windows 8 apps but is now much less prominent for Windows 10 (thought still an option). It would in theory also be possible to share code between UWP and Xbox One (old/current style) on a WinJS framework, which I guess they could have explored. More likely Xbox One was the big focus, and later they will rewrite to UWP and consider PC/Phone at that time.

got haven't even watched season 1 ep 1.. im not going crazy over this one.... Bring Back Rome Season 3!!!

just found a place to watch season 1 for free in Canada http://www.tmngo.ca/collection/free-preview

Nice! Now if only it broke free of licensing commitments to Bell Media in Canada so we could get it here.

Lol the $hit they get away with these days. Im surprised the radio industry in Canada hasn't gone satellite only when you see how few repeater transmitters there are for tv broadcast now

just found season 1 ep 1 for free in canada fyi http://www.tmngo.ca/collection/free-preview

yes.. yessssss... I dont want to bet movie central to watch this on shaw direct. I canceled my shaw direct. lol i need to start with season 1 ep 1 first.

"It also supports the Xbox One's optional Kinect sensor, which can be used to move through its user interface with a wave of a hand or via voice commands." Boom. Getting it just because of that. Used to use that all the time in the Netflix, Hulu, and Amazon apps and subsequently cancelled those subscriptions when they killed that feature.

Cancelled subscriptions because a very specific app doesn't support gestures? That seems....illogical.

Yeha he's not the sharpest knife in the drawer.

"Axe Body Spray, I have told you dozens of times on dozens of articles over several months to stop harrassing me, yet you continue to do so like the sociopath that you are. I have no respect for uneducated ignoramuses who mock the plights of disabled folk, defend anti-consumeristic crap pulled by multi-billion-dollar corporations, and have no understanding of basic logic. You're a terrible person. And I have no interest in anything you have to say. Take a clue and take a hike."

Not at all illogical. If them removing features completely eliminates how I exclusively controlled the app, thereafter making using it an inconvenience, then why would I want to pay for something I find inconvenient? Gesture navigation is perfect for how I used to use my Xbox One: without ever needing a controller or a voice.

The removal of functions across W10 and associated devices/8.1 is a losing strategy in my mind. Why keep creating and removing functions all the time......especially when customers are specifically buying hardware and subscribing to services for these functions. If they are looking for success and hoping to add to the current customer base then surely adding functions is key......not removing them!

Except they have data that showed barely anyone used gestures for navigating the OS. Why waste resources supporting features that no one uses?

Interesting you quote that as a fact - can you supply a link to support this?

The data that they claimed but conveniently never released, you mean? Those data are irrelevant to the argument: they took away a feature that some people made purchasing decisions based on. That's anti-consumeristic garbage and is completely indefensible. They didn't force Window 8.1 users to upgrade to Windows 10 and thereby give up Windows Media Center. Similarly, they are not justified for forcing Xbox One owners to "upgrade" to the crappy NXOE, and they should be sued.

actualy they shouldn't... 2 people in the world got a kinect. You and me. everyone else just got an xbox and unpluged that big bar. I use it for voice. You used it to get a work out with your fingers. .. You know that you opened a can of worms here. The future is not are hands in the air. its especialy as the xbox one was spotty at best. It rarely saw my hand when i put it in the air. and i had warantied my kincet.

Nothing you wrote is relevant to the argument that it's not okay for a company to sell a product advertising a feature, take a customers' money, and then come back later and steal away that feature while keeping the money. That is the only thing that matters here. I'm not interested in digressions. And I'm certainly not interested in reading FUD. Kinect gesture navigation worked perfectly. I used it every day. I was skilled at it. Just because you were not skilled in it doesn't mean it didn't work. And, again, none of that is relevant to this discussion anyway.

did you ever read the End User Licence that you agreed to when you set up your device? I am sure its stated that they can change anything about the xbox that they want at any time. maybe not in the words i said but im sure its there. complain more man.

So, you don't use those services on your laptop or phone? You're missing out on a lot of good shows on those apps just because they took away a feature on Xbox? Very illogical.

No, I don't use those services on my phone or laptop. There is nothing illogical about not paying for something I don't want. What you're suggesting--that I pay for something I don't want--that is what is "very illogical".

Yea, definitely seems like an over-reaction. But your choice to miss out on the great programming. I can't wait for Sense8!

It is his money and his choice... I bougth the xbox one for all the things it is not doing anymore... I cancelled hulu because of commercials. Screw tv jus cause. Some people want an "experience"... Hence why apple is in everyone's pocket. They sell and experience not a feature. Features that continue to come and go is not cool.

How is choosing not to pay for something I don't want an "overreaction"?

Explain how buying a Wii would let me watch Netflix, Hulu, and Amazon Video using only gestures.

I use those services for the content they provide, not because of how I navigate their apps (which is different depending on platform). But that's just me. *shrugs*

Good for you. You should spend your time and money however you want to spend it.

maybe its time you get a smart tv with a smart remote then..

If you bought a smart TV with a smart remote and then apps just stopped working with the smart remote......now that would be silly.....right!

i dont know just saying. End user licenes state they can change anything they want so they took away gestures. its the end of the world all over again and that was in november. 2015 its april 2016. time to move on.

That's all I was holding out for. Signing up this afternoon when I get home from work. Awesome.

So what is the difference between HBO Go and Now? I currently use HBO Go on my XB1, will this affect it? The app sux.

Go is provided through a Cable TV subscription, Now doesn't need a cable subscription (although just to confuse things you can get Now through some cable providers...)

HBO Go is used if you already have access to HBO through your cable subscription. HBO Now is closer to Hulu in that you just pay for HBO Now.

Yeah, the HBO Go app is way too sluggish.

Wait - how do I subscribe to HBO Now? The app asks me to login, and going to order.hbonow.com presents me with a choice of "payment providers" none of which I use with the exception of Amazon. But amazon tells me to install the Amazon store and app on my device... What device?

You can sign up through Google. I think I signed up through an old Android phone I had around. Maybe you can do it through the Play store in Chrome. I suppose you can still sign up through iTunes.

I am wondering the exact same thing. I have Windows devices and do not have an iPhone or Android device...Why can't we sign up from the X1 or the web?? This is redicilous!! Let me know if you figure it out and I'll do the same.

I called HBO Now support and they said that Windows / Windows Phone users can't sign up. It was a pretty ridiculous phone conversation, with him not understanding why I don't just use an Android or iOS device and me explaining to him that I only have an Xbox, a Surface, and a Windows Phone. His solution was for me to "sign up for the newsletter and keep an eye out for new features like [being able to sign up for the service...]. Simply ridiculous.

Wow, that is pretty insane. I ended up calling one of my friends with a spare iPhone to get me signed up.

Doesn't that mean you had to give your friend your payment information? Regardless, I refuse to do that. I won't support them until they support the devices I use. If they don't, then I've got more than enough other things to spend my money on instead.

Yep, not a big deal for me. I tend to keep friends around that I can trust :)

Wow, yeah that's insane. I'm just not going to sign up until they simplify their sign-up process to a simple web app and not require some other device. I should be able to sign-up through the Xbox One app.

LOL, I saw this and thought cool... downloaded it and huh ?? can't sign up..? wait. I can use my Verizon account or ,,,,IF YOU HAPPEN TO BE A CUSTOMER OF THE NINTH LARGEST CABLE TELEVISION PROVIDER IN THE u.s. WTF hbo. LOL.

Wish it was available in the UK, so I didn't have to give any money to Rupert Murdoch.

HBO is clearly on some special Ed ****.

Holy crap that's expensive.

does that mean that HBO nordic will also be on xbox one?

Already have GO on 360... if only they would release the app on other regions outside USA for Xbox One! =X Don't care at all for NOW.

Luckily I have an Amazon Fire Sticky around to complete the sign-up, but that was a little lame...they should have enabled HBO Now sign-ups on Xbox as well. Plus after signing up on Amazon, I switched back to Xbox One to login and the player kept freezing. Ended up watching on Fire Stick (video played but not as HD as on Xbox One, where I have a wired Ethernet connection).