Heathstone's Next Expansion, Scholomance Academy, Will Launch in Early August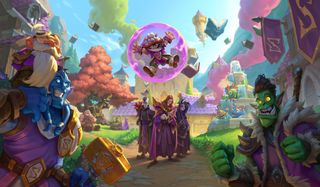 (Image credit: Blizzard Entertainment)
What you need to know
Scholomance Academy, the next Hearthstone expansion, will launch in early August.
The set will include 135 cards, including 40 Dual-Class cards.
Players who log in before Oct. 20 will receive two free copies of a new epic neutral minion.
Blizzard Entertainment is releasing its next Hearthstone expansion in early August. Scholomance Academy will include 135 cards based around the magical college.
The set will introduce several new mechanics including Dual-Class cards, which are useable by two classes and embody mechanics and strategies they both share. The 40 Dual-Class cards include 10 Legendary professor minions, one for each pairing.
A Spellburst keyword found on many of the set's minions and weapons triggers a powerful effect the next time their controller casts a spell, while Studies cards will allow players to choose one of three cards to add to their hand and give them a mana cost reduction on the next card of that type they play.
"We love introducing new twists and mechanics to Hearthstone, and Scholomance Academy is one of our most inventive expansions to date," Blizzard president J. Allen Brack said in a press release. "This is Hearthstone at its best, and we can't wait to see what players do with the new Dual-Class cards and all the other tools and tricks we're adding."
A Scholomance Academy Mega Bundle available for $80 at Battle.net includes 80 regular packs from the set, five packs containing all Golden cards, one random Golden Legendary card, the Mage Hero Kel'Thuzad, a Kel'Thuzad card back and a Tavern Pass that provides four Arena tickets and perks for Hearthstone Battlegrounds. A $50 bundle includes 55 packs, the random Golden Legendary, and the card back.
Players who log in before Oct. 20 will also receive two free copies of the card Transfer Student, a new epic neutral minion. If you're looking to get back in the game, check out our guide.
Back to school
Scholomance Academy Mega Bundle
Stock up on supplies

Hearthstone's next expansion drops in early August and you can get ready by picking up a set of 85 packs plus a new Mage Hero and a Tavern Pass for competitive play.
Windows Central Newsletter
Get the best of Windows Central in in your inbox, every day!
Windows Central Newsletter
Thank you for signing up to Windows Central. You will receive a verification email shortly.
There was a problem. Please refresh the page and try again.