Help Nokia save Christmas by completing challenges in the Pimp My Reindeer contest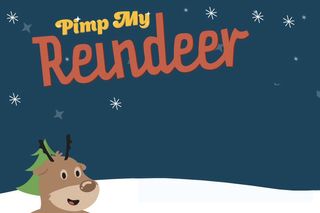 Nokia has kicked off its Pimp My Reindeer contest, which was teased a few days ago. Starting on December 10th, the contest will run through December 23rd, offering consumers the chance to win some neat prizes. Head on past the break to see how you can get involved and what prizes are available.
So how does one play the game and be in with the chance of bagging some prizes? Simply complete a challenge and earn an accessory. Before doing so, you're required to enter your name, email address and accept the terms and conditions as well as the privacy policy. After that, you're good to go. It's worth noting that this contest is hosted over on Facebook.
There are 10 accessories up for grabs and by playing certain challenges, you'll be able to win some Nokia smartphones. Earn all 10 accessories and your name is put down for the grand prize - a trip for two to Thailand. It's that simple.
To enter the individual challenge contests for Holly-wood Film Academy, Hoof Am I?, Radio Reindeer, and Finding Rudolph, you're required to have successfully completed the individual challenges. To enter the Invite Friends - Grillz Accessory giveaway, you must invite at least one friend to the contest through Facebook.
Here are the prizes (one per winner):
Holly-wood Film Academy
Hoof Am I?
1x Lumia 2520
1x Lumia 1520
1x 1020
1x 925
Radio Reindeer
3x Lumia 1020 and a year's subscription to Nokia MixRadio
Knit-O-Matic
5x Lumia 925 and their sweater design custom-knitted
Finding Rudolph
Invite Friends – Grillz Accessory
Grand Prize
7 night trip for two to Thailand, including flights, accommodation and spending money. Total prize value up to €5,000.
Head on over to Facebook for more information on the festive contest. Good luck and we hope you're able to bag some goodies.
Windows Central Newsletter
Get the best of Windows Central in your inbox, every day!
Rich Edmonds was formerly a Senior Editor of PC hardware at Windows Central, covering everything related to PC components and NAS. He's been involved in technology for more than a decade and knows a thing or two about the magic inside a PC chassis. You can follow him on Twitter at @RichEdmonds.
Wow, I can't believe Nokia would actually use the word 'pimp' in a campaign, spinning it as something positive and suitable for a Christmas theme involving animals traditionally geared towards consumption by children given the fact that pimps are patriarchal criminals who exploit women and earn money by renting out women's bodies for sex. I'm sure this will go over really well...

You must be fun at parties!

Right, I forgot that misogyny is a hoot.

Not all pimps are male by the way.

Indeed, but historically speaking, they are. Regardless, glorifying the sexual exploitation of anyone is a pretty pathetic way to sell smart phones.

Well, thank dear Morgan Freeman you're not overreacting.

You do release words can have different meanings dependant on how its used?

Right, like apparently the word 'release' and 'dependant' has different meanings in your post. Regardless, you do realize that a word's interpretation is dependent on its etymology, and in this case it's a pretty objectionable one?

Finally! Completely agree with you. Nokia pimping their products makes their customers whores, just sayin'.

Is it for Global or just US or UK only type of contest

"Pimp" in this case, as more known from "Pimp my Ride", is used as in upgrade. Come on, don't tell me you didn't at least consider that meaning. Saying that sounds totally bogus.

Of course I'm aware of this alternative meaning, but the fact remains that, given the word's etymology, this usage is in extremely poor taste. Pimps decked themselves out in flashy swag using money they illegaly exploited from female prostitutes. Pimping anything should never be glorified and I find it quite shocking that Nokia would do this; it makes them look naive, particularly given the Christmas theme and Santa's reindeer. I wouldn't be surprised if this caused some backlash against Nokia from women's rights groups (and rightfully so).

Only in the US, where self-righteousness is a religion, could that happen. Everyone else in the World will just do what any other "normal" person would do: associate it with the show and expression "pimp my ride". Only in the US do some people get all self-righteous about words. "Oh, you can't use 'pimp'", "Oh, it's 'mentally challenged', don't use 'retarded'", "Oh, you must say 'happy holidays', don't say 'happy Christmas'", "oh, it's 'spokesperson', not 'spokesman'". Grow up people. Stop reading into and fearing words. The US has many great things. But this kind of attitude is one of those things that really get on my nerves. I can't stand self-righteousness.

Words are powerful things. They've been used since the dawn of human speech to insult and stratify certain social groups. People that don't get that likely come from privileged social groups. This word--pimp--literally refers to the domination of and exploitation of women by men. Shows like 'Pimp my Ride' were glorifications of that concept. Comparing its usage to things like 'happy holidays' or 'merry christmas' is not the same. This word is literally about the physical and sexual abuse of women. Casting that all aside and declaring it not an issue? That's self-righteousness.

I ain't payin' fo no reindeer ho

Doesn't have to be women. I can pimp you out also.

What makes you think I'm not a woman? Regardless, glorifying the sexual exploitation of anyone--male, female, transgender--isn't cool, and Nokia really dropped the ball on this promotion.

That is so ridiculous! Are you the love child of Sarah Palin and Michelle Bachmann? Once upon a time, I could maybe agree with you, but in today's culture only someone living under a rock wouldn't comprehend the intention and origin behind the slogan. The fact that you are making the innappropriate connection says more about you than it does about the campaign. Maybe you need to stop watching HBO's Pimps Up, Hoes Down and similar programming. Are you one of those against "Deck The Halls" because the word "gay" is used and it's too close to smoking pole for your taste as opposed to it's original meaning of merriment?

Oh vey. Okay, try to focus on what I'm saying. Re-read it if you have to. You clearly don't 'get' it, so I'm going to enlighten you. You are accusing me of being politically aligned with Palin and Bachmann, two hyperconservatives, whereas my previous complaints were about Nokia using a work that glorifies the exploitation of women. In other words, it's a stance of gender equality, typically propagated by feminists and human rights advocates, who tend to liberal (i.e. the other side of the spectrum than Palin and Bachmann). I fight for equality and human rights. I vehemently support gay rights and gender equality (including the illegalization of both female and male infant circumcision) and vehemently oppose discrimination based on race, sex, sexual orientation, etc. You failing to make the connection between the word's etymology and its appropriateness is equivalent to saying it's okay for people to say 'That's so gay!" because they don't mean it as a homophobic slur. It doesn't matter what their intentions were, it's still a homophobic slur just as the word pimp is a glorification of the sexual abuse of women. The bottom line is that Nokia looks naive for using the word, just as you look naive for claiming it's okay because it has a second meaning. I think you need to sign up for a Sociology 101 course.

Is this available in India?

Its on facebook!!!???!!!....Ofcourse its worldwide

the last time this type of "facebook contest" is held... it's for UK only

Competitions held by 'Nokia' social media accounts, ie, global Nokia accounts are open to everyone unless explicitly mentioned otherwise. Competitions held by regional accounts (Nokia India, NokiaUS, Nokia UK etc.) are almost always open to residents in that region.

Cant register :'( cant click on Enter. Nothing happens

When will Nokia announce d results of this contest ??