Here are the PC specs you need to play Civilization VI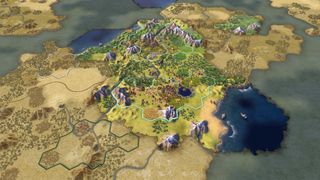 2K and Firaxis Games announced the minimum PC specifications gamers will be required to meet in order to get the most out of Civilization VI. The next instalment in the super-popular turn-based strategy series is slated for a late-October release, and if you're eagerly awaiting for the download to go live you can now check to see if your PC is up to scratch.
As well as the specifications listed below, you'll need to be rocking the 64-bit version of Windows 7, 8 or 10. 12GB of storage space is also needed to install all the game files.
Minimum
Intel Core i3 2.5GHz / AMD Phenom II 2.6GHz
4GB RAM
1GB DirectX 11 GPU
NVIDIA 450 / AMD Radeon 5570
Recommended
4th-gen Intel i5 2.5GHz / AMD FX 8350 4.0GHz
8GB RAM
2GB DirectX 11 GPU
NVIDIA 770 / AMD Radeon 7970
As aforementioned, Civilization VI is expected to be released on October 21 for Windows.
Rich Edmonds is Senior Editor of PC hardware at Windows Central, covering everything related to PC components and NAS. He's been involved in technology for more than a decade and knows a thing or two about the magic inside a PC chassis. You can follow him over on Twitter at @RichEdmonds.
Basically it should run fine even on a Potato :-p

Well... It really depends on how many enemies you play. It can become VERY heavy if you are late in the game and have a lot of big enemies.

Ha! Next thing you know you've got a fried potato...not a bad deal ;)

True, not a bad deal at all! :D

I need a new video card otherwise I'm fine Lolo

Define fine, it's not graphically intensive, but it certainly needs a lot of computing power so you don't have to wait 45 minutes between turns in the late game.

Whew! I use a baked at home and a scalloped on-the-go.

GPU ? Will I be able to run this on a SP4 or a Lenovo 900s ?

It says the minimum specs in the article. ;)

Unless if you have Intel iGPU on-board, you can run the game.

I looked at some comparisons, the SP4 should just be able to run this.

The SP4 is lacking the 1GB VRAM

According to this website, Surface pro 4 i7 with 16 gb of ram will be able to run it. http://www.game-debate.com/games/index.php?g_id=23894&game=Civilization%...

I just wish it was available through the windows store. Steam is still on my blacklist since they couldn't help me get my account with several hundreds of dollars of games after it was hacked.

Weren't MS involved with an 'Educational' version?

Good, I can run it. It's a bit tiring though to start again with a new installment of the franchise without all the DLCs we had with the previous one.

Is the entry level specs equivalent to the likes of a Surface Pro GPU? I'd love to be able to play this game. Eh, I looked it up. SP3 is unlikely.

1GB VRAM. That's the problem for the surface. That sucks.

Hopefully they make another Xbox game.

Still waiting for Alpha Centauri 2.

They need a hololens edition of Civilization.

****. I could always play CiV 5 on my Surface with the great tablet mode. I thought I could do the same with CiV6. I only need the strategic view.

The surface line needs support for eGPUs.

Will it work on computer with 2 GB RAM ?

They have the minimum RAM at 4 GB. 2 GB is basically just getting a modern OS off the ground, so resources are probably too limited for a game to run on top of that. However, upgrading RAM is extrmely easy and cheap. You can get 8 GB for under $40 nowadays.

Keep in mind it all depends on the max your motherboard can take. The BIOS may also limit the amount per slot as well, though usually this will match the total amount allowed. My cheap Dell, that I bought because it does what I needed it to do only, can only take 6 GB I think.

That seems inaccurate, a limit of 6 GB. That's more likely an OS limitation than a motherboard one. My 2009 motherboard said it was limited to 16 GB, but it took 32 GB just fine. You can get a single stick of 8 GB of RAM, and that should work on a modern PC without issue.

Yeah, I know it sounds weird, it is usually multiples of two. That is why I had to say I think as I typed it. The OS was originally 64 bit Win 8, upgraded to 8.1, and then 10, so it shouldn't be the OS. I need to look at the motherboard specs again, it maybe 6 and it can take 8 which is more likely. Getting the proper information from Dell can be a pain sometimes. I remember whatever it was, it really wasn't worth upgrading it.
It does all depend on the motherboard. I have heard of slots taking more, and then some not taking what they are supposed to. I haven't dealt with it in a while, but what is most aggravating is it not wanting to take a specific chip and all others are fine. I have had to deal with some finicky PCs in the past.

Well, yeah, that's the realy question: How many RAM slots do you have in the computer? If it's a laptop, I would imagine 1-2. If it's a desktop, 2 or 4 is likely (with 2 being more likely on lower-end, pre-built PCs). Howver, reagardless, with one slot, you should be able to throw in 8 just fine.

99% of cases you should easily have support for 8GB. Some motherboards are limited, but I've seen this limit increased on certain boards via firmware updates in the past.

I really liked Civ V, but the games are SO long. It's like a game of Risk--I love playing it, but at the end, I'm always like "what am I doing with my life?" I might pick this up sometime, but it might be like Civ V, where I wait until all the DLC is out. If I can get a friend or two to get it, that'll change. I've never tried against another person, but I'd like to.

Risk is really fast to play ( less than 40 minutes for the longest games, I know, it's relative) once you play it a lot and get the strategy down.

You have a year or so to get up to speed. The new Civ games are never worth the time till after an expansion or two. I've got plenty of time left with Civ IV, Civ V, and Civ-AE

I've got my pre order in for the Civilization VI 25th anniversary edition! Can't wait for October 21ste ;-)
Windows Central Newsletter
Get the best of Windows Central in in your inbox, every day!
Thank you for signing up to Windows Central. You will receive a verification email shortly.
There was a problem. Please refresh the page and try again.