Here are Verizon's initial XLTE cities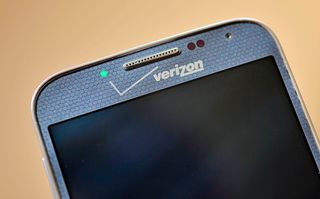 Verizon has fired up a new, beefier branding for its 4G LTE smartphone service. Dubbed XLTE, it takes advantage of the AWS spectrum to double the bandwidth in high-traffic locations. And here's the list of cities that get it first.
Alabama: Birmingham, Decatur, Florence, Mobile, Montgomery, Tuscaloosa
Arizona: Flagstaff, Phoenix, Prescott, Tucson
Arkansas: El Dorado-Magnolia, Fayetteville-Springdale, Fort Smith, Hot Springs, Jonesboro, Little Rock, Russellville
California: Bakersfield, Chico-Oroville, Fresno, Los Angeles, Merced, Modesto, Oakland, Redding, Sacramento, San Diego, San Francisco, San Jose, San Luis Obispo, Santa Barbara, Stockton, Visalia-Porterville, Yuba City-Marysville
Colorado: Colorado Springs, Denver, Fort Collins, Greeley, Pueblo
Connecticut: Greater Fairfield and New Haven, Hartford, New London County
Delaware: Dover, Fort Myers, Fort Pierce-Vero Beach
District of Columbia: Washington DC
Florida: Gainesville, Lakeland-Winter Haven, Melbourne-Titusville, Miami-Ft. Lauderdale, Orlando, Pensacola, Sarasota-Bradenton, Tallahassee, Tampa-St. Petersburg, West PalmBeach
Georgia: Athens, Atlanta, Augusta, Columbus
Hawaii: Honolulu, Kahului-Wailuku
Illinois: Bloomington, Carbondale, Champaign-Urbana, Chicago, Danville, Decatur-Effingham, Kankakee, La Salle-Peru-Ottawa, Mattoon, Peoria, Rockford, Springfield
Indiana: Anderson, Bloomington-Bedford, Columbus, Elkhart, Evansville, Indianapolis, Kokomo-Logansport, Lafayette, Marion, Richmond, South Bend-Mishawaka, Terre Haute, Vincennes-Washington
Iowa: Cedar Rapids, Des Moines, Sioux City, Blackfoot, Burley, Pocatello
Kansas: Dodge City, Garden City, Hays, Manhattan-Junction City, McPherson, Salina, Topeka, Wichita
Kentucky: Lexington, Louisville
Louisiana: Baton Rouge, Lake Charles, Monroe, New Orleans, Shreveport
Maryland: Baltimore, Salisbury
Massachusetts: Boston, Hyannis-Mid-Cape, Pittsfield, Springfield, Worcester-Fitchburg
Michigan: Benton Harbor, Detroit, Flint, Grand Rapids, Houghton, Lansing
Minnesota: Bemidji, Brainerd, Duluth, Fergus Falls-Alexandria, Minneapolis-St. Paul, Rochester, St. Cloud
Missouri: Jefferson City, Kansas City, St. Joseph
Montana: Billings
Nebraska: Grand Island-Kearney, Lincoln, North Platte, Omaha, Scottsbluff
Nevada: Las Vegas, Reno
New Hampshire: Manchester-Nashua
New Jersey: Atlantic City
New Mexico: Albuquerque, Santa Fe
New York: Albany, Binghamton, Buffalo, Elmira-Corning-Hornell, Ithaca, New York, Rochester, Syracuse, Utica
North Carolina: Asheville, Charlotte-Gastonia, Fayetteville-Lumberton, Raleigh-Durham, Wilmington
North Dakota: Bismarck, Dickinson, Fargo, Grand Forks, Minot, Williston
Ohio: Canton, Cincinnati, Cleveland-Akron, Columbus, Dayton-Springfield, Findlay-Tiffin, Lima, Mansfield, Marion, Portsmouth, Toledo
Oklahoma: Bartlesville, Lawton, Liberal, Oklahoma City, Tulsa
Oregon: Eugene-Springfield, Portland, Salem-Albany-Corvallis
Pennsylvania: Allentown-Bethlehem, Altoona, Erie, Harrisburg, Indiana, Lancaster, Pittsburgh, Reading, Scranton-Wilkes Barre, Shamokin, Sharon, State College, Stroudsburg, Williamsport, York
Rhode Island: Greater Providence
South Carolina: Charleston, Columbia, Florence, Greenville-Spartanburg, Greenwood, Myrtle Beach
South Dakota: Aberdeen, Rapid City, Sioux Falls
Tennessee: Chattanooga, Cleveland, Cookeville, Dyersburg, Jackson, Knoxville, Memphis, Nashville
Texas: Amarillo, Austin, Beaumont-Port Arthur, Bryan-College Station, Corpus Christi, Dallas-Ft. Worth, Houston, Laredo, Longview-Marshall, Paris, San Antonio, Sherman-Denison, Temple-Killeen, Tyler, Waco, Wichita Falls
Utah: Logan, Provo, Salt Lake City-Ogden
Virginia: Charlottesville, Fredericksburg, Greater Hampton Roads, Harrisonburg, Richmond, Roanoke, Winchester
Washington: Longview, Olympia, Seattle-Tacoma, Spokane
Wisconsin: Appleton-Oshkosh, Eau Claire, Fond du Lac, Green Bay
Source: Verizon [pdf]
Apologies for the earlier formatting issues in the app, they have been fixed
Windows Central Newsletter
Get the best of Windows Central in your inbox, every day!
Phil is the father of two beautiful girls and is the Dad behind Modern Dad. Before that he spent seven years at the helm of Android Central. Before that he spent a decade in a newsroom of a two-time Pulitzer Prize-finalist newspaper. Before that — well, we don't talk much about those days. Subscribe to the Modern Dad newsletter!
I see html code in the windows phone app

But it looks like it's commented out? Hmmm....

Yeah, sorry about that. All better now.

I'm in Chattanooga, TN. Lumia Icon. Speeds are definitely faster. 35-45 Mbps Down, 15 Mbps Up. Much faster than the last time I checked the LTE network speeds.

Forget Pittsburg... Why not Philadelphia??? You know we the big city in PA.

yea, wth? philly one of the biggest cities in the US. maybe because its the home of comcast. just taking a guess lol

Cool, Atlanta is on the. I just wonder how far into the burbs it goes. I live about 40 or so miles out.

So this is why my download speeds are much faster today on my L822 (Syracuse, NY REPRESENT!).

D'oh looks like my phone doesn't support XLTE. Did a speed test and getting same D/U speeds.

The list is seriously broken in the app

Apologies for that — it has been fixed.

I didn't realize that this website has become "carrier central"

This is just a PSA.. No one is making you read the article eash lol.

The influence of the mother ship, Mobile Nations.

If you have a Verizon Windows Phone, you might very well be interested in what XLTE has to offer. I'm sorry if that offends you.

I'm not offended but we're seeing news about carriers more than news about Windows phone itself

Maybe there isn't that much news to report. It happens when you dedicate an entire site to one thing.

As a new purchaser of an Icon and in Colorado I am definitely interested in this.

Being the owner of a Lumia Icon, I was very interested in this article.

Decatur and Florence get it before Huntsville? I don't even use Verizon and that is BS.

Are tech writers really going to follow along in calling this "xlte"? I guess since they went along with t-mobile calling hdspa+ "lte" then this will fly too.

Not every carrier has this spectrum to use so Verizon is making it known that their LTE is a little better than before. It's a way for the company to get the word out that if you weren't wowed by speeds before look again. Writers will mention it for a few months and then will likely go back to just 4G when it becomes more commonplace (i.e. Every phone available on VZW supports it.

So.....a lot? I figured it would be like 5 major US cities haha.

Can we get a comparison guys against at&t?
Every city is different but I wanna see the hype. Thought only two phones would take advantage of the new XLTE (iPhone 5s & GS5)

Hawaii is merged into Georgia, if you want to split it out.

So rapid city has Verizon xlte and att hasn't even rolled out lte here yet :P I hope att updates our network soonish

Haha we just got LTE from AT&T like 6 months ago. Unfortunately, Verizon doesn't cover most of my state or I would switch.

Seeing as this list is fairly large, surprised Boise didn't make the list, we've had 4G LTE for some time, I would have expected it. Though the traffic may not be bad enough yet to require it.

Why is it so hard to include Southern California? It's the Mecca of the United States.

It's probably not included because people there naively think it's the "mecca of the United States." It's not.

Woot woot Las Vegas on the list will make a switch :D

All LTE phones benefit from this like you need a new LTE phone?

Seems faster No...seriously.

Sitting not pretty in Buffalo with my 928. Still 17.95 down mbps.....and 6.71 mbps upload speeds.......come on XLTE !!!

Also in Buffalo sporting my 928! Hopefully this comes to more devices soon...

So does the 928 get this??? It has aws in it

Tyler, Texas! Too bad I have at&t.

Blackfoot, Burley, Pocatello are not Iowa cities. I think they might be Idaho. You merged both states. :)

Using a Samsung Galaxy Note 10.1 in Tulsa OK and got 41.64Mbps down and 13.51 Mbps up. Last time I checked a few months ago, I was getting mid 20's down, so definitely a big boost on a couple years old tablet.

Wow that's a serious roll out. I see my city on there. Man these companies cant keep up with verizon

Actually calling it xlte doesn't make it better. We on AT&T get those speeds anyway. And we have had these speeds for almost a year where I live. And I live in a small Connecticut town, not a city.

It isn't just about speeds. Is about bandwidth too. More users running concurrently without degraded service. That's why they say double the bandwidth, not double the speeds...

Nevada: Las Vegas, Reno. Awesome. Also a name that will never see Sprint LTE.

Downtown Phoenix here, on a 928. No change yet observed. About 6 down and 7 up this morning. (When LTE first launched I saw up to about 14 down but as more obtained it 6-10 is more common)

928 is not currently supported...

41 mb/s down, 20 up in No. VA.

5Mb down and 6Mb up in Silver Spring MD on Nokia Icon 4 bars and LTE lable.

Cool, I get it at home and work....Shocker actually, till about 2 years ago, we had a verizon DEAD spot (White spot, no coverage on Verizon's map) at the end of my road. I had to use a Network Exender for 3G coverage. LOL Will phones be updated to show xLTE or will it just show LTE when under coverage ? 44.18Mbps down and 10.63Mbps up here in Westerly, RI (at work)...I guess I am covered...

Baltimore baby but....I don't have Verizon so....great.

I don't believe the Bryan-College Station, Texas listing. I'm on my Lumia 928 and their LTE is spotty enough here so I can't imagine XLTE being live.

In Cleveland TN. This is neat. Too bad plan on dropping Verizon

My city is in the list! (but I'm an at&t subscriber)

31 Mbps down/15 Mbps up in Gaithersburg, MD... nice!

I expect it will just be another barrage of marketing BS followed up by lots of placebo effect comments. I live in the core of Phoenix area LTE coverage and, like most I know, barely ever see two bars of signal strength. Has there been anything of note today? Well yes, both of my phones have been displaying 3G most of the time.

Woohoo I wasn't expecting to actually see Columbus GA lol