HERE fights off technical issues to return apps to the Windows Store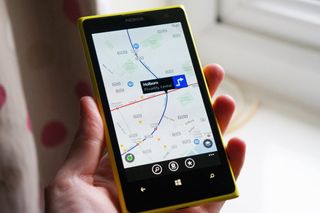 You may recall the HERE suite of apps disappearing from the Windows Store back in October, which was reportedly caused by a technical issue. This problem continued until the start of 2016, but now we've been made aware of their return. If you're a die-hard HERE fan, the batch of apps are once again available on the Windows Store.
While we're intrigued to learn more about the technical issues the HERE team faced with its Windows Store offerings, we're glad the suite is once again available for download. Hit the links below to download each HERE app:
Thanks to everyone who tipped us!
Rich Edmonds is Senior Editor of PC hardware at Windows Central, covering everything related to PC components and NAS. He's been involved in technology for more than a decade and knows a thing or two about the magic inside a PC chassis. You can follow him over on Twitter at @RichEdmonds.
The windows 10 maps app is soooo much better! I never thought I'd ever say that!

I would agree except that the traffic (at least for my area (greater Toronto area) is not working properly. Until that gets fixed, HERE Drive is a welcome app on my phone

HERE Drive is miles better for voice navigation in the UK. W10 stock app is woeful with roundabouts. Also landscape view is much clearer.

Maps, in UK on 10 is shocking. Mine won't even give me motorway routes. The view is horrendous too. Also the map angle is terrible. Here Drive is a very welcome return!

I do about 2000+ miles with work a month and use Maps all the time.

Hmm. I used it getting around Milton Keynes recently and it worked fine with the many consecutive
roundabouts!

Now this does say a lot for the app! :-D I always got lost in the round about when I used to frequent Milton Keynes

In the Netherlands traffic data is ok (indication on the map), only in the Maps app you can not turn on or off the traffic while getting directions, which is very anoying. Also Maps does not take delays into account in the ETA as far as I can tell, while Here did integrate that. Also a slightly larger font size would help. Landscape orientation of Maps is terrible on my 950XL, the top panel takes up so much space of the screen that the actual map view becomes useless. They could shove that info into a corner. Otherwise I am a very happy user of Maps.

That's strange, I'm in the GTA as well and the traffic in the Windows 10 maps app works well for me. It even has the traffic cameras and accident updates.

Same here, works pretty good for me

Interesting... what highways do you see traffic reports for? I travel from south Mississauga to Markham on a daily basis. Multiple routes to go. 401 & 407 always show "traffic not available". QEW/404 show "light traffic" with no colour coding on the route. Colour coding doesn't show on the routes (minus a 10 min span where it appeared briefly during the drive)

I have never noticed any traffic avoidance on any app in Windows except Navigon and Waze. I prefer HERE and the Windows 10 GPS, but traffic does not seem to factor in either one.

I couldn't agree more. In Toronto, Windows Maps "works", but so did my 5 year old Garmin before there was proper traffic guidance/ETAs and other options on my phone (for free to me). Now, if we could only get the default voice navigation option back, I'd be ecstatic. Welcome back, HERE!

It has always worked for me.

I'm also in the GTA and use Traffic (has an ugly green icon with a car on it).....it is by far the most accurate above the built in maps traffic, here's traffic and inrixs traffic. Try it out

I was mostly waiting for Transit to make a comeback.

Yes! Transit is the best one out there! WXms' maps UI isn't bad, but it basically gives me just 5 different versions of the extract same route. Just leaving 1 min earlier/later, getting on on next stop etc

Me as well. MS jinkst the implementation in their maps app as there are maaaany features missing. Happy to have Here transit Back

HERE Transit is legit. Unparalleled. One of the few apps I actually would call a "must have."

I also think so...it was the guide for me in NYC tour alone ....I didn't miss anything with it. Missed it so much in Nov while visiting Boston. It's must have app and its being separate , not like in regular map as in Wp10 or Gmap, really clean and useful...

In k-w both it and grt app can be useless sometimes as their running the same developer access that for some reason decides its going to bring up the spring/summer schedule in fall/winter & the other way around sending me ultimately to the sportsworld station about 30mins. out of my way. At least now the website is running bing(the app I assume there still working on getting it converted since its still gmaps slow as ****)

I don't agree... but Here maps still not compatible with my 950 XL!

You need to go through your apps library in the store to find the right ones. Searching through the store says not available, when I went through my Apps Library, it installed HERE Maps and Drive+

Thank you sir! I was finally able to install it by this method!

My AT&T 950 has it listed in APPs that don't work on it. When it does come up the information says European version??? This website sure sucks at times. It's taken 3 minutes to type these two sentences. No place else except Windows Central does this happen at. Still can't enter a return to end with signature... MG

I'm having that same problem. I was only able to install HERE Drive+

Only able to install HERE Maps. The rest say incompatible for the 950 XL

I am able to install only Drive+ on my 950.

I'm not able to install Drive+, but Maps is ok.

Installed Here Maps and Here Drive + on my 950XL. Originally says not available for device, but if you search on store and display all, a 2nd option was given for both, which then installed without problem. However, City Lens does not show in the store, and the link above doesn't have a download option.

Try going through your "My Library" in the store to find the right ones. Searching through the store says not available, when I went through "My Library", it installed HERE Maps and Drive+

Same thing here, no Drive + for my 950 XL.

Make sure you are downloading the correct version. Apparently there are two versions of each app. http://www.windowscentral.com/here-maps-drive-windows-10-mobile

Same for transit. You have to go to your app library and install from there. After that it works just fine. Got the same error message for my 950XL.

Seems they linked the wrong app on this page. Just look at the apps page for HERE Europe b.v. and select the other one

Thanks for the tip. Worked for me

Works fine on my 950XL this morning. - Here Drive, Here Maps, Here Transit. all ok. All updated maps and useabble

It's not compatible with my 1520...

there are two versions of the same app.the new one will be compatible .check in the app list of the here maps developer.

I saw two versions when I searched the store too... One set I owned and the other set is marked as free.... I just installed the Owned ones no problem,

Total bs that it doesn't on work on the 950xl's!

Take a deep breath, relax and check the store again. You may notice duplicates of some of the apps. Try all duplicates before giving up hope. If you already tried this without luck, then be sure to get out the pitchfork.

Make sure you are downloading the correct version. Apparently there are two versions of each app. http://www.windowscentral.com/here-maps-drive-windows-10-mobile

Why is better ? In Romania it can`t find adresses that i can find on Here, and also there is no Voice for Romania, it`s only in english ... on Here i can choose the voice. So what exactly is better on the Win 10 maps ?

Everything. For people that don't live where you live.

Which are arround 5% of the world population ;)

You're underestimating the number of countries by only thinking of the US.

I believe both use the same here mapping data, and traffic in ro, maybe from google. Otherwise, for me Here Drive has a more intuitive UX, while native maps has it's own features unmatched by here (single app for maps and driving, tap to resume navigation notification, reroute on demand, set destination via GPS coordinates when address is not available)

I would delete maps app anytime, from now. Just this pessky ms do not let me. Is good my ass. It is unable to think for it self

I agree. The HERE maps will route me 7 hours out of my way too often. I don't get what everybody sees in them.

My HERE drive used to be wonky with directions but seems to have gotten better recently.

There is two versions 512mb which is not compatible with 950xl and normal which is.

I hate the voice navigation capabilities on the stock app. Here allows you to choose language, male/female and UK/US English accent which the stock app does not. The voice of also more natural in the here apps.

I've moved on to using Waze which provides better updated routes, voices and alerts. The built in maps and navigation in winmo10 just absolutely blows.

Here transit was awesome in Denver. Need it badly for bus /train schedules. Map app not the same.

Does HERE finnaly tell you if your destination is on the right or left? Like HERTZ neverlost even did in 2005 ?

Cant download on Lumia 950XL

Try Drive+. That was the only one that worked for me. Perhaps it is still propagating through the store's servers

Try https://www.windowscentral.com/e?link=https2F%2Fclick.linksynergy.co... for maps, worked on my 950 5mins ago

Search for Here Drive and you should see two versions.

Both are not available for my device

Says not compatible with my device (950)

I just downloaded it to my 950.

Download from your app library

Thanks I'll give that a try

There's six apps just click publisher to download it

It let me download maps but not drive + on my 950 XL. If you look at the app it says HERE Europe.

Not compatible with my New Lumia 950XL!!!?? C'Mon!!!

You are trying to download 512mb version of here drive look for the other

The store says not compatible with your device. I have a Lumia 950...

This is so embarrassing. If the here apps, initially built for Windows phone, has problems with w10. How much problems will other services have on w10?

What is much more embarrassing is that even Microsoft's own apps have problems with Windows phone, though they work perfectly fine with iOS and Android.

It still saying NO LONGER AVAILABLE

As others have mentioned, search the app store for HERE and display all results. You should see two sets of apps.

I am getting the not compatible with this device. Nokia 1520. Windows 10 mobile. I do hope they fix this...

Why do you say that? What are your reasons?

I wish they would make the app Universal, i have an Asus Transformer T100TAF and i would like to use Here maps instead of Windows 10 maps on it.

Its showing on my 950XL. When I search in store I get two returns for here drive. One that isn't compatible and the other works.

Why would those with a 950 want to use Here when the Maps app in Windows 10 is based on the same technology? What is the advantage of Here?

The advantage is that Here Drive lets you download voice language in nav mode. For that, I use Here Maps just because when I hit "Start nav", it asks me which app to use = Here Drive; Maps app doesn't. Maps app isn't suited for navigation, here drive is far more better in any aspect. Yes, I use the navigation once in a while and when I do, I want it to work properly, in my native language. Only Here can to that. Here and other paid services. And, yes, Maps wouldn't existed without Here Maps, which is one of the greatest nav maps world wide(recently bought by german car makers, from Nokia).

Based on same map data, technology is different

Here can choose what ever navigation apps you have. Normally I'm using Waze to check traffics. Windows maps app button too small need microscope to access.

THIS! The problem with Windows 10 Maps app is it wasn't designed for driving usability as Here Drive. Those buttons are tiny even Microphone button is non-existent for voice nav, well yeah we can use Cortana but what about for those who doesn't have? Not to mention Maps app is quite buggy that sometimes I got the UI glitch, talk about reliability which it seems I won't trust the W10M Maps app anytime soon.

Same map tech sure but the UI of Here apps are way more polished and for Here Drive which is really designed for driving usability with those big text + buttons and simpler interaction with same features. They worked pretty well compared to W10M Maps in my experience. The default Map is glitchy and tends to crash sometimes, the annoyance I don't want to deal with while driving or even for quick lookup on maps. The performance is also slight slower in terms of rendering the maps too in default Maps app while Here apps was fine. W10M Maps also won't work well or always when searching things offline, something Here can always do even offline IIRC. Offline capabilities of Here Maps and Drive works better. In short they have similar backend but Here got more polished and reliable client-side of things. W10M is still a long way in terms of usability and stability, but it's gaining new nice features though which I like. Its a shame that it tends to crash and unreliable at times.

+1 on that! MS maps still looks HERE ported badly onto WP10.

Maps is terrible for navigating in UK, told me to u turn on same road twice, it was a straight road for 12 miles

Here drive and maps installed successfully (950xl insider)

One thing bothers me. Default Maps app and Here Drive use the same offline maps(downloaded).
Here Map is easily able to search almost all the locations(sometimes not the exact place, but it shows the nearest place atleast). But the Maps app is not able to find few of the same locations.
Apart from that Maps app is better in all aspects.

Thankfully I haven't had that problem, but Maps is definitely better. Have you submitted that issue in the feedback section?

It is wierd! Here in Denmark the Win10 maps app is crap at finding locations and recognizing adresses, but the HERE maps can find them without breaking a sweat. And since they use the same map data, i suspect that the maps app just isnt optimized for POI or anything else, outside the "major" countries... one could even say outside of cortana "coverage"! And i hate that, because the Maps app is so much better and integrated! :(

Not just 950/950xl but all phone i guess. I have those three but in the store, only here drive+ can open, the rest of the two says not compatible on my device (L830)

Tap on HERE Europe BV and you'll see the apps that will work on your devices. I had the same issue on my 950XL until I did that

Thank you SO MUCH for clearly explaining how you were able to get the apps on the 950XL. I read through I don't know how many posts in this thread to find that bit of information. I guess I should not be surprised after so many years in IT. It's not unusual on a tech enthusiast forum that the pertinent information not be presented in an intuitive way. Anyway, back to HERE Maps. Lots of people mentioned that the MS equivalent relies on HERE for its underlying technology. That is true. The difference is in the user interface, as fewer people have noted. The use of display real estate, the size of the buttons (a safety issue really), the choice of voices, and especially the commuter function are what set HERE apart from the others for me. I am overjoyed to have it back. I find WAZE by the way annoying, mostly because I can't get it to switch to landscape mode.

True, the UI is a lot nicer in HERE apps than the stock Maps app. Other than the lower quality UI, I like the stock Maps app more. Having maps and driving in one app is nice too. No longer do I have 2 GPS apps running and draining my battery. I eventually had the bright idea to close HERE Maps after Drive+ started up. Drive+ took forever to find directions if it ever did, so I felt like I had to use HERE Maps to get reliable directions. Hopefully the stock W10m Maps app will rip off the Here app style in a future update. Alternate routes are nice too.

There are two versions on the store for each app.The one works, the other doesn't.I installed all of them on my 950XL

HERE Fights off technical issues and returns to the store.......with CONTINUED Technical issues...HERE Today....gone tomorrow?

Here City Lens says N/A. All the others were installed without a problem.

What's REALLY embarrassing is that HERE on iOS and Android is better than Apple Maps and Google Maps for in car GPS, and very good for regular maps (no street view for Android users would be a reason to stay with Google if not driving). HERE also has everything on iOS and Android in the one app, switching laying depending on function very nicely. On Windows.... not touched since the day Microsoft talked of buying Nokia. Pathetic! Posted via the Windows Central App for Android

Agreed. I like the Windows 10 maps app more then HERE Maps. The overall experience is better, and having multiple routes to pick from is nice. I doubt the HERE apps will get new features. It's a shame

I was the same way but went back to HERE a month or so ago and they have improved greatly (at least for my area). It sounds like MS maps is good for some areas while HERE rules in others. So nice that we now have both to choose from for free. Thanks MS and HERE!

The android here app is superb. They seem to have stopped the windows version development except for minor fixes.

Not compatible with my device + City Lens allegedly no longer available. L925 Insider build .36.

Tap on HERE Europe BV and you'll see the apps you'll be able to install. It worked for me.

Indeed working. Many thanks!

I really missed those apps! I'm very happy they're back on the store!

We don't know what the issues are except that "something happened".

Exactly. I actually clicked on the article thinking that perhaps we'd finally get an explanation of that. I suppose it will never happen.

Here is better than WP maps in finding street address.

Not where I live. Here always is off by a block or two on the address, or showing the address next door or down the road. I've only managed to find a handful of addresses it can actually find correctly, but 90% are off. Microsoft Maps has pinpointed the same addresses accurately using the same maps database. I suppose it depends on where you live. I'm finding MS Maps superier in every way at this point, including finding my car after parking someplace new.

Anyone cant download them just ebter the here page ( the app maker ) you will find two apps of the same name one doesnt work and the other will be installed properly

For our lucky 950 folks... And anyone else.... It you get "Not compatible with this device" either search your Library or search HERE Europe B.V. You will see double (yay store!) 3 will work, 3 will not.
Hint: If you have any marked "owned" them's the ones.

I had only ever used Google Maps, so when I switched to WP from Android, I was sad about losing Google Maps. I was surprised that I actually prefer Here over Google Maps! Here has never gotten me lost, when Google maps did. Even my mother, who has a Galaxy Note 4, has started using Here Drive+ on her Android because she, agrees that it's much better than Android!

I'm really happy about this I was waiting for the return just downloaded on my 550 and it's working great .

I have a stupid question. I always used Android, and am still fairly new to WP 8.1, when I first got my 1520, it came with Here Maps and Here Drive+ preinstalled. But it also had an app simply called "Maps". What app is that? Is it like Bing Maps or something? Is it worth using? Thank you for any answers!

Yes that is Bing maps. I didn't like it when I was using WP8.1, but I like the W10 Bing maps. It's personal preference. I'd say use HERE Maps until you can upgrade to 10, but there is nothing wrong with trying both and seeing what you like. Definitely download offline maps. Things will load faster and not use your data.

Thanks, man! Yeah I have the offline maps for Here, but if it is also there for Bing, I'll download those too! Luckily I have unlimited 4G data from T-Mobile. I hope the Windows 10 update hits my Lumia 1520 soon! Yeah I'll have to see which one I like. I mean, I don't use any Google product anymore except YouTube. I just recently stopped using Google Search, and only using Bing. I started with using Bing because of Cortana on my phone, then I finally went and put it as my default search engine on my PC. Google lost a good customer in me, because of their ****** policies in running Android, and Microsoft has gained a devout fan aha xD.

HERE Maps and Bing Maps use the same offline maps. No need to download again.

I found the fix for people that can't download the apps. Open an app from one of the links, tap on HERE Europe BV, and you'll see two of each app. If you had a Lumia before, then you should see three ap