Here is what Cortana's new Showtimes + Trailers feature looks like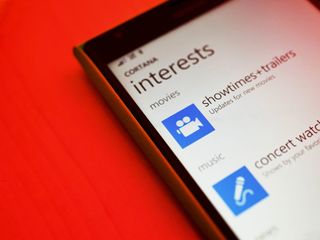 At the end of February, we reported that Cortana had picked up a few more Interests for users to select optionally. One of those was Showtimes + Trailers, which as the name implies has to do with movies playing nearby.
When we wrote that article, the feature itself was not live, but today we noticed that information had finally started to percolate into our Cortana feed.
The feature is self-evident, giving you movie recommendations and even some showtimes plus locations. The movies suggested change when Cortana refreshes its feed, so they are not always the same.
Tapping on 'See more movies' brings up a larger list of recent films, although the way in which they are ordered is unknown. Finally, tapping on any movie goes to the usual Bing card on the release, which includes a synopsis, where to watch, cast, reviews, and full listing of movie theater showtimes (which itself links to the mobile Fandango website for purchasing).
Unfortunately, we have not yet seen the Trailers part of the new Cortana interest. Yesterday, the latest version of the new Avengers 2: Age of Ultron (2015) trailer was released, and it would have been neat to see that surface on our phone.
Update: As of 6 pm ET, our Trailers section is now live. As you can, it suggests a trailer for a new movie, in this case, Run All Night (2015) starring the Liam Neesons. Tapping it opens Internet Explorer to the YouTube channel for that preview.
Like many Cortana features, this one is rolling out to users, so not everyone will have it under their Interests (we still do not have the new Lifestyle one with fitness tracker). So if you do not yet have this, sit tight as we are confident that Microsoft will release it wider as the actual features come online.
Thanks, Carlos H., and Allen S., for the heads up!
Windows Central Newsletter
Get the best of Windows Central in in your inbox, every day!
Daniel Rubino is the Editor-in-chief of Windows Central, head reviewer, podcast co-host, and analyst. He has been covering Microsoft since 2007 when this site was called WMExperts (and later Windows Phone Central). His interests include Windows, laptops, next-gen computing, and for some reason, watches. Before all this tech stuff, he worked on a Ph.D. in linguistics, watched people sleep (for medical purposes!), and ran the projectors at movie theaters because it was fun.
I have this feature but i want the lifestyle one. Anyone want to trade lol

Nvm i got lifestyles now meh

Is this US only? No sign of it in the UK.

Very likely, as it ties into Fandango and more, it probably needs localization.

Dan it works outside US too. Tipped about it earlier along with the lyrics thing.

Seems to be, but the 'Pick the winner' option has arrived for us. Not sure what it does yet though...

Oh, that's cool. On a side note, thanks for letting me know that there's a new Avengers trailer.

You did not know that until now?

I had seen the first 2 trailers, hadn't seen this one though; it was only released yesterday.

Well, it was awesome. A.W.E.S.O.M.E.

The trailer of the avengers was another interesting news

Everytime Cortana gets a new feature in the UK it never works on my phone. Just my luck, horrendous.

Just checked and I have the feature. Can't wait to see the first notification of a movie trailer.

I see Cortana recommended Kingsmen. Good choice!

Mine did too, and then I opened her up again (sounds wrong...) and it was 50 Shades of Grey (yeah...).

Not as accurate as the xbox video/games recommendations

I watched kingsmen...i was really let down after the hype...not sure what was great about it...even the jokes were lame... :/

I thought Kingsman was pretty awesome. Fun even.

Noticed the added feature this morning when reading my Cortana News Feed, I like it so far!

I Remember being able to just search movies or show times to find this so it's pretty convenient to have it in Cortana now.
Also the fonts being off really annoys me, but I'm just going to let it be lol

Places are featured by trip advisor and yelp..previously they used foursquare in uk. Can't find the show time setting there

Also coming to non US users? :-o

In 2020 Posted via the Windows Phone Central App for QWBASIC :|

Australian Cortana Alpha still only has News and Weather under interests :'(

Same in Canada, there have been no changes to her uselessness since released here. If she was my actual personal assistant I would have fired her long ago.

Cant wait for Cortana to be as Cortana Cortana, with a body and animations seen in halo 4.

still alpha in india, as two interests only: news and weather. waiting for beta or increasing in interests

Cortana shows me spongebob :)

Most of the blockbuster movies gets released same time of USA in here Bangladesh. Sadly it's not working for me.

So you see movies based on how much they earn?

You didn't understand what I said my friend.

New 6tag update dudes! :) yay rudy!

I wish there was something for tv series integrated into Cortana

That's a good idea actually. If it were integrated with Xbox video and showed when new episodes of tv series you'd bought a season pass for were available, that would be VERY useful. Edit....just suggested this on Cortana feedback ❤

Wow, thanks! I really really wish Cortana could remind me when new episodes are available, every week. I watch something around 15 tv series, it's hard to remember everything haha

Thank you for the idea. I have also suggested that Cortana inform us when an artist we have in Xbox Music releases a new single or album, saves checking for new releases, fingers crossed these will be added :)

Great idea but hope I can turn that off. Thanks to my radio DJ days and Xbox Music Cloud being on by default I have about 1600 artists in my Xbox Music...

When Cortana will available in India?

It's already available as "Alpha" version.
Edit: In Denim update

Still waiting for her in our region, hoping MS has not yet forgotten us - the other English speaking countries which are not in the regions she has been released to,

Microsoft should buy book my show app here in india

Y Cortana nada mas no llega a México...

Ahh so that's why Nokia trailers was cancelled!

Of corse soon or later well see less and less msn apps

I have trailers showing up, but no showtimes. Should be pretty useful

Feature absent on Lumia 520 in India....

All I got was Big Hero 6, and no options for seeing more movies.

Sadly this won't be available in my country til doomsday.

Better late than never lol

I have the fitness tracker interest selected but it does nothing.

I added almost a week ago, today I saw the first trailer, pretty awesome

I have the feature its not working my phone is set to the US region

Location(geofence) turned on?

This is an awesome new feature! Cortana has really come a long way.

This looks ok, but where's the personalization? It should be more like concert watch where it figures out what you like and recommend things that I'm interested in. Right now it's just showing stuff that I would never see in a million years.

I do not have the 'See more movies' option, instead I have 'See more showtimes' which does what you think. If I click the movies there is a area that displays the trailers.

Movies used to be one of the pivot pages in the Bing search app and was removed with Cortana, so it's good to have it again...

Cortana is slowly becoming a hub for many aspects of WP. I'm finding Cortana more and more useful on daily basis. The addition of films at my local cinema would be a brilliant addition. Hope to see it soon in the UK.

Just created this :). http://cortana.uservoice.com/forums/249009-general-cortana-feedback/sugg...

Good one. I have also asked through Cortana feedback for any new single or album release of artists in Xbox Music to appear in Cortana. As well as any new episodes of TV series bought in Xbox Video when released. Cortana is becoming the hub to rule all hubs lol

Nice, the artists feature would be pretty handy. Yup, Cortana is slowly evolving to becoming something really special. One hub to rule them all lol.

I saw what you did there, "neat to see that 'surface' on our phone".

Another thing that I observed is that, on the weather, Cortana now it shows detailed forecast next to the temperature, i.e. Sunny(clear) or that's what I've seen on my forecast. Maybe it was here before and I just notest.

I've got the showtimes and trailers. It displays just one trailer you can click and an option to more. NICE!!

Mine shows the trailer recommendations but not cinemas. #nonus

Had this for weeks already...

Did you turn into Rammus (League of Legends character) Daniel? Ha. All he says is "Okay!"

the trailers work for the most part. But if the trailer is listed as "xbox video", when clicked on, it goes to the app in the store. Ideally, we would want it to go to the app and start playing the trailer (DUHH)

Yeah, it's working now on my phone, shows "Trailer that might you like to watch: Tomorrowland, George Clooney". I love cinema so I think this is a very nice addition.

ICC World Cup Cricket is its own interest now for those interested. Go under sports section.

The Liam Nessonss!
Mine has "Trainwreck" trailer

Lol Liam Neesons, reminded me of Key and Peele

This is a super nice feature. Cortana is good for work and play. She just showed me movies to watch and places to get drinks nearby. So damned cool.

Bing and Cortana are becoming more impressive seemingly everyday. I love looking for instructions for something and the answer appears in a card without navigating to an external site.

yeah and I bet this is released to USA only as usual

Yes! Just bring black cortana to W10!

Showed up once and disappeared.
Sounds like the app store. Lol

Cortana Cortana Cortana..when are you going to bloom outside the US

Hey guys this is not showing up in my Lumia 520, its region is set to USA

Options are good. I hope more come to the Canadian alpha.

And now Cortana displays temperatures in Celsius with US region (sometimes at least)

Still nothing for me or any of the 5 other people I know with Lumias here in the states....

It would be great if the video would open in YouTube app..instead browser like WC app dose..!

Another overhyped feature for the US only!

U.S only no doubt and Microsoft wonder why there mobile strategy is flopping badly, the rest of the world is where Windows phone is most popular yet they release U.S only features! destine to fail and right so, no other company does this and thats why Microsoft are in the position their in...catch up

But at the same time the U.S. market share of Windows Phone is one of the lowest ones out there. They may be releasing a lot of temporary U.S. only features currently, but it seems like the U.S. isn't seeing a lot of different phones to choose from, and a majority of the phone manufacturers are of other countries. They don't have more U.S. oriented OEMs like Samsung or HTC (well, they do, but they haven't made anything to offer for a long time. Hopefully this will change closer towards Windows 10's release date)

Now live in Singapore too. No showtime. Only trailers.

Woo! Daniel made a Key and Peele joke lol. (the incomprehensible Liam Neesons)

I've got the Fitness Tracker but not the Showtimes + Trailers

Not in Canada... WP+US!=WP-US :(

I was kinda forget. When will Windows 10 release the customer preview? Both phone and desktop?

Awesome! Looks like I don't need flixster any more lol.

Cortana is shaping up to be the killer feature in Microsoft's ecosystem. Lets hope they don't be foolish and port that one exclusive to competing platforms.

Alpha Cortana..only in Aust. and works as good as a commodore 64..when are we outside of the US getting and up date for this....anyone

I've got the fitness tracker feature, it looks like it alerts you if you miss a workout :)

No still not in UK on Lumia 1020

Anyone has it in Nokia 930 in the UK?

I know this will show my ignorance, but I can't help that. I know how to get into Cortana's Interest, but when I'm there I don't see anything at all labeled Showtimes + Trailers. How do I get into that? (I'm using a Lumia 928 with the Denim update.)

Hopefully soon in uk have just got lifestyle but doesn't do anything at the moment I did change the region settings to us and got the movies but didn't do anything

Dan, is name is Liam Neeson. Not Liam Neesons.

Lumia 1520, why havnt we got denim update????????

As of 3-11-15 it is still not working on my ICON that is fully up dated to Denim. (Saecasem on) So, yes this is a great feature!!!! (sarcasem off)

Ok, now it is 3-13-15 and the feature is working like it should. YES!
Windows Central Newsletter
Thank you for signing up to Windows Central. You will receive a verification email shortly.
There was a problem. Please refresh the page and try again.