Here's every paid Halo Infinite skin — and they could set you back a lot
Halo Infinite skins. Gotta buy them all?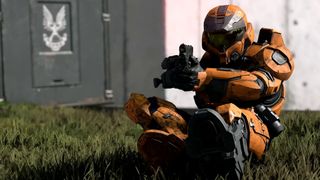 (Image credit: Xbox Game Studios)
What you need to know
The complete list of paid Halo Infinite multiplayer cosmetics has surfaced online, with players datamining content related to upcoming premium Shop content.
The items, still to be revealed by 343 Industries, are expected to make their store debut through the game's daily and weekly rotating inventories.
Based on current in-game store pricing, players have estimated the approximate cost of all Season 1 cosmetic bundles to surpass $1000.
Halo Infinite mulitplayer stole the show this November with its surprise launch on Xbox consoles and PCs. While rumors were swirling the lead up to the release, it's steadily gained traction through launch week, at one point racking up over 200,000 concurrent players on Steam.
While Halo Infinite has been positively received, there's been some contention around the paid Halo Infinite battle pass and progression.
With the game in the hands of dataminers, we're now learning of additional Halo Infinite cosmetics to come via its paid marketplace. These cosmetics are expected to launch via the Halo Infinite shop, a new addition in its latest entry, with various premium cosmetics only obtainable via real-world cash.
Further investigation has revealed that owning all the skins could set you back quite an amount based on current store prices, approximately clocking in as high as $1000 USD.
Items in the store currently vary in pricing, starting from $5 and going all the way to $20. For the first time in its history, Halo has a free multiplayer component, and as such, these cosmetics microtransactions help support the title in the long term. These are just a subset of planned cosmetics, available through Season 1, which is expected to last until May 2022.
Halo Infinite multiplayer was announced during Microsoft's 20th anniversary to celebrate two decades of its console business. It launched on the PC, Xbox One, and Xbox Series X|S consoles on Nov. 15.
The next adventure in the saga
A new Great Journey awaits

Halo Infinite's campaign is sure to be an incredible game filled with wonder, adventure, and more. Based on what was seen at E3 2021 and in recent previews, we can't wait to play it at launch.
Halo is back
(opens in new tab)
Halo Infinite Multiplayer
Halo Infinite's multiplayer has launched a few weeks early, compiling its classic arena multiplayer modes, expanded 24-player Big Team Battle, and more into one free-to-play package.
Windows Central Newsletter
Get the best of Windows Central in in your inbox, every day!
If Halo Infinite multiplayer is genuinely free then I have no issue with their charging for these cosmetic upgrades. Fortnight is free to play but Epic Games are making a mint from it, so it's pretty much par for the course. Not sure how these prices compare to other titles though.

It would be an entirely pointless one too.
It blows my mind what garbage people will blow money on.
Especially people who can't afford to.
Windows Central Newsletter
Thank you for signing up to Windows Central. You will receive a verification email shortly.
There was a problem. Please refresh the page and try again.