Here's how you can play Fallout Shelter on PC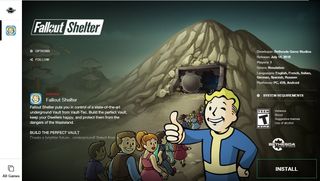 Bethesda has silently released Fallout Shelter on PC. If you wish to play the hit mobile title, you'll need to install the Bethesda.net launcher to do so. To gain access to the game, you'll need to login with (or create) a Bethesda account and you should now be good to go. The listing was spotted by a user over on NeoGAF.
If you've already played the game on your phone, you'll immediately feel right at home on the larger display. It's an interesting move by Bethesda to release the game on its own launcher when consumers already have to deal with numerous programs already to launch their favorite titles.
Windows Central Newsletter
Get the best of Windows Central in in your inbox, every day!
Rich Edmonds was formerly a Senior Editor of PC hardware at Windows Central, covering everything related to PC components and NAS. He's been involved in technology for more than a decade and knows a thing or two about the magic inside a PC chassis. You can follow him on Twitter at @RichEdmonds.
Why not just release it as a UWP?

Probably cause it ain't future proof nor last long in the windows store thanks MS XD

Well that's a load of crap but thanks for your input anyway...

Cause a proprietary launcher is so future proof..

Maybe to a) make their own version of Steam and b) to get Windows 8.1 and older users to play it. I do think that it would be better to be a UWP app though (better use of notifications, Windows Phone support, etc.).

Correct. Lots of PC game players still use pre-Windows 10.

So they can have people without Windows 10 play it.

They are stupid. Should have been UWP. Would mean Xbox and Mobile support too

Nope cause microsoft doesn't even do anyfavors for windows mobile treats it second class compared to ios and android i hope they make it for both uwp with xbox too along with thier own launcher like minecraft that would be smart

Wait how is MS to blame here? You know that Bethesda owns rights to fallout shelter, only they can make the app right?

That is so far from the truth your entire comment becomes a joke.

Yeah, well I don't feel like playing into their trick to get people to use their service. If it comes out for Windows Store or in Steam, I might get it, but it's not like i'm going to jump through hoops to play this game. Release it already, it's not that it's a killer app or exclusive.

I gave up on games for UWP after Pokemon Go came out and again windows phone gamers were kicked in the nards. I still have my 950xl and I use it for Calls, text messages, better UI, spread sheets....(had to throw that jab in there) but for games and apps we can FORGET about, I just bought a cheap android yesterday. I'm sick of sitting on the sidelines because I love an OS that doesn't love me.

That is not the end of the world... Posted via the Windows Central App for Android

Omg what jerks, if they make it UWP Mobile users also can play it, that's total idiotic

Hope Bethesda sees the feedback they get from the Windows community. They release a game for Windows but omg, it doesn't use the API that the babies want them to, so its "they are stupid", "what jerks", etc. Real classy crowd.

Spot on!
​Luckily this is only a very vocal minority complaining.

Please make this an UWP app, that would be great!

Oh god, another Launcher :D Anyway, there's space for it on my taskbar next to Battle.net :D And I think I know what I will play with the rest of the day :D

This game was only one I was missing on my Windows devices. Really wanted to play it, so i was happy when I saw this article. but im gonna uninstall it. First reason is I think they should make UWP app for both PCs, tablets and phones. Much smaller game developers make them. Second, I hate launchers. Still, I wanted to play it, so i installed it. But it doesnt run on 32-bit system. So i cant play it on tablet, only on my laptop. Thats why I will uninstall it from laptop as well. It's just principle. i don't want to support them. Stuff it to ..., Bethesda

Maybe its the their first step to windows platform, who know, if windows user responded its good, they will release uwp.

I guess they dont want any IAP $$$ skim going to Microsoft...

As you see Bethesda ignoring Windows, ignoring Windows Mobile. Do you see any "Windows" name in any Bethesda website? No? PC / iOS / Android only. For Bethesda no any Windows in this planet. Only PC. Also Fallout Shelter is unavailable in Russia and many other countries for now. So, **** you, Gaythesda. And **** your games on "PC" too.

Wow, "Gaythesda." You really stuck it to them. I bet Pete Hines is curled up under his desk crying right now.

So they're releasing this game in their own launcher? A very interesting move. While they're at it they could release it to UWP Windows Store too.

Don't care if it's UWP or not. Another launcher (That isn't DPI aware, good luck seeing the tiny fonts on a Surface) is silly but I can get past that. The most disappointing thing for me is that it came from touchscreen devices and doesn't have multi-touch support on PC. So I can't use two fingers to zoom/pan on a Surface. Pretty sad.

I get they like to have their own store, or make it available for older windows versions, but I'd prefer them to make a UWP app, or at least make it available in the windows store. I really don't need yet another launcher.

poor port, no cloud save game, that is the worst, and I have to gave my credit card information to bethesda to make micro transaction, i don't think I spend any money in this game as long this is not a WUA

Yet another launcher? Screw it, guess it's another game I won't play. Also, what about touch support? Isn't it a touch UI game originally? Guess not.

I bought an iPod Touch for this game. Now finally it supports my windows tablets. Unfortunately, it doesn't have multi touch support. It does however runs well on my Surface 3 and its superb with my mouse. Hopefully it'll support sync over my Apple device so I can sync my game!

How do I delete my double/triple post?
Windows Central Newsletter
Thank you for signing up to Windows Central. You will receive a verification email shortly.
There was a problem. Please refresh the page and try again.