Here's the list of known issues in Windows 10 build 10061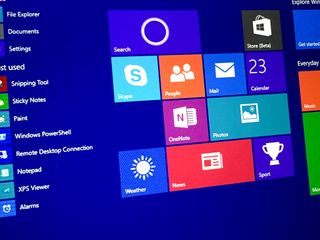 If you're installing today's release of build 10061 for the Windows 10 Technical Preview, you might encounter some issues along the way. Luckily, Microsoft has posted a convenient list of known issues with today's build.
Here's the full breakdown of known issues in today's release:
We know this one will be a bit painful but there is a bug with this build in which Win32 (desktop) apps won't launch from the Start menu. The workaround is to use search to find and launch these apps and pin them to your taskbar for quick access.
The Windows Store Beta (grey tile) and Project Spartan get unpinned after upgrading. You can re-pin them to your Taskbar from All apps on your Start menu.
The version of the Mail and Calendar apps included in this build (17.4008.42281.0) have a known issue that causes every typed letter to appear twice. Which might be funny if it weren't so irritating. We have fixed this issue with updated versions of the apps (17.4016.42291.0) available in the Windows Store Beta (grey tile). If you don't open the Mail and Calendar apps within the first 15 minutes after logging in to your device for the first time after upgrading and your device is connected to the Internet, the apps should update automatically. You can also go into the Store Beta and check for updates manually at any time.
Cortana will highlight things it will be able to help users with, but some of these features are not yet implemented and we are working to deliver them soon.
There is a known issue where you might see a black screen with only your mouse cursor during login/logout. We have a fix for this coming via WU.
Downloading music in the Xbox Music and Music Preview apps is currently broken. We also have a fix for this coming via WU.
When you minimize an app playing audio, it may stop playing once its minimized.
In Project Spartan, no selection highlight appears when selecting text in the address box. You can right click in the address box to cut/copy/paste and it will work as expected. We also have a fix for this coming via WU.
Magnifier does not work when you put it into docked mode. We will also have a fix for this coming via WU.
Overall, the issues don't seem to be overly burdensome. With the exception of the bugs related to opening Win32 apps from the Start Menu and downloading music in Xbox Music and the Music preview apps, most of the issues represent minor annoyances. Be sure to let us know what you think of build 10061 in the comments once you have time to give it a go.
Source: Microsoft
Dan Thorp-Lancaster is the Editor in Chief for Windows Central. He began working with Windows Central as a news writer in 2014 and is obsessed with tech of all sorts. You can follow Dan on Twitter @DthorpL and Instagram @heyitsdtl. Got a hot tip? Send it to daniel.thorp-lancaster@futurenet.com.
The first issue is a bit of an issue for me. Glad I haven't updated it yet.

I'm still running 10041. The Visual Studio bug in 10049 kept me from updating...

I learned the name of all the exe's back in the day, been launching with Win+R since win2k. Plus, I already had Hyper-V enabled before the first TP.

Well I launch things like notepad etc from run. But not being able to launch programs from the start menu is kind of a big issue.

Not really. Most people have been using the taskbar and jumplists since windows 9

It is a big issue. I still hate the fact that Windows 8.1 basically rendered the Start menu useless. I used to rely on it heavily.

Why win+R after XP? Win by itself does it better, doesn't it? You don't have to type the whole thing that way because it's using search.

Win just launches search, Win+R will run an item. For example, pressing Win and then typing "Windows Explorer" will find Windows Explorer, but pressing Win+R and typing "explorer.exe" (and Enter obviously) will launch Windows Explorer for you. Fewer keypresses, and not relying on what Search decides to return. It's good for things like Group Management Console (you can get that through Win+R by just typing gpmc.msc). Think of Win+R as a direct route to launch a specific item, whereas Win+<search term> is a search (and hence, slower (YMMV)).

Win key, then typing in enough letters for the search item to highlight it and then pressing enter opens the app. You don't need to type the whole search item and pressing enter to open the app. Win+r aka run takes longer because you have to type the whole thing.
Win key and typing your search then pressing enter doesn't just search, it opens the app.

Indeed. But you'll probably find a lot of server admins still do the direct route - perhaps a side effect of disabling indexing/search on various machines over the years - knowing exactly what you want, and that it will be available where you think it is, removes any reliance on indexing. So, say, I want Group Policy Management Console, I can Win+R and type gpmc.msc on any Windows machine. If it's available it will launch, if GPMC ain't installed, I'll get a clear, stern error. If I try the same by just using Win and typing gpmc.msc the results I get can be variable. For example, on this machine if I press Win and type gpmc.msc and then hit Enter, then a Word doc I wrote years back about deploying NAP pops up. Horses for courses, really. One's not "righter" than the other, different people use stuff in different ways.

If #1 is known about I'd say it isn't a bad issue at all. But it could drive anyone crazy if they didn't know the workaround.

Bet they did this so we use cortana to launch programs with it :P

Hey Cortana... Open Firefox :)

No problem! Installing ...

I hope it is better than this when they push it out to the slow ring this time.

Should be, or it may not hit slow ring at all like the previous build that didn't make it into slow.

I don't think they will release it to slow unless they can fix the win32 launching issue via WU

I have an 11yo that is learning as we go, this has been a blast for me and him... Soon i won't have to be the home it guy...lol

HAHAH.....Me too, although mine is 14. We have turned this into a big deal, learning about the phone OS, working thru the bugs and the of course the desktop process, of slow and then to fast accept on one machine.

I nominate you two for dad of the year.

I'm running 10056... Works great for me... No issues that I've noticed

"We have fixed have fixed the issue where Indexing of new email in Outlook was not working." lol.

I hope issue#1 gets fixed via an update and not another future build.

that first issue isn't new, it was in build 10056. They've had ample time to fix it. Win32 apps can be run from the start menu in 10061 by right clicking and running them as admin

If that is the case, perhaps disabling uac will fix it?

That first issue sounds like it's a real pain in the ass, hope they fix that soon.

Looking forward to testing the new features on my SP3. Keep 'em coming.

How is it that when they fix something, another thing is broken... I am seriously concerned with the July release date.

That is how it works in Software development. No software is 100% free of bugs even on release. When developers are sure that there are minimum bugs present and cannot be fixed or something else will be broken, that is when a product is released. It's common..

because we have no idea what other thousand lines of code are written along those new features, often which break other thins that weren't broken before. Read up software development, its an interesting read. Then go to the official windows blog and read the in depth articles there, if you have time, you'll appreciate what MS is doing with their Insider users.

Yup, plus throw in the open platform nature of windows where there is almost a near infinite number of hardware combinations used by people to run windows on. There are bound to be "teething" problems.

They don't always really care if something is broken. Sometimes you'll leave something limping in order to allow something else to work 100%, just to give it burn time- all the while knowing you'll be going back and fixing it

also adding that these insider releases are most likely decently old builds that got forked into a bug fixing stage, basically they lookat builds after a while then fnd a stableish one that has a goal in it (usually a specific feature they want to get feedback on) test and make sure it wont crash and wreck systems, then push it. also, dont forget about the different branches, I can almost garantee you, these insider builds are NOT completely merged with all the branches, infact fbl impressive is just the testing branch, we barely see anything of what microsoft actually has done progress wise.

That is indeed what i was thinking. How the f are they going to release a finished (stable and good enough to beat the shit out of android and ios/osx) windows 10 on 3 type of devices by august. If you look at wat they promised and delivered so far they aren't half way yet in putting all features in. So they are taking swings at each big problem one at a time. Nice to know that.

SDLC's have issues. And there is no July release date.

Downloading, 59% to go. Hoping this build fixes some of the bugs I've been experiencing.
Edit: Surprise, surprise install hosed at 30%... Stuck at restoring the install.

We know this one will be a bit painful but there is a bug with this build in which Win32 (desktop) apps won't launch from the Start menu. The workaround is to use search to find and launch these apps and pin them to your taskbar for quick access.

They *really* should have held up the release to fix this bug. I have no problem with them releasing bugs that affect a small number of users or in weird circumstances ... but this is a significant issue that will affect the majority of users. Note, I haven't tried the build yet so I hope that this bug isn't a 100% repro case on all systems.

especially when the same bug existed on build 10056

The users have been provided a workaround. They should know going in that they are on a test build, so it's their own problem. The initial release of Windows 10 killed my drive with the whole PUIS bit. I could never get it back up. I just got a new one and moved on. It's my own fault no one elses.

Mike, I dont mean this in a nasty/snotty way, but you should be on slow ring. I need this release and I am perfectly fine with this broken element. I'm using it to test as much as possible as soon as possible - that's fast ring and it comes with side effects.

No offense taken. I know all about using early releases (I worked on Win31 and Win95 a million years ago) but you can't ship out a version to the public that nukes critical functionality like running Win32 programs from the Start menu. Would you have said the same thing if they released a version that didn't work with a mouse or a keyboard? I doubt it. The whole point of releasing test versions is to, well, test the OS and they've reduced the ability to test this version realistically. That somewhat defeats the purpose.

"...use search to find and launch these apps..." - but you can still launch everything. bad analogy, move along nothing for you to see here in the fast ring.

To be fair, this build is being released to Insiders, on the Fast ring. They've read the "is it right for me?" guidance, accepted all the warnings and have agreed they know what they're doing and are comfortable with rolling back/blatting an install if they don't get on with it. But yes, sadly, there will be a large number of comments later from people who've not read anything and just kept clicking on "accept" as if there's candy at the end of it. The same one's that get cryptolocked. Repeatedly. Personally, I've not used a Start menu in years (probably since early Vista). Found them to be cluttered with unncessary "tools", "help files", "uninstallers" and other cruft - so it having issues in this build won't affect me.

But in publicly releasing a build with a known and obvious bug like this causes problems. For one, they're going to get alot of negative feedback about something they already know about (waste of time). Second, some of the users of my Win32 programs run these public TPs and I'm probably going receive bug reports that my programs "don't work anymore". I've already had to deal with issues in previous TPs where they would block programs protected with Software Passport/Armadillo (like mine). Finally, why didn't the dev who made the change that broke Win32+Start menu not discover this bug before checking in their code??? I have no problem with bugs on obscure or specific hardware/software configurations, cosmetic issues, incomplete implementation of new features, etc ... but to break well known basic functionality on all configurations is simply unacceptable, regardless of the test status of a public release. It's just sloppy work, sloppy basic testing. A classic case of throwing sh*t over the fence for others to deal with. Makes me wonder what they'll consider acceptable when going golden later this year. Win10 is basically make-or-break for MSFT. As I said in a previous reply, if their release notes said "We know this will be painful but there is a bug in which hardware keyboard input won't work in this build. A workaround is to use the onscreen keyboard for text input", would you consider that acceptable?

It's not public.... It's in the Fast section of Insider. Anyone installing it is has agreed many times to expect bugs, and be technically competent to work with/around them, not to use on a production machine and all sorts of other sensible caveats for a build at this stage of the process. Checking in broken code happens all the time. It's perfectably acceptable. It'll gall me to type such a thing, but "you can't make an omelette without breaking a few eggs". But to answer your question - ANY bug at this stage is, by nature of the fact I clicked "accept" a good few times, acceptable.

"Checking in broken code happens all the time. It's perfectably acceptable." Wow. It's no wonder how bad software has gotten if that's the mindset of corporate developers these days. If I checked in code containing obvious bugs I'd expect to be called in, day or night, to fix it immediately. I'd also expect to be in the "Idiot of the Day" internal email sent out listing the bad bugs in the current build (been there, done that).

Wow. I'd never work anywhere that called someone in day or night for such minor issues. And especially if they named and shamed mistakes. Sounds like a dreadful place to work. Glad you got out.

Actually, it was very educational. The email was from a guy that would constantly do weird things to try to break the product (things we'd never think of doing), do in-depth crash analysis, etc. Whether it was your part or not you built up a wealth of knowledge so that if you later ran into a similar situation, you would know what to look out for (I think I got bitten by people installing the product into D:\, with no subdirectory). Everyone was good and knew it, so there was no shame in your part of the product being in the idiot list, just embarrassment (a "doh" moment). I still do something similar in my one-man software company on my user support forum (i.e. "that was stupid bug in my code"). Releasing code with a bug should make a developer mad.

Totally correct. This so called technical preview is just a toy, kids toy. Ridiculous move from msft.

Just because you don't understand something, doesn't make it a kids toy.

100061 currently downloading. We'll see whats up soon.

Nice heads-up - windowscentral's gonna be chokka with "I didn't read anything before sticking this TP on, and now my exes don't launch"

I can leave with these issues. Hope MS release a new build again right after BUILD.

Wwhhaatt iiss ggooiinngg oonn!!!!!

How long during the install should my screen just be flashing on and off for? I hear the hdd cranking away and the fans rev up but the the screen just flashes in and off. Black screen. I'll go make dinner before doing something drastic like... Restarting.

Guys anyone on this build , can you please tell me if you can modify the Network IP configration , earlier build Properties of IPv4 wsa greyed out?

Sounds like they already have fixes for most of the known bugs. I don't think it'll be a problem to RTM end of July.

Windows normally hits the street about 8 weeks after RTM. So, if they want Win10 in PCs by end of July, then they need to RTM some time in May or early June. Posted via the Windows Central App for Android

I keep seeing "July" mentioned. Except by Microsoft. I'm still of the opinion that RTM isn't important with this new appoach they're taking. Based on the way they've amended how updates are made and the Windows as a Service models being adopted for the business versions, what gets stuck on a consumer laptop before it gets shipped is more or less irrelevant - as long as there's network connectivity when it comes out the box sometime later, it'll get the current OS build.

Hopefully my VPN is working agi . 10056 broke it

Issue was around IPv4 properties being disabled , if you on it can you see if you can click the properties of network settings.

Reinstalling my NICs fixed any Property/VPN issues.

After Update (automatically), some devices are not worked: - Bluetooth 4.0 Qualcomm Atheros AR3012 (Code 43) - Memory technology devices: Realtek PCIE CardReader (Code 48) - And the biggest is the first issue: CANNOT run app by Clicking from Start Menu Feeling disappointed with this update. What should I do? Wish I haven't update it :(

You didn't read the release notes did you? Because if you did you would know that launching win32 apps from start menu is not working right now, abd you need to either pin them to your task bar, or make manual shortcuts on your desktop to them. Next time RTFM, before installing!

As my note, just a mistaken from me: restart my Lap without checking update info, then let's it update automatically. About Opening app issue, it's easy to solve. But Bluetooth device doesn't work, what's a pity :( Btw, thanks for your advice.

The new version on Adobe Lightroom CC (or 6) released yesterday still doesn't work, not sure who's fault but it's a big issue for me. (first issue I've had with any TP 10 that I couldn't work around)

as odd as this is create a link on your desktop and then open it from there. none of the Creative Cloud apps but open when either of my machines running the new build unless I set them as links and open them from there. Verified the new Lightroom does work.

Thanks for the feedback! I've tried from desktop, Task Bar, double clickng in Explorer, reinstalling, uninstalling 5.0, anything I can think of with no sucess. It does work great on my 8.1 desktop but no joy on my Surface Pro with 10 10061. I do understand it's a TP build and not bashing, just trying to bring a little attention to it so it gets resolved!

What is the Media Connect option under the notification settings supposed to do? What devices can it connect to?

You're kidding, right? Windows 10 gets WORSE with every build, NOT better.

Agree. But then again it's beta

Or maybe closer to an alpha release? :)

Or maybe it's been ALPHA since the first TP. Remember MS even said NOT to use it as a daily driver, and NOT to use it on any system that are mission critical, or needed to be stable for everyday operations. Some people need to RTFM!

Whenever you add new features, there is a big chance that you introduce bugs. This is especially true in a big system like windows. Once you stop adding features, you can squash all the bugs and improve performance.

Man, am I glad I'm testing W10 on a spare computer. I am SO going to stick with Windows 8.1 on any machine I want to get work done with. I suspect Windows 8.1 will be my XP. Microsoft can bite me with Windows 10.

Did you not RTFM, considering MS has said with the TPs not to use them as a daily driver, or on mission critical systems. Just because you decided to run it even on a spare, and it doesn't run the way you want it doesn't mean it is going to be a crap OS on final release. This is Pre-Alpha, if not ALPHA software, and is going to have bugs. If you got problems with the Fast Ring releases then go back to the Slow Ring.

Really? I've been using it as a daily driver for a few weeks now and it's great. Had very minor issues (Yoga 2 screen rotation didn't work, 3rd monitor had issues coming out of sleep), but nothing that would stop me from getting my work done. I wouldn't recommend it for everyone, but if you can't get around a couple of UI hiccups when using a beta product, you shouldn't be posting on it here either.

Um anyone else lose screen rotation on their surface pro 2 on build 10061, because I did, deal breaker, reverted back to 8.1. Loveed testing while I could and gave MS some feedback but it just seems that my SP2 is less and less usable with every build update... see you in July Windows 10!

Screen rotation lock is on by default in this build for some reason.

Maybe it's just me but issue #1 would've been a hard blocker in my eyes. I wouldn't have released 10061 to fast ring without having that issue resolved.

10061 is treating me much better than 10049, glad to see they're back on track

Wow... Are they making them on a purpose? It's ridiculous bugs

Yeah! Writing a new OS is a pice of cake! How can they be creating new bugs! Cretins!

They seem to have busted the right click menus within the start menu too. Maybe that's related to issue #1.

It's getting worse every time. I am not updating

OK. Cortana still cannot speak in this build. I tried disabling her by changing regions, but when I changed back to the US, it doesn't see it and says that it is not available in my market. Any suggestions? I couldn't hear her n 10049 either. But I have sound, and Hey Cortana did work in the previous build.

I noticed in earlier builds for some reason she doesn't use your default sound device. If you have any headsets plugged in, check them cause she might just be talking to you.

Okay, installed and got black screen with cursor. Waiting for an updated version :D

you can start win32 apps in the start menu if you click then chose run as administrator

Ohh I hope issues will be fixed soon .

"...a known issue that causes every typed letter to appear twice,"
Someone must have accidentally piped /dev/NSA to stdout...

There will always be issues, serious ones, as long as Microsoft 'concentrates' on developing and improving its iOS apps and 'forgetting' its own Windows and Windows Phone platform

"Once its minimized" should be "it's". You can delete this comment after editing it's ok :)

After updating to 61 I can't login.
Bit Locker recovery ask for recovery key, but I can't type in because no keyboards. I am completely locked out. Is there any way around it.

Anyone knows what causing i can't click or acces start in Win10?

I've had this issue on the last build but only after logging into a different user. The first login after bout usually worked for me.

So i must change my account?

I'm having this issue. Click start button, or press Windows key...button highlights like I've clicked it, then goes back to normal and no start menu shows up. Also can't launch Spartan.

The problem with 10061 for me is that it won't install. The upgrade gets to about 80% and fails, at which point Windows says "restoring previous version". For now I have switched this system to the slow track for updates so it won't try to install this build again.

You might have a space issue. Delete some un-needed files.

Hello, i have installed build 10061 today, and almost everything seems to be working fine!!! Love the new calendar and mail app, and the new look. However, there's two issues, and i wonder if anybody has run across them. First, Spartan is not working, clicking its tile does nothing at all.. And second, it asks for activation. I had this problem with activation before, in the previous builds, but i used a code i got from a microsoft support page and it worked fine. This time, the code is not working. Anybody has any similar problems????

Never got asked for activation, even with the previous builds.

Hi, New update brings BSOD on my pc... after WU download and tries to install, i got "dpc_watchdog_violation" then here from settings\windows update - says "fbl_impressive Professional 10061 - Error 0x80070520" can anyon help me on this... tried renaming %systemroot%sfoftdis.... folder and tries updating agian but result in the same BSOD and reboot my PC. Thanks in Advance...

Same issue here, after updated computer is restarting all the time with the "DPC_WATCHDOG_VIOLATION" (when clicking on Windows 8 apps, or even when logging...) Really annoying :/


If you are using a laptop try booting in safemode (fastest way: WIN+R and type "shutdown -o -r -t 0" hit enter) and uninstall SYNAPTICS DEVICE POINTER.... Driver ( Control Panel -> Programs and Features -> ... ). Dont use your touchpad in the meanwhile.. i plugged a mouse into my laptop for uninstalling. It solved the "DPC_WATCHDOG_VIOLATION" - Error for me!

Too late I reinstalled Windows 8, I was not able to do anything because the compute was restarting all the time :/
Now I will do a partition to be sure :)
(But thanks :) )

I'm having a problem getting my People app to launch. Anyone having a similar problem? And on another note, is there a way to filter out the people who want to whine about bugs in Preview software? If you are that type of person, don't install the dang Preview and wait for the final release. Sheesh. The bleeding edge sometimes involves blood people...

windows 10 TP 10061 for slow ring and visual studio 2015 community final version in buildwindows conf 5 days from now!!! then we are starting windows 10 EPG application programming and much more in future!

Anyone else having a problem getting the new mail app to sync with Exchange Active Sync? Takes my server info and sets up the account perfectly fine, but will not sync. Surface Pro 2, i5 256.

Hey i have same problem here ask me every time to "enforce these settings" for security.

I get same issue wont sync keep getting "Make my PC Safe......... enforce these policies"

I have the same problem. Win10 repeatedly pops up the dialog enforce security policies and mail from my Office 365/Exchange account will not sync.

Bluetooth USB\VID_13D3&PID_3362&REV_0001 error code 43 :(

any soultion? , i seem to persist the same problem in windows 10.

Hi I m not able to play Asphalt 8 since Build 10049 The app keeps FC Someone else ?

why there isnt a fix coming through WU for the first issue too? :/

Anyone know when Continuum Automatic Mode is going to be enabled for other devices than Surface? I have a Yoga 2 and it's still not working. Though they did fix a couple of things: * Fixed some bugs in Spartan * Fixed screen rotation issue on Yoga 2 (wouldn't rotate in 10049)

Any sign of WIndows Media Center ?

build 10061 won't install (4 attempts). It locks up at 30% installed

Am I the only one to notice that the new People app isn't working in buil 10061?

I noticed that, but this isn't problem for me ATM

Just a slight inconvenience for me. I know it'll get fixed with the next build (or through WU). Only mentionned it because it was not in the list of known issues...

I'm really happy with this build after dat of use. Only time I hit to unable to run Win32 from start only when showed to friend in slew ring what bugs has new build. No problems at all.
Also experimental features in Spartan are so promising :)
Even camera app works on SP3 after updates (May not be related to 10061, but IDK for sure)

is this a bug for anyone else: clicking on any of the notifications in the action center don't do anything (not sure if this is a known issue or not)

Hasn't worked in any build for me....

Yep,, has never worked for me. Frustrating.

I'm quite irritated with the #5. Is there a fix for it yet?

Seems some of us are getting shutout of every modern app including settings and the start menu from the Parental Controls going haywire. Only workaround so far is to roll back. Going to wait a couple days and see if there is a fix before rolling back.

It feels slower and we still can't change colors to our liking. We ask to be able to change titlebar text for dark collors. Now we can't even change titlebar background color. The color is the same for active and inactive light gray. It still needs a lot of improvement before I will replace 7 with it.

I have no start menu at all. have to right the logo and select search from there. win32 really needs an urgent fix

PROBLEM WITH BUILD 10074, SINCE YESTERDAY I HAVE NO ACCESS TO START OR SEARCH BOXES OR NOTIFICATION BOXES, WORKED BEFORE JUST GREAT

I installed Windows 10 on my surface pro 2. I pressed the windows button and now I can't get back to the desktop. I'm stuck looking at these stupid as tiles and also my wireless doesn't want to work any suggestions?

There is a stupid as tablet mode that brings up them stupid as tiles is there a way to eliminate the tiles all together cause they suck

HI, I used to have no problem with running a program called Tickstrike, but since chaning over to W10, this will not load, despite selecting compatibility mode, chaning permissions etc. Any help please? Mike

I updated my laptop with no problems. My desktop just sits at the main page and blinks for three days, I can only get to task manager and nothing else works, I can't get to safe mode because I can't select anything on the screen. All my icons just blink sometimes with the icon picture, most of the times blank. What the H?

I updated my Acer Aspire E-15 to Ms windows 10 Enterprise Evaluation build10240. Now I have no cursed and my mouse pad don't work. Any ideas on how to fix this. It worked fine until I downloaded this
Windows Central Newsletter
Get the best of Windows Central in in your inbox, every day!
Thank you for signing up to Windows Central. You will receive a verification email shortly.
There was a problem. Please refresh the page and try again.