Here's OneClip, Microsoft's unannounced clipboard app for Windows 10, iOS and Android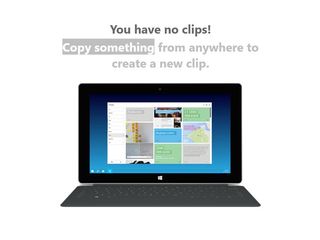 Microsoft seems to be extremely busy on making new mobile apps that work on all the major platforms. Today, word got out on another unannounce app in development at the company called OneClip. As the name implies, the app is designed to be a universal clipboard. It's also being made to work with Windows 10, iOS and Android devices.
Neowin managed to try out an early version of OneClip, and it sounds like it might be pretty useful:
OneClip also has cross-platform support, which means that you can sync up all of your collected items in your clipboard to your Windows 10 desktop PC, your iPad tablet or your Android smartphone. Neowin adds that some apps can be manually added to a list which won't be stored to OneClip. Password managers are automatically on that list by default.
There's no word on when OneClip will be released. Microsoft is already working on a email-chat hybrid client called Flow for the iPhone and there are other, uncofirmed reports that the company is working on even more productivity apps under the code names "Flip" and "Highlander".
Source: Neowin
I use clipboarder.. Must have clipboard app for wp... Simply share to copy text!

Sounds like a sub-app for OneNote (which I also love)... can't wait to try this out! :)

Damn it! I had this idea a while ago, wanted to develop an app for it. :(

Kopy and omnipaste perform same functions. Maybe different in a few things, still pretty much same.

Kopy it's great! But you have to open it and past something on it, with OneClip you just copy and it's already on clipboard.

Opening an app is a damn restriction. I have developed Clipboard X Cloud (which uses OneDrive as temporary storage; so no additional account needed) to simply transfer data between devices without the need to hangle through various folders. I also wanted to include this kind "clipboard-listener" but you at least need to click inside the app to bring it into foregreound. Well, lets see whats possible with Windows 10...

I use kopy all the time, great app

I used to use Kopy, but it's basically just a worse version of pushbullet at this point

Yeah, I pine for official pushbullet for WP...

This sounds like it could be my new most favorite app! I've been loving browsing the web on PC and mobile is so much better with bookmarks/history/credentials. This could definitely be a game changer if I could just copy a line of text or anything on PC and have it immediately on my phone!

Idea comes from OneDrive I think. Same content on Different devices.

More like OneNote. OneNote does this already, but this is more of a clipboard than a notebook. :)

Cool, I will no longer need to use Kopy anymore, 1st party feature always nice.

First party feature always nice?
Instagram Beta says "waddup bro?" :D

Wouldn't Instagram be 2nd party?

The 2nd is you. Seriously

Ditto. Kopy is so klunky to use. And it breaks web sites when it is installed in a browser.

They're trying to show the community how easy it is to develop across platforms now. I like their strategy.

Yes, their main goal is to showcase apps that inspire third-party developers to use the Windows Universal Applications model. Also, cross-platform development shouldn't be that hard considering their support to import Mac/iOS code and such. You would think that exporting code that XCode can make sense of should be possible as well, or just use any of those cross-platform tools to make code that runs on multiple operating systems. Since their app will be available for Android as well, I suppose they have a nice tool to make that work too.

I'd love them to show some code. I've been wanting to get into making apps for years, but there's just too many options and differences between the platforms. It looks like Visual Studio will pretty much be able to have one codebase to create apps for all platforms at some point. Would love to see some examples of this. Obviously don't expect to see code for a commercial app, but some little apps to promote VS for dev would be great.

Wonderful...The power of 10.

So not for WP 10 (or whatever it is going to be called) then ?? Or is it a truely universal app ??

"for Windows 10." There is no WP10. Windows 10 is Windows 10.

Actually there's Windows 10 for mobile. Which will be the operating system for smartphones and small tablets.

But a Windows 10 app works on all devices with Windows 10.

Thanks Microsoft for putting your platform on the stage along with android and ios

Thank goodness this was being made. A universal clipboard that can read copies and sync across devices makes too much sense in MSFT's future strategy.

Finally!! A way to see what you've been copying to sort through the mess. Yay!!!

I'm actually more excited about this capability than OneClip's main purpose. Ever remember the Clipboard Manager application that came with Windows 95 and 98? I think it must have gone AWOL during the whole switch to NT (2000+), and it's sorely missed.

Great idea. I hope its easy to use.

Kopy is a good app for this, looking forward to a more native experience with one copy.

OneCopy is something Samsung would make lol

Wp version http://wmpoweruser.com/microsoft-is-developing-a-cross-platform-clipboar...
https://www.windowsphone.com/en-us/store/app/oneclip-beta/834e9768-25ab-...
https://mega.co.nz/#F!j45U1bBR!s-cTv-VkljI1JZaRSAU8aA

Looks like its currently only for internal testing. Its asking for a Microsoft domain account. Final version should be due anytime I guess.

The mega link I believe is sideloadable

Trying to take over the world, again, one app at a time. Seems sound. Keep up the good work MS.

Clippy should be the logo.

This along with other apps Microsoft are releasing are sounding better and better by the minute it looks like they are really thinking outside the box to make Windows 10 the must have OS and if they can replicate that on a phone or even XBOX One they will win over those markets as well, I also like their strategy of making for all three OS's as to not leave anyone out, but after using Windows 10 on a PC I think some people would want the same experience in a phone too, so hopefully this will also convince people to use Windows phones if not alone, then in conjunction with their Windows phone since they are including all OS's.... I'm really looking forward to having Windows 10 on my PC, Phone and Xbox One!!!!!

Impressive. Integrated with Cortana. Even cooler.

Hope this has some size controls or type filtering. I copy paste huge files all day I wouldn't want syncing to the heavens. Would be grew for screen captures

You always have to wonder if some things were influenced by your insider feedback. Though I assume this was in the works before I suggested it a few months ago. It will be great to have at any rate.

Remember the defunct Microsoft Courier? Though the UI shown in the demo video was pretty bad, but with an app like this, OneNote, and touch-version of Windows, the Courier SHOULD become a reality. Get on it Microsoft.

I don't understand how this app is different from OneNote.

The Surface Mini could be the modern version of the Microsoft Courier. I really want an 8" Surface tablet with pen!!!

Put it down on me, put it down on meeeee

Impressive!!! This should be preinstalled and baked in Windows 10 but not activated by default (privacy reasons).

Finally there it is: Windows 10 on a Surface RT/2! ;))

This is excellent stuff, knocking the stuffing out of the cross-platform argument form day 0 while simultaneously stuffing Google's continued petulance and pettiness against Windows Phone into irrelevance. Ok, so Cortana will eventually become cross-platform, it's only a matter of timing but I'm cool with that if the trade-off is a Microsoft that can innovate in ways like OneClip. I can't wait to use it. Love the history feature.

"OneClip also has cross-platform support, which means that you can sync up all of your collected items in your clipboard to your Windows 10 desktop PC, your iPad tablet or your Android smartphone." Wow. Now I need to replace my tablet with an iPad and my 1520.3 with an Android phone.

Ahhh I totally find this extremely useful!! Super time and nerves saver

There is a question will be Windows mobile too ?

It says it's for Windows 10... therefoe it's for desktop, tablets and mobile. Remember, all Windows 10 apps are universal apps ;)

I cannot count the number of times I've had something open on one device and wished I could copy and paste to another device. This will be fantastic!

Why didn't you just use OneNote to do that?

For the same reason you don't just email it to yourself or upload it to OneDrive. It's a few extra steps which are often enough to deter you from doing it.

Microsoft os kicking so much ass it's not even fair on poor Google (IO will be shit) and Apple (who has a Watch?) Posted via the Windows Central App for Android

Lol you come here to get shitstorm from winfans? Seriously!

Loving the onslaught of universal apps from Microsoft and other officia parties. This shows the beauty of the Windows universal platform and how easy it is to create apps for cross-platform.

Ray Ozzie started this basically back in 2006 at Microsoft...good to see it finally becomming something...Microsoft is now becomming what Ozzie called for the company to become anyways...really wish he was part of the new MS http://www.zdnet.com/article/ray-ozzie-proposes-universal-web-clipboard/#!

This is awesome, how much times I'm copying formated text that I want to put on a chat window and I use notepad to remove the formatting, I sometimes have up to 8 notepad windows open just to copy 1 or 2 lines of text. This clipboard app is going to help me a lot on the office. I hope its available on Windows 7 since I have Windows 7 at my work office.

Wish they had an option to use one shortcut to just copy stuff to the clipboard and another to copy it and add it to OneClip. There's so much stuff I wouldn't want exposed (e.g., customer data, not just passwords), having it all copied automatically is dangerous.

I Just Installed it and going to try (but looks to be same as Kopy...)

This feels a lot like a cross platform Kin Spot. Who remembers the Kin Spot!?!? or even the Kin..? nobody? yeah that's what i figured... =(

I heard they were going to buy out the Spartan clipboard instead.
Windows Central Newsletter
Thank you for signing up to Windows Central. You will receive a verification email shortly.
There was a problem. Please refresh the page and try again.