Here's what's new and improved in the Windows 10 Mobile preview build 10136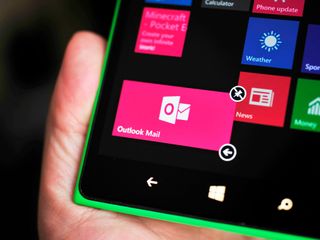 Micosoft has released a list of what's new and improved in the just released 10136 preview build of Windows 10 Mobile. It includes a number of improvements to the Cortana, Photos and Camera, apps along with making it easier to use a phone with the OS with one hand.
Here is what Windows Insider leader Gabriel Aul said is new in the 10136 build:
Tons of fit and finish changes: There are far too many subtle changes in the UX to cover. You'll notice some obvious ones right away, like the PIN pad is now transparent and slides up over your Lock screen image instead of displacing it. You'll see many changes to fonts, icons, layout, etc. and the UX will feel more complete than what you used in 10080. We're doing a lot of refinement to the UX right now and you should see more of that work in the next build we flight.
Improvements to Cortana: Cortana's experience has gone through a rich set of improvements and is now very close to our final design. We've made adjustments to cards in Cortana's homepage and in the hamburger menu. We listened to feedback from Windows Insiders and added the dark theme colors to Cortana's UI to make our UI more cohesive with the rest of the OS. Tracking of your flights and packages has also been enabled so whenever you get an e-mail with flight or package information they show up in the Cortana experience and Cortana will also alert you about them. Alerts for going to work, going home and the airport are also enabled again. Further you can ask questions to weather, currency information, stock quotes and more and get the answers directly inline. That makes it easy to quickly check on multiple locations or stock tickers. To explore further and get the full experience you can tap on these results.
Photos and Camera improvements: In the Photos app, tap on a month to get a list of months so you can quickly "jump" to photos you may have taken a while ago. You can also now double-tap to zoom on a photo. The Photos app also comes with performance and reliability improvements. If you're running this build on a Lumia 640, 640XL, 930, Icon, or 1520 – check out the Lumia Camera Beta and make it your default camera app. The Lumia Camera Beta is the same app as the new Windows 10 Camera app but with additional features that light up based on Lumia hardware. Let us know what you think!
One-handed use: if you have a device with a screen of 5 inches or greater, it's now easier to use your device with one hand. Press and hold the Start button and your screen will slide down so you can reach items at the top of your screen. To slide the screen back up, tap the black space at the top of the screen, or press and hold the Start button again. One-handed use will also naturally time out after several seconds and return to your regular view.
Source: Microsoft
I don't know yet but I am going for it. Installing on my main device (1520.3) as I type this. The previous builds I had only installed in backup devices such as a 920. We shall see!!!

Nimdock you are brave. I was thinking about waiting but you've inspired me. Updating after a manual backup and if its unbearable I'll rollback at home tonight.

Wanna know how that worked out for you.

Keep us posted..I like to do the same on my 1520.3 .. Have the previous wp10 build on my 620 .. a little clunky. Like to test this build on my primary phone..

I'm doing the same right now on my 1520

I installed it once on my main phone and I'm thinking of doing it again.

heard Aul uses it as such, BUT it depends on YOUR tolerance of bugs. If you're feeling lucky and wont mind the risk of having to erase your phone in the case of disaster, feel free.

I'm going to give another try, I already tried all earlier previews but it was out of tolerance :P

I would venture a bet that he is a few builds ahead of us on the "Microsoft Ring"...so when he said this, I assumed he wasn't talking about 10136.

If they are so concerned about one handed use, they'd find an alternative position for the the hamburger menu and the least they could do is enable swipe to expand the burger

Just wanted to copy Apple for the one handed use feature.

Actually Apple copied Samsung.

I guess they kinda didn't. It seems to be similar to the snap feature on windows 7 and 8. And some people did want it on phones but it never came. So they could be going by their feedback and there idea they had for the computer version in previous OS. Also apple aren't the first to do everything :) they are classed as a big company but it doesn't mean they are fully original with everything

as a lumia 1520 user, it was hard to use single handedly even on wp8 so i'm glad they added this feature.

If they considered using pivots then would be no problem for single handed use.

I to would like to know if it's stable enough for daily driver use yet. Really looking forward to this.

No worries start downloading, if your phone behaves like crazy, you can again roll back to Denim :P

Oh.... If only att would grace me with this mythical denim....

*Roll back to WP 8.1. Denim is the firmware, it is not effected by an OS upgrade.

I'm aware of that.... Denim is just another sore subject....

I think it is so far no problems apps that give you trouble just need to be reinstalled

Seems to be! Testing it now, it's much better!

Absolutely not. It's very buggy

I'm tempted to go for it...

WOW. Might have to give it a go again on my 1520. One handed use sounds fantastic.

Is there the split screen that was leaked a few days ago

Sounds as much as a crutch as the iphone solution.

How would you have done it? Is there any other way to do it? :/

Yes, keep the action bar and pivot. No hamburger

Yeah I personally don't like that implementation. It's a band-aid solution rather than nice OS design but oh well. We've told them several times and this is what they want so...

It will make for a nice familiarity for iPhone users.

any idea if a W10 backup works with 8.1?

When I rolled back to 8.1 yesterday in prep for the release today I backed up my phone and during the setup of 8.1 restored from that backup. No issues with the restore other then pinned shortcuts for 10 apps and having to pin 8 apps that did not exist in 10. ie. phone and messaging apps were updated.

I'm tempted to try this on my 1520

I'm going for it on my 1520.3!! :D

The thing is i cant reash the start button one with one hand :'(

lol get other hand out of your pocket or wherever you are keeping it.

Believe me...i hv tears of joy, and goose bumps...pardon my over enthisiasm!!!

Any information on whether it will support 8X/8S? I'm sure the beats audio stuff that delayed it's 8.1 compatibility is in effect, but I hope my trusty 8X isn't left in the dirt because of it. After all, it's internals are nearly identical to those of the lumia 820 - with the exception of beats audio.

Gabe said not for this build

One handed use is intriguing... Does VPN work?

This is how the iPhone handles its bad design.

So reachability like iPhone arrives....but still bad design/ copy for sake of popularity is what is wrong with the world...and with WP

Sad. They put this in and take away a proven design that already works.

What other button would you use?

I wouldn't call it as a bad design or a copy for the sake of it. People like me who have small hands but love the 1520 will know how hard it is to reach stuff which are at the top! I so want to try this out on my phone, but I don't want to lose the rock solid stability that the current version offers. I'd love to see how the one handed operation is implemented.

I would not mind if no better option was there... If at all they want to copy why not check out how Samsung does it?? Way better than iPhone!!!

They probably all use iphones....

The Windows phone team DEFINITELY all use iPhones.

I was told by an MS rep that there is a cross patent agreement with Apple on some feautures; that's why you see iPhone with some WP like feautures and vice versa.

apple copies windows snap mode and microsoft copies so called "reachability".

What makes you think reachability was Apple's idea? If they implemented it first, it doesn't mean they thought of it first. I'm sure someone in the world screamed "Damn it, they stole my idea AGAIN" when this so-called "reachability" feature was shown to the world.

I think they think that they can lure iPhone users by copying. HA!

One-handed use: if you have a device with a screen of 5 inches or greater, it's now easier to use your device with one hand. Press and hold the Start button and your screen will slide down so you can reach items at the top of your screen. To slide the screen back up, tap the black space at the top of the screen, or press and hold the Start button again. One-handed use will also naturally time out after several seconds and return to your regular view. is it like iphone 6+?

Better in what way, because its from Microsoft?

On the iPhone, you double tap the home button (don't press it) and the screen will slide down. Windows is different because it is press and hold.

Havent seen nor tried, but it looks like that apparently :) welcomed feature

Finally, the Start button has got a new job ;)

I wouldn't try it on a 520 yet if that 520 is your daily driver, otherwise, if its a second phone, go for it!!

Waiting for this as well. I don't mind some errors here and there as long as it doesn't lag too much and battery life doesn't decreased at noticeable difference. It already has office which I use most of the time (only the excel part though).

For testing the builds I don't know, but 520 will definitely be bad for final W10 release.

On my 520 now. Fairly smooth, but really slow. Majority of apps no longer crash like they used to. It is usable for me, but I probably wouldn't install on a daily driver

i will let you know in a sec

Sounds cool! When will it be released, though?!

Now i have to wait to get everything installed :) Cant wait to check out the new build

Pleasedo share your reviews regarding the stability and usabiltiy as daily driver.

It feels smooth enough, the UI is more consistent. The scaling bug is no longer and in general i see it is faster and less buggy than the previous build 10080. I have only used the phone for a few minutes. The only lagg i have seen so far is the swiping from the startscreen to the apps section. Also there are more settings options. New icons, and many more changes. So far i love it. P.S. my lumia is my daily driver and my only phone.

did you hard reset before you update to build 10136? any issues so far? thanks

Glad to see press to lower coming to Windows Mobile. I would have prefered an optimized interface for one-handed use, but I'll take this nice iPhone 6 feature instead.

Doble tap to zoom I can do that with 8.1 Lumia 830

Of course. This is for the NEW Windows 10 photos app though.

If anyone installs it and gives there views on its stability,would be highly apricated.

Overall, fairly stable. I can't say much for speed, as I am running it on Lumia 520. Most apps work smoothly though

For the love of god, in the W10 previews have they enabled Cortana in Canada yet? We get it with 8.1, but not TP. any luck fellow canucks?

it is only available in US on Win10.
same as it first was with WP8.1.
it will roll out gradually, after RTM I'm guessing.

Thanks man. Too bad. Would love to preview but Cortana gets used daily :(

Set your phone to the US then. Canadian Cortana is woeful compared to the US version even when used in Canada.

No. Setting your phone to US screws up everything if you have subscription based services, like Xbox music. Or if you want to pay for an app, using your Canadian credit card, and your region is set to US it wont allow you. So thats a no go. Cortana Canada is pretty useful imo

Also, doesn't even work to set to US region. Tried it and still says it's not available in my region

Oh really? Then I won't be testing this build :( I rely on Canadian Cortana.

Does anybody know if text read aloud and text sms and bluetooth cortana are enabled yet?

I asked Gabe Aul via Twitter and he confirmed it does work now! https://mobile.twitter.com/GabeAul/status/610865239207317504

Anything is better than build 10080

As long as this one allows you to use the phone without a hard reset, it wins lol

No updates to outlook mail/calendar yet? Those are my biggest concerns ... I love the compactness of the weekly calendar view on wp8.1 and it's just obliterated in 10.

Please enable the big screen feature for all sizes

I'm downloading it on my spare L635 but I'm seriously tempted to put it on my 1520. I'll wait to see how it functions on the spare before I use 10136 on my daily driver.

So can I download it in 1 week or so without having to downgrade? I don't feel like downgrading and TBH I won't die justo for 1 week lol Posted via the Windows Central App for Android

I'm usually fine on being as bleeding edge as I can, but I'm still recovering from the blood loss of the last build. I think I'm waiting a day for those with more courage to give a yay or nay...

Customizable text and ringtones yet?

Whoa wait. Are you indicating that previous builds of Windows 10 Mobile didn't have custom ringtones and sms tones? If that's the case then I might hold off unless someone can confirm the latest build has this functionality.

Can confirm previous builds of WP 10 did not allow for custom ring tones for the people app. You can use a custom ringtone and custom SMS but it's global and no way to set a certain person their own ring tone.

Everyone else is all "Yay, sounds great" and I'm sitting here like "Linked inbox yet? Anybody? Bueller?"

Eww... More transparencies! please allow user to choose no transparencies - respect Metro! ;) Does Cortana finally know how to turn off the only alarm on without asking "which one?" A bit (?) ironic they have to come up with a workaround for big screen devices/single hand use after they first make the UI difficult to use with one hand.

Re: Difficult one handed use.
Yes, Sad. Ironic. Ridiculous?

I did not want to install build 10080. But it still sits there - ready to download. I cannot see any new build. How can I skip this one and just install the latest?