Highs and Lows Part IV: Microsoft's Smartphone Strategy; Rules of Engagement, There's an App for That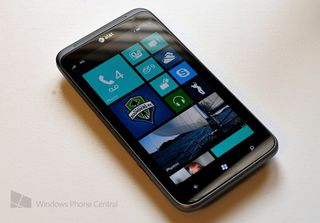 In this piece, we will discuss how Microsoft is building a base of core universal app experiences for the Windows 10 Mobile platform. These core experiences are purposed to offer a comprehensive foundation of work and life productivity experiences designed to engage users with Microsoft's ecosystem. We also believe Microsoft's strategy to be the showcasing of universal apps across the unified Windows 10 platform to win developers.
Burn me once, shame on me, for not seeing the big picture (or no Windows Phone left behind)
As Microsoft embarked on its single core, single OS, path years ago, many Windows Phone 7 users were burned when we had no path to Windows Phone 8 barring the purchase of a new device. My AT&T HTC Titan never even progressed to Window Phone 7.8. (Yes, I still have it, and it still hurts.) In order for Microsoft to attain the ambitious and unprecedented goal of creating the Windows 10 single OS that runs across multiple form factors, users like myself were necessary collateral damage.
Thankfully history won't repeat itself upon the current crop of Windows Phone users when Microsoft hits the switch for its next big OS update. The shift to a common core throughout the Windows family of devices with Windows and Windows Phone, makes all of these devices eligible for a seamless upgrade to Windows 10 when it is released later this year.
Now the Windows 10 Mobile story is bigger than the fact that it is one of the SKUs of a single OS that reaches across multiple devices. A bigger, better, more powerful OS is void if users don't engage with the available ecosystem of products and services that that OS supports. To this point, Microsoft has engineered Windows 10 Mobile, as it did with Windows 10 for PC, purposefully to draw users deeper into the platform through integrated products and services.
Mixed messaging
Let's take Skype for example. Purchased by Microsoft in 2011, the services infrastructure has been dutifully re-engineered to fit within the companies vision as a seamless text, voice and video based communication tool within Microsoft's ecosystem of personal and work productivity. In Windows 10 we see that work has led to the reintroduction of a Windows Phone platform favorite - an integrated messaging tool with Skype rather than MSN Messenger as the chat facilitator. I applaud the return of this feature. In Windows 10, users will have the ability to switch easily from an SMS text to a Skype chat. They will even be able to move easily from a chat to a Skype video call.
By moving the Skype chat functionality into the context of one of the most used forms of smartphone communications, SMS text messaging, Microsoft wisely leverages the popularity of one tool to market another. With Skype users making over 50 billion minutes of calls per month, it is an important core consumer and enterprise product from Microsoft. One which will likely see higher levels of engagement with Windows 10 Mobile integration. As a tool used for both personal and business productivity, this integration is a manifestation of Redmond's goals to engage and empower users across all aspects of their digital lives.
Mobile Office is off the chain (hook)!
Windows 10 Mobile will also leverage the revamped touch optimized versions of Office to engage users. These touch friendly, universal Office apps will be the same touch-friendly Office apps found on larger devices like convertibles and tablets sporting the Windows 10 Home SKU of the OS. This continuity across devices is naturally intended to increase user engagement and productivity on the phone.
Tools and UI functionality will remain consistent across devices providing users the assurance that desired functionality available on larger devices will be available to them on their smartphones as well. This consistency of functionality across devices is missing from the current stripped down versions of Office Mobile on Windows Phone. As a writer entrenched in Microsoft's ecosystem, sporting the Lumia's 1020 and 1520, this has been a sore spot for me. The more robust editing and formatting tools the Windows 10 universal Office apps will bring to the table will be a welcome addition to the platform that I envision many users will find engaging. Of course, as seen in the current version of Windows Phone, user's documents can be saved to and easily accessed from Microsoft's cloud platform OneDrive. Engagement.
There's an app for that
The new Windows Mobile Outlook client continues the progression toward deeper product and ecosystem integration beyond what the experience on Windows Phone 8.1. Email remains one of the most used forms of communication today in both our work and personal lives. Microsoft, cognizant of this fact, has integrated the rich formatting tools found in Microsoft Word into the editing experience for users authoring emails on their Windows 10 Mobile devices. Both that familiarity and extended functionality will undoubtedly yield deeper user engagement.
MSN
We were surprised to learn late last year how popular Microsoft's MSN site is. It seems that though here in the US its popularity has waned that there are over 400 million unique monthly visitors to the site who find the MSN brand of services quite engaging. Continued investment in that brand is certainly worthwhile. Thus, Microsoft's universal MSN branded apps will also be available on Windows 10 Mobile devices ready for a sizable population of users already engaged with the brand. If it ain't broke.
A Gaggle of Goodies While we're talking apps designed to engage, we'd be remiss if we neglected to mention Microsoft's active moves at creating mobile optimized, cross-platform, productivity apps.
OneClip is like a shared clipboard that allows users to sync small bits of information such as text, URLs and photos between platforms. Revolve draws on other Microsoft products like Skype for Business and Outlook to give users all of the relevant information about people they are about to meet. Flow takes Outlook and strips away the frills to allow for quick and easy communication when the robust tools of an email client are not required. Flip will be a lightweight tool focused on collaboration on document editing and creation. Highlander will be a streamlined project management tool used for task management among other things. What is currently being called Office Now, is a proactive AI (Cortana) that will provide a range of detailed personal management supports. Scheduling, travel, meeting times and locations and more will receive special focus through this app. If these apps are ready for the Windows 10 Mobile launch, they will provide and demonstrate a diverse range of specialized mobile productivity experiences designed to engage mobile users.
Kickin' Back Redmond has not left our leisure activities out of the engagement mix. Both the Video and Music apps are undergoing revisions for their Windows 10 debut. Currently, both apps have strong ties to OneDrive allowing a user's music and videos accessed from Microsoft's cloud storage. Thus, we see again how through product integration more engaging apps, such as these entertainment apps, encourage the use of a less front facing product – OneDrive. The Video app also encourages users to delve deeper into Microsoft's ecosystem with subtle prompts to access the Xbox Video store online. I'm sure we will see more engaging features from these two first party entertainment apps as we inch closer to the Windows 10 Mobile launch.
Microsoft has prepared a hardy stew – will consumers and developers bite?
Through a shift toward deeper intra-company collaboration under the direction of a singular corporate vision of synergy of products and services, Microsoft has capitalized an opportunity to provide its new OS with core experiences that engages. The deployment of a range of powerful first party universal apps also demonstrates to developers aspirational app experiences which they can use as a model when developing for the platform. These core Universal Windows apps are key to providing Windows 10 Mobile users with a comprehensive range of engaging services within Microsoft's ecosystem. They are also essential to engaging and enticing the ever important developer community by showcasing the capabilities of universal Windows apps.
These are just some of the software engineering methods Microsoft has implemented to integrate its products to increase user engagement. Seasoned users and enthusiasts, of course, are likely either already experimenting with some of these tools or eagerly anticipating them. New users, such as the portion of the next billion Microsoft has targeted and acquired with low-end devices, may find themselves lured deeper into Microsoft's ecosystem by the changes Windows 10 brings.
Reaping the low-end harvest
If this strategy by Microsoft yields the fruits it hopes, it will not have only acquired millions of consumers seeking affordable devices which is the general state of Windows Phone. But, it will have successfully transformed these consumers into engaged users of Microsoft's products and services. It's a long play that has required the apparent disregard of enthusiasts awaiting high-end devices. But it's a wise course that will potentially hook a crop of millions of users into Microsoft's ever-evolving ecosystem.
This strategy enables Microsoft to bring millions of loosely dedicated consumers closer to the committed position of its most dedicated fans, potentially. Additionally, as a rite of passage into a new era, both new converts and Windows Phone stalwarts alike, will together reap the benefits of a historic shift for Microsoft. When Windows 10 Mobile's debut provides all users a host of new experiences.
Naturally as time progresses, Microsoft's newly engaged users of low-end devices will seek to upgrade their smartphones. These consumers will likely seek "higher-end" devices that will continue to give them the best Microsoft experience and keep them in the Microsoft ecosystem of devices and services. This is good. And it seems that Microsoft's strategy has already accounted for that eventuality. The Redmond company has thoroughly littered the space with a host of mid-range devices in conjunction with low-end smartphones. Thus, if Redmond continues this pattern into the future millions of engaged consumers of low-end Windows Phones will always have a direct upgrade path available to them. This strategy is particularly important for developing regions where an upgrade would likely mean a step up to a relatively inexpensive mid-range smartphone.
The best Microsoft experience
We have seen a dedication by Redmond to build a base of users through its low-end strategy. We have also seen the company deliberately engineer app experiences to engage these users. We've watched this all unfold while fully cognizant of the as yet unfulfilled promise, that Microsoft experiences will be best on Microsoft devices.
As we continue to wait for the new flagship Windows Phones, combined with the debut of first-party Windows 10 software that these devices will showcase, this promise sounds like just words to many. I think however that Microsoft has set a precedent with how the company intends to showcase premiere hardware and core software products.
The Surface Pro 3 with OneNote and the N-trig pen is a prime example of premiere hardware engineering and deep software integration that serves the work and life productivity needs of users. Nadella highlights the Surface as an example of the type of first party hardware Microsoft plans to produce. The Surfaces level of hardware and software synergy, I believe, is the direction Nadella and Elop hint Microsoft is going with phones.
Moreover, the company's dedication to creating a flexible hardware product with an equally flexible and intelligent UI, debuted a concept that the company is using to drive its approach to modern computing. Continuum. A concept to which they seem wholly dedicated as foreshadowed by their unwavering persistence with the Surface line despite continuous challenges.
Stephen Elop's above quote makes clear that the promise of the best experience on Microsoft devices is tied to milestones with the Application and Services group. Moreover, the synergy achieved with the Surface and OneNote required strong collaboration with multiple Microsoft divisions per Chris Capossela.
Now the synergy we hope to see between Windows 10 Mobile hardware and software, to provide "the best" experiences on Microsoft devices, requires not only collaboration but timing aligned with, per Elop, "major milestones ahead for both the Windows team and the Applications and Services Group."
This statement from Elop's July 17, 2014 memo, I believe, had in its view the Windows 10 debut milestone that would imbue new flagship smartphone hardware with differentiating software capabilities. Now, since Microsoft has dutifully deployed many of its branded apps on competing platforms, many of you hardcore Windows Phone fans may have read through this piece with increasing levels of ire as we discussed the role core apps would play on the Windows 10 Mobile platform.
Allow me to share two things. One, the universal app experience which Microsoft's efforts showcase for both users and developers are unique to the Microsoft ecosystem. Two, Redmond has reserved a core pioneering differentiating experience for Microsoft devices alone. Next up, Continuum.
Sound off in the comments and on Twitter @JLTechWord. We have much to discuss.
Get the Windows Central Newsletter
All the latest news, reviews, and guides for Windows and Xbox diehards.
Jason L Ward is a columnist at Windows Central. He provides unique big picture analysis of the complex world of Microsoft. Jason takes the small clues and gives you an insightful big picture perspective through storytelling that you won't find *anywhere* else. Seriously, this dude thinks outside the box. Follow him on Twitter at @JLTechWord. He's doing the "write" thing!