Hike messenger gets new stickers, faster uploads and more in latest update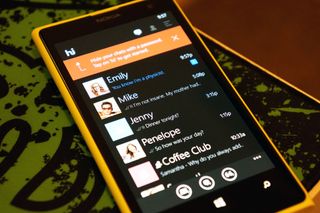 Hike messenger has picked up a slew of new features for 2015, with the app itself touted to be lighter and faster than ever before. There's three new sticker categories to choose from, and the service also allows you to upload with ease, even if you're on 2G. Also included is the ability to send uncompressed images.
Here's a list of all that's new in version 2.9.2.0, according to the changelog:
Lighter Than Ever: We put on a lot of weight last year, so we hired a trainer and went on a strict diet! We're super happy to announce we are now under 10 MB in size!
3 New Sticker Categories: We are working overtime at bringing the full Sticker Shop to you. In the meantime get the latest 3 popular sticker packs - College, Marathi and Festivals.
Quick Upload: We've added a little hike magic to bring lightning fast uploading of photos & videos especially over 2G networks and in low network areas!
Send Uncompressed Images: You have taken the best photo or selfie ever and it's time to share it with your friends. What happens after you send that awesome photo? Image gets compressed, the quality drops significantly. There goes your killer photo. Good thing is that this will never happen again! Now choose to send uncompressed original quality or compressed images.
Shared Media: Quickly access all the media shared centrally in one place.
Turn Off Notification of Friends Joining hike
Download Settings: Now use data smartly by choosing when to download media depending on the network & media type
The messaging service — which is built in India — is steadily gaining traction in the country (and elsewhere) thanks to the features it offers, like privacy mode, theme packs, sending messages to offline contacts and more. How many of you use Hike on a daily basis? What do you like the most about the service?
Thanks everyone for sending this in!
Yeh great photo quality issues finally fixed

Hey thanks :) In case of any issues or feedback, please do reach out to us @hikesupport on twitter or you can mail in your queries at support@hike.in

Many of people here are in Turkey want TURKISH LANGUAGE SUPPORT! Please add Turksih support to hike.

Whoa, so hike developers too read WCentral! Great :D

Yes we do. We work on all reported issues and try to incorporate the valuable feedback by our users in each of our releases. :)

Finally. Have waited almost a month! :)

Always love their change log.. It in itself is so thoughtful and friendly and awesome!

"Turn Off Notification of Friends Joining hike" & "Send Uncompressed Images" The above two were much needed improvements. Awesome.

Thanks :) Any other recommendation? Reach out to us @hikesupport on twitter or you send in a mail at support@hike.in

Did you guys do anything about the battery it consumes? I love hike..and have been using it for an year and invited a lot of my friends to join. They like it too..but the only thing that always bugged me down was that..the battery discharge used to shoot up to 30% per hour..I always wrote to hikesupport about this..but the only reply I got was that"we are working on it" *sigh*
Nokia Lumia 920.

We try to solve such issues every release. And will still try to find solution to these in future.

I also tipped them ₹50 for the adfree app :P

Because your friends use as mine, but their support sucks

Telegram support is great.

Not whatsapp but Telegram is.

Actually hike is pretty good too. For a messenger with stickers ,its pretty fluid.

Actually, hike is way more featured and organized than WhatsApp. Only reason people use WhatsApp over hike is that they can't find most of their friends over there or they're just unaware of hike (outside India).

Yeah, and they should introduce offline messaging to more countries if it has to get recognized there.

Go developers!!!! Woooooooo!! Posted via Windows Phone Central App for Android!

Hike for obvious is better to WhatsApp. They've to come up with some new features, which will make it everyone's fav.

Hey thanks. More new features to be added in future. :) In case of any issues or feedback, please do reach out to us @hikesupport on twitter or you can mail in your queries at support@hike.in

Wow, what a lie, its 11mb file.

Hike is my favourite app..

Updated it before twelve hours :p

All of my friends use WhatsApp... I guess WhatsApp will always be top app cause it was first n people are habitual to its UI.

symbian came early than android....

I wonder how many non-Indians use Hike
Because the stickers n all are Indian

There are lots of people worldwide using hike. And it doesn't matter many stickers are for Indian. People from other regions have various options to choose from.

Hike is better then WhatsApp...

welcome :D nice to have too many alternative

Kik messenger +11111111111111

It might just be me that's turning in to an old fart who dislikes everything new. But what is this hype with all those different messaging apps? I only use SMS/MMS primarily because everyone can send/receive those and that I've never gotten the idea of those other apps. So why do you use them? What is it that you cant do with SMS/MMS?
P.S I do get that SnapChat "deletes" your texts but why would you send something that you don't want people to have..?

I'll respond as a user of Telegram. I use Telegram for the following reasons: Clients on all platforms (including PC) Converstations are synced realtime across all devices Transmission is encrypted Can do end-to-end encryption if needed (though these messages are not synced between devices) Unaltered document sharing (photos, videos, music, anything) Photo sharing (full resolution, though this strips exif data; send as a document to keep exif data) Delivery confirmation, and read confirmation Though, the main reason I use Telegram, I had been a user of Hangouts, primarily because I could use my PC when I was at my PC, instead of my phone. I switched to WP, and the only "just ok" hangouts client wasn't really that good. I was able to get the few people I talk to most to use Telegram.

Well the file sharing definitely sounds great, although I just use emails for that. I don't need my stuff to be highly encrypted. I'm quite positive that the NSA and others can get the information regardless. All carriers in Denmark offer free SMS/MMS and have done so for about 10 years now, but that could be a major selling point to get an app instead.
Hmm, maybe it is just me. The biggest problem I have is that none of the apps seem to be able to speak across apps, so you need to compel people to get one or more app be communicate.

These app work on internet and is basically free which is not true in case of SMS many a times(depending on carrier). And also, it wayyyy faster than SMS or MMS

WhatsApp & Hike neck & neck in terms of updates, & home has better features, but sadly adoption rate is slow...

Yeah hike has more features but WhatsApp has more users

Hike always surprises with its every update!!

Trying to keep up to all your expectations. :)

Hike is best messenger app
But it needs more features like sharing pdf and doc files

The best ... Rather two I like are the stickers and the offline mode ..

It seems microsoft is closing app gap day by day. I think announcement of holoLens kinda freed microsoft hands to work on their weak spot- Windows and windows (phone) Store

Now just add calling facility.....

Off course they will, because recently hike acquired us based 'zip phone' company to give calling feature......

Hike as competitive as what's app..but love u hike

I had installed hike before and was asking my frnds to download. But I uninstalled now cuz almost all are using WhatsApp. They have installed hike for name sake which disappointed me.

I love the entire interface of hike messenger. The app comes with some really cool and funny stickers that add a spunk to the chats. The app ALWAYS came with the "message sent/ delivered/ read" feature which made communication easier. The themes add a new tone to every chat window. I really think hike is better than most messenger apps. I really just hope they come up with web interface and find a way; through which I can add people to the messenger without sharing my phone number/ email address. Something like a BBM pin maybe?
Windows Central Newsletter
Get the best of Windows Central in in your inbox, every day!
Thank you for signing up to Windows Central. You will receive a verification email shortly.
There was a problem. Please refresh the page and try again.