Hilarious video asks, 'What the Hell Happened to Skype?!'
Skype's name doesn't hold the power that it used to.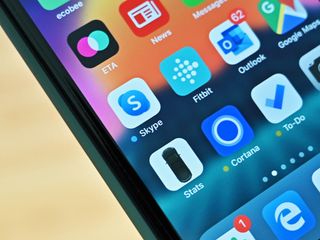 (Image credit: Windows Central)
What you need to know
A video from The Late Late Show with James Corden playfully mocks Skype.
The video has a fake team of Skype staff to discuss why the app hasn't done better recently.
Skype has lost significant ground to Zoom and other apps during the pandemic in the eyes of the public.
While more people are at home than ever, Microsoft's Skype hasn't become the de facto way that people communicate over the web. A new video from The Late Late Show with James Corden sarcastically asks, "What the Hell Happened to Skype?!"
The sketch has a group of fake Skype staff members jumping on a video call to discuss how the app lost out to services like Zoom. Rainn Wilson plays the role of Skype CEO, and Anthony Ramos plays Skype employee "Trevor."
At one point in the video, the faux Skype group tries to come up with ways to make Skype better than Zoom. Funnily enough, they actually list several features that Skype already has, including custom backgrounds, recording calls, and chatting with text.
Of course, having the mentioned features doesn't take away from the point of the video. If anything, it strengthens it because it means that Microsoft hasn't done a good job sharing Skype's features with general users.
News Writer and apps editor
Sean Endicott brings nearly a decade of experience covering Microsoft and Windows news to Windows Central. He joined our team in 2017 as an app reviewer and now heads up our day-to-day news coverage. If you have a news tip or an app to review, hit him up at sean.endicott@futurenet.com (opens in new tab).
Features don't mean much. I used to use skype all the time when it was the go-to video chatting app. What's more important are what are the influencing organizations and people around you using. Well, schools, administrators, organizational leaders, etc. were already using zoom. Why were they using zoom? It got to the features like tens of people chatting at one time, much faster. But not just that, it is reliable. Skype is so poorly written and remade constantly, yet never actually looks clean and easy to use. Plenty of reason for it not to be the go-to app. It's hard for a company to turn around their image once it's destroyed, they really should start from scratch.

I don't know what exactly Microsoft gained by buying Skype, MSN/Windows Live Messenger was better in every respect and had a bigger userbase, it even had video. Just another Balmer ballup.

I generally agree. And they did start from scratch - with Teams. Different market entirely!

Teams is great. But yes, different markets. Lots of people for years thought nothing could beat Facetime, but surely Zoom is used by more people for large group conversations. People use Google Hangouts, Facebook video chats, skype, and others Facetime isn't the only thing used anymore. So this all proves an app with dominance CAN be replaced. There is no reason Microsoft should not have the ability to create a competitive video call app to combat facetime hangouts and messenger. Make it look good, don't bloat it with a bunch of crap, make it run well. Bam, great app. Also probably don't call it Skype.

Maybe they should call it TEAMS personal (there's an oxymoron).

I only use Skype i use it all the time everyday. It works great for me

Funny stuff, we use Teams and it works great.

I primarily use Skype before Messenger. It's simply a personal thing about not trusting Zuckerberg and not willing to lose EXIF data when sending pictures. However when it comes down to using Skype on Android, such a niche feature as sending pictures had become so cumbersome that I need to take three deep breaths at each try. It would simply take you to some custom onedrive interface and get frozen there. One must quit Skype and send pictures from the selected photo app. I mean what is that? Oh, I remember. It's losing end-users.

It didn't, "just work". Skype insisted on account creation. Guest access to Zoom was a stroke of genius. They wanted to push something akin to a messenger meeting hybrid, with a contact list and online / offline friends. People just wanted to hold meetings. They didn't give a F about messaging these people, or who was on / offline.

Exactly. The key is that if you set up your meeting right, anyone with a link can join a Zoom meeting. This is not incredibly helpful for organizations (in my case, teaching) when everyone already has an institutional account, but very helpful in many other cases. Think about when you have a seminar and you are inviting many people from outside your institution. In some ways this also facilitates conferences.

Ding. It's that you don't have to create an account on Zoom to join. That's it. They make creating a meeting, sending invitations, and joining as easy as possible. Game, set, match.

I'd say its been on decline for a while..
Now its just glaringly apparent

"At one point in the video, the faux Skype group tries to come up with ways to make Skype better than Zoom. Funnily enough, they actually list several features that Skype already has... " The Verge writes comedy bits now?

If the general public knew about the many security problems Zoom had (they don't) then things might look a bit different these days. Many have been fixed, but "who cares" - right? Great video BTW.

That was painful. And it will drive the conversation and the masses will eat it up.
No one will take the time to confirm whether Skype can or can't do what the video says. Zoom just has the critical mass and usage now. Microsoft has been corporate-focused for so long they failed to keep their consumer-facing communications app in the front of the pack. I guess the Microsoft reorganization and confusion about what product was important and what wasn't was a major issue for years. I have Skype but I almost never use it, except for a work-related usage.

That's funny, a friend and I used the exact same words when we tried to have a Skype call during the pandemic. Skype had always and intuitive and easy to use before. Neither of us could figure out how to do anything in the latest Skype--it's unintuitive mess.

I unisntalled skype since they moved to electron, no more backround notifications without running the app was a deal breaker

Skype has been shocking for years. Literally nobody uses it. Microsoft killed off the wrong product when they bought Skype. Messenger should have been the way forward, it had a massive brand. Not saying Skype didn't also but it's quite telling that as soon as they ditched Messenger, literally no one I spoke to on there moved to Skype.
Windows Central Newsletter
Thank you for signing up to Windows Central. You will receive a verification email shortly.
There was a problem. Please refresh the page and try again.