HoloLens 2 infiltrates enterprise, but does it have a real consumer future?
Despite its enterprise focus, HoloLens 2 is packed with tech that has a promising future in the consumer space — if Microsoft can successfully overcome some significant hurdles.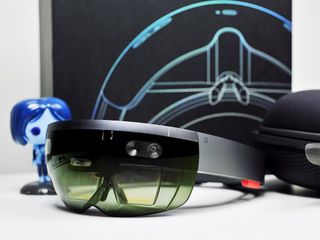 Microsoft always has a lot of projects in the works, but one of the most fascinating to watch over the last several years has been the company's efforts with HoloLens. And with the reveal of HoloLens 2 at Mobile World Congress 2019 this week, Microsoft upped the ante by improving upon nearly every aspect of the original.
Still, despite its impressive capabilities and an increasingly clear vision, HoloLens's decidedly enterprise focus can make it hard to zero in on just why the average Jane should care about what Microsoft is doing with augmented reality (AR) in the short term. Taking a longer view, however, we're starting to see some hints of how Microsoft's work on HoloLens could filter down to the consumer space, though the company clearly has a long road ahead if that's ever going to happen.
Aces in enterprise
When HoloLens first got its surprise reveal in early 2015, it felt like a futuristic tech demo. But while Microsoft was clearly feeling out potential applications for AR, it had its sights set on business customers very early. Alex Kipman, Technical Fellow for Cloud and AI at Microsoft and the company's HoloLens chief, acknowledged as much early on, noting that the general public just wouldn't have much to do HoloLens at that point. "If a consumer bought it today, they would have 12 things to do with it," Kipman told Recode in early 2016. "And they would say 'Cool, I bought a $3,000 product that I can do 12 things with and now it is collecting dust.'"
That enterprise focus only grew in the following years, with HoloLens showing promise across a variety of industries. Ford, for example, has started leveraging HoloLens in its design process, while everyone from elevator service companies to surgeons have started experimenting with the headset's AR capabilities.
Using the original HoloLens as a testbed, Microsoft seems to have taken the feedback from its business partners to heart and doubled down on making HoloLens 2 a first-rate experience for workers, whether it be in the field, studio, or operating room.
HoloLens 2's technical improvements, like eye-tracking, an increased field of view, and better hand recognition, are all critical ways to address barriers in the way of getting work done. Similarly, the headset was also redesigned with comfort as one of its top priorities, adding more padding, better weight distribution, and a visor that can be flipped up.
Microsoft is also embracing the varied needs of its business customers with the HoloLens Customization Program. Through the program, third-party companies can make custom headsets for different industries using HoloLens 2 as a base. Imagine HoloLens 2s merged with hard hats for construction workers or medical-grade versions for hospitals. Roz Buick, a vice president with Trimble Buildings, a construction company and Microsoft partner, showed off a customized HoloLens 2 during Microsoft's MWC event. "For many of our customers, mixed reality is no longer futuristic technology nor a gimmick," Buick said at MWC. "It's real working technology that's adding value in the field every day."
If the original HoloLens was simply experimenting with the enterprise, HoloLens 2 is staking its claim with vigor. With the modifications made on the technical side, combined with Microsoft's dedication to making it an open platform for companies to build upon — through hardware or software — there's no denying Microsoft is going all-in on making AR a reality in the enterprise with HoloLens at the center.
Moving beyond business
Even with Microsoft making its business intentions exceedingly clear, its HoloLens 2 announcement included some hints at a consumer future.
Most notably, Epic Games' Tim Sweeney, who has been a notable critic of Microsoft in the past, appeared on stage to reveal Unreal Engine 4 support is coming to HoloLens 2. Sweeney was quick to note that Epic doesn't currently have any games in the works for HoloLens, but he said the company will "support HoloLens in all our endeavors" in the coming years. If Microsoft is going to make a consumer play, having the backing of one of the most popular game engines will give it a big leg up out of the gate.
Mozilla also announced that it will support HoloLens with its Firefox Reality browser. Firefox Reality originally launched in 2018 with the goal of bringing an open and accessible web browser to VR. Mozilla is working closely with Microsoft in its efforts. "Building on Microsoft's years of experience with the current HoloLens, we will work together to learn from developers and users about bringing AR content to the web," the company said in its announcement.
Whatever its plans, Microsoft has quite a tough road to the consumer market, however, according to J.P. Gownder, Vice President and Principal Analyst with research firm Forrester, who focuses on technologies like VR and AR. "Entering the consumer market is fraught with peril," Gownder told us. "It requires social engineering in addition to technical engineering."
Gownder said Google Glass alienated many people for being expensive and for potential privacy concerns. "HoloLens would have to contend with those problems and more," he said. "Its sensors are constantly scanning the environment, so privacy would be a big issue. Perhaps more importantly, the technology isn't small enough or fashionable enough for consumer use."
Additionally, Microsoft has also found itself contending with some ethical quandaries over one of its HoloLens applications. Just ahead of the HoloLens 2 reveal (the timing of which was likely no coincidence), a group of Microsoft employees penned an open letter calling on the company to demanding that it kill a $480 million contract with the U.S. Army. Under the contract, Microsoft could wind up providing more than 100,000 HoloLens headsets to the Army to "increase lethality by enhancing the ability to detect, decide, and engage before the enemy."
Separate from the design and social challenges, Gownder also points to Apple's ARKit and Google's ARCore platforms as "potential pitfalls" for Microsoft in the consumer market. And while Microsoft is clearly in the lead with an actual product already commanding attention in the enterprise, Gownder said the potential success of consumer smart glasses from Apple, for example, could wind up threatening that lead as well. "By focusing so strongly on enterprise, there is a possibility that Microsoft will miss out on a consumer play in two ways: leaving money on the table if a consumer market develops and; the fear that consumerization would come back to fight them in the enterprise." If Apple smart glasses become popular a few years down the road, for example, and they find their way into the enterprise, they could have a wider user base and become more attractive than HoloLens, Gownder says.
When reached for comment, a Microsoft spokesperson told us that mixed reality is proving to be a success in the enterprise segment, and the company will continue to "focus on providing leading edge technology and solutions for our customers." Going forward, the spokesperson would only say that Microsoft is on a "multi-year journey" with HoloLens, and its focus remains on its commercial partners and customers.
A long road to consumer success
Many of the innovations Microsoft is cooking up for its HoloLens enterprise efforts will also have the benefit of enhancing the experience for any consumer plays in the future. Just to take one example, the advancements made for hand tracking, which succeed in making interacting with virtual models feel more natural, are important steps toward making a product that anyone can just pick up and use. And if you're venturing into the consumer market, ease of use is one of the biggest factors for success.
There are still enough hurdles in the way of a full-fledged, standalone consumer HoloLens (not the least of which is price) that it's likely a long ways away, if it ever makes it to the consumer world at all. But that doesn't mean the tech Microsoft is working on for HoloLens won't filter down to consumer products in bits and pieces; Windows Mixed Reality, for example, clearly has its roots in HoloLens despite its VR focus. And well-known brands like Samsung and Lenovo offer exciting consumer-focused WMR headsets today.
Still, it would be wise to keep your eyes on HoloLens. As Microsoft continues to expand its features and partnerships, we'll likely get more glimpses into what a consumer future may hold for the AR headset.
March 1, 2018 at 3:48 p.m.: Updated with comments from a Microsoft spokesperson.
Get the Windows Central Newsletter
All the latest news, reviews, and guides for Windows and Xbox diehards.
Dan Thorp-Lancaster is the former Editor-in-Chief of Windows Central. He began working with Windows Central, Android Central, and iMore as a news writer in 2014 and is obsessed with tech of all sorts. You can follow Dan on Twitter @DthorpL and Instagram @heyitsdtl.