Microsoft HoloLens is the company's new holographic computer that goes on your head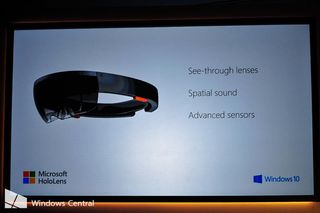 Microsoft showed off an all new product as part of its Windows 10 event today. The Microsoft HoloLens is a wearable holographic computer with high-definition see-through lenses that promises to take virtual reality technology to a new level.
In addition to the lenses, the Microsoft HoloLens also includes spatial sound, so users can hear things behind them. It will have advanced sensors to capture information of the environment and the user. It contains a built-in high-end CPU and GPU, plus an all new third processor, the holographic processing unit, or HPU.
The Microsoft HoloLens should be able to understands where a user is looking, along with their voice and gestures. It can spatially maps the world around it. It also runs without wires, and processes terabytes of info in real time.
Holographic computing can be handled natively with no markers, no external cameras, and no connected PC. Microsoft says that third party developers can make apps for Microsoft HoloLens. Microsoft is also developing a tool called HoloStudio that will allow users to build their own holograms and.then bring them into the real world with a 3D printer.
Microsoft HoloLens is supposed to be released sometime in "the Windows 10 time frame" but there's no word on a price tag. However, it will be used by NASA's Jet Propulsion Laboratory to help control the Curiosity Mars Rover and offer scientists a more interactive way to view Mars.
Stay tuned as we will continue to post information from the Windows 10 press event. To see it all roll in live be sure to join us in the liveblog!
Get the Windows Central Newsletter
All the latest news, reviews, and guides for Windows and Xbox diehards.