Control your smart home automation with Home Remote for Xbox One
Want to control your Philips Hues or smart thermostat from your couch? There's an Xbox app for that.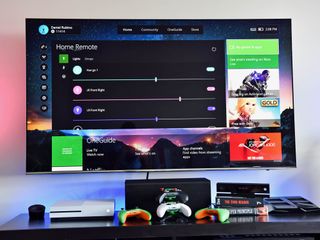 Microsoft recently opened the doors for third-party apps on the Xbox One. While we are in the very early days of the Universal Windows Platform (UWP) on the gaming console we see quite a few apps already populating the Store.
One of those is Home Remote, a popular universal home automation app found on iOS, Android, Windows 10, Windows 10 Mobile, and now the Xbox One.
Home Remote lets you connect up to various smart services, such as:
ecobee Thermostats
Insteon Hubs
IP Cameras
Nest Thermostats
Philips Hue
SmartThings Hubs
Sonos
…and more. While the app is quite barebones (it's not particularly pretty) it does let you control some of the major features right from your phone, PC, and now gaming console.
In my hands-on video you can see the app in action, and while not everything is working just yet, (e.g. I can't change the temperature on my new ecobee3) things like Philips Hues works just fine. Truth be told, it's not even that awkward to use either and I dig the lighting presets a lot.
I think Home Remote (which I didn't know was a thing even on iOS and Android) could use some polish, but we're just starting with apps on the Xbox. The future for such integration and the home is only beginning. Tying into things like Cortana and making user-interactions easier could be a significant shift in how our homes work.
To grab the app on the Xbox just search the Store for Home Remote. If you're Windows 10 or Windows 10 Mobile hit the Store link below to try it on your PC or phone. You can use the Home Remote site for support including their forums, which will help walk you through advanced setups.
Tell me in comments what app you want to see for the Xbox and whether home automation will be the next big thing.
Download Home Remote from the Store (opens in new tab)
Daniel Rubino is the Editor-in-chief of Windows Central, head reviewer, podcast co-host, and analyst. He has been here covering Microsoft since 2007 when this site was called WMExperts (and later Windows Phone Central). His interests include Windows, Microsoft Surface, laptops, next-gen computing, and for some reason, watches. Before all this tech stuff, he worked on a Ph.D. in linguistics and ran the projectors at movie theaters, which has done absolutely nothing for his career.
UWP in xbox .... Awesome!!!!

Nice ecobee3, Dan! Can you set home/away or adjust anything else, currently?

Yes, home/away works. You can also turn the system on/off/auto/heat/cool and same goes for the fan.

Cool. Will we be getting a write up on your impressions of the ecobee3?

FYI, temp adjustment is now working!

When will the Weather app, and other Microsoft apps, start working on Xbox One?

They already do. We did a demo of Maps recently.

I tried on my Xbox yesterday and I still get a message that says something like, "coming soon". I'm not an insider, if that matters.

Are you in Canada? Mine are still showing this as well

That isn't the problem as my location is Canada as well and works, but I'm on preview.

Where can i get the wallpaper with the circle around the icons?

I wish this functionality was integrated into the system. So, for instance, if I turned on my Xbox it would also dim the lights.

That would be sweet! Posted via the Windows Central App for Android LG G5

That would be a nice suggestion to UserVoice! MS should really consider to have their own Home Automation platform where developers and manufacturers can have SDK for these kind of stuff. Home automation stuff is the near future and MS must have a foundation for that and a UX that is easy for users to take advantage.

That already exists and it's baked into Windows 10 and supposedly a new Insteon hub with support for it is forthcommimg. The system is made by the allseen alliance of which Ms is a premier member. At build Ms showcased this intergration which also runs deep in Cortana. The api/standard is called alljoyn.

Interesting, I kinda heard about this but I'm missing informations about this. It's great that MS goes with the wider standard with Allseen Alliance rather than being purely proprietary, which is good for the industry overall. Though this is where remaining problem lies, how MS marketing the IoT to the masses and letting people know that it exist. The lack of brand and obvious ecosystem seems missing here. Example like biometric authentication isn't new on Windows, that is been part of the OS for a very long time if I remember correctly, but only these days that people recognize that functionality because of the Windows Hello brand (though atm some people still inaccurately thinks its just a facial/iris recognition). This is where I see MS needs a brand, a name for this IoT ecosystem, a standard. Other companies is taking most of the credit becuase of how they push their home automation brand to the public, which I find unfortuante because they're pushing a restrictive proprietary ecosystem, which just another pile of competing standards that makes the consumer tech complicated than it should be. Microsoft needs to come up a brand and have a more unified ecosystem for this while still adhering to wider standards. Something like "Microsoft Home" (though this name is already being used on their future home concept), or "Microsoft SmartThings", etc. A name that can better communicate to the public for their IoT ecosystem they want to push to the industry.

I think you can do that with Logitech Harmony Posted via the Windows Central App for Android

Wow!!!.....so many options on Xbox one!!

Daniel r. Not sure if this was brought up yet but...the dev also offers a free app designer called home remote designer. It lets you alter the appearance of the app significantly. U can create a lanscape tablet layout and use share to (also in Xbox store.) to send your custom layouts to Windows phone or Xbox app. This gives you the user full control to build the app out how u desire. Full disclosure as well not for novices but those who have used app studio should understand the basic concepts.

Also wanted to note there are voice commands for phone and pc. You can configure, the trigger word, the phrase, cortanas replies good or bad. Example.
Trigger word please.
Hey Cortana please start the show.
Where start the show refers to starting the movie time scene.
Cortana replies...welcome to Dolby Home Cinema.
Lamps dim, bias light engages.
Cortana acknoleges success and replies...
Enjoy the show. Give it a try.

When that functionality moves to Xbox that makes Kinect and things like the lg fridge much more powerful.

Nice, thanks for the heads up!

In my house we watch TV like this.....
Hey Cortana turn on the Xbox.
Hey Cortana it's time for the show.....lol its so star trek.

Adding the Insteon hub adds all wired switches, on/off and dimmer modules, bulbs, the garage door opener kit and thermostats. It's pretty awesome to say hey Cortana please go to sleep and your house shuts off. After she says ok, good night (again you determine the trigger and her responses and tie that to a scene or switch.) Fingers crossed that the Xbox api will soon support voice in apps. Because using her executes the command but does not open the app. Instead it works similar to cortanium. (want that on xbox too)It feels like a native Cortana command. And That would be amazing on Xbox especially if u could execute the commands while Xbox was sleeping without having to wake up your tv. Now im drooling. Off to the user voice page and upvote that last one.

I tried it on the phone and I just get "command failed". It DID connect to the insteon hub. I can see my devices and scenes, they just can't be used.

U have to download home remote designer from the publishers sight and open the voice tab and add in the voice commands u want to use. Save the app to a file and then Bluetooth it over to phone or use share to to send it to Xbox.

Cortana integration should be high priority for this app developer. Also add the ability to control air conditioner and other IR devices through Xbox One's infrared or Kinect.

I think the big next thing to change this app is to ne a controller friendly. Having an app to be usable for joy stick mouse is slow and difficult for other users to use. Sorry but it's not any faster than just picking up the phone to use the app, when our fingers can easily directly manipulate touchscreen controls. This is what I worried about the Xbox apps is to be just more than port from apps are originally designed for mouse+keyboard nor touch. Though the blame is really on MS than the 3rd-party developers since MS doesn't seem to encourage very well to make an Xbox apps to be usable for controller, and just lazily reuse same UX of UWP apps from PC and mobile, instead of having a UX that is designed for TV and controller usage.

I bet it's a direct port of the tablet version.

Grove is a good example of how this app could be taken to the next level. It's the same app still, has the same feel but it's so decidedly Xbox. However. If u are using the home remote designer the big win would be Cortana on Xbox. No interface needed. No pausing the game to pick up your phone to kill the lights....just voice.

Which is that's the every app published on Xbox must be. The solution in a nutshell is it needs controller bindings to have better usability for Xbox (or TV in general). In more detail solution is to make the app UI more optimized for faster and easier to be used with a controller and usable for 10-foot UI. Now in terms to more cooler and better solution, I agree that Cortana is a must for home automation stuff. We know Cortana may have problems which can reserve that discussion on more related article, but the voice interaction is where we headed and should be encouraged to take advantage these early days. The sudden rise of these headless voice-driven home automation devices like Google Home and Amazon Echo indicates that home automation is going voice-interaction. MS must take advantage of Cortana to fullest extent for this, gladly they're trying to do that but there seems no obvious solid foundation and ecosystem laid for it yet. Thing about the home automation is, its not all about having unified control panels in our favorite devices, its about in its name "automation" So these things has to be smart and Cortana its AI engine can take advantage of that, acting like as an interface and because it knows the user what it wants or needs to do (just don't be HAL 9000). Things like if I want to watch movie, the home automation system automatically changes the mood of the living room by turning off the lights, switch on the hi-fi system, put personal devices within the living room into Quite Hours, and other extra customized stuff.

Really, what we need in the Microsoft ecosystem is a device similar to Amazon's Echo/Dot. Those devices natively interface with many home automation platforms. It can be powered by Cortana, but it must be self contained and easily configurable without having to install an app, for instance. HomeRemote is brilliant solution, I use it every day, and it's great that the app is truely UWP, but a smaller form factor dedicated Cortana device is what is needed in this space for Microsoft.

Or Kinect needs to be rebranded as Cortana and the Xbox logo changed out with hers. It needs stand alone processing and listening that can interact with Xbox via USB c or wirelessly or through the old Kinect ports. This way u can have 2 or more around the house with win10 and Xbox acting as the control point and Cortana device aware from any device. An app like home remote is close but we need deeper intergration with hardware and an app designer to do the work interface wise with deep options for customization like home remote designer for the high level users. Maybe Insteon, home remote and panos pannay and the Cortana team need to sit down and pen out the possibilities.

Agreed. I hope the alljoyn Insteon hub let's Windows 10 devices app access the Insteon services through the built in alljoyn which can be added as a quick action and direct tiles to start and should have deep Cortana intergration by default.

If u add those devices to dimmers and io or on/off modules you can through a smarthome hub like Insteon,wink,hue and the home remote on Xbox.

It does support it u just have to set it up. I did reach out to the dev and ask for default support though. Not sure what will happen there or not. As far as Xbox goes uwp on Xbox does not yet have support for Cortana. If u use the designer like I stated above and send your finished file to Xbox when Ms turns that api om then u are good to go.

Muzzley (available as a UWP app) works so much better Posted via the Windows Central App for Android

...but not on Xbox, which is the thrust of this article.

With Cortana voice commands, which im sure will come, this will be great

Interesting to see if it would work with a ISY 924i pro controller which runs insteron devices, with only one app in the store called snap switch and its not being updated so may be ideal for the developer to look at for Windows Phone 10

What do you mean swappable? You can reconfigure any number of device hubs to work with it. Now, it seems there is already a default app canned for use. But the true power of this app comes with its design studio. You build your own app, dashboards, etc and configure them for use with your various home automation hubs. You can make changes and "republish" them by just saving the "app" and copying it to a place your devices can access. It should be noted that the "app" files which are generated are just zip files with formatting, connection, etc infomations stored. The HomeRemote app reads the "app" file and loads up the interface accordingly.

Excited to see homeremote, and UWP apps, coming to the Xbox one. As a smart home user; convenient access to my lights, thermostat, cameras and other peripheral's is huge. Haven't been able to get my insteon or wemo cameras working through the app. I do agree Cortana should be here, but you will find with the windows phone app Cortana is not present either.

I've been using HomeRemote for a while now. I had to find an alternative to Samsung's own SmartThings app which, at the time, was horrible. Samsung has since committed to providing regular updates to the app for features and improvements. They've kept their word, too. The SmartThings app is now usable and dare I say fast. HomeRemote, however, still remains my go-to for home automation control. Why? Well, you build the dashboard with the precise controls and information you need. Nothing more. Nothing less. I also publish two different versions for my use. One optimized for larger screens (tablet/PC) and then one for mobile use (950s). It can be a little annoying to have to reconfigure some settings when your setup reboots (i.e. power-loss), but its only an update. I only suffer this problem because my new router doesn't let me reserve IP addresses which would help mitigate this problem. So far, I've used HomeRemote for the following devices: SmartThings Hub, sensors, and SmartCam Philips Hue Hub with a few important fixtures Chamberlain MyQ Hub Garage Door Linear GoControl Garage Door Opener (sensors and ZWave range extender only) Brilliant app and the "app designer" is fairly easy to use. As Daniel said, they have great tutorials, etc, on their site.
Windows Central Newsletter