Hotel Tonight app debuts on Windows Phone, special promo code available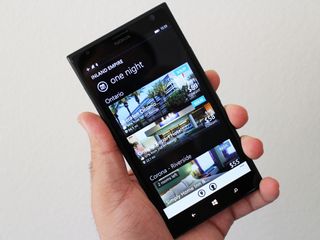 Hotel Tonight, an app service that allows travelers to book reservations at hotels at the last minute, and still get a discount, has finally made its Windows Phone debut. The app, which supports Windows Phone 8 and 8.1, allows users to reserve rooms for up to five nights. Hotel Tonight was previously released for iOS and Android platforms.
The service supports 10,000 hotels in 24 countries and is supposed to let users book a room in as little as 10 seconds. In a post on the Nokia Conversations blog, Hotel Tonight CEO Sam Shank cited the growing Windows Phone ecosystem as the main reason why they wanted to launch the app. He stated, "We saw that Windows is maturing and getting to critical mass, and it has the [high] level of quality that Hotel Tonight customers deserve."
The blog also mentions that the Hotel Tonight Windows Phone app has a few features that the iOS and Android versions currently don't support, such as being able to side-swipe through the app when the user is searching for hotels, like they are browsing through the pages of a magazine. There's 24/7 customer support for the service and it contains both professional and user-created images of the hotels that are available for booking.
Hotel Tonight is a free download from the Windows Phone Store. The Nokia blog mentions that a version will be released later in June for Windows tablets. There's even a special promo code just for Windows Phone users. They can type in "WINTONIGHT" to get $40 off their first hotel booking.
I've been trying to log in / register with the app all day, and no matter which option I choose (Facebook or creating an account), I keep getting "HMM, Something's gone awry. Please check your connection & try again" with a big "TRY AGAIN" button. I've been patiently waiting for this app and can hardly wait to get to actually use it on Windows Phone. Let's hope they fix this showstopper soon so that people can actually use it to make bookings.

I signed up with my email without any issues. Maybe uninstall and reinstall?

So after many attempts (both before and after installing yesterday's WP8.1 update), I was finally able to connect with my Facebook account, and then it took a few tries to redeem the WINTONIGHT code, but it eventually applied correctly. :-)

Glad to see this on WP; just a week ago a friend was showing me this app on iOS and i couldn't get it. Now i can book last minute rooms at a discount!

My mom mentioned this app to me a couple weeks back and I felt kinda silly that my parents were more up-to-date on apps than me so I'm glad I can finally take advantage of it, as well.

Yes... Finally. I used to use this on my iPad all the time before for last minute getaways. Love it...

Encouraging statement from Mr. Shank. Hope to be hearing that from more devs in the near future.

I'm going to an amusement park next week so this is perfect timing with the $40 promo. After signing up with them and browsing through the app, it is very well put together and while some of the prices aren't anything extraordinary from what I can tell, it will certainly be useful to have. Great to see more apps coming to WP!

I have used HT a few times over the past two years. So glad I don't have to charge a 4 year old ipod touch on occasion for thus app. I wish current users could use the credit....new account, here I come.

I still have a $25 first time credit I haven't used, I would think they would at least update it to the better credit through Windows Phone!

I nearly thought that this is an app for dating strangers... LOL

They should put this functionality into Badoo...

it is not liking wp 8.1 on the ativ s neo. it won't install, just errors Doah!

It's the same on my Lumia 720

Code will not work if you have created an account before.

I just keep getting an install error (8103012e).

Same error on my Lumia 1520, WP8.1

Same error on Lumia 1520, WP8.1

Can't log in with facebook.... neither with an e mail...

I logged in just fine. 920, 8.1(with today's update)

To echo everyone else, can't install on my 1520 8.1
It needs an update!

I also can not install on my 1520 running WP 8.1 preview with today's OS update....

I have been waiting for this app since I made the switch last year!!

promo code ignored, both when signing up then after in promo code box

I hope this provides some stability for the podcast app and overall user experience. I'm not sure what happened but over the last week my 8X has been crap with sending text's and the podcast app has not downloaded shows in the background but it seemed that I had to open the app to make that happen. Also the radio seems to have been resetting the phone if I travel to poor coverage areas. My phone has locked up and reset three times in the last week. Either way, let's hope for some improvements. Love the OS and my phone but it was getting really buggy the last few weeks.

The app is stuck not installing (wants attention but never installs) and there doesnt seem to be a way to delete it. It's just knida stuck on my phone. I tried a restrt but that didnt help. Any ideas how to remove it?

I had similar install issue as a few here on Lumia 520 with WP8.1, I was able to tap and hold to cancel the install tho to remove it, have you tried that. I also changed install settings from SD card to phone, and it now installed without error.

Tap and hold within the app list didnt work but tap and hold within the download screen did. Got it cleared off. Finally got it to install correctly. Thanks.

Works great! I like the look and feel of this app.
Windows Central Newsletter
Get the best of Windows Central in in your inbox, every day!
Thank you for signing up to Windows Central. You will receive a verification email shortly.
There was a problem. Please refresh the page and try again.