How to add Google Contacts and Calendar to your Windows Phone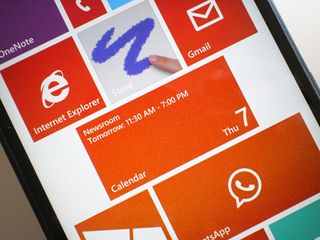 Did you dump your iPhone or Android device to come to Windows Phone? You might be using Gmail to keep a handle on your calendar and contacts. Here's how you easily sync your Google Contacts and Calendar to Windows Phone.
Windows Phone has some great support for accounts built right into the operating system. Adding your Gmail, and its associated calendar and contact list is as easy as signing in.
Here's how to add your Google Contacts and Calendar on Windows Phone 8.1
Go to Settings
Click on email + accounts
Click 'add an account'
Scroll down and select 'Google'
Click 'connect' on the page asking you authorize Windows Phone to your Google account
Sign in with your Google account information
Click 'accept' to give Windows Phone access to your Google account
That's it! After clicking accept on the final step, you'll be taken back to your email + accounts page within your settings. You'll see your newly added Google account syncing. It's syncing your Google email, contacts and calendar.
You'll find the inbox of your newly added account on the bottom of your Start screen. Your Google Contacts will be inside the People Hub, which is a collected phonebook of your contacts. Your Google Calendar can be found within the default Calendar app on Windows Phone. Go into the settings of the Calendar app to see the control you have over your recently added Google Calendar.
Using 2-Step Verification?
If you're using 2-Step Verification with your Google account, you don't need to do anything too crazy to sync with Windows Phone. On Windows Phone 8.1, you'll just be prompted to enter your security code to verify you identity. You'll do that right after entering in your password.
On Windows Phone 8, you'll need to go create an App password in your Google account. Use this App password you created in place of your regular password on Windows Phone 8. Just go to accounts.google.com and click on the security tab. From there you'll click the settings tab next to App passwords to generate a unique password. This password is what you'll need to use instead of your regular Google account password.
Push or pull?
After you connect your Google account to your Windows Phone, you can control a few things. Go to settings -> email + account and click on your Google account. Here you'll be able to change the account name, email download patterns and more.
The account name is just how this Google account shows up on your Windows Phone when pinned to your Start screen. You can leave it the default Google, but you can change it to anything you want. This is useful if you have multiple Google accounts synced to your Windows Phone.
Next up you can control how your emails get downloaded. You can have your Windows Phone pull down new emails in intervals you set, manually or as they arrive. Feel free to select 'based on my usage' to let Windows Phone intelligently handle it for you. That's also the default, but change it to whatever suits your needs. By clicking the option to download new emails as they come in you'll be getting them instantly. This is a great setting for your most important email accounts.
Does your Google Calendar change often? Within the settings here you can also select how often your calendar and contacts sync for this Google account. You can set the interval or sync manually, but its set to a 2 hour sync interval by default and that should be fine for most people. Again, adjust for your needs.
Have any questions? Ask below or reach out to me on Twitter (@samsabri). We'll do our best to help you out!
didn't Daniel say single word comments like cool are a waste of time? Can't wait until they bring out comment downvoting.

How can I sync contacts in WP to google or save to computer ? I mean, if I want to use iPhone. How to sync it ?
Another questions, if I have 2 WP, how to sync contacts between 2 WP ? If I want to use different Nokia account for each WP device ?

I don't quite understand the first question. The second though, you'll have to export the contacts from one account to the other on your PC and then you can sync to your phones.

Visit https://outlook.com goto people, export as csv.

It depends... I use my hotmail account for my WP account so I can go to the website, select my contacts, and export them as CSV. I could then log into another mS on the web and import these contacts

YOu do the same with Goog contacts into Outlook: Export as CSV and import to your Outlook, Live or Hotmail acct.

If you create a contact on your WP and associate it to your Google account it will automatically sync to your computer and other devices logged into the same account. If you have two WP devices you should be able to add the same Google account to both even if your Nokia account is different.

If you want to sync contacts between 2 WP you only need to add the accounts on each phone (adding the second as an Outlook.com Account). If you want to use Google, add your Google account to the phone (as Google) and when you add a new contact save it to the Google Account instead the Microsoft Account. Anyway in your iPhone you can add the Microsoft Account that you use on the WP (you can add it as an Exchange account) so you don't need the Google Account to accomplish this task.

I can get all of my emails on my phone except my schools email. Everytime I try to login it kicks me back out. Terrible... I miss the old way from Windows Phone 7.x.

Same here. I had to use advanced setup to get my uni email working.

Should resurrect the "How to transfer all of your google crap to Microsoft"

Twice a week i get a email saying to reconnect my google account. Really annoying

Yeah!! Even I get those!!

Pardon me for going off-topic for a bit, but how is it that they manage to get Google Calendars working on the WP calendar but not on the Windows app? It should work on both places by now...


Windows phone team purposely worked on it. Now that it's one team, I'd expect this in time for Threshold.

Yeah, but the Windows calendar didn't support Google on 8 and 8.1 was released ahead of WP8.1 and still no support. Surely some update to the suite should have had it up and running by now, IMO.


So we are going to play the waiting game, AGAIN? :-/

+920, bruno. I don't love Google Cal, but it is a necessity in my life at this time (please just trust me on this one, people). So I agree that it is just pitiful that my Windows Phone can handle my google calendar natively but my Windows Surface can not.

If you are a hardcore GMail user and want a nice GMail app experience on Windows Phone then check out MetroMail. Short of an official app from Google, this gives you just about everything you could want.

Another new email app for Gmail is 1Mail... it is still in beta but worth a try http://www.windowsphone.com/en-us/store/app/1mail/30601a5f-6983-4a7b-a93...

The largest and most profitable data collection agency in the world.

It's true. They do some other stuff pretty good as well.

I know all of you guys hate Google, bur you have to admit, they've done amazing things. As did many other companies some of YOU guys hate, like Apple.

"Did" being the key word. A woman giving birth is amazing. If she later kills her child (Chrome) then adopts another one to kill (Twitch + YouTube), she isn't so amazing. Although I heard the 5 year problem with Chrome is supposed to get fixed soon. Maybe they will fix the others in 5 years

Apple is a one trick pony.....I've seen no real innovation from them except from 2007. They have done nothing major after that.

Spam engine and publisher of lagdroid

So then its no need for gcontacts by Rudy or does his app have something extra

I dumped google all together. Just use them for YouTube now.

I prefer going to outlook.com and avoiding google altogether in the first place, much less stressful. :)

i still use the old google snc method.... which still works if you jumped on before google kiled access for non-business users.

I got my calendar to show up, but a calendar shared with me doesn't show up. Is that a different thing?

I have the same issue. Really annoying. I am no longer able to see my wife's work schedule.

Please try the steps from the link I pasted few posts below this, in response to the OP.

Please let me know too if you ever find a solution to this!

Please try the steps from the link I pasted few posts below this, in response to the OP. Best of luck.

If you go to https://www.google.com/calendar/syncselect from your phone, you'll be able to select what you want (you may have to log in to your Google acct prior to visiting the website).

This is how it works in Win 8.1 and WP. IIRC, the calendar apps can display only the Primary calendars from google.

Please try the steps I posted here long ago: http://answers.microsoft.com/en-us/winphone/forum/wp8-wpemail/anyone-got....
My post is the one dated December 14, 2012.
Hope that works out for you.

I also updated, but that voided my sync account from my phone (the link that the guy posted below no longer works). BUT I logged in to Google with Chrome and went to this website and added my two shared calendars (looks like it's for people with iPhones / iPads): https://www.google.com/calendar/syncselect

Battery usage for push vs pull? Push is always more efficient right?

I see what you did there...

Thanks I needed to do that

I dropped google for everything but email and youtube. I moved all my contacts and calendar appointments over to outlook a while ago, when there was something screwed up with the sync. I just don't feel like going through the effort of switching my email. It's like I never switched my phone number since I moved five years ago...

Sorry but don't want to add google crap to my phone.

Then no need to comment on this post if you don't care. This is for people who use Google services, nothing wrong with it. You have to accept it and deal with it now.

He's expressing his opinion, what wrong with it?

This good too know info if you use Gmail alot. But I ditched my Gmail account about 2 years ago. The hypocrisy of Google is nauseating, they get a a Court order to seal there records on there lawsuit. But want everyone info saying its good.

Why? Just move then to outlook.com!

Any help for shared calendars? I have a google calendar for work that I want to sync with the WP calendar. Possible? Anyway to actually edit it from my phone?

If you still use Google Sync (if you have a business account or you use a Google Account before 1 january 2014 on a WP or iOS) go to this link:
https://m.google.com/sync/settings/iconfig/welcome?source=mobileproducts&hl=en
make the login with the Google Account that you have on your phone, find the correct device (if you have more than one) and enable all the shared calendars that you need

I have a question. My wife has an android phone and would send me calendar notifications through the OS generic calendar app and it would arrive to me via text message. Now that i have a Windows phone, it doesn't seem to work cross platform, can anyone think of a way to get this to work? or would she have to send them to me through Outlook?

An article for this ? I was expecting something new

If you read WPC's article on the comment section, they said these How To articles aren't news or something new, it's for people who just got WPs and need help with it.

If you want to ONLY use Google for your calendar it seems the way to do this is to uncheck all the boxes from Hotmail appearing anywhere. Cortana is now using my Google as default for everything after I unchecked all the boxes.

How to show the archive folder in Google mail using wp? I used this function alot when using Gmail. Now, the archive folder is not seen. Help?

I have no issues with my gmail account just so you know...

Whaha xD that comment made my day >_

Please do an article about how to sync your facebook calendar / events (not birthdays) into your Live calendar. I know that you can add the fb calendar on its own into WP, but if you only use the Live calendar on Windows 8 (or in your browser on any device), fb events will not show up...

Thanks Sam, my dad just went from an iPhone to a HTC 8X. This is handy dandy for him.

You have to accept that some people don't like Google. It is their right.

Google calendar appear in apple devices is easu to manage and to understand, you can easily choose to update to which account
Windowsphone still confusing for me

This is really nice. Thanks for the tips!

But is there a way to export contact nos??And i can't see the multiple contacts selection option in the new update?

Hi bruno
Thx for the reply
I am old school, i know how to import contacts to pc but todays windowsphone doesnt support backup to pc anymore, right ?
Thats confusing for me,
How to share contacts to my blackberry, iphone for example I saw feature to share in settings, can we use it to share contacts between windowsphone ? Nokia has this features in communicator devices

How nice! I can sync with the industries largest company and competitor without any problems but I had to buy a third part app for $30 to sync MS Outlook with my WP ICON. How NICE!

Ok, What if I want to get rid of Google totally? If I import my contacts and calender into outlook.com, can I than happily cut the cord with Google and remove all data from the Google account? Or are there shananigans that one has to take care of before it working properly?

I'm a long time windows phone user with a new problem. My company uses a corporate gmail setup with two factor authentication. It used to work fine earlier, but after the switch to OAuth in WP8.1 the authentication no longer works. If I were to use regular IE for signing in on the phone, everything works as expected...ie. I go to the gmail login page which redirects me to my company's login portal which redirects me to TFA page which sends my authorized app a login request, on approval everything links up and I'm in. However, during the guided account setup within WP's google experience, the browser component they have for login doesn't behave correctly for some reason and I never get an auth request on my auth app. Any ideas?

Having the same problem. Did you ever get this resolved?

All day events are still bugged when importing from a google calendar to any calendar app on WP. It doesn't respect time zones for all day events (but does for events with specific times associated with them), so unless you're in one specific time zone, it will show up as an all day event that spans two days. If you happen to use all day events a lot in a google calendar, then as you can imagine, this quickly spams the heck out of your calendar on WP. Interestingly enough, the outlook calendar on the web can sync all day events from google just fine. A workaround is to sync your google calendar to the outlook calendar on the web, then it displays just fine on the calendar on WP as long as you have that cooresponding microsoft account synced. Of course, you can't create new events back on your google calendar if you do this, but at least if all you care about is seeing your calendar info from google calendar correctly, then this works as a workaround. I get that there's an undercurrent of antipathy towards google from a certain vocal group of WP users, but the ignoring of this rather large sync issue with the WP calendar is rather annoying, as it's been around for some time now, and seems a simple fix as it's quite obviously tied to an overlooked conversion of a user's time zone when it pertains to all day events, which any programmer could likely fix in a matter of 2-3 minutes. :(

All I want to do is know how I can add random phone contacts to my Nokia 8.1 phone? I do not want to use it as a business phone and should not have been sold the wretched thing| and under the rules of my supplier could not change it after 14 days. I am nearly 80 yrs old. have just about managed to get around day to day use.- for calls and texts. The only way I have found to silence it is to use the flight mode - which is quick anyway, so thats no problem! Wll someone please tell me in a few words how to add a contact PLEASE? I do not wish to add addresses, just telephone no's!

I am new to Windows 8.1 Update Phone, having previously used an Android phone, and I also use Windows 10 Pro Tech Preview as my Desktop operating system. How do I sync People between my phone and desktop without using Outlook? I do not use Outlook and have not done so for many years since I changed to Gmail. I had managed, I thought, to set up two accounts on my Windows Phone (both Microsoft Account and Google), but my People on my phone does not appear to sync with my People on Windows 10. For my Calendar I use the very nifty app "OneCalendar" and so my Calendar entries seem to sync, but I cannot get People to sync. I would like to make an entry in my phone and have it synced with my desktop and vice versa. Any suggestions would be greatly appreciated. David

Hello Sam! Can you please help me. I have Lumia 640 (WP 8.1), and I have problem with google contacts - not all my email contact are synced in 'mail client' so I'm not able to send mail to everyone. Another thing in People Hub I see only phone numbers, not email adresses (the same people as in email client). Thank you, Polona

As of 03.08.2016 this does not work on Windows 10 Lumia phones

Yes It does not work, i can get email by imap, but still looking to get google contacts

I tryed it. but still don't work.
Windows Central Newsletter
Get the best of Windows Central in in your inbox, every day!
Thank you for signing up to Windows Central. You will receive a verification email shortly.
There was a problem. Please refresh the page and try again.