How and why Microsoft should bring a (telephony-enabled) Windows 10X device to our pockets
I believe Microsoft is still pursuing its Pocket PC vision with plans to bring a Windows 10X-powered Surface Duo-like device to our pockets in the future. And building developer relationships through Android is key.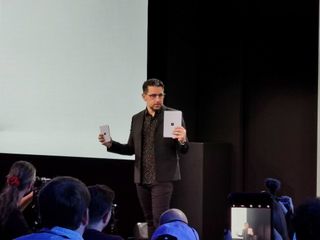 (Image credit: Windows Central)
In January 2015, I presented an analysis claiming Microsoft would bring an inking focused, telephony-powered pocketable PC to market. I even suggested Microsoft-branded earpieces would be a practical accessory for this device. In 2016 leaks regarding Project Andromeda, a Windows Core OS-powered (or Windows 10X) pocket PC, confirmed this analysis. As information continued to surface, I incorporated those details into my ongoing analysis of Microsoft's Pocket PC mobile strategy.
Microsoft has sought to converge the power of Windows and the broader Microsoft cloud, apps, hardware, and services ecosystem on a pocketable telephony-enabled mobile device for years. Windows Mobile, Windows Phone, and Windows 10 Mobile were all mobile OSes that flirted with Microsoft's mobile vision but failed to bring the "power" of Windows and the synergy of Microsoft's ecosystem to a touch-focused mobile experience. Thus, Microsoft designed the modular, lighter and context-conforming Windows 10X, for duo screen PCS like Surface Neo (a versatile tablet) and partner devices from Dell, HP, and Lenovo coming next year. It was even planned to power the now Android-based Surface Duo (a pocketable device), formerly known as Project Andromeda.
The surprise introduction of the Android-powered Surface Duo at this year's Surface event is a manifestation of Microsoft's work toward a telephony-enabled, Windows 10X-powered pocket PC. After all, Surface Duo was being developed for years - like the Surface Neo, which shares its design - with Windows 10X in mind until a relatively recent shift resulted with Android as the OS of choice. According to Microsoft CEO Satya Nadella, Microsoft is meeting users and developers where they are with this "miniature Surface Neo" that runs Android and makes phone calls. And meeting them where they are is key to leading them to the Windows 10X-powered telephony-enabled pocket PC I believe Microsoft also wants them to eventually embrace. And it may coexist with the Android-powered Duo.
Satya Nadella's empathy-driven Microsoft is relationship-focused
Like many of the tough decisions Nadella has made (at a cost), an Android-powered Surface Duo is about forging relationships. Through these relationships, I believe, Microsoft hopes to bring a Windows 10X telephony-enabled PC to our pockets.
Microsoft was once notoriously Microsoft- and Windows-centric internally conflicted, and routinely leveraged its market dominance to force developers, partners, and consumers to accept the Microsoft way. Driven by empathy Nadella "hit refresh" and embraced his predecessors Steve Ballmer's "One Microsoft" vision to heal internal divides. He also reached beyond Microsoft to build relationships that have helped Microsoft expand its ecosystem across a multiplatform world.
Nadella open-sourced .NET, embraced Linux, made Azure and its cross-platform goals the "new Windows or the world's operating system," prioritized cross-platform apps, focused on tying Windows, Android and iOS together through Microsoft Graph and much more. Now the company has partnered with Google and is soliciting the support of android developers to create unique experiences for a first-party dual-screened android device. Nadella's empathy-driven, people-focused leadership style is attributed to his experiences raising his son Zane, who has severe disabilities; and this cannot be overlooked as a factor in Microsoft's mobile strategy.
Nadella who admitted to initially perceiving Zane's disabilities as something that happened to him rather than to his son, through empathy learned to see and meet his son's needs, by first meeting him where he is. This is not unlike Nadella's evolving strategy to push developers, consumers, and partners further into Microsoft's ecosystem by first meeting them where they are. The android-powered Surface Duo is an example of Microsoft meeting developers and users where they are with the hope of expanding support across the broader ecosystem (i.e., Window 10X on a pocketable device). This "human" approach to leading technological innovation places how users, developers, and partners feel as a priority. Nadella's more "open" Microsoft arguably makes users and developers feel better about Microsoft's ecosystem than the less accommodating Microsoft of old.
The Surface Duo feel-good path to Microsoft's ecosystem
Apple's iPhone didn't succeed because of the number of apps in the App Store. The relationships Apple built with developers, users, and others (along with other factors), which made them feel good about being a part of Apple's ecosystem, led to a populated App Store, which in turn contributed to the iPhone's success.
Surface Duo is an expression of Microsoft's ecosystem of hardware, software, cloud, and other services. The device is meant to make Android developers and those who want to use an Android-powered, telephony-enabled pocketable device feel good about Microsoft's ecosystem.
Over the next year, Microsoft is expected to nurture relationships with Android developers and Google to create tailored dual-screen experiences and apps for Surface Duo leading up to its holiday 2020 launch. Microsoft will simultaneously be cultivating relationships with Windows developers who are tasked with creating tailored experiences and apps for the larger dual-screened Windows 10X-powered Surface Neo, which shares the same form factor and launch time as the Surface Duo.
Surface Duo's and Surface Neo's shared form factor and Microsoft's goal to optimize dual-screen experiences for their respective platforms over the next year is telling of its mobile strategy:
Windows 10X provides the powerful, context-conforming, mobility-focused OS Microsoft has always envisioned for a pocket PC with telephony.
The android-powered, telephony-enabled Surface Duo offers mobile developers a device in Microsoft's ecosystem for which they will potentially be excited about developing apps - unlike Windows 10 Mobile. This strategically creates an opportunity to secure the long sought after but never achieved favorable relationship between mobile developers and Microsoft.
The Surface Neo, which shares the same form factor as the Duo, will potentially be used by Microsoft to demonstrate to its Android developers that Windows 10X can achieve the same dual-screen experiences developers produce on Android and the Duo.
Microsoft can highlight the advantages its integrated services bring to dual-screen experiences using Windows 10X within Microsoft's ecosystem.
Microsoft has never been better positioned to accomplish its pocket PC goal.
Shrinking the Surface Neo
As the Surface Go is a miniature Surface Pro, the Surface Duo is a small Surface Neo. Though the Duo was initially meant to run Windows 10X, in the short term, Android makes sense to get developer and consumer support for Microsoft's ecosystem on all Surface form factors including a pocketable device.
If these devices hit the market on schedule next year, that won't be a culmination of a plan – it'll be a beginning. I've highlighted in the past that iOS and Android are mobile OSes that Apple and Google are trying to evolve into more capable OSes to support more complex computing demands and desktop scenarios.
Conversely, Microsoft has been coming from the opposite direction, trying to make Windows lighter, more versatile, and mobile-friendly while retaining its desktop strengths. This seems to have significantly been achieved with Windows 10X on the Surface Neo. Consequently, Android on the Surface Duo is not the full realization of Microsoft's pocket PC vision.
Surface Duo is so much more than a phone
Microsoft asserts that Windows 10X is designed to power dual-screened PCs. Thus, I believe Surface creator Panos Panay's effort to distance Surface Duo from a traditional smartphone is important. It is, I believe, in part to ensure that when Windows 10X finally comes to a Surface Duo-like device, that that device will be viewed as what Panay said Surface Duo is during its introduction – a Surface, albeit one with a new form factor occupying a new product category.
Panay knew that many writers would dilute this narrative by categorizing the personal and productivity-focused Surface Duo as a phone – as he gave subtle guidance on how (not) to classify it. If (because there are no guarantees Microsoft's strategy will succeed or that developers will respond) Windows 10X does come to a Surface Duo-like device, Panay's assertion that the Duo is not a phone will be more apparent as that Windows 10X powered device will be more aligned with the Surface Neo PC category with which it shares a design.
Sadly, the "phone" narrative that has already begun for the Surface Duo category will make it more challenging for Microsoft to assert its messaging that that potential telephony-enabled Windows 10X-powered pocketable PC is more than a phone.
Related
Get the Windows Central Newsletter
All the latest news, reviews, and guides for Windows and Xbox diehards.
Jason L Ward is a columnist at Windows Central. He provides unique big picture analysis of the complex world of Microsoft. Jason takes the small clues and gives you an insightful big picture perspective through storytelling that you won't find *anywhere* else. Seriously, this dude thinks outside the box. Follow him on Twitter at @JLTechWord. He's doing the "write" thing!