Microsoft invited me to its biggest Surface event ever — and it was AWESOME!
Last week Microsoft sponsored my wife and me at its biggest Surface event ever, and it was amazing!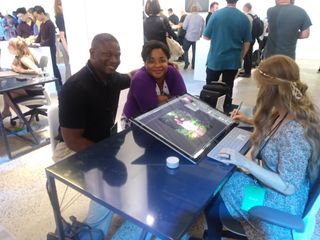 On October 2, 2019, Microsoft set the internet ablaze with an event that reflected a refinement and evolution of its successful Surface hardware. The accelerant for this inferno was the addition of bold category-defining devices to the Surface line of first-party products. Microsoft positions these products as reference hardware to guide industry partners as they build Windows, and now with Surface Duo, Android devices.
Surface Pro did this for 2-in-1s, which even now Apple is mimicking. Surface Pro X, Surface Earbuds, Surface Neo, and Surface Duo are meant to encourage OEMs to create current generation products as well as create categories for what Microsoft sees as next-generation computing.
Before the event, various leaks, insightful analysis, and more primed us for what fans and critics recognized as Microsoft's most anticipated Surface event to date. As a tech enthusiast and ardent supporter of Microsoft products, I wanted to attend this event but had no expectation I'd be invited — until I was. I was ecstatic when I received an email that presented me with an opportunity to be part of the most significant Surface event ever. This is how it all went down. (To be clear, I did not attend this event as a media representative of Windows Central, and as such, Microsoft paid for our hotel for a night and gave us some "goodies." More on that coming up. )
Microsoft was looking for Surface fans
On September 5, 2019, the following Windows Insider email graced my inbox:
I composed the narrative for my entry, which my wife edited to ensure that it fits within the allotted time limit. Within an hour of the deadline, I submitted the following video. The video highlights how Surface helps my wife, and I run our small business, Ward Advocacy, LLC, where we support at-risk youth and people with disabilities throughout Connecticut.
I was blown away when I received the following email on September 12th, 2019.
Though unable to attend the reception, my wife and I made the two-hour drive to New York, checked into the hotel, and checked in with Microsoft on the morning of the event. I was surprised when a smiling face that I'd never seen greeted me by name as we received our guest badges before entering the room for breakfast. Further discussion revealed that these greeters were among those who reviewed the video entries. To cap off this initial interaction, I was also given Surface Headphones, which everyone who attended the previous night's reception were given. Things were off to a great start.
All about the fans
During the buffet-style breakfast, Microsoft's Chief Marketing Officer Chris Capossela addressed the crowd of 50 or more fans in the large room. Surface creator Panos Panay followed him and further set the tone for why we were there and what to expect.
Affirming the sense of being "chosen" that the Microsoft-provided accommodations, reception, breakfast, and the Surface Headphones gift conveyed to us, Panay shared that this event was about the fans. He stated that in the past, the setting in which we were then sitting would have been occupied by the press. He stressed that this was the first time the company was doing this with fans.
As a contributing (not staff) writer for Windows Central, a tech enthusiast, and a fan of Microsoft's products, I've hoped my press affiliations would gain me access to an event like this. Thus, I felt very blessed to be at Microsoft's biggest Surface Event, with my wife, purely as a fan, based primarily on how we use Surface to run our business Ward Advocacy, LLC, helping at-risk youth and people with disabilities. It felt more meaningful, relaxing, and rewarding than being there as press to "work" the event.
Though I perceived the event through the combined perspectives of analyst, fan, and writer (notetaking and all), the freedom of being there as a fan, and the benefits we received in that capacity were liberating.
Panay encouraged us to express our genuine excitement if we saw something that we liked during what he described as the show; not just a press event. Of course, our being there was part of Microsoft's marketing strategy. Thus, any genuine expressions of emotion during the broadcast would communicate to viewers that Microsoft's products could provoke excitement. Nonetheless, my concerns regarding what was acceptable decorum at this event (do I remain professionally quiet or can I freely express "wow" moments?) were much allayed. The context of being there as a fan and not press made "making noise" even easier.
Off to the Surface show and Microsoft's mobile strategy
After being told that we'd get preferential seating, we were bussed to the event venue, and instructed to find seats labeled "Fan." Since this event was about "us," we entered the room before the press and got front row seating. Yeah, I was glad to be "wearing my fan" hat.
During the show, we saw the expected device refreshes with Surface Pro 7 and Surface Laptop 3, anticipated devices with the Surface Pro X and Surface Neo (previously Project Centaurus), and the unexpected with the Surface Duo (previously Project Andromeda). As a fan, I was pumped. As an analyst, I was excited. As a writer who has written against the tide of popular opinion, I felt vindicated to see much of what I've presented as Microsoft's mobile strategy finally being announced, albeit with some twists.
Microsoft isn't done with mobile, and Surface Duo is the manifestation of Microsoft's commitment to a pocketable device that is more than a phone. Panay didn't call it a phone, though he said the press would. He just called it a Surface. In fact, the Duo's introduction after the larger, versatile, highly mobile Surface Neo foldable PC, which sports the same form factor, provided some context for this pocketable reference device that is a year away from hitting the market. The Android-powered Duo was initially meant to be a smaller Windows-powered Neo, only pocketable and with telephony. And I think that pocket Windows device is still coming. What remains to be seen is the form it takes.
Android is the right choice for Duo for now to build key developer relationships for Microsoft's device and services ecosystem and more. These relationships, if Surface Neo proves successful on the software and hardware side, can potentially benefit a more pocketable version of Neo with telephony - the original plan for the Duo. I think the Android choice for the Duo is part of a longer vision that will precursor Windows 10X on a pocketable, telephony-enabled device in the future as Microsoft or an OEM partner will inevitably make the Surface Neo concept smaller. Granted, I believe Android and Windows 10 X-powered pocketable devices can and will continue to coexist in Microsoft's ecosystem.
Needless to say, I made plenty of noise when the Neo and Duo were announced. Though I noticed when watching the event after the fact, the sound of our cheering seemed subdued. The room was much louder than the broadcast portrays.
Smartphone and PC makers may unite to build the PC of the future
You get a Surface, You get a Surface…
After the event, the press went to get up close and personal with the new gadgets while we fans were swooped away to a rooftop restaurant for lunch. We'd get our hands-on time with the tech after being treated to a meal. The food was good, and meeting new people was great, and what came next was remarkable. We'd be receiving swag bags with all types of gear inside, and we'd also have our choice of either a Surface Pro 7 or Surface Laptop 3. I made more noise then than I made at the event. I wasn't alone. Yeah, being there as a fan was much better than being there as press.
Back at the event venue, we got to peruse the new tech. I also met some of our readers who recognized me after I gave them my name. And as a testament to the impact of a mobile workforce after almost five years with the company, I also met Daniel Rubino, our executive editor, Zac Bowden, our Senior Editor, and Mauro Huculak, our How-To mogul for the first time in person at this event. Weird, huh?
Image 1 of 3
Hands-on time with the as yet not released devices was cool. The Windows 10 X-powered Surface Pro X for its portability, great thin-bezel display, awesome carpenter style pencil with the keyboard storage space was impressive, and it needs to be my next device. I loved the svelte build of the Surface Laptop 3, I'm excited about the Surface Pro 7, and though I don't like the aesthetic or the price of the Surface Earbuds, the sound quality is excellent, and I love what they can do.
The best part of my Surface fan experience was enjoying everything with my wife, who also loves Surface. And the team who made our experience comfortable, fun, and exciting was excellent.
Everything announced at Microsoft's Surface event
The ultimate Surface fan experience
Finally, as a fan and writer, I have written extensively about Microsoft's mobile strategy. My work has presented a consistent narrative about Microsoft's mobile strategy despite the constantly shifting narratives presented by other venues. Much of the narrative has been realized or is on course to that vision. I had hoped to get a chance to talk to Panos Panay about the Surface's journey to our pockets. He promised that he might be around for pictures, at which point I hoped ever so briefly to speak with him, but was told he was in a meeting.
Mr. Panay, if my work were a symphony flowing from my heart, to my head, and to my hands, there would be one instrument missing from the orchestra of my portfolio: an interview with Panos Panay. That would be a grand finale to my Surface fan experience.
Related reading
Windows Central Newsletter
Get the best of Windows Central in in your inbox, every day!
Jason L Ward is a columnist at Windows Central. He provides unique big picture analysis of the complex world of Microsoft. Jason takes the small clues and gives you an insightful big picture perspective through storytelling that you won't find *anywhere* else. Seriously, this dude thinks outside the box. Follow him on Twitter at @JLTechWord. He's doing the "write" thing!
You really deserved to go to this event as a fan and you definitely deserve to take the victory lap on Microsoft's mobile vision. Thanks for sharing you fan video.

Surely you must have felt vindicated. I enjoy your write ups Jason. Wow, I wish I were you, being invited to such and event and being pampered to must have felt great.

Thank you. Yeah it was an awesome experience! 👍😉

Awesome! You deserved this. I love your articles!

Thanks I appreciate that😊👍!

Awesome. Couldn't have happened to a nicer person.

I appreciate your support. Thanks! 🙂

Congrats on an awesome trip. Keep doing your other stuff too.

Great read. Living almost vicariously through your experience with this article. I could nearly feel the excitement that you felt reading this! I know how I would have felt. So, I could only imagine. Thanks for sharing, as a fellow fan of Surface and Microsoft.

Thanks Vincent. I'm glad you enjoyed it!

After years of publishing extensive analyses of Microsoft, it's ironic that you finally snagged a VIP invite to a MS event as a fan & user instead of as a writer. Either way, it was well deserved! But which one did you pick, the Surface Pro 7, or Laptop 3?

Thank you! Yeah it was ironic to go as a fan, though rather than press, though in truth being a fan is what led to my tech writing becoming Microsoft-focused and landing me this gig (after running a tech blog). I think the experience was better as a fan as well. I got to enjoy everything with my wife without the pressure of having to work or meet a deadline. That said, I chose the Surface Pro 7 and my wife got the Surface Laptop 3. So I'll get a chance to review both devices! 😁

I'm sincerely happy for you (and your wife), Jason. It couldn't happen to a more deserving superfan I've known.

You earned it to go. Including Daniel, Zac, and Jez, you are one of the most optimistic journalists that covers Microsoft news with your carefully thought-out pieces. Was wondering last week why you haven't written an article after all the bombshell news Microsoft dropped. Looking forward to reading your future articles.

Awesome story, Jason! Very happy for you!

Congratulations Jason. Good that Microsoft recognized you for the Promotion you've given them over the years. I love NYC in the fall.

Thank you. I'm not crazy about NYC. I like space, grass and trees😀, the "concrete jungle" isn't really my flavor. But the experience there for a day was awsome! 😀

It's nice to get things from companies. But it questions your objectivity. As a journalist, you should never accept gifts like hardware or travel expenses, it threatens your integrity.

Sacha- u must be new here, he's probably one of the most objective (albeit passionate about MSFT. Lol) writers.

Congrats! I'm sure I speak for alot of us when I say "where's Bleached?" Jason has some "I told u so's" for you.

Yeah, it is awesome Microsoft treated him and his wife so well! I am super jealous of the free Surface Pro 7! He was also totally right about Andromeda shipping with Android!

🤣🤣🤣🤣🤣🤣🤣🤣🤣🤣🤣🤣🤣🤣🤣🤣🤣🤣🤣🤣🤣🤣🤣🤣🤣🤣🤣🤣🤣😜😜😜😜😜😜😜😜😜😜😜😜😜😜😜😜😜😜😜😜😜😜😜😜😜😜😜😜😜😜😜🤣🤣🤣🤣🤣🤣🤣🤣🤣🤣🤣🤣🤣🤣🤣🤣🤣🤣🤣🤣🤣🤣🤣🤣🤣🤣🤣🤣🤣🤣🤣🤣🤣🤣🤣🤣🤣🤣🤣🤣🤣🤣🤣🤣🤣🤣🤣🤣🤣🤣🤣🤣🤣🤣🤣🤣🤣🤣🤣🤣
He's still running his mouth..

Great article 👍 I enjoy reading your pieces here in WC and loved the nice presentation your wife helped compile. The experience seems worthy for such a well rounded spiritual and loving person that gives back and helps his community. Keep up the great work.

Reminds me of when I used to get every Windows phone released by Nokia/Microsoft. Needless to say, I was sad when Microsoft stopped making phones.

Duplicated comment. Sorry.

Maybe I've just been missing them, but I hadn't seen an article from you in a while. Glad to know you're still around. Congrats on your invite!

Thanks, yeah I'm still here. I've done reviews recently, rather than editorials which may have been missed by core readers who like the editorial content. I've also been VERY busy with my business lately. I'm also not staff (I've been a contributor/freelancer here since 2015) and as things have changed in our our business and industry I now have a limit on how many editorials I can write each month. So you all have likely noticed a decrease in my editorials several months ago. Also, as I'm sure is true for contributers elsewhere, not all of my pitches are accepted. So, all said, I do hope to have a few editorials posted in relation to recent news and announcements soon. And I am grateful, you guys miss them when they're not here. Thanks so much! 😀👍

'Android is the right choice for Duo for now to build key developer relationships for Microsoft's device and services ecosystem' You need to elaborate on this; in my opinion, it's the exact opposite! Developers are now given no incentive whatsoever to develop for Microsoft, when Microsoft themselves are betting on Google! I would much rather they'd have only presented the Neo; in my opinion an unnecessary device, but at least there'd be hope for a smaller version later. With the Duo, Microsoft have basically said that their own OS is dead, and the future belongs to the opponent (which I care very little for!)...

Yup, if they were serious about Windows 10X, they would be doubling down on it. They are showing how weak it is from the start. Will Windows 10X even make it a year from launch?

I'm very happy for you Jason
Congrats, you deserved it.

Jason!!! All I ask is that you PLEASE join my SURFACE Duo Facebook Group.. Pleeeeeeeaaassse??????
........
https://www.facebook.com/groups/397641020931176/

Hi Jason, Sounds like a nice event. I have a Surface Pro 5 and like the tablet form factor. I think the Surface X is the step in the right direction for Microsoft but what was missing for me in the X or SP7 was Thunderbolt 3 and eGPU support. It's the dream of lightest mobility when on the go and power back at the office. Did you hear anything about if eGPU/Thunderbolt3 might be an option coming to the Surface Pro line? Thanks again.

Congratulations on your trip. We might not have agreed on which way the mobile industry is going but I have always enjoyed reading your articles 😊

Well done Jason, I cannot think of a more deserving person to have received such an invitation and am stoked for you. Look forward to more future commentary - keep up the great work!

Jason! this was a great article man! I was invited myself and you described this event so beautiful. It was such a great experience and Microsoft really showed how much they appreciate their fans!

I hope you will get that interview with Panos. I never realized you are not a staff at WC, and so was never expecting you at the fan event. Next time, I will look for you. It was an amazing event for fans. I am hoping they will keep their promise to do it next yr too.
Windows Central Newsletter
Thank you for signing up to Windows Central. You will receive a verification email shortly.
There was a problem. Please refresh the page and try again.