Andromeda, folding PCs, and Microsoft's vision for the future of personal computing
The hotly anticipated foldable PC isn't just a Microsoft device — it's meant to open a whole new PC category for manufacturers and users.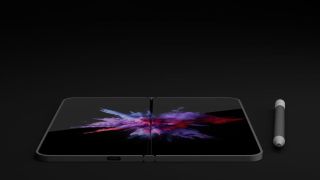 Microsoft's Project Andromeda initiates an evolving category of connected pocketable PCs built on top of Windows Core OS. This first generation device targets businesses, schools and prosumers. Qualcomm's and Microsoft's combined connectivity and mobile computing strategies reveal a long-term goal to eventually bring this telephony-enabled PC category to consumers as well, however.
"We continually look for ways to redefine the mobile experience for customers, which is why we developed the Qualcomm Snapdragon Mobile PC platform," said Don McGuire, Qualcomm's VP, global product marketing.
Qualcomm's Always Connected PC push is the first step toward the pocketable PC category that has all the power of Windows 10 desktop computing and the mobility and constant connectivity of smartphones. This emerging category may be Microsoft CEO Satya Nadella's ultimate mobile device vision that leapfrogs smartphones. To envision where Microsoft and Qualcomm are pushing mobile computing (though this may sound fanciful) picture the context-conforming, always-connected mobile device that can be a PC, tablet and phone from the popular sci-fi program Westworld. That device category becoming reality for the masses may be closer than you think and here's why.
Foundations of a single device computing future
Westworld's all-in-one device.
Qualcomm's Snapdragon 845 mobile platform (and beyond) is positioned to expand connected computing in several areas: AI, security, video/imaging, AR/VR and LTE gigabyte connectivity which allows web apps to behave as native apps. Additionally, since its technology powers the smartphone industry and is foundational to 5G cellular infrastructure, Qualcomm has a vested interest in the evolution of connected computing. Thus, pocketable PCs aren't just Microsoft's goal. Qualcomm wants as many people on the cellular roadmap as possible.
In fact, Steve Mollenkopf, Qualcomm's CEO calls smartphones "low-powered computers" because of their processing power and light computing capabilities. Bringing the full power of desktop computing to the cellular roadmap in a context-conforming design that can be a PC, tablet and phone is a natural progression to this limited computing via mobile platforms. Here's how Microsoft and Qualcomm are making that happen:
Step 1: Window 10 on the cellular roadmap
The first step to a pocketable context-conforming Windows PC with telephony for consumers and professionals was to bring Windows, the world's most prolific desktop OS in homes and businesses, to the cellular roadmap via Windows 10 on ARM. Always Connected ARM-based Windows PCs, will be followed by the first foldable pocket PC this year.
Windows on ARM brings Microsoft's ultimate mobile device vision into focus
Step 2: Context sensitive software
The next step was ensuring Windows could adapt to desktop, tablet and handheld configurations.
OneCore unified Windows across devices types as the foundation for a modular OS. Windows Core OS builds on that foundation allowing Windows to be tailored (by Microsoft or OEMs) to device types. Compossible Shell (CShell) enables the UI to conform to device types or states as the hardware transitions to different contexts.
Step 3: Context sensitive hardware
Hardware capable of shifting between states: pocketable, tablet and PC is essential to this single computing device vision.
Various patents and sourced information suggest Microsoft's working on a pen-focused Courier PC-type device. This device is pocketable, can be unfolded into a mini-tablet and via Continuum, connect to an external display for a desktop experience.
Step 4: OEM partners and altered carrier model
Microsoft's Andromeda device isn't a one-off product. Like Surface and 2-in-1s, it will be an aspirational category-defining device meant to inspire OEM third-party options.
Additionally, consumers' ability to switch between carriers almost "on the fly" directly from Windows on Always Connected PCs, and the coming folding PC category, makes Microsoft less carrier-dependent.
Always Connected PCs gives Microsoft's upper-hand with carriers
Step 5: Progressive Web Apps (PWA)
Microsoft's and Google's partnership to standardize PWAs may help provide a unified app platform (for certain app types) to help address the app gap. PWAs are web-based, behave like native apps and are platform agnostic. Windows 10 (not just Edge) will treat them as native apps. They'll be distributed through the Microsoft Store and have UWP qualities like Cortana integration, notifications, easy install/uninstall and more.
Progressive Web Apps, the great equalizer
Step 6: Processor evolution and 5G
Since Microsoft's 2018 Andromeda device will be thefirst-gen device of a new category, it's important to remember that technological limitations for this initial device don't define the limits of the category. It may not be capable of replacing a PC for powerful mixed reality, intense gaming and other heavy-lifting computing but processor evolution and 5G will enable these things and more on subsequent iterations of PCs in this category.
Furthermore, high-speed 5G networks will, combined with advanced processors, enable low-latency edge computing with powerful cloud-based apps.
A PC category for the masses, not a smartphone
Microsoft's mobile device vision.
Those who struggle to differentiate between this device category and smartphones may find the following helpful:
Envision the category's context-conforming Westworld-type-device goal. Then back that up to where we are now as the pieces are coming together as described above. This device category's designed from the foundation outward to be a full PC on the cellular roadmap. Smartphones are not.
Microsoft's and Qualcomm's goal is this device category's eventual consumer adoption. Even under optimal conditions it would take several iterations before that begins to happen en masse (if at all), however. Still, the long-term goal isn't its niche beginnings. It's a truly personal, inking-focused, telephony-enabled computer category for all scenarios for all people. If successful history may note 2018 as the dawn of the all-in-one mobile device.
Get the Windows Central Newsletter
All the latest news, reviews, and guides for Windows and Xbox diehards.
Jason L Ward is a columnist at Windows Central. He provides unique big picture analysis of the complex world of Microsoft. Jason takes the small clues and gives you an insightful big picture perspective through storytelling that you won't find *anywhere* else. Seriously, this dude thinks outside the box. Follow him on Twitter at @JLTechWord. He's doing the "write" thing!