Building a PC for video editing? Here's what you need to know.
Here's what you'll need to edit video on your PC, at various price points.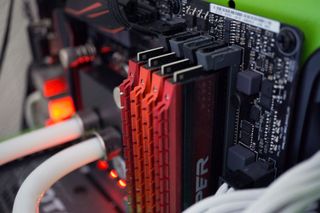 (Image credit: Rich Edmonds / Windows Central)
Editing video on a PC requires a capable GPU — like one of our picks for best graphics card — at least a mid-tier processor, and enough RAM to avoid sluggish performance. Depending on your available budget, it's possible to spend around $800 on a setup that will handle video processing, but at a slower rate, while a more expensive configuration will make light work of intense workloads.
We work with video here at Windows Central often, whether it's for the latest game about to be released or for the next Ask Dan episode. We know what you need to get the job done and which components are required to avoid wasting hours of valuable computing time.
An issue at the moment for all builds is the price of the GPU, which has risen considerably over recent months due to demand inflation from cryptocurrency miners. This means that when said pricing returns to normal, the configurations included in this guide should become more affordable.
Basic video editing PC build
The price and availability of the GPU we included may fluctuate. If the GPU listed isn't available, try the same model but from a different vendor. This system is fairly capable of 1080p video editing, thanks to 16GB of RAM, an RTX 2060 with 6GB of GDDR5, and a Ryzen 5 2600 processor. You could render higher quality video, but be prepared to wait through lengthy processing.
The best part about this build is the upgradability. The 16GB RAM can be bumped to 32GB at a later date. The Ryzen 5 can be swapped out for a Ryzen 7 or 9, and the RTX 2060 can be replaced by an RTX 2070 or RTX 2080. It all depends on your requirements and how quickly you need rendering to complete.
Advanced video editing PC build
This machine will be excellent for editing and processing videos (up to 4K) but will probably be out of reach for those just starting out in the business. We've upped the game to the Ryzen Threadripper, an excellent CPU, an RTX 2080 Ti (you can always add another one), and 32GB of RAM. It's a monster.
Neither of our builds includes a copy of Windows 10 (opens in new tab), which you'll need to factor in, as well as the cost of Adobe Premiere Pro or other commercially available video editing software.
Rich Edmonds is Senior Editor of PC hardware at Windows Central, covering everything related to PC components and NAS. He's been involved in technology for more than a decade and knows a thing or two about the magic inside a PC chassis. You can follow him over on Twitter at @RichEdmonds.
I definitely buy a MacBook pro and with final cut pro it's like heaven

I would buy a PC work station or build a custom PC work station and use DaVinci Resolve Studio or the free version, or Adobe Premier instead

Yeah but then I pay more, for not really any extra performance.

whats with Ryzen CPUs? are they better than Intel i7s?

They have a way better price/performance ratio.

More cores and more threads. For video editing or anything like streaming and multitasking in general Ryzen is the way to go.

Intel has a comparable lineup of multi core CPUs. The count alone is not the point.

Can you do an equivalent article for laptops please?

Absolutely. Consider it added to the list of awesome ideas!

I have the same case and it's an absolute baller!

Pro tip: If you're new to editing, try Blackmagic Resolve and Fusion. Great software for basically no money.

Yeah Resolve and Fusion are awesome! I cant believe what you get for free!!!!!

Built my desktop in 2016 and haven't been paying attention. Recently learned about GPU prices skyrocketing. ...didn't realize RAM prices are stupid now as well. I feel like I should part out my desktop for a profit.

What about the display? Would you recommend a good 'touch'-display monitor? Actually I'm not even sure if such a thing exists, but I hope it does!

That is not ideal for editing.

For the 'Overkill' part there wouldn't be much need to stick a 1080 on there with a Ryzen 1700. Probably find a 1050ti/1060 would be barely any different in terms of rendering speed.

Don't even bother with this right now. The prices on hardware are a mess, particularly with the video cards. The GTX 1060 listed here is listed at $475. When mining isn't ravaging the market, they are $300-350 cards. The $1,000 1080Ti should be more like $750 or so. We also are close to Zen+ CPUs, making some gains on the Ryzen CPUs listed here, and we could be not too far from Ampere, Nvidia's follow-up to the GTX 1000 series (though that seems more likely to be in the second-half of the year). RAM prices should also fall as a new memory facility is to open this year, if I remember correctly. Lastly, mining has started to become less profitable with a big dip in coin costs. Bitcoin has dropped more than 50% in the last month (though it's had a minor rebound in the last couple of days). Cards should start to become more readily available in a bit, moving prices closer to reasonable levels (where a $300 RX 580 isn't $500-600).

Threadripper and a Titan V. There's your overkill.

For encoding one core performance of processor is the most important. Only intel could do great and on low power. 7700K I think. But 8th series should be better. Even low voltage is promising.

Not really true. I'm currently encoding a full day of talks with several hour long talks, and my AMD 1950x 16 cores eats through the matter with ease, using up to 80% depending on the stuff in the timeline. Even decoding/playback makes use of multicore processing.

What does a "tortoise" build mean? What does it mean in real world use case. Have you got examples of what is possible with a "tortoise build"? I currently have a surface pro 5 core i5. How does it compare to that?

Is this actually a new article or just a rehash from February 7th? I just got notified about this late-breaking article today, which looks like old news. All the comments here are now 5 months old, and many new parts have been released or are just about to (Ryzen 3000, AMG GPU's, Nvidia's S Series, etc.), which will very likely change the component mix of what's suggested here.

So I built a PC before reading this, and thinking I was covering all my needs, (home SAN, editing, VR, & 3D Modeling/simulations). See below for the specs. The issue I'm having: Adobe premiere CC doesn't utilize the GPU at all. It literally stays standard around 1350 Mhtz and won't budge. I am editing 6K, R3D files, and running the EVGA 2080Ti FTW3. On paper this should work but it stutters 6k, and then Adobe premiere crashes, sometimes after 3 hours of editing, sometimes within minutes. I've tried changing all the preference settings within Premiere to no avail. I've also downloaded RED CINE-X program and gave that a go. It seamlessly plays 6k R3D files and the GPU jumps up to around 2100Mhtz. Also the GPU usage shows it's utilizing 30-40% of the GPU, where as when using premiere is sometimes pops up to like 1600Mhtz for a brief moment. Can anyone help me figure out why Adobe Premiere cannot handle this? My system Specs:
ASUS X99-E 10G WS motherboard
XEON E5-2650 CPU
EVGA 2080 Ti FTW3 GPU
x4 32GB Registered RAM modules I also have a NAS but that shouldn't be of any issue with performance. Here are the cards I'm using to control that though:
ARECA 1880ixl-16 Controller card
Promise 16 Bay RAID
Custom 10 Bay internal RAID
Windows Central Newsletter
Get the best of Windows Central in in your inbox, every day!
Thank you for signing up to Windows Central. You will receive a verification email shortly.
There was a problem. Please refresh the page and try again.