Get your Microsoft and Windows questions answered in our #AskDan video series
Our#AskDanWindows video series on YouTube is more popular than ever. And for good reason. These fun video shorts let Windows Central Executive Editor Daniel Rubino answer readers' questions in video format, often with a bit of attitude.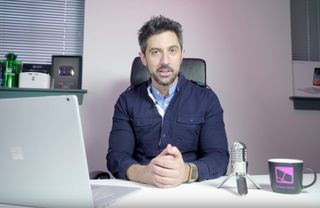 A few years ago we started #AskDanWindows. While I still answer individual questions on Twitter, jump into comments on stories, and even hit Reddit to engage with our audience, I wanted to record and share my thoughts on YouTube so everyone who wants to can benefit.
You provide the questions I answer, and therefore the content, so it's important we get the best of the best. You can jump into the AskDan forums and inquire about a variety of topics at any time. Please do. And I'll do my best to answer those questions.
The goal is to pick at least three questions each week that have broad audience appeal (so don't ask how I can fix a problem with your computer.)
Visit the AskDan forums at Windows Central
Anyway, jump in, discuss all things Microsoft, Windows 10, laptops, gaming, mixed reality, or whatever else is on your mind. This is not just about me, either, because we have some very authoritative forum members who can often add insight of their own. And where appropriate, I'll consult with some of our other writers and editors for their insights.
We aim to post new #AskDanWindows episodes every Friday afternoon Eastern Time on the front page of Windows Central, so remember to check back then. You can subscribe to our YouTube channel, as well, for the rest of our weekly reviews, Windows 10 updates, editorials and more.
You can also find previous episodes of #AskDanWindows on the main Windows Central forums landing page.
Daniel Rubino is the Editor-in-chief of Windows Central, head reviewer, podcast co-host, and analyst. He has been here covering Microsoft since 2007 when this site was called WMExperts (and later Windows Phone Central). His interests include Windows, Microsoft Surface, laptops, next-gen computing, and for some reason, watches. Before all this tech stuff, he worked on a Ph.D. in linguistics and ran the projectors at movie theaters, which has done absolutely nothing for his career.
"It turns out I don't need to sleep or have a life!" LMAO!

I want to marry this guy. He apparently has decided that he does not need to sleep!!!

You want better questions!!! Then answer me this Mr. Fancy pants, HOW MUCH WOOD COULD A WOODCHUCK CHUCK IF A WOODCHUCK COULD CHUCK WOOD? Go ahead, Mr. Bigshot, try to answer it. I'll wait.

A woodchuck would chuck as much wood as a woodchuck could if a woodchuck could chuck wood of course.

too bad Charles Fecht has been deleted

I wonder if there is any information about a 'Surface Phone' there... someone should ask.

my bet is hp well come out with a full w10 on arm phone first

if they pull a sweet mid-range phone especially

I hope to see a camera phone

I'm curious to see. I have an x3, but I still don't see the same drive and innovation that Nokia brought to the WP8/Lumia line. Don't get me wrong, I love the phone - I just can't put the two into the same bucket yet.

X3 or Idol 4S can never match Nokia Lumia. I just bought a refurb (open box actually, never used) Nokia Lumia 830 LTE for as little as 100 dollars, and its just awsome ! I already have a 735 and a 720, and I couldnt be happier ....

Why get a 830 if you had a 735? Same performance, same 720p screen, same size, same LTE speeds.

The build quality. And the camera. And screens are different.
But the build quality does the job itself.

I think he's saying he already had those phones
and upgraded to the 830

I have used 720. And a 735.
My daily driver is still, the Lumia 830. It was probably the best for value. (except the front camera.)
And let's not even talk about the looks and feel.
I love the 950xl that my dad owned, but hell, people wouldn't ask about that phone. They would rather look at the 830 and be in awe.

I agree that those Nokia's are good phones but the X3 is fantastic in so many ways for a first iteration.

Yeah, Nokia was making good devices, and had many innovations. But they achieved this working closely with Microsoft. And HP does the same. And on the other hand, the support for the Elite x3 is outstanding. They release firmware updates pretty often to fix the occurring issues and polish the overall experience. And this is the kind of attitude I just love 😁

So true. HP is not Nokia - I really miss the innovation - and marketing!

I get it. I agree. Love my HP, brilliant device. I think that when they get to the level of what they are doing with laptops, with phones, then they may be able to be compared. Really hope HP brings out another Windows phone, at least full Windows/Andromeda or whateverTF they call it.

I don't think so, that's why they discontinued the elite x3. They weren't going to be dummies for Microsoft long like Nokia did.

What's a surface phone? ;)

https://www.youtube.com/watch?v=A_GlGglbu1U

https://www.youtube.com/watch?v=A_GlGglbu1U

A phone you hold with your hands. In the same way, a "feet phone" is a phone built so tough that it can used as a replacement to shoes and still be as good as a phone.

Ok, either Microsoft has cloned Dan's brain and he is now living in a bubble somewhere deep inside the matrix and a bot will now be answering all questions and a holographic image will be doing the YouTube videos or he just broke up with his girlfriend. Which is it Dan? If that's really you?

Lol ok now i can stress Daniel 😂

Hey Dan, You can get the mods to unban me for silliness, and I can guarantee I will have some awesome questions for you...Phone questions and all!!!

oooo downvote. I got banned because I was defending windows phone from an androidhole on the forums. He was starting **** and I was refuting him and got the can for it. I would understand a lifetime ban if I personally threatend someone. but stating how windows phone is better than android, and proving my points, I got banned. NICE!

Have you tried Opera Neon yet? Does a browser like this push Microsoft Edge to be redesigned when Project NEON hits? (ironic how they both have neon in the name - probably just a coincidence, though)

Great series, though I don't see any of those new videos in my podcast app or in the RSS feed. Is it going to be just on Youtube?

Dan do any of your sources say that Microsoft R & D are still making any smart phone phone prototypes. I think former Microsoft ex devices VP Elop hurt Windows smart phones real bad because it took 18 months before the Lumia 950 & 950 XL to come to the market place. it's over 16 months now since the Lumia 950 & 950 XL Microsoft Flagship smart phones came out.I Believe that Microsoft MUST bring out their OWN new brand of Windows 10 mobile smart phones to show the World they still support Windows 10 Mobile smart phones and also give Windows 10 mobile smart phones users and businesses new MS Windows 10 smart phones to buy to replacetheir OLD aging Windows smart phones

Hello, I bought Nokia lumia 929 before two months. right now two problems let me stop using the phone.
1. The first one is it stack so many times in one day, even the power on/off part stop working and what I am doing right now is waiting up to the zero battery power ( when it start charging sometimes it works). Do you have any solution or any app recommendation to stop this problem?
2. PLECO chinese software: Even-though I didn't read user evaluations pleco is the number one software for Chinese language users which is not available in windows store. how long should we wait it? if you have any info Thanks

Ok. Not the surface phone. But is there any news about any device with windows to replace our rapidly aging hardware.

Cerulean "Moment" by WhartonBrooks. It's a kickstarter now.

They won't come anywhere close to their target

They are asking you about the Surface phone over and over again, because they trusted you when you created that bubble in their heads to keep them coming and hoping for something new and killer from Microsoft. Then keeping postponning an annoucement date of it.

Can't postpone if there was never a date.

They were saying spring 2017, then 2018 and now 2019.

They were? About the surface phone? I don't think so.

http://www.windowscentral.com/surface-phone-may-come-three-versions-earl... :)

You're welcome ;) Here is another one : http://www.windowscentral.com/microsofts-surface-phone-happening Hope you will open your eyes :)

Do you understand journalism? None of these articles were released by MS: they were opinions, thoughts and conjuncture based upon reading between what rumours, leaks and gossip connections would share with Dan and the team.

How about this. Does Windows on arm on a phone mean access to Xbox play anywhere?

Hi Dan, I have a few questions: 1) What's up with the SP5? Any ETA? 2) Will Microsoft reconsider wearables at some point? I'd really like a Band 3 (with a better strap, of course ) 3) Do you think Microsoft has an idea to populate the Windows Mobile Store with more apps? Do you think Universal Apps is a good strategy? 4) If Windows Mobile market share continues to shrink like it has in the last 12 months, how much more of an appetitie do you think they have to keep losing? Bonus question: If they call it quits on Mobile, do you think they would ever roll out an Android phone?

#AskDanWindows if the surface phone does launch, do you think it will effect the market share of windows mobile?

I'm wondering why was the mobille sign in, go to a full keyboard, rather then a key pad. The last several builds have a full keyboard, rather then the key pad that it had in the beginning.

By key pad, do you mean num pad?

You need to go and change your pin code to a more complicated one and then it will revert pack to the number pad. It's a strange bug

Good - this is one of the, if not the, best features of Windows Central Question - With most microsoft services and even the Arrow launcher on Android... I feel like the only major thing I'm left missing from W10m would be the live tiles. Do you see Microsoft creating their own versino of Android with live tiles? I ask because whatever form mobile takes for theri emulated full windows 10 and/or continuum - will be very expensive as they require high end specs... what about lower end?

Windows cloud on ARM for lighter devices.

Android already has fully functional "Live Tiles".

People asking questions here when they clearly want you to go to the forum Kappa

whats a windows phone lmao

Microsoft needs more exculsive titles for it's launch of the X-Box Scorpio. Why don't they help EA finance the development of Skate 4 for the Xbox Scorpio? Fans have been waiting years for this game with no hope of its release.

Why is Linux faster than windows?

Why is Windows faster than Linux?

Full compilation to the devices' specific hardware and architecture. ....Oh, put together with a techy user, lack of software, bloatware and junk (moreover: probably a lack of social life, etc.). The volume of bloatware/malware/etc. is proportionate to the number of users who use a platform.

Be honest Dan. Do you think it's time for Microsoft to just walk away from Windows phone? Personally I'd love to see them do more work with the Arrow launcher on Android by adding custom widgets to make it more like Windows phone.

Hey Dan, is there any word on a surface smart watch?

Well the Lumia 950XL ever get a firmware update to fix the home screen of darkness?

i have a lumia 950XL but i dont understand what youre talking about. can you please elaborate more ?

If you had to convince anyone of staying with W10M, what could you say now to anyone given the current affairs of what MS is doing to the OS that would essentially make someone think again about leaving or joining.

Dan (and anyone else in the WC crew), Given the state of the W10M over the last 2 years or so, and what we have seen from MS and other OEM's and carriers, in your humbler opinion, do you think that Verizon is to fault for not carrying ANY more windows phones after the 735? An odd question I know, but a large number of us are locked into our carriers for one reason or another. From the release of the 950/950xl through the x3 and the 4s we've seen the release of a number of "potentially" good windows phones (whether they actually are is a matter of opinion one way or the other), but so far none of them were released on verizon, still by far one of the largest carriers in the US. Any idea why that may be the case? I realize that you may have already addressed this, but given my job and family its sometimes hard for me to keep up on all of this. I really love my win phone...and am on verizon so am looking forward to the next iteration of it there...I would likely have upgraded to any of the current ones had they been offered on Verizon, but it seems like no dice. So again....is it verizon? or the manufacturers....is it that much more to add the CDMA so that these phones would have worked on the VZW network or is VZW levereging its stock in android against Win Phone? Thanks guys, and keep up the good work..

Daniel and others have discussed this topic in the past. The decision to keep the final batch of Lumia phones away from Verizon Wireless, Sprint and US Cellular was Microsoft's. Microsoft, as a part of the retrenchment strategy, gutted it's group of CDMA coders with the intent of restricting the final group of Windows Mobile devices to GSM carriers. Alcatel followed along as did HP at first. Later on, HP pushed Microsoft for a version of W10M that would work with Verizon Wireless. Unfortunately, by the time the Verizon Wireless variant of the X3 came out, Microsoft had already announced that development for W10M was over, and, only bug fixes would be issued from that point on. I think that the VZW version of the X3 is still available for purchase.

Microsoft is not dumping W10M!

What about the articles indicating there's no mention of W10m in MS's quarterly report?

Ermm. It was reported : "negligible mobile revenue"

What planet do you live on ?

You ask Microsoft to bring RS2 to all windows phones. MS killed even more. How do you feel?

Why have a "Ask Dan" forum when some threads never get answered? I can understand a few days delay, but some threads have never been responded to by you for weeks.

Only if you end the posts with "Don't forget to s'scribe" :P

Mr Rubino how many people at the May 2 event will have the Courage to ask Microsoft CEO Nadela if Microsoft will make Windows 10 mobile Smart phones to replace the Lumia brand Smart phones they no longer have manufactured for sale By Microsoft. Windows samrt phone users and fans like myself want to know because right now it looks like Microsoft is just going to make Windows 10 mobile soft ware but no physical Hardware

Hi Dan, One of the thing I think most of future windows tablet users miss is a deeper pen review for each equipment you test. Note taking capabilities, with real daily writing (cursive calligraphy), not only assessing those huge letters written on screen, concerning pen responsiveness / lag, accuracy and paper-pen feel. Thank you, hope you see this!

What I've asked a while ago: Could you visit a music band and show us (vlog) how they put their music in the store. What software do they use, what do they need to do that? But ........ it is easier not to do that and answer questions about the Surface Phone. I would like to see Windows Central to visit (app)developers. Let them speak on this site. So, Dan.... get into a train, plain, and visit developers at their work or home and show us who they are and why they support Windows 10 store.

Why would I ask questions if they aren't going to be answered? My question is still unanswered...

So many huge exciting things around the corner - do you think we will get the invoke, windows on arm, windows cloud, scorpio project, Cortana skills api AND cshell ALL this year? Will all this be announced at build? Seems there is SO much stuff that has been "its nearly there" or "we'll release it late 2017".

Why dont we ask the hard questions when we get Microsoft representatives behind the microphone? Questions like how come they can't iron out the tiniest of glitches over a year after Windows 10 Mobile's release. Ask them why they think they should have a job making a product that they don't think they themselves have done good enough job to use daily as their primary device. Ask them if it bothers them at all that people spent hard earned money on devices that they gave a half ass effort into backing.
Enough of giving these guys softballs. Start asking them the questions people REALLY want answered. These clowns have gotten let off the hook for way to long now. I don't care if there were a list of topics you can't touch....do your readers a favor and go at them anyhow...stop letting them hide like cowards.

Why Microsoft Top Guy Do not believe on Windows Phone? why kill a beautiful smarted OS easy to use, ease to up date easy to understand... Microsoft business is MAKE SOFTWARE, not make hardware! So WHY do not config windows phone for every brand name cell phone, why I cannot run windows phone over One plus 3t? samsung 8? or HTC? or LG? like a brand name Desktop or laptop. I now it no ease but they have all the resourse just they do not belive on her product!

I got a question: How about a phone with ONLY a Web Browser and Cortana?

What are the odds of Microsoft coming 100% clean with a specific, clear and concise statement concerning the future of Windows Phone/Windows Mobile/Windows on anything but a PC within the next 3 months?

Daniel, this rumored Edge in the future being updated through the Windows Store. This feels coincidental. Do you think this is possibly related to the upcoming Windows Cloud OS and that the Edge browser will play a big role for the Cloud OS particulary in the education sector like Chrome is to Chrome OS?

Hi, i've been using a raspberry PI with a home automation Rasbian, as there is not a real solution from Microsoft. can we expect to have this IoT devices integrated in a Dashboard alike DATAZEN or PowerBI , in our homes ? please consider go give just an idea as I´m expecting some for real long time ...

Daniel, can we expect to have any IoT integration with cortana with the enxt couple of months ? i'm using Home Assistant on a raspberry pi for my home automation (rasbian) as there is not any solution from Microsoft .. :( when can we have a bootstrap working , integrating all those IoT things in a fancy dashboard as DATAZEN or PowerBI ?

I have a serious question. Howcome the blocking of content while using ad blockers? I tried to view the video of the new surface laptop, that is blocked. Removed my ad block on the site, and low and behold it works. Ok, I get you get income from it....but my ad block picked up 46.....yes 46 friggin ads on one article page. It takes forever for pages to load on the mobile nations sites because of the total bombardment of ad content. Is there a happy medium? where i can turn my ad block off so you can make money, but still not be swampped by 46 ad counts on one page?

Hi Dan, Is Microsoft really killing Windows 10 Mobile or Just Giving Updates? Project Astoria was cancelled but it was working good. I think Microsoft may get on top in Mobile OS if there would be something like "Project Astoria". So will Microsoft ever Bring back Project Astoria?(Not Project Islandwood because almost all iOS apps are on Android)

Is Cshell coming to L950/XL? That's all I wanna hear.

Are you going to get on that train?

The RSS feed doesn't show anything past episode 17

Will there be a Surface on Arm this year?

Why asking Windows questions when it's hard to find Windows articles on this site these days? It's more about Apple, Google, Ronaldo, Adobe, fashion, animals, cars...

What happened to samsung flow app that was supposted to be launching to every PC with creators update?

Please compare Surface Studio with iMac 2017, in terms of HW and price.

Well I'd love to see that :)

I recently received an IDOL4 which, indeed, is very snappy, a beautiful-looking phone, but it doesn't recognize my Paypal Here card readers when I insert them in the headphone jack. Is this typical? Any settings I should know about?

Try increasing your volume.

When will the fall creators update be released for mobile? Or is the only way to get the fall creators update through the insider builds?

Why doesn't Windows Central address the issue with their mobile app, so the comments tab will stop just scroll, scroll, scroll, but never loads? I've uninstalled/reinstalled several times and I've reported this many times and never have gotten any sort of response.

Will Microsoft make a 'naked edition' of the Surface Laptop? I honestly think that the Alcantara thing keeps people from buying it. Me for example, I like the feel off nice cold aluminium not fake leather on my keyboard.

After ditching Groove (very angry about it BTW) will the store be empty like Trump again? Are movies also leaving? Than we're back at the store from years ago. No content.

...empty like Trump again... good one!

ITunes will dominate. Kinda partnership bw MS and Apple

1. When Microsoft will launch it's new Phones ?
2. Why there is app gap problem in the Windows mobile ?
3. Being Microsoft a huge server why there is plenty of problem in the app gap to the Windows mobile ?
4. Why Developers are not interested in the field of Microsoft apps ??? 🙄😓

Joe Belfiore answered all of that in Twitter.

Why is Microsoft sooooooooooooooooo *ucking annoying? Groove, Band, Surface Mini, Windows Phones???????? WTFFFFFFFF!

+ Zune players and Zune music software! By the way I still use them!

Why Windows Central W10M app does not support writing comment within the app ?

Project linda and continuum.Can it be the future of windows on arm

As w10 is dead, arrival of new Andromeda coming soon.Is there any lucky chance for those who still use windows phone will something get new and others will have to pay for it, as we are still holding upto the Microsoft® Windows10® and whole family ?

hlw...I want to know ..how to get windows april update .. I'm still using IOS 17134.5
am I ready for this new update?

Dan, I know you'll roll your eyes, but I want an Andromeda Watch segment in every episode :)

why i am not getting april update via windows 10 upgrade assistant?

Hi...I am really so upset and always sad because Microsoft stop new future and updates for Windows 10 mobile phone as I am fan and user of Windows phonei request to please don't give up on your own platform I humble request again for support and look back for windows phones thanks

Love the format and the way topics are being analysed and presented by Daniel

One question to Windows central " Are you guys ever going to update the WC app for Windows?"

I would ask if Microsoft got plans to also attack wearable market, or just pocketable one...
By that I mean sport/health trackers, action cameras, audio devices...

OK, OK. Questions, that bothers me the most recently. 😄 Seriously, I don't want to sound like hater, but criticism is also very important for improvement. 🙂 Why many of the Microsoft projects starts so enthusiastically and ends with very, very slow development and progress and are unfinished for such a long time after release? Why MS can not use at least basics of their own standards of UI, I mean, for example If I make a drop down menu, ALWAYS apply the drop down animation and the animation when hiding it. If I make for example a pivot menu, always apply the sliding underline animation. Why is that a problem? 😄 :) Microsoft is a global company, but it seems hard for them to support users globally, but smaller competitors are supporting most of the markets. Why is that? (Cortana, Movies, Books, dictation languages, speech, , in the past Groove Music..) These things makes me very sad. What about maintenance update? This would be great for Windows. Update focused on fixing, polishing OS and preinstalled apps, fixing animations, bugs, optimizing etc. :) What about Your phone. Can we expect some progress? Connecting with iPhone, mirroring for more phones, polishing the app, adding ability to choose from apps, I have on installed on my phone and start mirroring that app etc. :) I would also love to hear something about CShell and Windows Core OS, but we'll se in the Build 2019. 😊
Windows Central Newsletter
Thank you for signing up to Windows Central. You will receive a verification email shortly.
There was a problem. Please refresh the page and try again.