How to Customize Your Guardian from Within the Oculus Rift
The Guardian of your Playspace is in your Control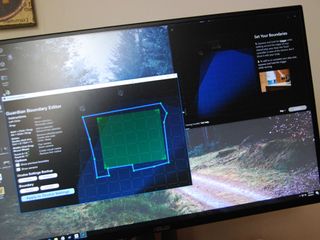 One of the most important parts of using Virtual Reality headsets is the play space you have that keeps you safe. The Oculus Rift has created a Guardian system for your play space. The less capable PlayStation VR system will simply give you an "Out of Play Area" message that usually pops up on your headset at the same time your face or body collides with a wall or piece of furniture. Instead of that, Oculus Rift will actually display your boundaries on your in-game view before you hit them.
Customizing Options
Now, when it comes to customizing your Guardian you actually have a decent amount of options available. Some of them have been developed by Oculus users, but have been tested and approved by many consumer reviews.
Before you try any of these you want to make sure you have Set up your Oculus properly to ensure you are already making the most out of your play area. Once your area is set just the way you want it, you're ready to customize your experience from inside the headset.
Guardian Boundary Editor
When using the standard Guardian Editor for the Oculus Rift, you are faced with a grid system to mark just where your safe-zone is. While this is still handy in allowing your system to show you un-safe zones, maybe you need a little more of a customizable effect. Perhaps there is a column you can not move out of your play space, or Mom has forbid you from moving the living room couch. Regardless, Reddit use NeoZeroo has developed a special editor just for that.
It allows for a draw-it-yourself area boundary by your own making, does it get cooler than that? Go on and check out how to manually set up your Oculus Rift Guardian with the Boundary Editor!
Changing The Color
It might not seem like much, but the small details are really cool to mess around with. As we all know, you can launch SteamVR games with the Oculus Rift. This comes with the nifty ability to customize the color of your Guardian (known as the "Chaperone" in this application) so long as you are using your Oculus within SteamVR.
Open SteamVR.
Press the Home button to open the SteamVR menu and navigate to the Settings icon in the bottom right of the screen. Make sure not to confuse this with the Steam settings in the top right-hand side of the screen.
Next, navigate to Customise > Chaperone.
Adjust the Bounds Color slider on the right-hand side of the screen. This will adjust the Chaperone color to your liking.
Adjusting the Bounds opacity slider will tweak the transparency of the Chaperone. Although this will make for a more immersive experience, make sure the Chaperone is still clearly visible.
Now, if you're more familiar with tech and the know-hows with codes and systems there is a way to change the color of your Guardian just for your Oculus. Unreal Engine has devised a way to change the settings. Small warning, it's definitely not for the new users as it requires a few downloads and a decent understanding of how codes work. If you're feeling confident, follow the link below!
Check out how to change Oculus Guardian's color!
Disabling the Guardian System
If for some reason you find that you need to disable the Guardian System, toggle Guardian System Enabled/Disabled on the Universal Menu.
Did This Help?
Did you customize anything outside of the Standard option? Know of any ones we haven't covered? Tell us in the comments below!
Get the Windows Central Newsletter
All the latest news, reviews, and guides for Windows and Xbox diehards.
Essa Kidwell is an expert in all things VR and mobile devices who can always be found with an Oculus Go, a Pixel 2, and an iPhone 7+. They've been taking things apart just to put them back together for quite some time. If you've got a troubleshooting issue with any of your tech, they're the one you want to go to! Find them on Twitter @OriginalSluggo or Instagram @CosmeticChronus.