This is what you need for room-scale on Oculus Rift
Setting up Oculus Rift to fill a room takes a little work, but it's so worth it.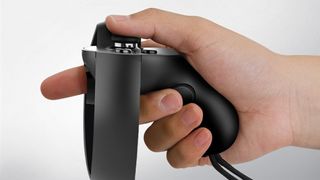 With the addition of Oculus Touch controllers, anyone with an Oculus Rift now has the ability to walk around in VR and interact with things by moving your actual arms. There's already a ton of great games to support this experience, but now it's time to figure out how to maximize your play space and ensure you have lots of room to play around without your controllers disappearing on you while you're playing.
That means setting your Oculus Rift up for room-scale experiences, and while it takes a little setting up and testing you'll be very happy with the end results.
Getting started
To get yourself ready for room-scale Rift play, you'll need the following:
A minimum play area of 3ft by 3ft with nothing in it.
Your Oculus Rift and all three Oculus Constellation Sensors need to be connected to your PC, which means three USB 3.0 ports, one USB 2.0 port, and one HDMI port is taken up this project. Make sure your PC has all the ports you need before moving forward.
Warning: Using a USB hub to expand your total number of USB ports may cause problems when setting up your Rift for room-scale.
Setting up the sensors
While one sensor was good enough for just the Oculus Rift, in order to see where the Oculus Touch controllers are at all times you need a sensor to see your hands even if you turn around. Your three Oculus sensors need to surround you in order for this to work, which means you're going to be setting up a triangle with your sensors. Using USB 3.0 extension cables will allow you to place at least one of the sensors away from your desk, preferably on the opposite side of the room you are planning to use for VR. If it helps, you can disconnect the Rift sensors from their bases in order to do things like mount on walls or on shelves lives.
There are three key things to remember when setting up your sensors:
Your front two sensors should be between three and six feet apart, but not much further.
Your third sensor should be pointed straight at your other two sensors.
Your third sensor should not be more than 14 feet from your front sensors.
Once you have the three sensors set up the way you want, stand in the center of your playspace and make sure your Oculus Rift cable reaches your PC without pulling. If the cable is pulling on the PC, you're going to need to add HDMI and USB extension cables to the primary Rift cable so you have enough room to move around comfortably.
Enjoy room-scale!
Once you're fully set up, you can redraw your "guardian" boundaries using the Oculus Touch setup guide, and have a lot more space to play in. While no Oculus Touch game available today requires you to have a full room to play in, this setup gives you the most complete experience with zero chances the controllers will disappear during gameplay.
Are you set up for Oculus Rift room-scale gameplay? Share your setup in the comments!
Get the Windows Central Newsletter
All the latest news, reviews, and guides for Windows and Xbox diehards.
Russell is a tech nerd who chases the best of everything, from phones to game consoles to laptops and everything glowing or beeping. He's the Managing Editor of gaming content for Mobile Nations and can be found contributing to all of the Mobile Nations sites. Reach out on Twitter!